Crazy deal to buy Splinterlands Untamed packs now!
If you haven't already known, Splinterlands is currently running a week-long promotion that gives buyers a 10% rebate from their purchases. This is a great deal especially given the really low prices of DECs on Steem-engine. You can effectively get up to 55% savings by buying DECs of SE and use them to pay for your packs. Even more rebates if you purchase from @peakmonsters or @monstermaket!
Here's how ~~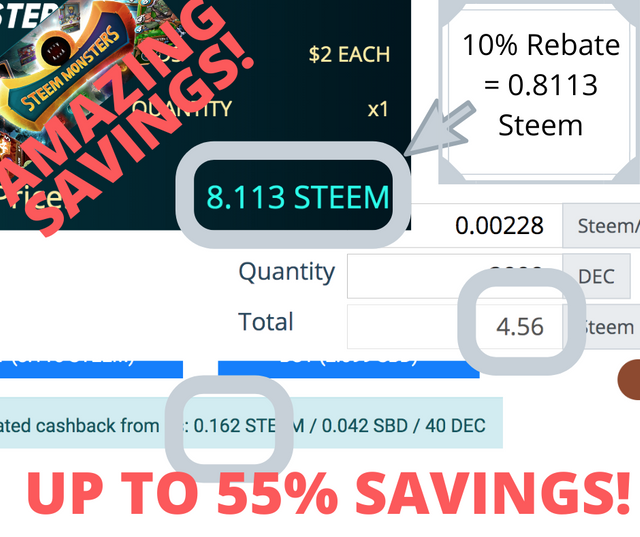 Price of 2000 DECs on SE: 4.56 Steem
Price of each Untamed pack on Splinterlands: 8.113 Steem
10% of rebate in SP (promotion): 0.8113 Steem
Rebate from @monstermarket: 0.162 Steem
Total to be paid: 4.56 - 0.8113 - 0.162 = 3.587 Steem
Total savings: 8.113 - 3.587 = 4.526 Steem (55% SAVINGS!)
Is my math correct? This sounds like a crazy deal!



For the past week, we seen some pumping of Steem price and there were lots of volatility of DECs prices on SE. Was able to make a couple hundred thousands DECs and decided to splurge some on Untamed packs during this promotion period.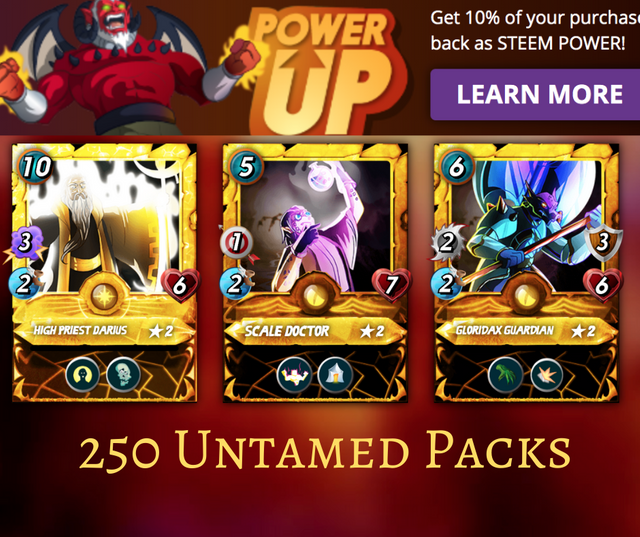 Initially only just wanted to flip some packs. 5 to be exact. Had incredible luck and actually pulled 2 GFLs from the 5 packs! A Scale Doctor and Gloridax Duardian.
Believing the luck is back, I had to buy more packs to flip. Up till 250 packs and only pulled another GFL in High Priest. Not too bad, 3 GFLs in 250 packs. Especially sweet given the 10% Steem Power rebate from Splinterlands.
Note: The 10% Steem Power rebate is based on $1/1000DEC and not on SE market price. Meaning we are actually getting more than 10% of Steem (if the DECs were bought with Steem from SE).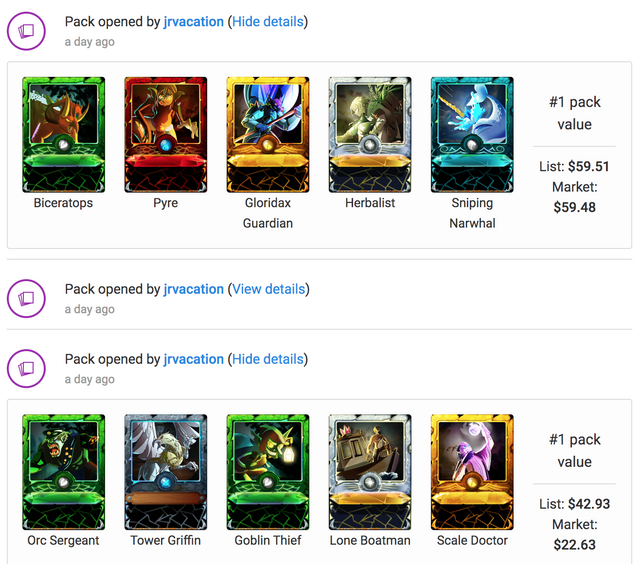 My packs were purchased from @Peakmonsters and there are additional rebate from them. Not sure the exact amount as it is not real time and will wait for them to credit in. If you buy the packs from @monstermarket, I believe there is an instant rebate of 2%.
---- Update: Had received 11000 DECs from @jarvie after asking him about it in Peakmonsters Discord. So that represents a 2.75% rebate (from 400k DECs) from Peakmonsters.
This is really a good time to get some Untamed packs!
Ohh I think I forgot to mention about the bonus packs when you purchase 100 packs. That will bring the average price per pack even lower, ie more savings! Maybe even up to 60% savings?!?!
In case there are Tron users reading this post and wants to get in to Splinterlands, here is my referral link :) https://steemmonsters.com?ref=jrvacation