5 Gold Foil Legendary in a Single Untamed Pack!
What!! 5 Gold Foil Legendary cards in a single pack!!


Haha. Well, of course this is not real. But its not photoshopped either. This is an actual opening of a fake Untamed pack. You can try it here https://jrvacation.com/gfl/open.html just for fun. Don't worry, there is no malware or virus, just a static page for fun.
Or, if you prefer a more realistic pack with just one GFL https://jrvacation.com/gfl/open2.html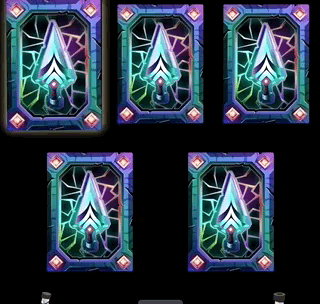 Was feeling bored and decided to have some fun and rip some html from Splinterlands site. Made a little changes to the code to create this fake pack opening page.
I never get tired of flipping a Gold Foil Legendary card. The shaking and the turning of normal to gold, is so fun to watch. Now, you can do it over and over again.
For those who didn't buy many packs and had never pulled a GFL, this is what it feels like https://jrvacation.com/gfl/open2.html and I hope you get addicted to it and start buying and flipping more packs!
But I do wonder if there will ever be a pack that contains 5 gold foil legendary cards. I think the odds of that happening might be 1 in a billion? The best pack I had seen someone pulling is 2 GFL in one Untamed pack.