Onyx Sentinel | Redefining Meta
As I've shared before there are profitable opportunities within the Splinterlands for all those willing to take the time to learn the game. This is why I always say SteemMonsters is both fun and rewarding.
One such opportunity for profit comes out of identifying the changing meta, so that you might acquire new inexpensive cards before they redefine the meta, and before they surge in price.
Onyx Sentinel | Redefining Meta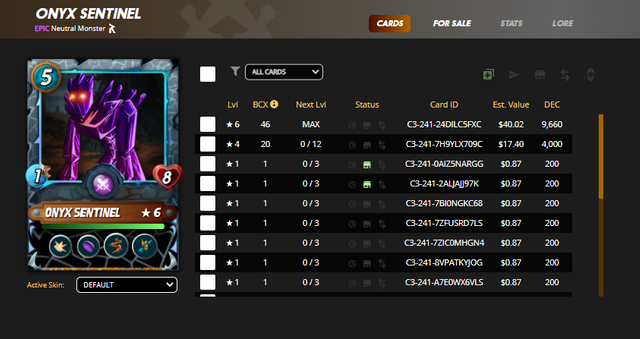 As you can see this epic monster card requires 46 BCX to max level, and at its top tier its abilities include:
Shield: Reduced damage from Melee and Ranged attacks.
Void: Reduced damage from Magic attacks.
Thorns: When hit with a Melee attack, does damage back to the attacker.
Return Fire: When hit with a Ranged attack, Monsters with Return Fire will return reduced damage back to their attacker.
For comparison this monster is a direct competitor, or alternative to, the legendary monster Lord Arianthus card: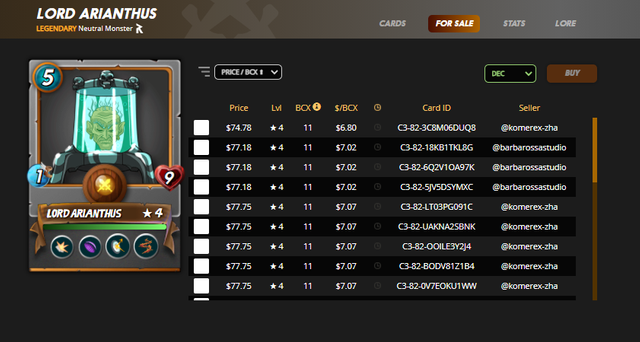 As you can see the cards are nearly identical with two exceptions:
Onyx Sentinel has ONE fewer hit points
Onyx Sentinel is epic, not legendary
Yet despite the obvious similarities, Onyx Sentinel (OS) has been significantly cheaper than Lord Arianthus up until the past few days, or weeks. Until recently OS has cost less than 0.50 USD per BCX, and earlier still I was loading up on this card around 0.20 USD per BCX.
Now this week I see that they are selling for approximately $1.00 USD per BCX. How many crypto investments can boast a 5X price increase over the past 3 months? Not many.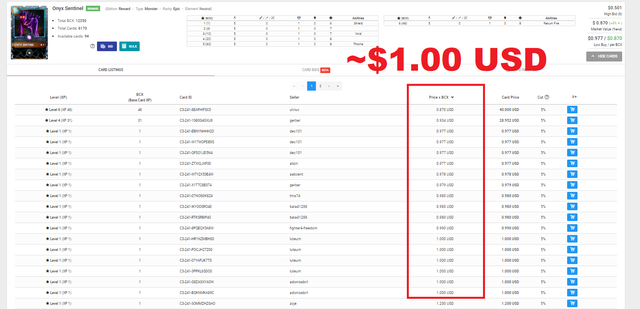 Conclusion:
This is just one example of profitable opportunities available to players who spend their time and attention enjoying Splinterlands. If you follow me you might learn about such opportunities before they pass by.
As always thank you for your time and attention. Have an amazing day and God bless.


More from me:
🔴 YouTube: https://www.youtube.com/channel/UCOoOxEybRJm_iK7EtL11YNw
Referral Links:
▶️ LBRY: https://lbry.tv/$/invite/@infidel1258:f
▶️ Steem Monsters: https://steemmonsters.com?ref=infidel1258
▶️ Coinbase: https://www.coinbase.com/join/59bbe24dd0e8a800f12e7b93
▶️ Coinberry: https://app.coinberry.com/invite/6de68907d38