Splinterlands Monster Card Giveaway - Goblin Mech
Welcome to another Splinterlands Monster giveaway!
Ever since it was first unvieled by The Goblin Inventors Guild, the Goblin Mech has gained a reputation as one of the deadliest machines in the Splinterlands. Few will argue that when this juggernaut rumbles into the arena, death and destruction ensue. Unfortunately, most of it's victims are those trying to operate this unwieldy behemoth. The question on everyone's mind, "Is this due to numerous design flaws or is this really a plot by the cunning goblins, who always seem to bet heavily against any team deploying the Mech?"
You must ask yourself if you are daring enough to try to bring a Goblin Mech into the arena. Because I'm giving away this monstrosity to one lucky(?) winner when this contest closes at post payout time.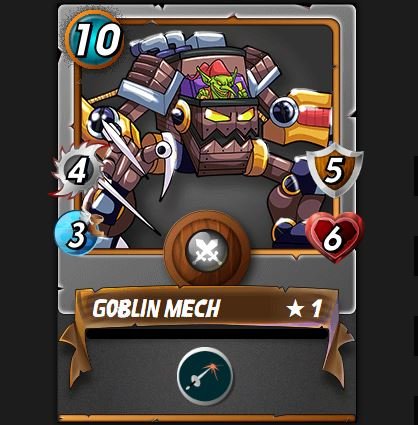 Do you think you have the Mana power needed to wield this terrifying weapon? If so, step forward and place you name up for consideration. There is no cost to try, except for what you risk if you choose to summon this colossus for combat.
Please Note
This is NOT, as some have ascertained, a feeble attempt to increase my battle victories by handicapping my opponents with a Goblin Mech!

How To Enter The Giveaway
For a chance to add this Goblin Mech to your Splinterlands deck, just leave a comment with your Splinterlands account name. Only 1 entry per person. The contest will end at the 7 day point of payout for this post, when I will use a random comment selector to choose the winner.
Good Luck!

Be sure to check out my other Splinterlands giveaways:
Silvershield Archers Giveaway
Vampire Giveaway
Undead Minotaur Giveaway

I'm a proud member of