Is he insane? What in Anumün was Gurklies Gobson thinking when he created the Goblin Mech? When this monstrosity steps into the arena, it far more likely to explode and kill the pilot than it is to do damage to it's opponent. Only a fool would summon this death trap.
Would you like one of your own?
Welcome to another Splinterlands card giveaway!
If you haven't built a powerful mech yet then you're in luck because I'm giving away this juggernaut to one lucky winner when this contest closes at post payout time.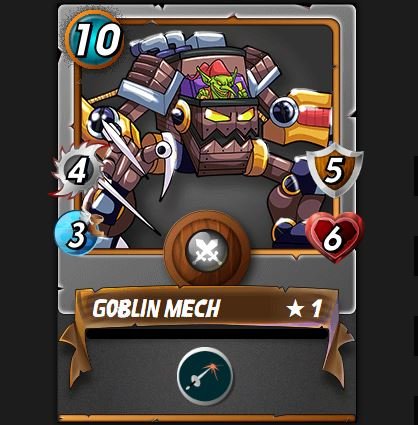 Do you have the Mana power needed to wield this terrifying weapon? If so, step forward and place your name up for consideration.

How To Enter The Giveaway
For a chance to add this Goblin Mech to your Splinterlands deck, just leave a comment with your Splinterlands account name. Only 1 entry per person. The contest will end at the 7 day point of payout for this post, when I will use a random comment selector to choose the winner.
Good Luck!

Be sure to check out my other Splinterlands giveaways:
Out of Print Vampire Giveaway
Silvershield Archers Giveaway

I'm a proud member of