Proof of Activity Giveaway on Steem #1 - Free Monsters 4 Active Splinterlands Players (EN/DE)

Proof of Activity #1
(English)
Show me you are an active player and get the following card: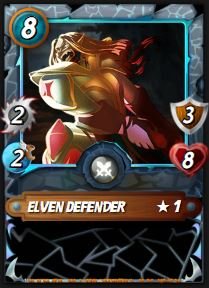 The Rules:
To get a free card, just leave ONE comment with a screeshot (example below) that proofs you are an active player.
More than one comment will disqualify you from the giveaway.
Your reputation level needs to be 25 or higher.
You are NOT allowed to participate on both chains (Steem and Hive).
Bot comments are ignored.


The screenshot should contain your account name and the proof that you are an active player. So it could simply look like this:
(But all other screenshots that show me you are active are also ok)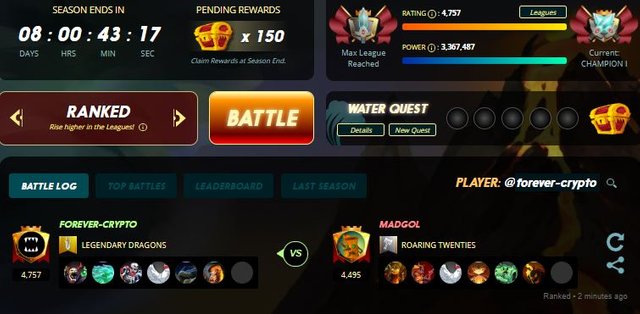 (Deutsch)
Zeige mir, dass Du aktiv spielst, und die folgende Karte gehört Dir: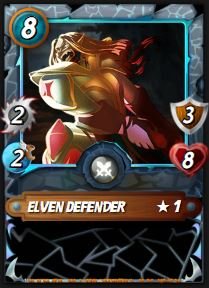 Die Regeln:
Lasse mir einen Kommentar mit einem Screeshot (siehe Beispiel) da, der mit zeigt, dass Du ein aktiver Spieler bist.
Mehr als ein Kommentar führt zur Disqualifikation.
Dein Reputationslevel muss mindestens 25 betragen.
Es ist nicht erlaubt, auf beiden Chains teilzunehmen (Steem und Hive).
Bot-Kommentare werden ignoriert.


Der Screenshot sollte deinen Account-Namen enthalten und beweisen, dass Du ein aktiver Spieler bist. Er könnte also wie folgt aussehen:
(Jeder andere Screenshot, der mir zeigt, dass Du aktiv bist, ist aber genauso in Ordnung)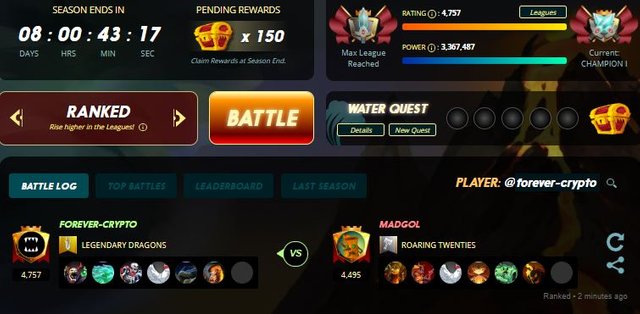 Previous participants
If you don't want to get further notifications please leave a comment.
@abdias101, @aikido.hung, @alinalazareva, @alokkumar121, @animeshsingh452, @armymalaya, @aschatria, @ash, @barbafish, @barmbo, @basilmarples, @bitandi, @bitcoinportugal, @bittrio, @black-heart, @blog-beginner, @blokdilly, @blueeyes8960, @braveboat, @business10x, @bxlphabet, @chadmichaellibby, @chaoxwinx, @chappertron, @che-shyr, @chekohler, @chireerocks, @chorock, @cloudblade, @coffeedrinker112, @comule, @coolgirls, @costanza, @craftsofluv, @criptoanarquista, @cryptonnja, @cryptorg, @cryptoznewb, @crypto-pilot, @cuko, @davel22, @detlev, @dexy50, @dreimaldad, @drjpooch, @elclelements, @elizacheng, @engelchen, @erixink, @ervin-lemark.spt, @eshawn, @facugaba, @fasolo97, @flowen, @freemonster, @fullcoverbetting, @fusion.lover, @gamemods, @geneticshuffling, @genketsu, @gratisuntamed, @guurry123, @hamsterpoweriii, @handtalk5, @happyspoon, @hilladigahackles, @holoferncro, @inri, @irisworld, @ironoy, @itzunknown, @jacuzzi, @jahedhossain, @javiermurillo, @jeffjefferson42, @jjzigen0120, @jmehta, @johnnancy, @jorgegnz, @jstack, @kaonashi6687, @kaptnkalle, @kiokizz, @kirstin, @knochenhd, @lammbock, @lebastion, @levi-miron, @lightninggears, @lordkingpotato, @lordwinty, @lord-of-fire, @madwomaninattic, @masq, @masterswatch, @maxer27, @meins0815, @method1973, @mima2606, @mindblast, @mk992039, @monster.farmer, @monsterbuster, @mrlo101, @musicvoter, @nanp, @oadissin, @oivas, @olaexcel, @outlinez, @philipkavan, @philippekiene, @podnikatel, @portalmonsters, @querdenker, @r1s2g3, @rentmoney, @reoparker, @road2horizon, @shaidon, @shitsignals, @silversaver888, @simonjay, @sm-trainer, @socialmediaseo, @sonius94, @stokjockey, @suntree, @taintedblood, @thecaptaincrown, @thetyper, @tillysfamilyfarm, @transcript-junky, @travisjames, @travoved, @udow, @umuk, @untamable, @vabadaba, @vaitelavicius, @vintherinvest, @wakeupkitty, @wakeupkitty.pal, @wanderingmoon, @warhead61, @weddinggift, @whatsthatcryptom, @wonderwop, @xplosive, @ynwa.andree, @yonilkar, @yorra