Announcing 'Splinterwars', a new game set in the Splinterlands lore and assets
Hello steemians,
And hello Splinterlanders!
Yes, I suppose Splinterlanders should be a term :-)


Don't you think so?
Something else?
We'll see!
A loud annoncement!
Yet... not so loud!
In this post I announce something loudly. Yet it is actually much more a thing I would like to share to the most active of our fellow players.
It is not ready for public ears, but it is perfectly fine for all our Splinterlands players.



If you don't know about Splinterlands and want to join the happy club, it's here.
It is a great collectible card game with battles you can play and cards you can earn and trade. You are also just one step from becoming part of that very welcoming community on Discord!
Now in this public-but-exclusive news, I would like to discuss my participation to the Splinterlands game jam , the one ending in only 4 days.
This is not the official:
"I am into it and here is my playable game to download" post.
... that one will come in a few days.
When the sleepless nights will end and something is out!
But it is the official:
"Hey guys I am working on this, what is your opinion about it" post. :-)
Now let's delve into what this is all about!
Splinterwars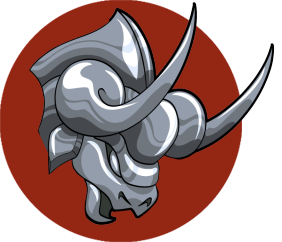 Splinterwars is about large-scale battles and adventure in the world of your favorite Splinterlands game. That's why you'll recognize the creature in this logo. :-)


What is the game's purpose?



Splinterwars aims to...
Exist as a great standalone game and possible entry point for people who never knew anything about Splinterlands.
Expand the love and userbase of Splinterlands
Multiply the things we can do with our collection of cards.




Splinterwars will be based on STEEM, both supporting the blockchain and currency and being supported by it, with more and more transactions coming to the blockchain over time.

That does not mean I can send all transactions at once. I have a policy to manage the Steem Power of the new players and Splinterwars effectively.

Splinterwars and my account (Elindos) are new and low on SP, this is not a secret, so I will scale in transaction volume accordingly. And hopefully create other gameplays for Steem within months, each contributing on its own.

More about this later!
Let's speak about the game!


The game
Splinterwars is a client-based game. A Windows and Mac executable, with online access to Steem and the Splinterwars server. Later it will also come to Linux, and later again to mobile.
It has all shiny graphics and music, and although it's one galaxy far away from AAA, it still aims at being a comfortable game to play.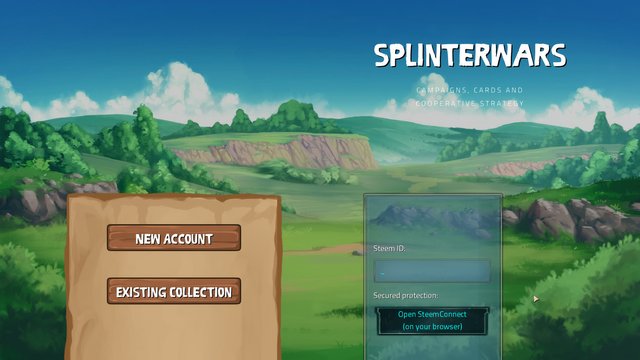 It also retains some of the cartoon spirit from Splinterlands.
By the way: yes, a client-based game. That means it could come to Steam also at some point! And bring more players to our world!
In the game, you can already identify yourself with Steem Connect, import your collection, and head into battle. More about that in a few days!






... wait.


... you want to know more right now?
Okay, I'm happy to share :-)


Use all your cards into battle
In the first feature to be released, your objective is to engage your whole army of cards against enemy players. Think global war and every card to the action!
But it's not chaos out there, it's a strategy game.
You will pick and fight individual stacks.
Enemy stacks are composed of creatures taken semi-randomly from other players collection. This means the algorithm which creates your enemies will be improved over time - so begin the game soon and you'll reap rewards more easily :-)
When preparing your team for this battle, you must also think about casualties: creatures you commit won't be able to take part in other battles for this day!
So you must try to keep your strength and use your whole collection. Yes, even the level 1 cards, or the top level ones, all your cards are now important!
So, you choose an enemy stack, you setup your team, and you battle. Battle occurs just like in Splinterlands, that way you will feel at home. There will be additional rules, skills and content over time.
More importantly, every battle you win earns you specific loot and rewards.
Rewards?
Can we gain money with our Splinterlands stuff?


The rewards you will collect are not Splinterlands cards - right now that is reserved for Splinterlands.io, for good reason, and purchases and daily quests you complete there.
I still see something that could be discussed with the team.
What could be proposed later:
Why not imagine a future where reward cards could be earned in all Splinterlands-linked gameplay? In addition to your Splinterlands daily quest?
That's food for thought. But before we could say anything about it, we must wait to have a real game, and then see what the Splinterlands team thinks about it.
So what do you earn at the moment?
At the beginning, you will still collect very interesting rewards: you gain Prestige points. More accurately, Prestige in the splinter you played.


A new token.
Or... new tokens!


Suppose your played Malric and your famous Exploding Dwarf, you'll earn Fire Prestige.
And more accurately even, this will be a Fire Prestige token that will be tradable thanks to the Steem Engine.
These Prestige points can be used to restore a card to ready status (and wake up that Dwarf who certainly ended up as a casualty) and will also later be used to unlock new creatures, new creature upgrades, items and skills.
Yes, I dare to use the word 'later', because it is a 2-week game jam. So I do not want yet to detail what could be subject to change and to more content.
I hope that after the game jam is over, you will take a seat and travel with me to more and more features and contents! :-)
I am currently working on campaigns.
But this feature will not be ready for a sunday release, even in alpha.
Why later for the tokens?
Why not right now?
Why can't I create the token right now?
I admit I currently lack the 500 STEEM required to create even one of these tokens.

I know.
Am I some sort of steemian peasant?
Who am I to lack the funds?


I am a game developer who stopped working in high-tech startup companies some 20 months ago. I love making games, contents, and technologies on my own.
Even if I totally appreciate creative value, its interest, and protecting intellectual property, I came to dislike the toxic marketing-controlled environment and companies.




Who remembers the days when we made our own full websites, coding them entirely? and could control hundreds of connections at the same time, on pages who could load in a less than a half-split-second? all that with only one tech guy behind it?
I do!
That's my homeschool. :-)
So I can't relate to the overcomplications people bring into the process.
Let's just say that I totally threw myself back into the indie world. I am a true lone indie (well, happy father of three, but that's not the point).
Splinterlands / Steem Monsters really changed me, and showed me STEEM and STEEM-based games. I came to Steem only recently and I am entirely into creating more and more games this year.
But let's come back to this first game!
More details


The stacks you will fight will retain many if not all of the main Splinterlands features (one summoner, several creatures and the card stats you have in your collection) but will propose new arena rules and also rules and restrictions that could apply to your team but not to your enemy.
Also, I said it comes as a client-based game.
That's not entirely true.
Because executables will have bugs, and I am alone to work on so much stuff, I wanted to provide stable services as an alternative thanks to internet.
So all game features will also be playable with a browser, and some even right from the start. But with extremely limited presentation. So do not hope for the shiny battles already playable in Splinterlands.io ; the point is not to make another Splinterlands, but to go where it cannot go for now.
A game jam is a 2 weeks project:
So things will be added after it.
The game uses content opensourced and provided by Splinterlands.io. The game also wants to subscribe to the revenue-sharing license, where 10 percent of all its sales will be sent to the Splinterlands team.
The Splinterlands team has not yet expressed any opinion about it.
This post and the game jam will be a way to propose the prototype at face value.
Sales:
To be, or not to be...
Free to play?


It is too soon to speak about any sale and revenue.


I did not even speak about payments.
I still have to decide about making it a free-to-play game or not.
A F2P game will attract more players to the Splinterlands license, so it's a win for Splinterlands.
Especially if I can provide basic features to upgrade once you purchase a Splinterlands starter from Splinterlands.io.
But a free-to-play game is much harder to manage for a small indie. It needs more quality. Look at the Steam reviews of free-to-play games: community goes very hard on it. It's tough.
A paid game is different. It's niche, so does not bring many more players, but exposing to Steam would still be a great plus.
Feel free to comment with your opinions about free-to-play or paid. I'll read them all with interest!
I will not decide on any business model right now. At the moment, I only want to work on the game, release the first features. And make it a real game first and a game jam candidate.
There will be time to discuss this during a free alpha!
However, to keep things going and if you would like to support the game:
You may use Splinterwars steem account or Elindos steem account (this is me).
I feel ashamed to share a BTC address.
But it's about support, so why not ask.
Others can use this BTC wallet:
3Jr3cDdpUYJ8Cdw9wW8PGFdBVjFtWbzBvw
Also, you may just stay onboard:
The free alpha should be released in 4 days as a game jam candidate.
So in a few days, I will say:
Let's play it :-)