Loot Chest Water Quest -- Weds, Feb 5
Pirate Attack!! (Water Quest)
Strong Start, Strong Finish (the middle was.... not the best)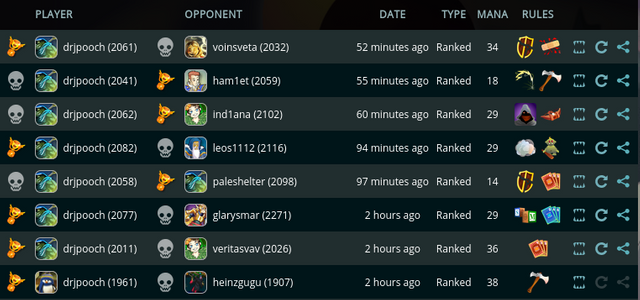 I started off my Quest the same way I ended my last -- with a fleeing opponent (thankfully waiting to flee until after I had selected my quest-qualifying team). And followed that up by beating an Earth team and a Dragon team. I then got beat up a bit.... by @paleshelter @ind1ana @ham1et... but then refocused to finish off victory #5 and my Quest.
Is it fair to use a The Kraken, Phantom of the Abyss, Ruler of the Seas, and Furious Chicken all on the same !monster team?
Maybe not. Watch it here to decide for yourself. :)
Still Gold League III -- Level 7 Loot Chest
I considered attempting to press on up into Gold League II, but decided to save my strength for another day's battling. As such, still Gold League III for my Rewards.

And what are those Rewards, you ask?
Before the Flip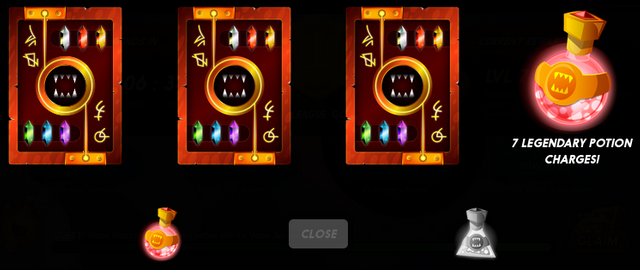 Oh, boy! Those Legendary potions I won yesterday are going to get me three new Legendary !monster cards today!
After the Flip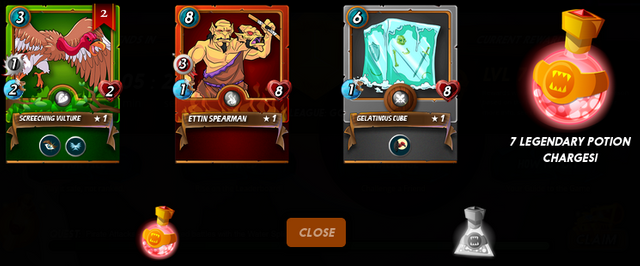 Or four Commons....
Loot System Update
In case you haven't seen it yet, the brand shiny new Loot Chests are already getting an update in about 8 hours. Check out more details here: https://steemit.com/splinterlands/@splinterlands/loot-chest-system-update. Hopefully next time all of my !monster cards will be Legendary due to my new (and old) orbs. And Gold due to probability smiling brightly upon me. And the "Essence Orb Pack (1% chance)".... yes, please. :)
'Til next time.
If you haven't yet played Splinterlands for some reason, check it out here today!