The Master of the wind - weekly battle challenge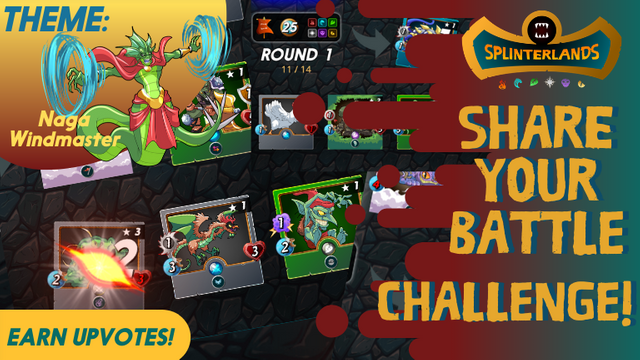 SHARE YOUR BATTLE Weekly Challenge! Win Upvotes!

The Naga Winmaster is an excellent ranged attack card and four mana cost, although it has some statistics a little low, (especially the speed, I can not imagine someone who dominates the air is so slow) compensates greatly with their abilities, these are:
Headwins, which weakens the enemy archers by subtracting a point of attack, this gives our team a great advantage against teams based on this type of monster.
Shatter, he gets this skill at level 5 and what he does is destroy the armor of the monster he hits with his attack, very suitable against tanks like the Goblin Mech, Silvershield Paladin, Frozen Soldier, Etc.
Poison, this skill is unlocked by maximizing our card at level 8, it's a well known skill that subtracts 2 life points before each turn from the character we manage to poison.
These three skills are generally very useful and make the Naga Winmaster a very usable card, plus the fact that it is a Reward card makes it quite affordable and therefore essential in our collection.
My Naga Winmaster is level 6 but due to the level of my water summoner I can only use her at level 5, still she does an excellent job as you can see in the next battle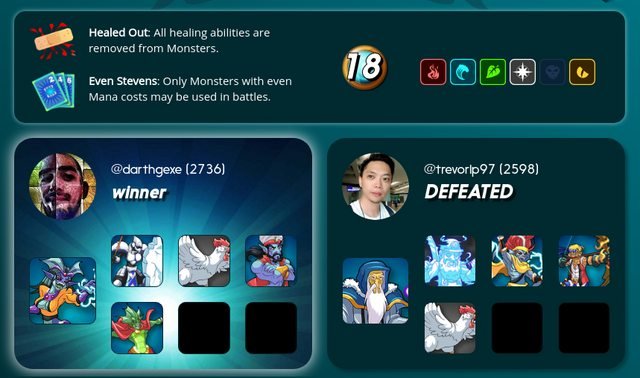 https://splinterlands.io?p=battle&id=7b0a7474346ae6e05f6b82ec5f24cc1bfe6baa99&ref=darthgexe
The line up
Because of his last 5 battles I felt that my opponent would use powerful magic attack cards in his team, so I decided to use the Frozen Soldier as the main tank because of its ability to reflect the magic.

In the second position I put the chicken, because... It's free!

Then I put in the Sea Genie, I love how it contributes to the team with its Strengthen skill in addition to doing some magic damage.

Finally the Naga Windmaster, who would mainly be responsible for weakening the enemy archers and breaking any possible shields.
The strategy work?
I think so, although it was all more due to teamwork than the use of the Naga Windmaster, although because of the ruleset where you can only choose even cards and the little mana available there weren't many other options, even though it wasn't the best scenario to stand out, the card did its thing.
What do you think about it? Leave me your comment.
See you in the game.


The images used in this post belong to or are inspired by Splinterlands. a TCG game integrated to the STEEM Blockchain.