Steem Monsters Weekly Challenge
Hello Steemians,
Just got to see this challenge from Steem Monsters and thought of participating in it.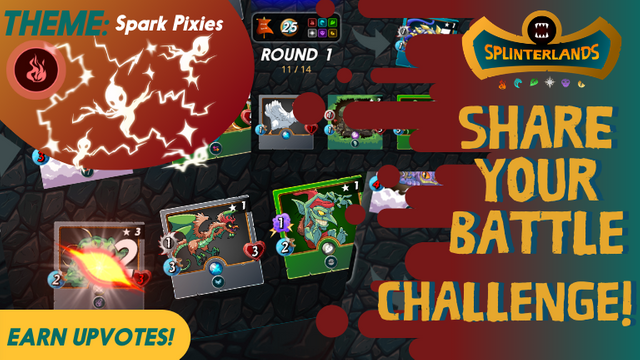 The challenge is to win a battle using Fire Splinter monster Spark Pixies.
The Splinterlands Original post is here: https://steemit.com/splinterlands/@splinterlands/5j3jhb-share-your-battle-weekly-challenge-win-upvotes
A little info about Spark Pixies: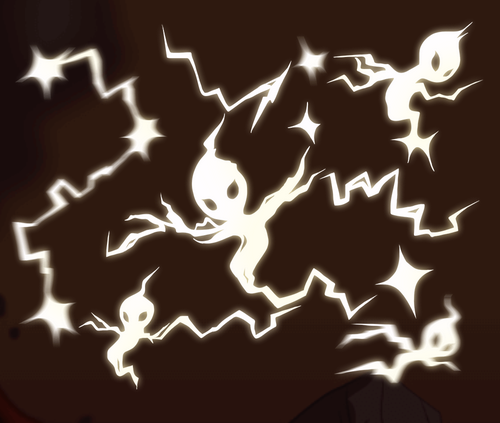 Spark Pixies is a Fire Monster of rare type and is part of Untamed series of cards released recently by team of Steem Monsters/Splinterlands.

The card comes in 8 different levels and different abilities are provided at different levels like Flying, Stun and Dodging.
Below is a snapshot of the different abilities and health levels at different levels of the card: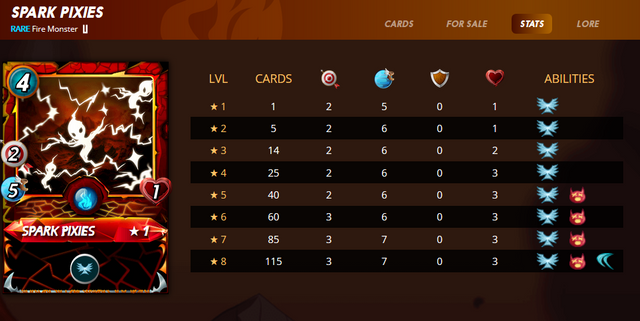 Flying:
Flying gives the card an increased ability to avoiding the attack from melee or ranged attack monsters.
Stun:
Stun ability helps the monster to escape from the attack of the monster which was attacked in the next round. This will be particularly useful to have some more life/health to attack.
Dodging:
Dodging is the ability for a monster to have an increased chance of evading the attack from opponent's melee or ranged cards.
The card has different health/life and the attack at different level as per above screenshot.
My battle with Spark Pixies Card:
I had the chance of battling it out with Fire Splinter with Spark Pixies card used and the battle had below MANA cap and the objectives: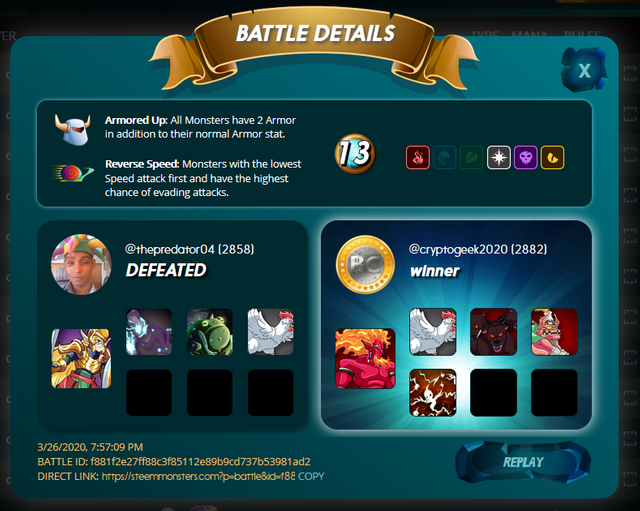 https://steemmonsters.com?p=battle&id=f881f2e27ff88c3f85112e89b9cd737b53981ad2&ref=cryptogeek2020
The battle involved Armored Up and Reverse Speed Objectives.
Armored Up, as we know, will give 2 additional armor to whatever the armors the monsters might have.
Reverse Speed enables the monsters with lowest life to attack first.
The battle had a Mana cap of 13.
My Lineup:
I used a Furious Chicken, Cerberus, Kobold Miner and Spark Pixies.
Furious Chicken as first monster just to negate the attack and help my next card Cerberus to attack as soon as it gets in.
Cerberus for it's ability to heal itself and also for giving a melee attack of 3.
Kobold Miner being a sniper, I thought of reducing opponent's ranged and magic cards from backside since my Cerberus has the healing ability and can withstand attacks from melee monsters.
Last but not the least, Spark Pixies to give me a ranged attack option since this is a low Mana battle.
My Opponent had used Daria Dragonscale summoner with monsters Haunted Spirit (Level 4 with 3+1 attack because of Daria Dragonscale Summoner), Horny Toad(Level 6 with Poison and Reach abilities and an attack of 2+1) and Furious Chicken(Level 5 with Expand ability).
My battle:
This is how the cards were lined up: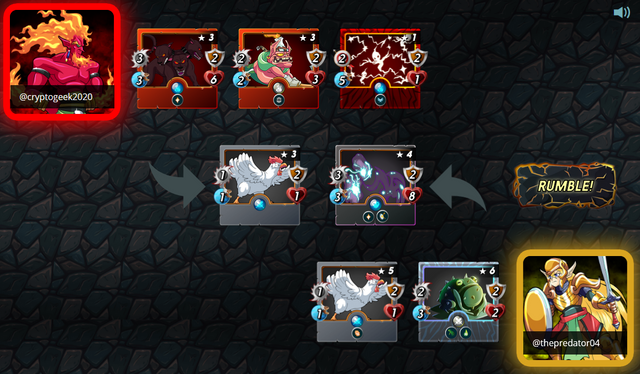 Round 1:
Since this is a Reverse Speed battle, my low mana cards of Furious Chicken followed by Kobold Miner attacked first with taking out the armors of Haunted Spirit and Furious Chicken respectively of opponent. In the mean time, opponent's Horny Toad attacked my Furious Chicken with also pouring some poison followed by Haunted Spirit attacking and taking out my Furious Chicken
Cards after first round were as below: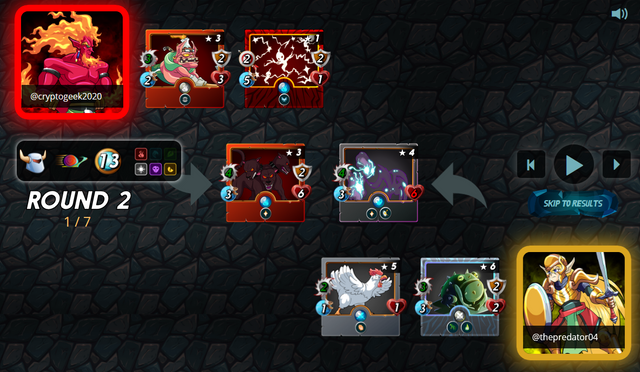 Round 2:
Round 2 begin with Kobold Miner taking out Furious Chicken followed by Horny Toad attacking my Cerberus and pouring poison and then Cerberus attacked Haunted Spirit and then vice versa. Then came the Spark Pixies to attack the Haunted Spirit and reduce it's health to 2 and Cerberus lost it's life because of the poison.
Here is the snapshot of cards after round 2.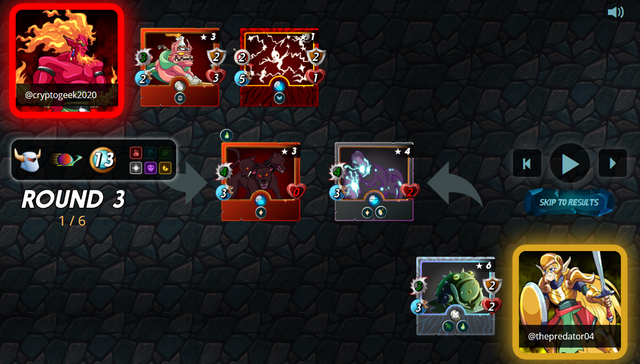 Round 3:
Kobold Miner attacked the 2 health Haunted Spirit to take it out and bring Horny Toad to the front and straightaway, it attacked the Kobold Miner to reduce the armor.
But Spark Pixies attacked the Horny Toad to reduce it's armor and that completed round 3 with Horny Toad and Kobold Miner as front cards without any armors.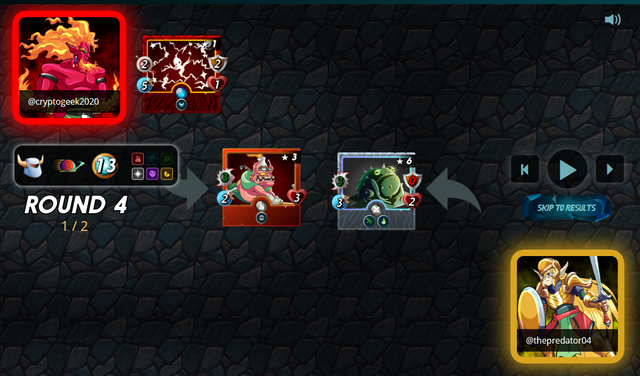 Round 4:
Round 4 needed just one move and that is of my Kobold Miner attacking the Horny Toad and Horny Toad just vanished with that attack.
So, it's a short but nice battle including Spark Pixies and that gave me a win!!!!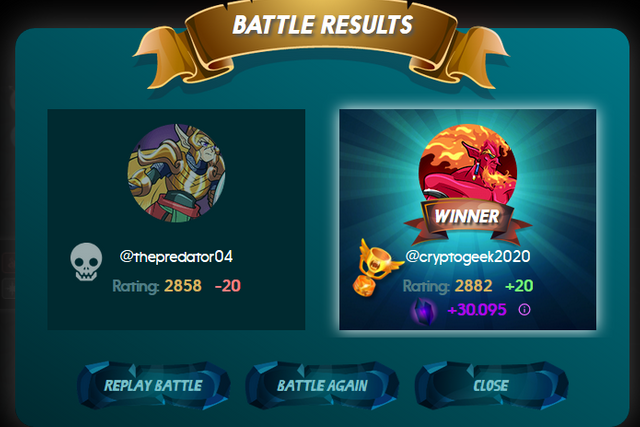 Did your strategy work? What will you try differently next time?
Yes, usage of Spark Pixies in this battle is because of this challenge and it worked nicely although Kobold Miner was a here for me in taking out Furious Chicken and finishing off the Horny Toad.
If I have to try differently, then, I would have used another sniper instead of Spark Pixies to support the Kobold Miner more.
Do you use SPARK PIXIES often? Why or why not?
No, this is the first time I used it, infact, I purchased it just for this challenge. May be at higher levels, this card might be more useful, but at low level, there are other better cards with lesser mana.