Splinterlands Daily Battlelog - Wed Jun 10 2020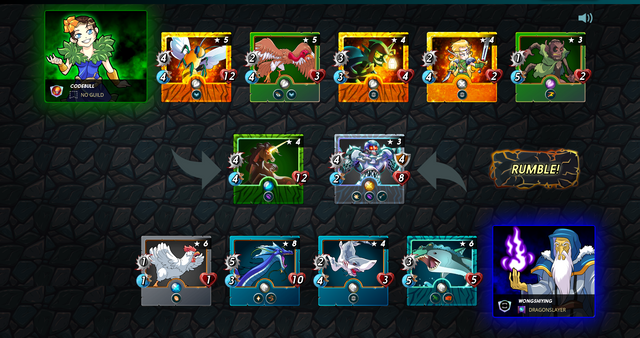 Battle Link
Today's top battle is between me and wongshiying.
Ruleset: Earthquake and Up Close & Personal
Mana Limit: 32
I have selected Lyanna Natura (Lvl 4) summoner, and Unicorn Mustang (Lvl 4), Nectar Queen (Lvl 5), Screeching Vulture (Lvl 5), Goblin Thief (Lvl 4), Elven Cutthroat (Lvl 4), Brownie (Lvl 3) monsters. Opponent has fielded Alric Stormbringer (Lvl 6) summoner and Chain Golem (Lvl 3), Wave Runner (Lvl 6), Sabre Shark (Lvl 4), Sea Monster (Lvl 8), Furious Chicken (Lvl 6) monsters.
This battle has earned me 32.664 DEC and 20 rating points.
Today's Quest Rewards
| Cards | Gold | Legendary | Dec | Orb |
| --- | --- | --- | --- | --- |
| Serpentine Mystic, Flame Monkey, Warrior of Peace | 3 | 0 | 131 | 0 |
Today's All Battles
| Me | Result | Opponent |
| --- | --- | --- |
| Lyanna Natura (Lvl 4), Unicorn Mustang (Lvl 4), Nectar Queen (Lvl 5), Screeching Vulture (Lvl 5), Goblin Thief (Lvl 4), Elven Cutthroat (Lvl 4), Brownie (Lvl 3) | Win View | Alric Stormbringer (Lvl 6), Chain Golem (Lvl 3), Wave Runner (Lvl 6), Sabre Shark (Lvl 4), Sea Monster (Lvl 8), Furious Chicken (Lvl 6) |
| Lyanna Natura (Lvl 4), Lord Arianthus (Lvl 2), Failed Summoner (Lvl 3), Goblin Sorcerer (Lvl 4), Child of the Forest (Lvl 4) | Win View | Valnamor (Lvl 2), Lord Arianthus (Lvl 2), Medusa (Lvl 3), Halfling Alchemist (Lvl 1) |
| Lyanna Natura (Lvl 4), Kron the Undying (Lvl 1), Furious Chicken (Lvl 4) | Win View | Drake of Arnak (Lvl 2), Brownie (Lvl 1), Khmer Princess (Lvl 1), Furious Chicken (Lvl 2), Fire Spitter (Lvl 2), Halfling Alchemist (Lvl 2) |
| Lyanna Natura (Lvl 4), Failed Summoner (Lvl 3), Earth Elemental (Lvl 4), Wood Nymph (Lvl 5), Mushroom Seer (Lvl 4), Javelin Thrower (Lvl 4), Mitica Headhunter (Lvl 1) | Loss View | Malric Inferno (Lvl 4), Exploding Dwarf (Lvl 5), Serpentine Soldier (Lvl 4), Giant Roc (Lvl 5), Flame Imp (Lvl 4), Goblin Shaman (Lvl 5), Beetle Queen (Lvl 4) |
| Lyanna Natura (Lvl 4), Chain Golem (Lvl 2), Earth Elemental (Lvl 4), Khmer Princess (Lvl 4), Swamp Thing (Lvl 2), Furious Chicken (Lvl 4) | Loss View | Zintar Mortalis (Lvl 3), Lord Arianthus (Lvl 2), Furious Chicken (Lvl 3), Undead Priest (Lvl 3), Twisted Jester (Lvl 3), Centaur (Lvl 4) |
| Lyanna Natura (Lvl 4), Lord Arianthus (Lvl 2), Rexxie (Lvl 5), Screeching Vulture (Lvl 5), Khmer Princess (Lvl 4), Grumpy Dwarf (Lvl 5), Chain Golem (Lvl 2) | Loss View | Daria Dragonscale (Lvl 3), Chain Golem (Lvl 2), Haunted Spirit (Lvl 3), Animated Corpse (Lvl 4), Lord of Darkness (Lvl 2), Manticore (Lvl 3) |
| Lyanna Natura (Lvl 4), Flesh Golem (Lvl 5), Earth Elemental (Lvl 4), Screeching Vulture (Lvl 5), Khmer Princess (Lvl 4), Furious Chicken (Lvl 4) | Win View | Zintar Mortalis (Lvl 3), Animated Corpse (Lvl 4), Furious Chicken (Lvl 3), Fallen Specter (Lvl 2), Undead Priest (Lvl 3), Undead Archer (Lvl 3), Twisted Jester (Lvl 3) |
| Lyanna Natura (Lvl 4), Unicorn Mustang (Lvl 4), Earth Elemental (Lvl 4), Prismatic Energy (Lvl 4), Wood Nymph (Lvl 5), Javelin Thrower (Lvl 4), Mantoid (Lvl 4) | Win View | Daria Dragonscale (Lvl 3), Flesh Golem (Lvl 4), Rexxie (Lvl 4), Goblin Mech (Lvl 5), Prismatic Energy (Lvl 4), Javelin Thrower (Lvl 4), Cyclops (Lvl 3) |
| Lyanna Natura (Lvl 4), Lord Arianthus (Lvl 2), Screeching Vulture (Lvl 5), Wood Nymph (Lvl 5), Javelin Thrower (Lvl 4), Mitica Headhunter (Lvl 1), Mantoid (Lvl 4) | Loss View | Tyrus Paladium (Lvl 5), Silvershield Paladin (Lvl 5), Luminous Eagle (Lvl 3), Prismatic Energy (Lvl 5), Silvershield Assassin (Lvl 4), Divine Healer (Lvl 6), Cornealus (Lvl 2) |
| Zintar Mortalis (Lvl 4), Furious Chicken (Lvl 4), Phantom Soldier (Lvl 3), Twisted Jester (Lvl 4), Undead Archer (Lvl 4), Undead Priest (Lvl 4) | Loss View | Lyanna Natura (Lvl 6), Failed Summoner (Lvl 1), Minotaur Warrior (Lvl 8), Furious Chicken (Lvl 1), Magi of the Forest (Lvl 4), Swamp Thing (Lvl 4), Barking Spider (Lvl 1) |
| Zintar Mortalis (Lvl 4), Haunted Spirit (Lvl 4), Phantom Soldier (Lvl 3), Soulstorm (Lvl 2), Twisted Jester (Lvl 4), Magi Sphinx (Lvl 1), Spirit Miner (Lvl 2) | Loss View | Tyrus Paladium (Lvl 4), Goblin Mech (Lvl 5), Silvershield Knight (Lvl 4), Cave Slug (Lvl 3), Silvershield Assassin (Lvl 4), Silvershield Bard (Lvl 4), Evangelist (Lvl 3) |
---