Splinterlands Daily Battlelog - Mon Jun 01 2020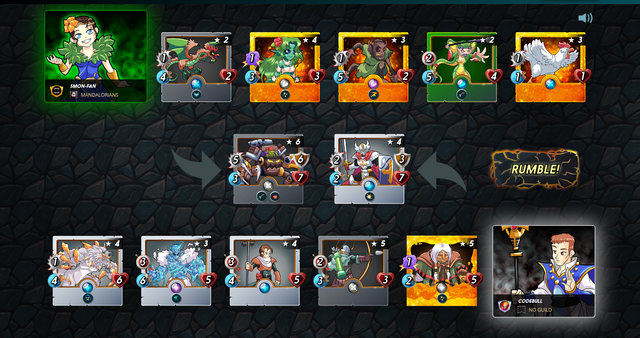 Battle Link
Today's top battle is between me and smon-fan.
Ruleset: Weak Magic and Close Range
Mana Limit: 26
I have selected Tyrus Paladium (Lvl 4) summoner, and Silvershield Paladin (Lvl 4), Divine Healer (Lvl 5), Highland Archer (Lvl 5), Peacebringer (Lvl 4), Air Elemental (Lvl 3), Crystal Werewolf (Lvl 4) monsters. Opponent has fielded Lyanna Natura (Lvl 6) summoner and Goblin Mech (Lvl 6), Cocatrice (Lvl 2), Wood Nymph (Lvl 4), Brownie (Lvl 3), Javelin Thrower (Lvl 2), Furious Chicken (Lvl 3) monsters.
This battle has earned me 34.543 DEC and 30 rating points.
Today's Quest Rewards
| Cards | Gold | Legendary | Dec | Orb |
| --- | --- | --- | --- | --- |
| Octopider, Gelatinous Cube, Octopider | 0 | 3 | 47 | 0 |
Today's All Battles
| Me | Result | Opponent |
| --- | --- | --- |
| Tyrus Paladium (Lvl 4), Silvershield Paladin (Lvl 4), Divine Healer (Lvl 5), Highland Archer (Lvl 5), Peacebringer (Lvl 4), Air Elemental (Lvl 3), Crystal Werewolf (Lvl 4) | Win View | Lyanna Natura (Lvl 6), Goblin Mech (Lvl 6), Cocatrice (Lvl 2), Wood Nymph (Lvl 4), Brownie (Lvl 3), Javelin Thrower (Lvl 2), Furious Chicken (Lvl 3) |
| Tyrus Paladium (Lvl 4), Sacred Unicorn (Lvl 2), Luminous Eagle (Lvl 2), Light Elemental (Lvl 1), Armorsmith (Lvl 5), Furious Chicken (Lvl 4) | Win View | Lyanna Natura (Lvl 3), Flesh Golem (Lvl 4), Earth Elemental (Lvl 3), Screeching Vulture (Lvl 4), Wood Nymph (Lvl 4), Child of the Forest (Lvl 1), Furious Chicken (Lvl 1) |
| Tyrus Paladium (Lvl 4), Sacred Unicorn (Lvl 2), Armorsmith (Lvl 5), Silvershield Bard (Lvl 4), Furious Chicken (Lvl 4) | Win View | Tyrus Paladium (Lvl 6), Furious Chicken (Lvl 3), Silvershield Warrior (Lvl 4), Creeping Ooze (Lvl 6), Armorsmith (Lvl 4), Feral Spirit (Lvl 4) |
| Tyrus Paladium (Lvl 4), Furious Chicken (Lvl 4), Luminous Eagle (Lvl 2), Light Elemental (Lvl 1) | Loss View | Malric Inferno (Lvl 4), Cocatrice (Lvl 2), Furious Chicken (Lvl 3), Creeping Ooze (Lvl 5), Flame Imp (Lvl 4), Kobold Miner (Lvl 4), Imp Bowman (Lvl 3) |
| Tyrus Paladium (Lvl 4), Crystal Werewolf (Lvl 4), Divine Sorceress (Lvl 3), Divine Healer (Lvl 5), Defender of Truth (Lvl 2), Light Elemental (Lvl 1), Peacebringer (Lvl 4) | Win View | Contessa L'ament (Lvl 5), Enchanted Defender (Lvl 3), Giant Scorpion (Lvl 4), Dark Astronomer (Lvl 2), Parasitic Growth (Lvl 3), Undead Priest (Lvl 5), Tower Griffin (Lvl 2) |
| Malric Inferno (Lvl 4), Magnor (Lvl 1), Giant Roc (Lvl 4), Naga Fire Wizard (Lvl 4), Serpentine Spy (Lvl 4), Fire Elemental (Lvl 2), Fire Demon (Lvl 3) | Loss View | Alric Stormbringer (Lvl 1), Frozen Soldier (Lvl 1), Sea Monster (Lvl 1), Spineback Turtle (Lvl 1), Sea Genie (Lvl 1), Ruler of the Seas (Lvl 1), Water Elemental (Lvl 1) |
| Malric Inferno (Lvl 4), Lord Arianthus (Lvl 2), Centaur (Lvl 4), Mantoid (Lvl 4) | Loss View | Alric Stormbringer (Lvl 8), Lord Arianthus (Lvl 4), Ruler of the Seas (Lvl 4), Crustacean King (Lvl 10), Pirate Archer (Lvl 8) |
| Alric Stormbringer (Lvl 4), Spineback Turtle (Lvl 5), Mischievous Mermaid (Lvl 2), Ruler of the Seas (Lvl 2), Magi Sphinx (Lvl 1), Furious Chicken (Lvl 4) | Win View | Tyrus Paladium (Lvl 7), Silvershield Paladin (Lvl 5), Divine Healer (Lvl 5), Feral Spirit (Lvl 5), Peacebringer (Lvl 3), Air Elemental (Lvl 3), Furious Chicken (Lvl 3) |
| Malric Inferno (Lvl 4), Furious Chicken (Lvl 4), Cerberus (Lvl 4), Highland Archer (Lvl 5), Imp Bowman (Lvl 3) | Loss View | Malric Inferno (Lvl 8), Cerberus (Lvl 8), Kobold Miner (Lvl 8), Furious Chicken (Lvl 3), Fire Beetle (Lvl 8) |
---