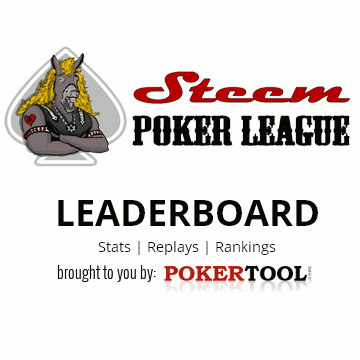 NO TRIPLE CROWN WINNER THIS PAST WEEK
---

lebekons
lebekons
took down the coveted PLAYER OF THE WEEK badge this past week. lebekons was the highest SBD earner for the low-limit and mid-limit tournaments. In addition, lebekons took second in the 50 SBD Freeroll. Had lebekons won the 50 SBD Freeroll, he would have made SPL history by becoming the first SPL player to finish 1st in all three categories (which is what is required to win the Triple Crown). There is still a place in SPL history for any player to become the first Triple Crown Winner. lebekons gave it a good shot and may not have won the Triple Crown, but he did win this week's Player Of The Week.
---

themappster
The most profitable player this past week was the
themappster
. Averaging 6.38 SBD for every event he played gave themappster the #1 spot on the most profitable list this week.
---

AlaQrab
AlaQrab
was SPL's most consistent player this past week. AlaQrab won 33% of the tournaments played!
---

lebekons
lebekons
scores again with the Most Active award. lebekons played 30 times this past week. That's over 4 events everyday. Seeing that lebekons is also Player Of The Week maybe this is how it's achieved. Play more, win more, be champion!
---

55eleven
We start off the Wall Of Shame this week with SPL's biggest donk,
55eleven
. This is the player who played the most without ever winning an event in the past week. Of all the players this past week who never won an event, 55eleven played more events than all of them and becomes this week's Biggest Donkey.
---

GuyFawkes
Our second player added to the Wall Of Shame this week is the person who got knocked out on the bubble the most. The winner of this prestigious award goes to
GuyFawkes
this week. With 33% of his finishes on the bubble, GuyFawkes becomes this weeks Bubble Boy winner.
---
Congrats to all the winners and donkeys. No matter where you end up, have fun and win free SBD! Special thanks to @tuck-fheman for his tireless work in manually curating the files so we can have these stats.
---
---
Please help raise awareness for these contests and the SPL games by resteeming this post.
@internetguy with original World Poker Tour Hostess, Shana Hiatt