Many powerhouses in this world have been cultivating untruths (lies) , in extraordinary ways and to extraordinary lengths for centuries.
Thus, It can sometimes be hard to grasp the Truth.
But what is the Truth?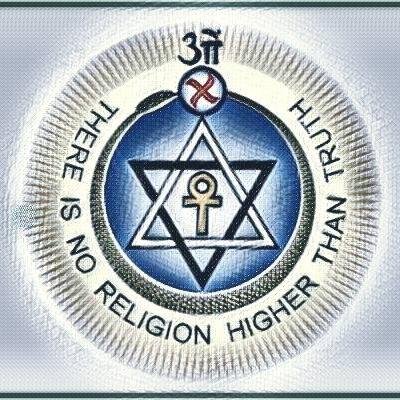 Knowing the truth is important because if we are going to , for example, form a religion around something - it is wiser to form it around what is ultimately most true, rather than have it formed around an untruth, because it will reflect better results and provide the proper path.
But what is true, and what is the truth - and what does truth have to do with religion?
Many things are true.
It may be true that you have a blue car, but what does this blue car have to do with ultimate truth?
Knowing ultimate truth is as simple as reflecting up-on ultimate truth - aka True Religion.
What is ultimately true, is ultimate truth.
What is ultimately true is that there is an energy that is present universally, and it is aware; it is intellegent: it is nature.
The intellegence of this energy is ultimate truth; for the ultimate truth is that existance is; and existence is this energy.
Since initially only void existed; the creation of existence; consciousness, is the one truth - the one infinite becoming.
This becoming energy - this isness - is ultimate truth.
It is Law from which all universal laws are drawn from.
True religion is living ones life in accordance with these laws, in accordance with THE LAW and in a way that is truthful, fruitful and fullfilling.
True religion is true synthesis ; true synergy; it is true alchemy.
True religion is embodiment of the axiom: as above - so below.
Cognization of The ultimate truth leads to cognization of thine true self AS the ultimate truth - as one piece of the creative spark of existence energy.
When thou realizes that ye are the ultimate Law , ye will be inclined to usse the higher la against the lower - thereby escaping imprisonment.
These are the Basic Instructions Before Leaving EArth, aka the B.I.B.L.E.
Knowing and ultizing ultimate law...
This is true religion.
---
We appreciate your sustained attention
If You Appretiate our Work, then please ,Don't Hesitate To Follow, Upvote, Share, Resteem ANd Donate !!
You can donate via PayPal @
paypal.me/Neophytan1
or via any of the following crypto currencies;
Btc : 15eD9fQFM12bUwboeyTTuDfWoM1Xf65AKb
Bread : 0xcc8b8c69e2e53d5b23bcf1ace532ae91480e9401
Btc cash: 15eD9fQFM12bUwboeyTTuDfWoM1Xf65AKb
Btc gold : GgGxEpK99VfW7y18ayvs9toLPdtTRzSqFJ
Cardano DdzFFzCqrhsgdPQL9D8hEqFuBbr7wBdtwEx9RLkoHXtGdk9MS54Ji6ZeQj91LTYfy71qYV6vDQcSxHorsu7FyV3z7HGYDktzVcDa2yK4
basic attention token
0xcc8b8c69e2e53d5b23bcf1ace532ae91480e9401
basic attention token
0xcc8b8c69e2e53d5b23bcf1ace532ae91480e9401
XMR Deposit Payment ID
03ef8e9ecba0ea2520763e243d06afc4acfab333bfe7f35b0c0784f1e5572a1f
XMR Deposit Address
44tLjmXrQNrWJ5NBsEj2R77ZBEgDa3fEe9GLpSf2FRmhexPvfYDUAB7EXX1Hdb3aMQ9FLqdJ56yaAhiXoRsceGJCRS3Jxkn
We would also highly Appretiate any amount steem donation.