SPInvest: Get Rich Slowly
Hello and welcome to this SPinvest post
SPinvest is a tokenized investment fund/club for all users of social blockchains. Everyone is welcome! The concept of SPinvest is to get rich slowly by using time tested methods of earning, saving and compounding long term. This lets SPinvest offer monthly dividends. We encourage long term investing on and off the blockchain. We hope someday everyone will HODL some SPI tokens that can be bought through the HIVE-engine are dex.steemleo exchanges.
---
We all heard about the power of compounding when it comes to financial matters. This is one of the keys to building long-term wealth. Unfortunately, most know about compounding their debt by having credit cards that charge 18% or more annually.
Markets are a great way to build wealth. While there is risk, many are able to build nice portfolios over years.
Sadly, we live in a world where instant gratification rules. We want it all now.
SPInvest is not a get rich scheme. Instead, it looks at the idea of compounding to get rich slowly.
In today's world, interest rates have been pushed through the floor. Thus, when trying to find a return, it can be difficult. This is one of the reasons the stock market has increased over the last decade. The search for a decent return left few options.
A year ago, SPInvest started with a token price of 1 HIVE per SPI. Upon hitting its first anniversary, it is evident that the club had a good year.
Warren Buffett is considered one of the greatest investors of all time. He has put up a 20% return for a half century. This compounding led him to being one of the richest men in the world.
According to the latest holding report, we can see there was a big difference from a year ago.
The value of the token is now showing an 89% return over the first year. That sure does outpace what Treasury Bills are pays.
To expect this to be duplicated might be unrealistic. We know the numbers were enhanced by the fork of Steem and the receiving of new tokens. Of course, that is about to happen again so who knows how that will turn out.
That said, we see different ways that returns are made.
Here is the curation rewards for the SPInvest account.
That is not really an Earth-shattering amount, it is a return that many in the markets would be happy with. However, things change when we look at another one of the SPInvest accounts.
Here we see a return of more than 14%. That would be a return that almost every market participant would be thrilled with.
As we can see, there is not a ton of HP being used for these purposes. Most of it is directed elsewhere for a return.
Nevertheless, it does show how many different projects under the SPInvest umbrella all feed into generating a great return.
Going forward, while 89% might be a bit out of range, there is no reason why the club cannot achieve more than 20% per year.
And get rich slowly.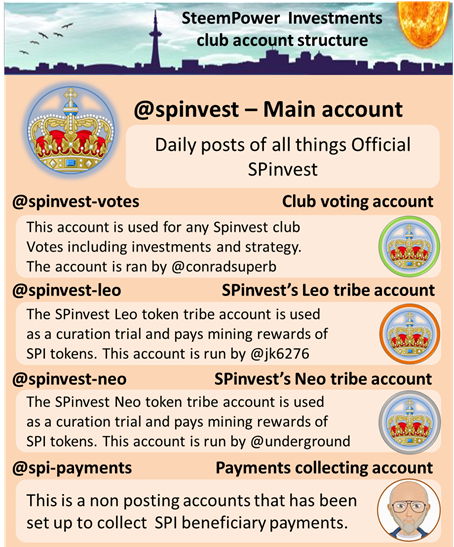 .
SPinvest's content is contributed by @silverstackeruk, @underground, @no-advice, @metzli, @taskmaster4450 and
Today's post comes to you from @taskmaster4450