Spinbot Update: Spinny's Rules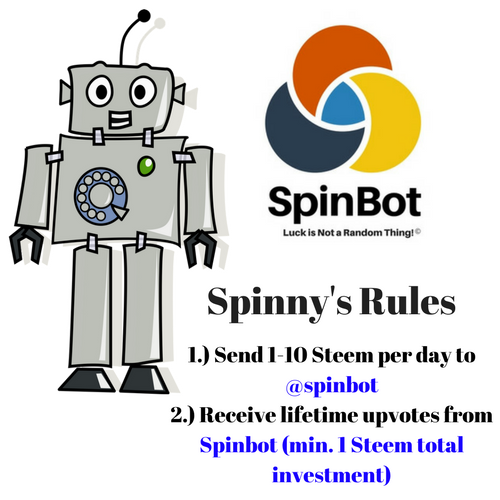 The following are a few things that I'd like you to know about me.
My name is Spinny and I'm an artificial lifeform, a steemit bot and a friend to those who feed me and those that need to be fed.
1.) I am only able to accept and eat STEEM
2.) The minimum amount of STEEM I can eat is (1) Steem
3.) The maximum amount of STEEM I can eat from you per day is (10) Steem
4.) If you send me SBD, I'll send it back and ask for Steem.
5.) Every unit of Steem you send me will make you one steem more likely to receive my upvote based on total percentage of steem donated per user.
6.) I use all Steem to power up and increase my SP voting power.
7.) A target of 20% of monthly Steem received will go to helping a person in need or charity of my choice.
Feed me Steem and I'll remember you forever! Thanks for your support.
For more information, just ask and show me you care by leaving a comment below.