Wow, I was away from Steemit for 5 days and boy, I did feel very weird for not posting, not replying much comments too. I also have been away from supporting some communities that I log in almost everyday before this.
So why was I away?
The only reason that can keep me away from Steemit that I love is another Person that I love - God. I needed to fully focus in listening and also preparing for a task entrusted to me.
I was given an assignment to be sharing in my church some many weeks ago by my lead pastor when he decided to let some of us to do some sharing or preaching after being prompted by God under the Preachers/Prophets in Training (PIT). I was very shocked when I saw myself in a private group when he first contacted four of us. You know, I have been a homemaker and tutor for quite some time, and a mother too, though I have also responded to a full-time calling and am actually under the training of our senior pastor in ministry. In my thoughts, God will probably "resume" my training after I have raised my children.
Nah, that's just my thoughts, His ways are way higher and unpredictable Hahahahahaha!
It is true that this may not be a regular practice in every church and our pastor would not have done it if he did not hear God's instructions in putting us up to share. He believes that everyone is gifted and carries a certain aspect of the kingdom of God. I remember he said to me and anointed me right before I was about to share, "You carry the anointing and it is time not to take the back seat anymore. " Hahahah, I laughed because I know God is still trying to convince my little doubting heart "Why me? I don't think I can do it well. I will embarrass myself and Him. "
When I couldn't believe it
You see, God knows me well. Really well. When I first knew I was going to share, I said, "let me finish laughing and faint first. " Then, I purposely delayed in looking out for my Bible. But instead of "making" me do it, He was so smart to prompt my husband to clear his table to look for a "treasure". My "disobedience" was futile because there was another person in my household who was obedient, Hahaha. Lo and behold, the Bible appeared and I laughed again. I said to Him, "Okay fine. But You too know I have another bible that I hold even dearer to myself than this bible." On the same day, I was looking for my insurance documents and I saw IT sitting nicely on the shelf, Hahah!
Anyway, my point is I very enjoy my relationship with God. One of the things He made me realize some years ago was, why He wants a relationship so much with us is because He knew how pleasurable and delightful it is to be in one, thus He wants us to experience it too!
I obviously write better than I can speak. So perhaps, one day, I may write out what I shared here to remember it too. It was an honour and I'm glad that though I'm not refined, the congregation could accept me to do that and test out my calling. I finally could accept that if God says I can, I can and I did it, by His grace. Though my words were stucked and my sharing felt like it was everywhere. Not good enough definitely if it is judged by professional presentation standard. Hahaha. However, what I was doing was to be obedient and speak into the spiritual realm to expose some truths and lies besides speaking to the congregation. I was using some authority that was entrusted to me over the years. My husband constantly reminded me that it is not about me, but about the whole kingdom of God and about God. I must let it happen, with just my participation. With that heart and understanding, I went ahead.
Here are some photos, obviously not taken by me but by friends who were in the congregation :P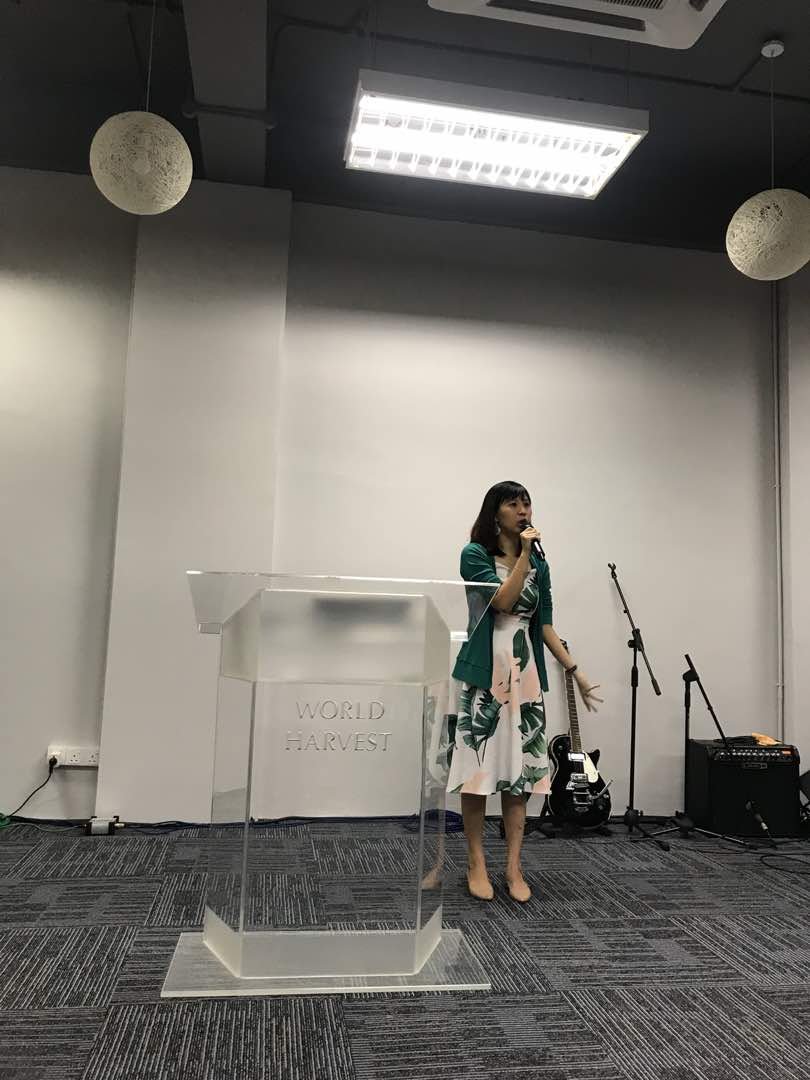 Of course, I was nervous. Thank God I still managed to hear Him in that state.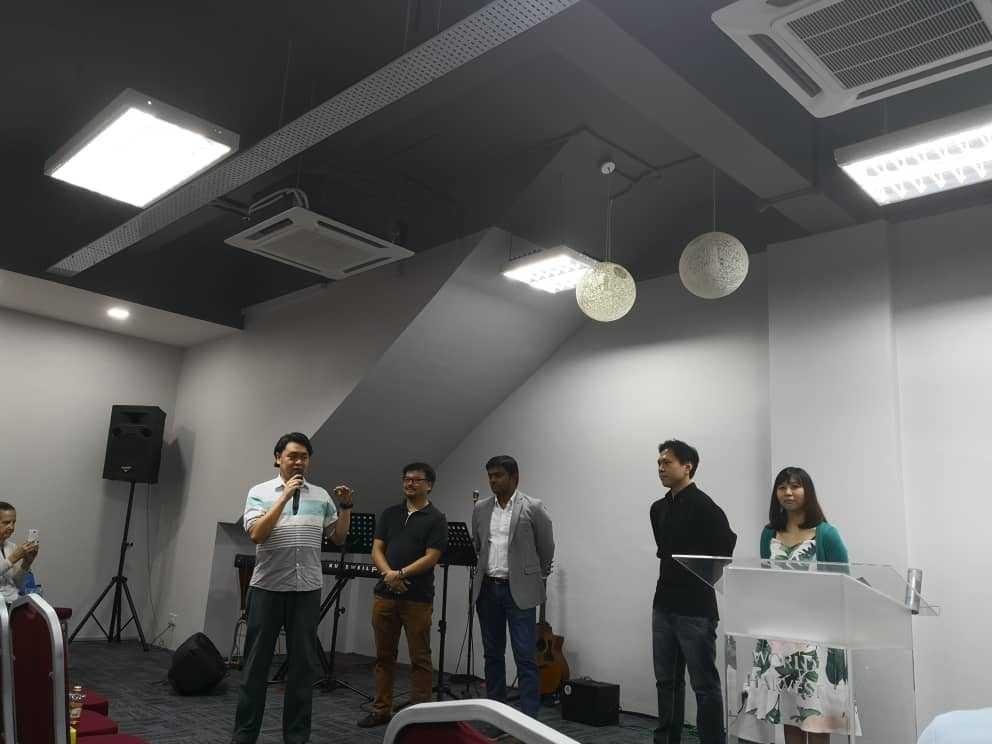 4 of us in the first batch were being prayed over by the church. The other 3 are professionals while I'm the homemaker, lol!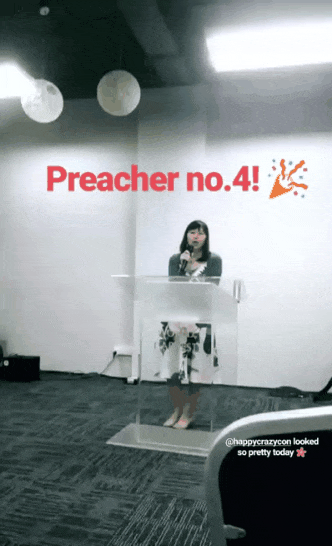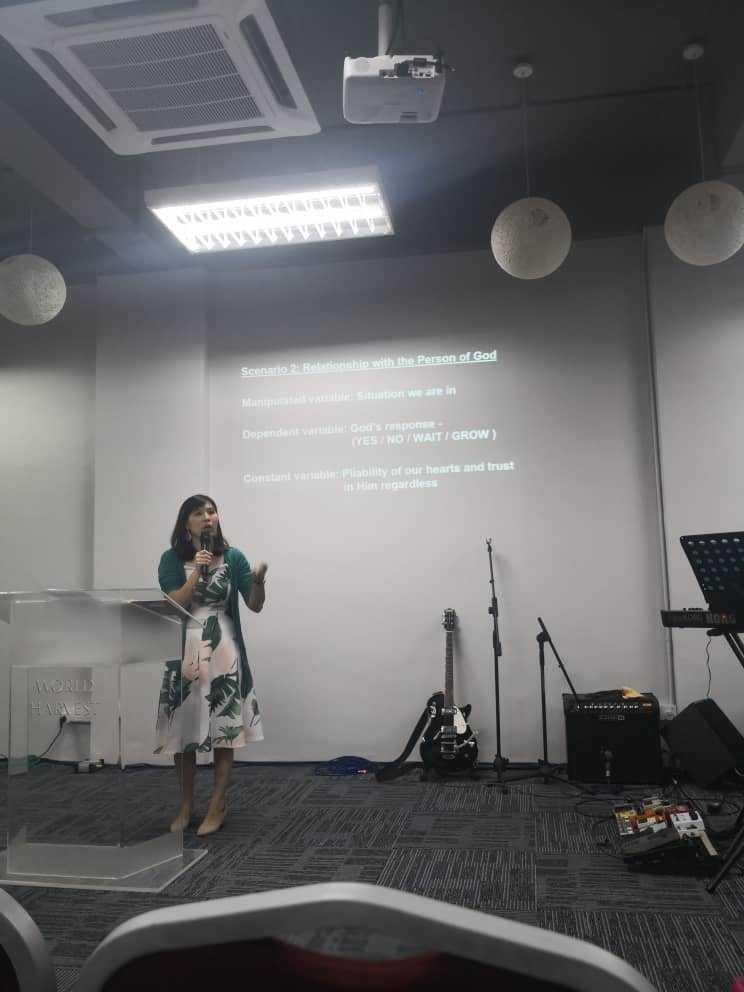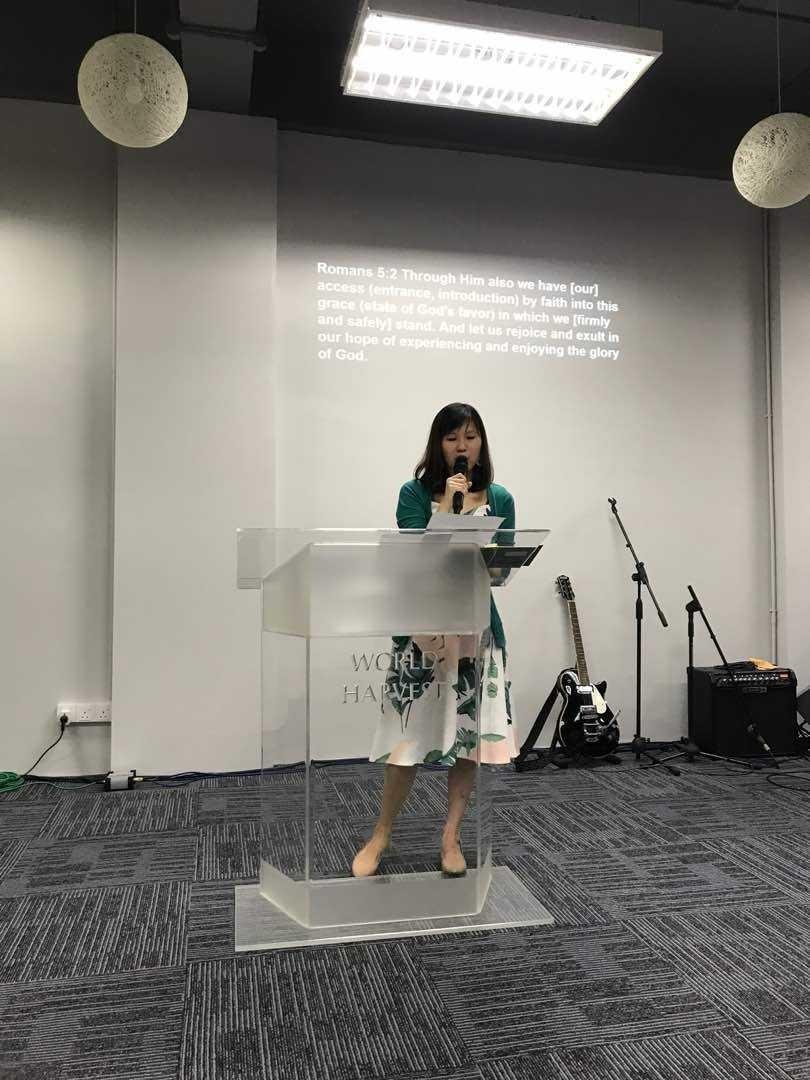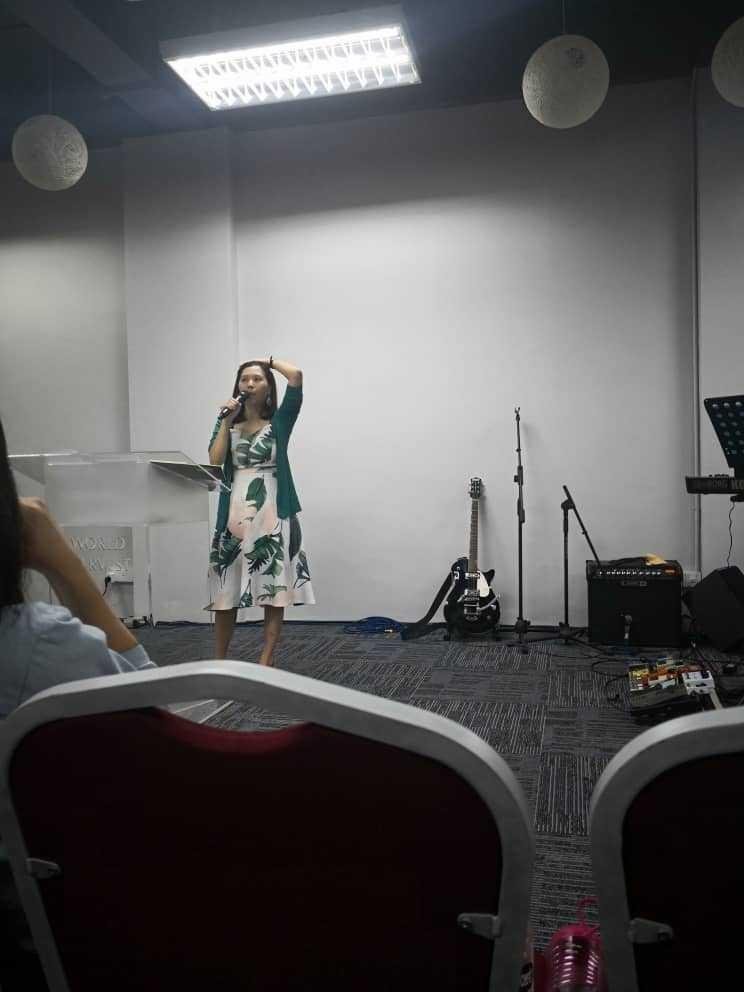 Me in my frustration mode of wanting to articulate things better. It is very hard to translate things from personal experience into words. This makes me respect pastors and preachers even more.
Respecting God-elected Pastors and leaders
I have heard people commenting freely, "why this pastor's preaching is so extended and long? If I were him, I won't have done that. " So, yeah what about us being given the chance to be sharing there? It is a very very emotional taxing task and these pastors and leaders preach week in and week out to be faithful to their calling. The after effect was the mind and spirit were very awake and receptive but the body was very tired out. It felt like I finished a marathon and I just wanted to sit down and space out after the sharing. And we in the congregation think it is so easy, taking them for granted.
Thank you for having me and also being in a church with this culture of honour, this is made possible. I'm sure to be "stoned" if it's another church as I am not deemed fit to do so or we may get labels like cults. Well, let the fruits of the tree speak for itself. We have learnt to recognize each other to see as God sees us here. That is something I'm grateful about and that's the very thing that gave me courage too to also learn to believe in who God has called me to be. I am one who would doubt myself whenever I hear I am called for great things and yet over the years, I see them manifest despite my disbelief (not unbelief because I do believe to a certain extent but to didn't dare to fully embrace it). I love how God believes and trusts in me even when I don't.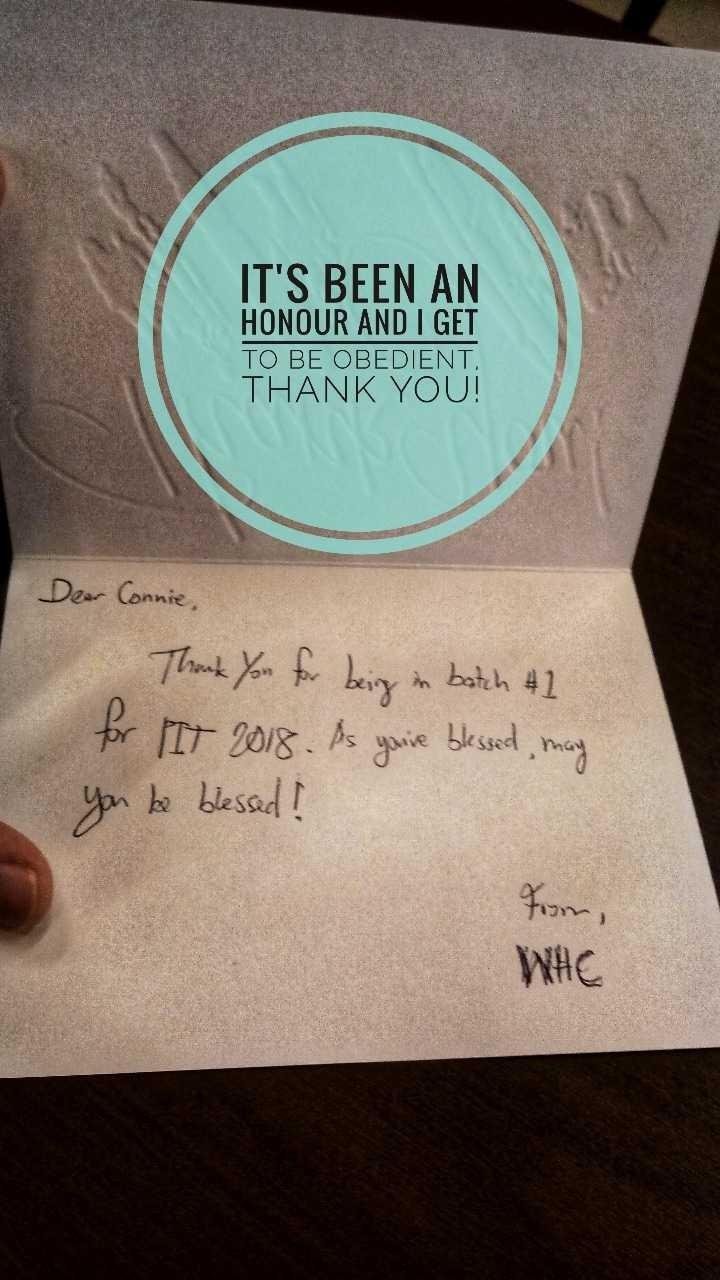 So yes, thank you for an opportunity for me to be obedient to the One I love and want. This is just ramblings from a homemaker who happened to do a sharing yesterday.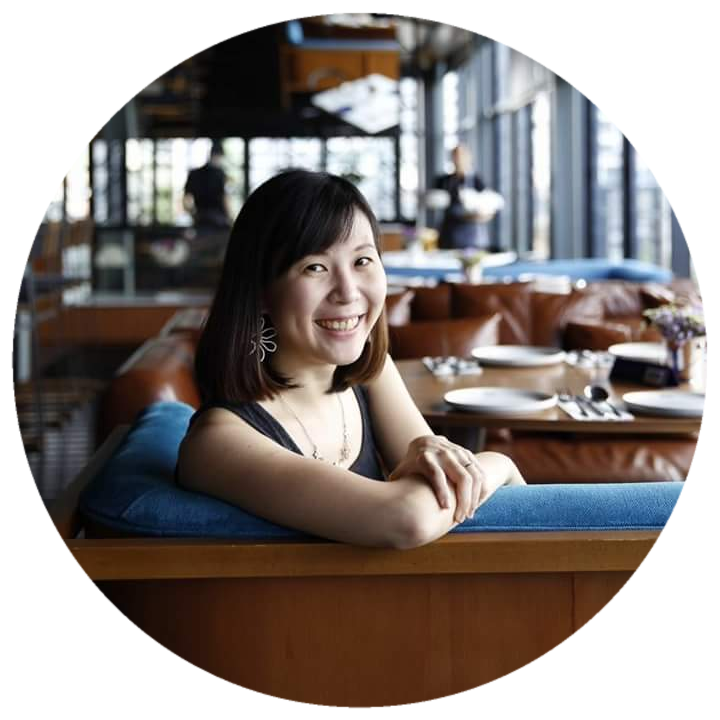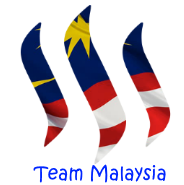 Join us @steemitbloggers
Animation By @zord189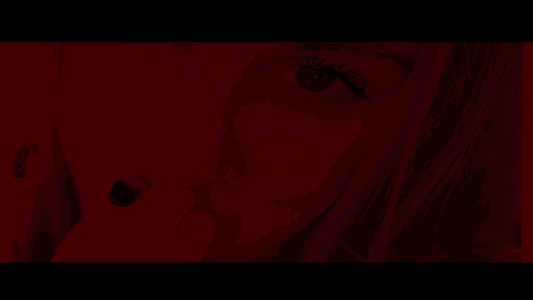 created by @zord189