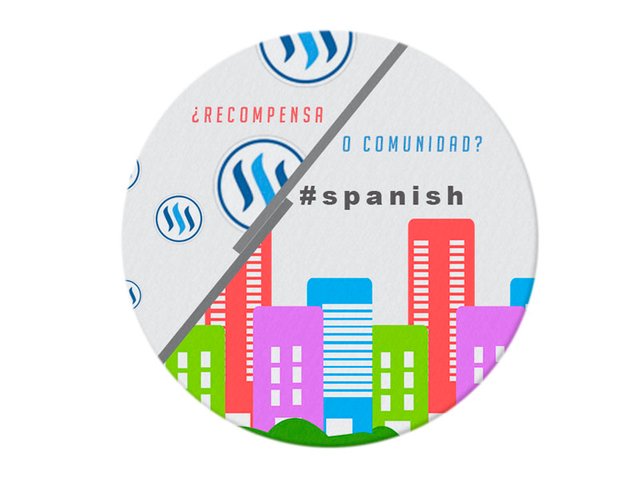 He visto con preocupación a los steemians hispanos y la participación en las distintas comunidades que existen dentro de la blockchain de Steem y que se dan forma en los servidores de Discord.
Desde que ingrese a la cadena mediante Steemit estuve feliz por obtener recompensas por mis trabajos literarios con los cuales inicié en este mar, pero posteriormente empece a tomarle cariño al hecho de participar en las distintas comunidades que se han dado abasto gracias a la herramienta discord, con esto comencé no solo a dejar mis publicaciones en los canales de promoción de cada una sino que además comencé a hacer comunidad.
Cuando hablamos de una comunidad entendemos el concepto como un "grupo de personas que estamos vinculadas bajo un mismo idioma, pensamiento, cultura, edad, costumbre o situación en común, entre otras cosas", esto quizás es aplicable al hecho de simplemente publicar en un mismo idioma, sin embargo, comunidad también se refiere al hecho de convivir y socializar en un espacio común.
En tal sentido, veo miles de usuarios online por todas partes pero la mayoría viaja directamente a esa pequeña sección de "post-promotion" de las distintas comunidades, comunidades que a su vez trabajan duro por traer actividades educativas y distintos canales que buscan mejorar su experiencia en la blockchain pero que muchos usuarios obvian por esperar solamente el tan anhelado "voto".
En este aspecto es donde me pregunto ¿Estamos haciendo comunidad o solo recompensando a viajeros intermitentes?
Si bien nuestros contenidos son recompensados según la calidad del mismo, siento que es apenas un aspecto pequeño comparado al hecho de ver el Steem como un medio de "construcción comunitaria e interacción social". Como líderes comunitarios a veces vemos esto como un aspecto negativo y tendemos a dejar de realizar ciertas actividades debido a la poca afluencia de usuarios, sin embargo también hemos olvidado en muchos casos educar a los creadores en base a la participación, la misma, es clave para el reconocimiento de tus iguales y tu crecimiento personal.
Los proyectos en tal sentido pienso que deben abogar un poco sobre modelos educativos para los usuarios en donde no solamente la participación sea para "dejar una publicación" sino que además se enseñe a compartir en las comunidades y a su vez que comiencen a actuar como curadores, difusores y comentaristas en las demás publicaciones que se crean día a día en este mar de contenidos.
Quizás no tengo la verdad absoluta o quizás solo sueño con una utopía pero si algo es verdad es que existe una frase que sería bueno hacer realidad:
I have seen with preoccupation the Hispanic steemians and the participation in the various communities that exist within Steem's blockchain and that are shaped in the Discord servers.
Since I entered the chain through Steemit I was happy to get rewards for my literary work with which I started in this sea, but later I began to take affection to the fact of participating in the different communities that have been supplied thanks to the discord tool, with this I began not only to leave my publications in the channels of promotion of each one but also began to make community.
When we speak of a community we understand the concept as a "group of people who are linked under a common language, thought, culture, age, custom or situation, among other things", this perhaps applies to the fact of simply publishing in the same language, however, community also refers to the fact of living and socializing in a common space.
In that sense, I see thousands of online users everywhere but most of them travel directly to this small post-promotion section of the different communities, communities that in turn work hard to bring educational activities and different channels that seek to improve their experience in the blockchain but that many users ignore because they only wait for the longed-for "vote".
This is where I wonder, are we doing community or just rewarding intermittent travelers?
While our content is rewarded for its quality, I feel it is only a small aspect compared to seeing Steem as a means of "community building and social interaction". As community leaders we sometimes see this as a negative aspect and we tend to stop carrying out certain activities due to the low number of users, however we have also forgotten in many cases to educate creators based on participation, which is key to the recognition of your peers and your personal growth.
The projects in this sense I think that they should advocate a little about educational models for users where not only the participation is to "leave a publication" but also to be taught to share in the communities and at the same time to begin to act as curators, disseminators and commentators in the other publications that are created day by day in this sea of contents.
Maybe I don't have the absolute truth or maybe I just dream of a utopia but if something is true it's that there is a serious phrase that is good to come true:
"I came for the money and I stayed for the community."
"Vine por el dinero y me quedé por la comunidad."
---
---
Posted from my blog with SteemPress : http://zaxan.vornix.blog/2018/08/28/sociedad-hispana-recompensas-o-comunidad-hispanic-society-rewards-or-community/
---