Un día por Betanzos / One day in Betanzos
Betanzos, "La Muy Noble, Siempre Leal y Antigua Ciudad de Betanzos de los Caballeros" por el Rey Alfonso XIII.
Betanzos es una ciudad gallega de casi 13000 habitantes en 2019, puede sorprender la categoría de ciudad a una población con estos habitantes. Ello se debe a que en 1465, el Rey Enrique IV le concedió el título de ciudad.
Betanzos is a Galician city of almost 13000 inhabitants in 2019, it can surprise the category of city of city to a population with these people. This is because in 1465 King Enrique IV granted him the title of city.
Se trata de un lugar con mucha historia ya que por ella pasaron romanos, suevos, visigodos y musulmanes, aunque estos últimos nunca llegaron a dominarla.
Posee un casco histórico muy rico en Monumentos y es uno de los mejor conservados de Galicia.
It´s a place with a lot of history since Romans, Suevi, Visigoths and Muslims passed through it, although the latter didn´t dominated it.
It has a historic center very rich in Monuments and is one of the best preserved in Galicia.
Pero vamos al lío, con lo que más disfruto yo es con un agradable paseo por la naturaleza y una buena comida y Betanzos fue un maravilloso descubrimiento.
Let´s go to the mess, what I enjoy most is whith a pleasant walk through nature and a good meal, and Betanzos was a wonderful discovery.
El paseo / The walk:
Para ello tuvimos que desplazarnos a muy poca distancia para dejar nuestro coche en el Área Natural Chelo, en el lugar de Colantres perteneciente a Coirós, donde se encuentra el Centro de Interpretación del ámbito fluvial del Mandeo de Chelo.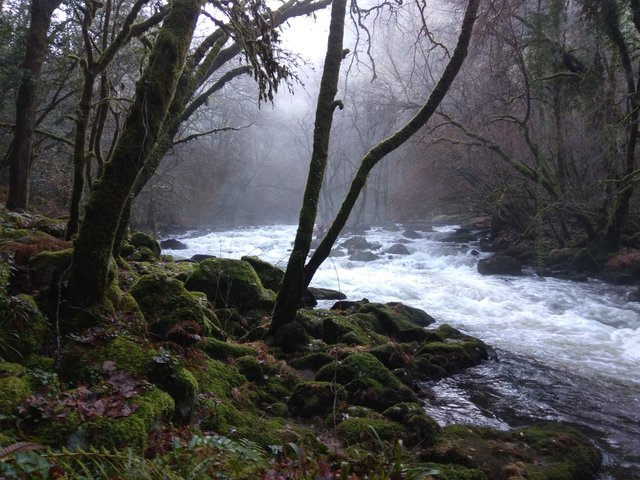 La ruta transcurre por la ribera del río Mandeo, se trata de un paseo de una dificultad baja, asequible para realizar con niños. Durante todo el trayecto podrás disfrutar de de una naturaleza exuberante con unos colores increíbles, acompañado en todo momento por el río Mandeo que te hará disfrutar de la tranquilidad del agua en calma y en zonas te maravillarán sus aguas revueltas.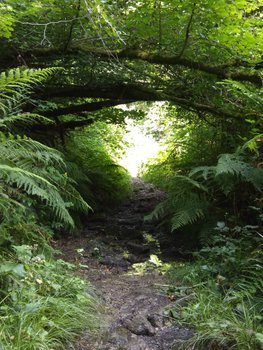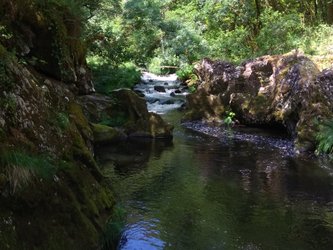 The route runs along the banks of the Mandeo River, it´s a walk of a low difficulty, affordable to do whith children. Throughout the journey you can enjoy an exuberant nature whith incredible colors, accompanied at all times by the Mandeo River that will make you enjoy the tranquility of the calm water and in areas you will be amazed by its rough waters.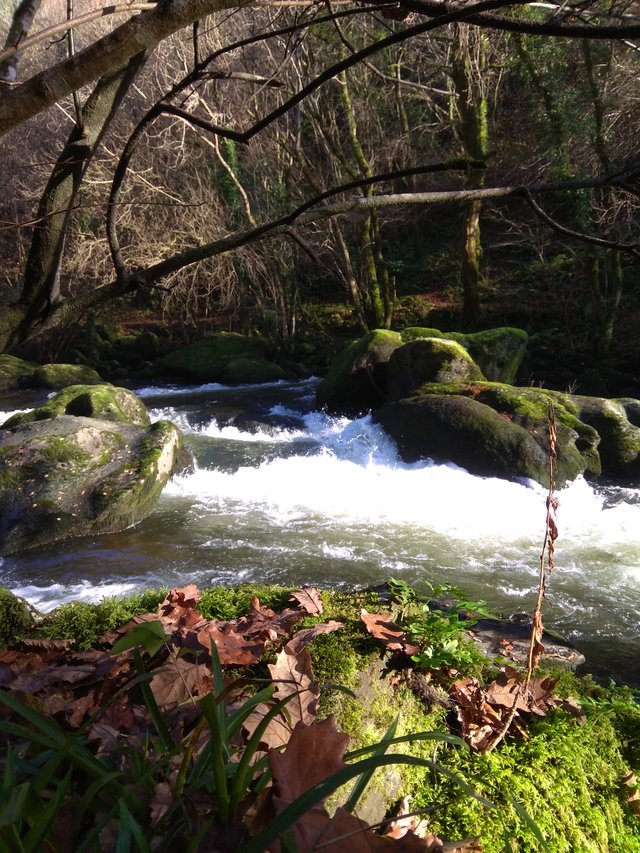 La comida / The food:
La ciudad de Betanzos, en gastronomía, es famosa por su premiada tortilla de Betanzos, pero no es su tortilla lo que quería compartir. Debéis probarla, pero yo, prefiero tomar una tapa con una cerveza en alguna de sus terrazas y comer otras cosas.
The city of Betanzos, in gastronomy, is famous for its award-winning Betanzos omelette, but it´s not that I wanted to share. You should try it but I prefer to take a "tapa" with a beer in one of its terraces and eat other things.
El descubrimiento fue el del restaurante A Coba do Frade, donde disfrutamos de un menú degustación que nos mantuvo durante toda la comida charlando sobre cada bocado. Productos típicos gallegos de primeras calidades con una elaboración moderna y una gran presentación.
Un lugar con un interior muy agradable, un personal atento en todo momento y precios correctos.
Una pequeña muestra del menú / a small sample of the menu.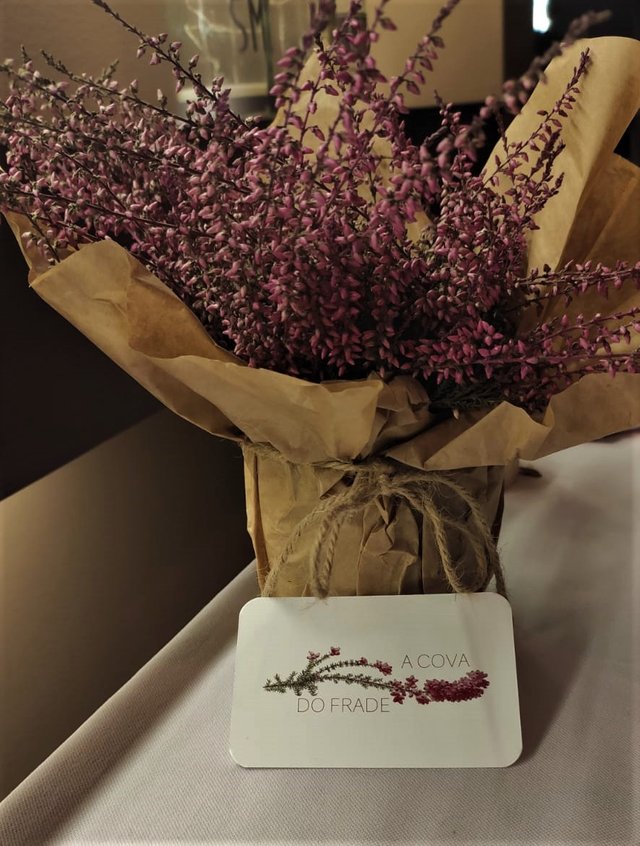 The discovery was the restaurant "A Coba do Frade", where we enjoyed a tasting menu that kept us during all the meal talking about each bite. Typical Galician products of first quality whith a modern elabaration and a great presentation. Very pleasant interior, attentive staff and correct prices.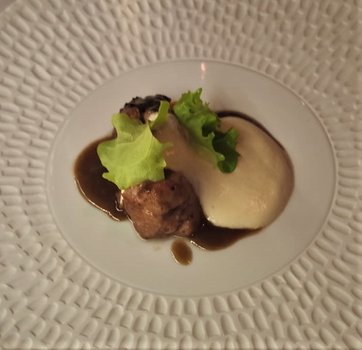 Jugosas mollejas / juicy gizzards.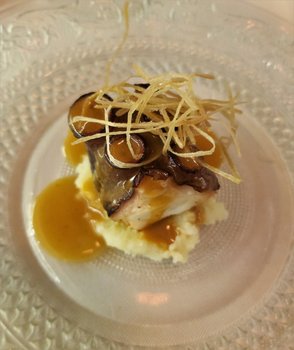 Buenísimo bocado de pulpo / great octopus bite.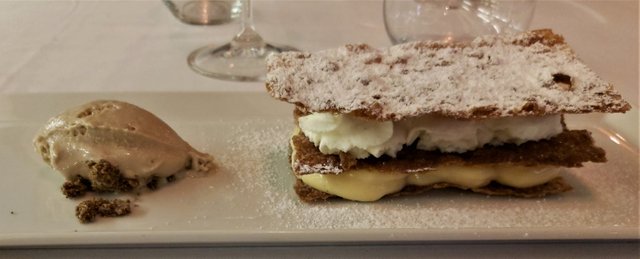 Deliciosa milhojas como parte de un espléndido postre / delicious strudel as part of a splendit dessert.
Todas las fotos son propias realizadas con mi smartphone / All photos are my own and were taken with my smartphone.
Un saludiño.