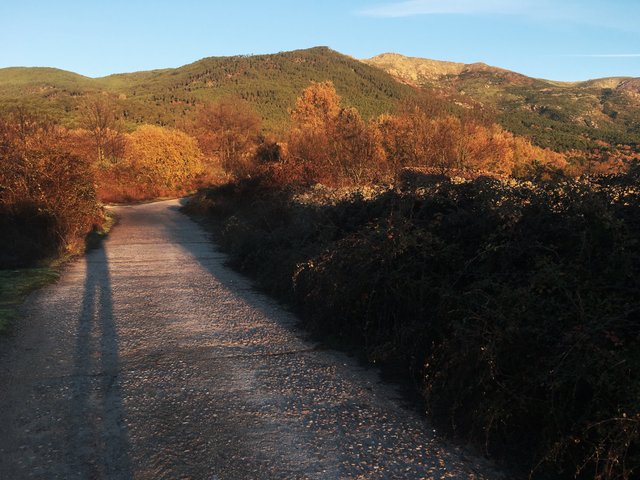 En la península amanece muy tarde con respecto a las Islas Canarias, por lo menos hay una hora mas de oscuridad.
Acostumbrado al horario de Tenerife, se me han abierto los ojos antes de las primeras luces, así que no me ha costado mucho ponerme a caminar con los primeros rayos solares.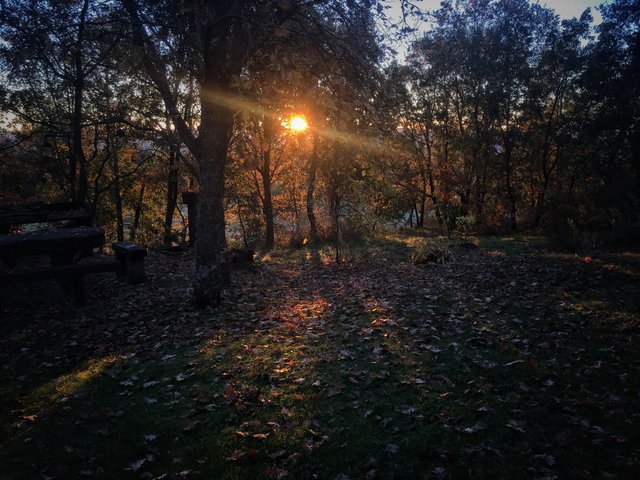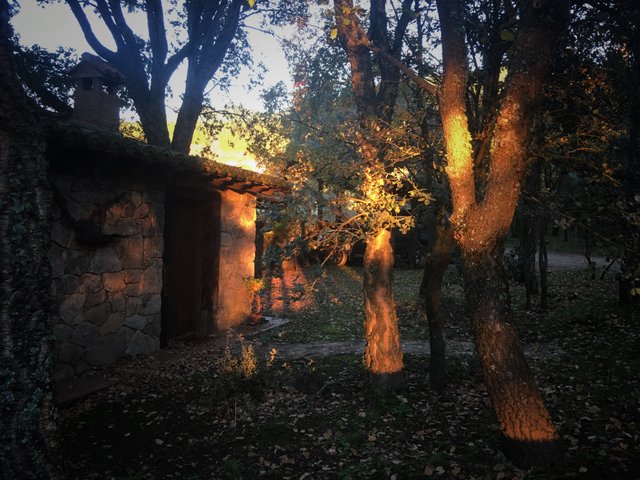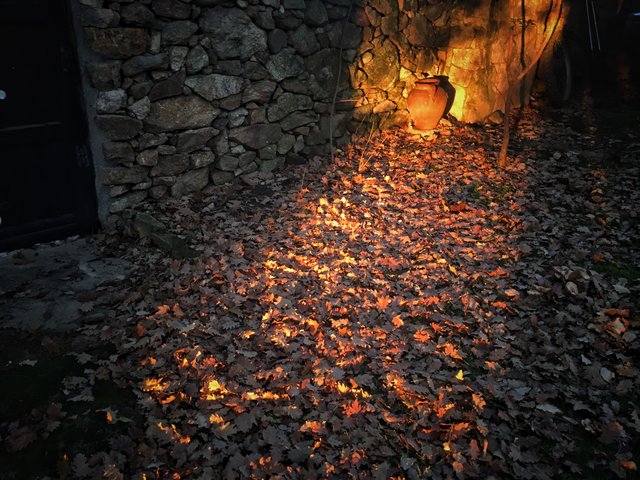 Me gusta madrugar, sobre todo para salir a pasear por el campo cuando todavía está fresco y radiante.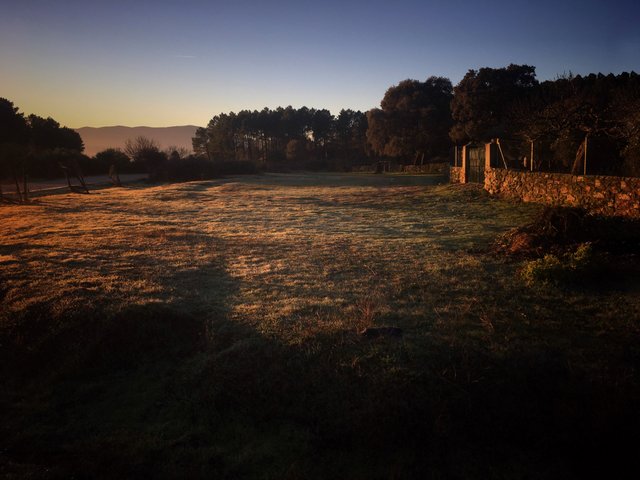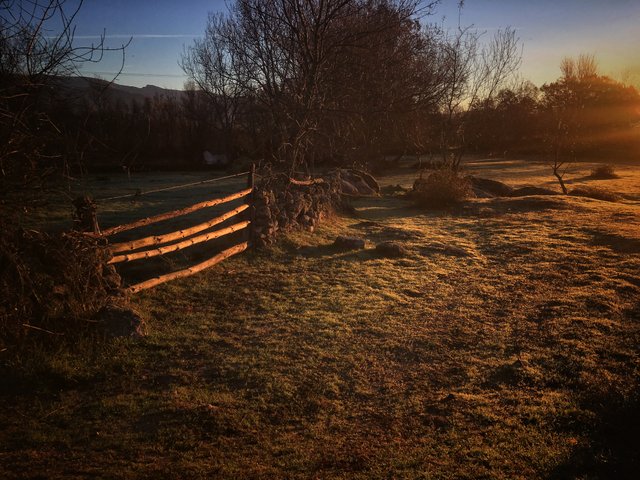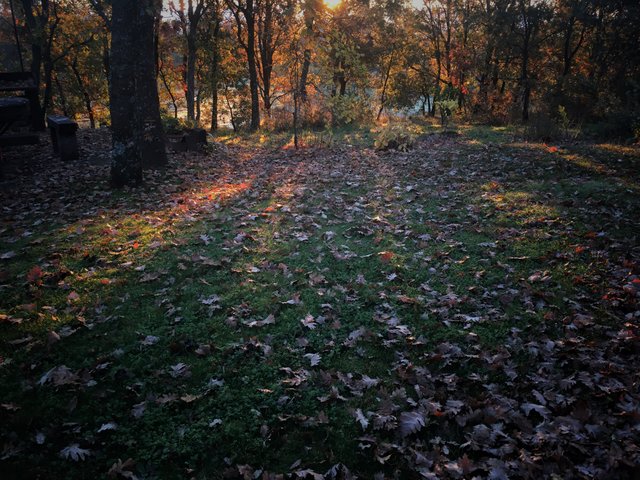 Salgo cuando el sol acaba prácticamente de salir. Hace tiempo que no veía amanecer sobre el campo. Observó que el color de los árboles, el de los prados, el de las montañas es dorado. Las sombras son muy alargadas y solo las copas de los árboles están iluminadas, brillantes color de oro.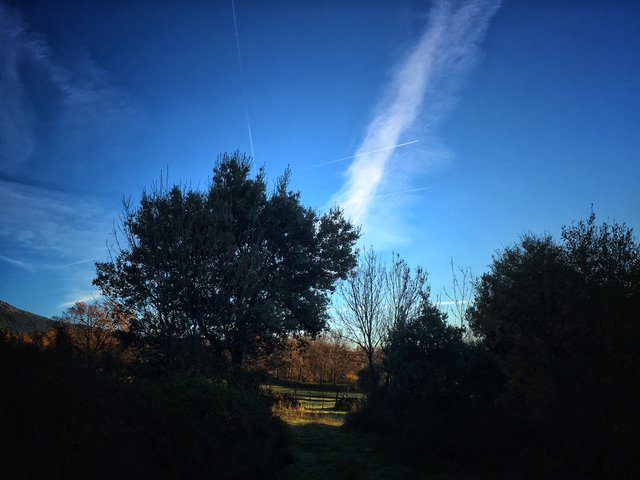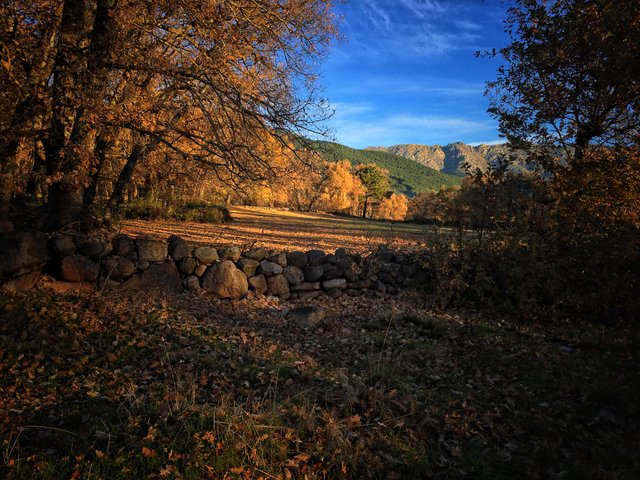 El cielo está muy limpio con nubes altas, muy altas, y blancas como trazos de pincel.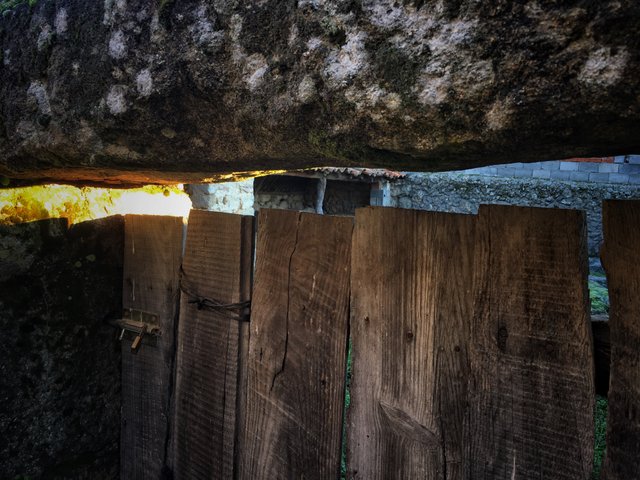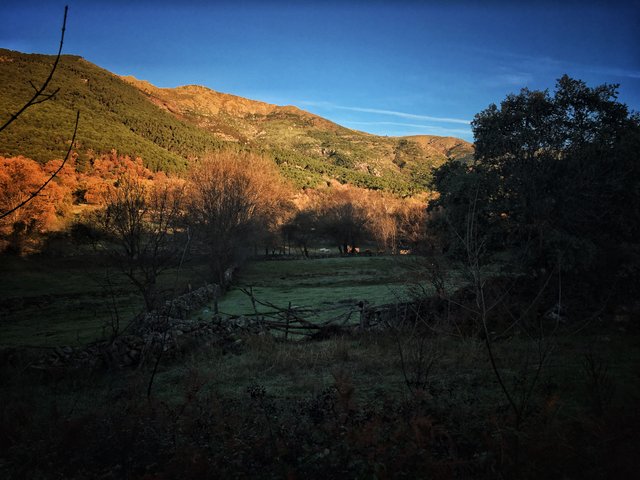 Hace frío, dentro de poco empezará el invierno. Según el móvil estamos a 5° pero caminando se lleva bien esta temperatura, excepto en los pies y las manos.
Este frío me recuerda a cuando pasé por León cuando hice el Camino de Santiago, hace varios años. En los primeros momentos de la etapa hacía una buena "rasca".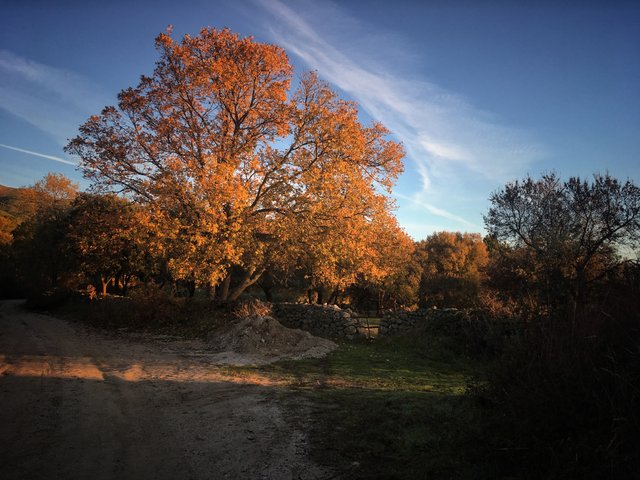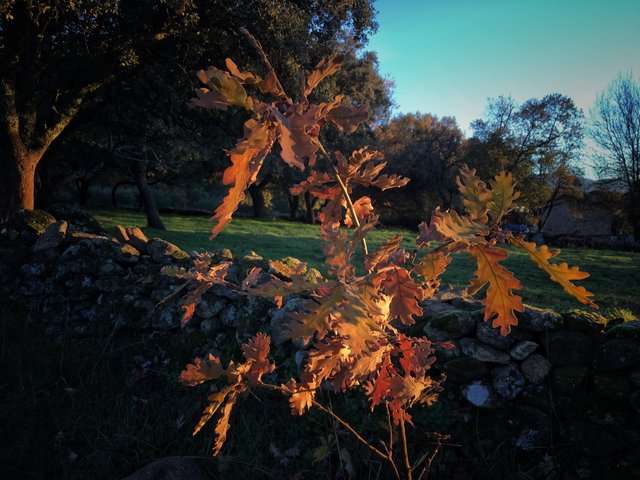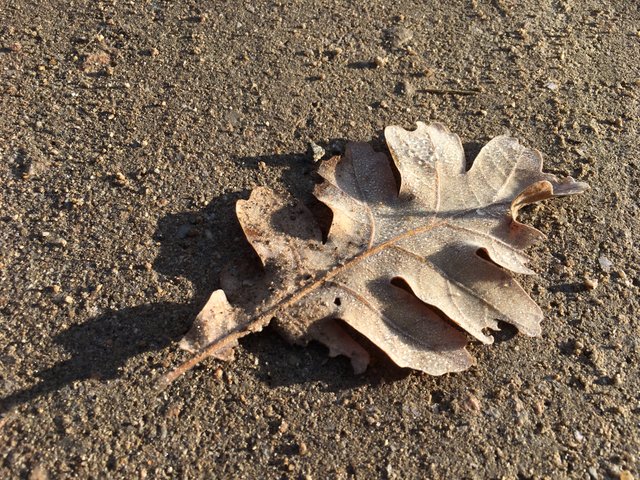 La fotografía tiene la capacidad de detener el instante. Estas pequeñas gotitas sobre la hoja de roble caída durarán pocos minutos puesto que el sol rápidamente calentará.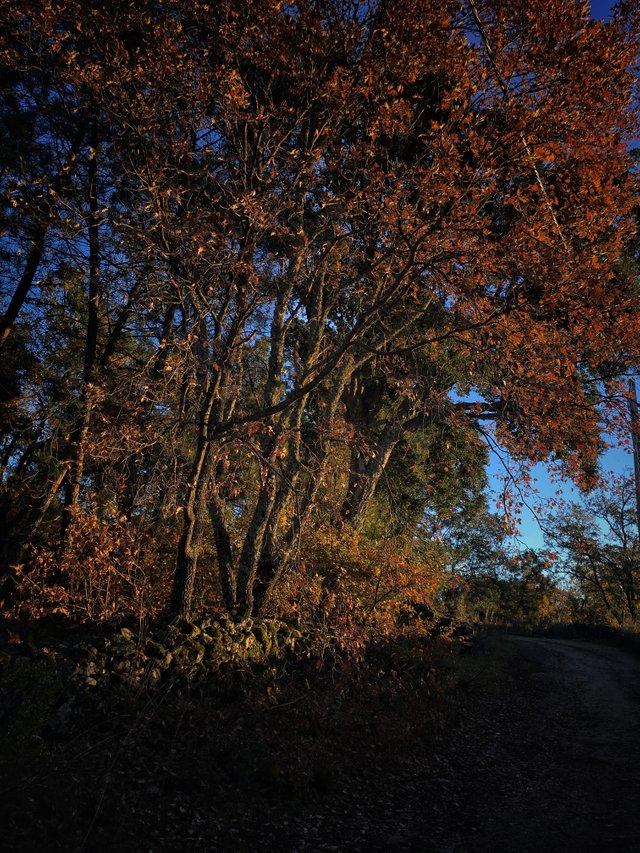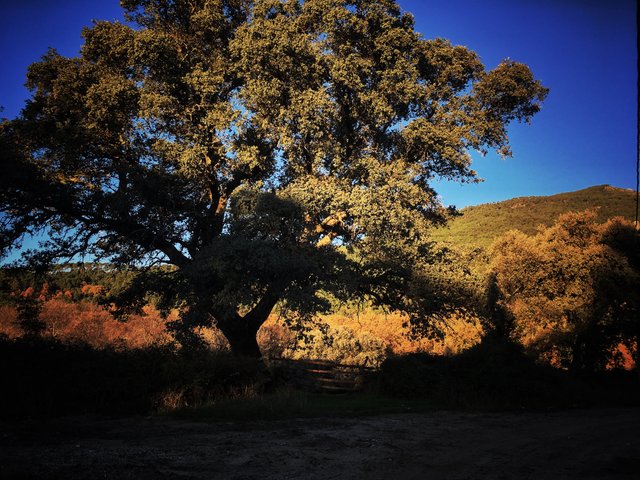 Por esta zona del valle del Tietar, a los pies de la Sierra de Gredos, hay ganadería y se escuchan los cencerros de las vacas a lo lejos. Según me acerco al pueblo, también escucho algunos gallos cacarear.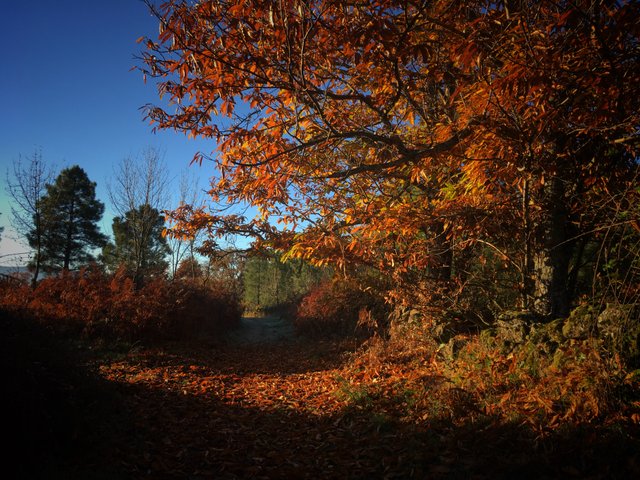 En algunas partes, el suelo está cubierto de hojas. Son de roble o de castaño. En esta zona también abundan las encinas y los pinos.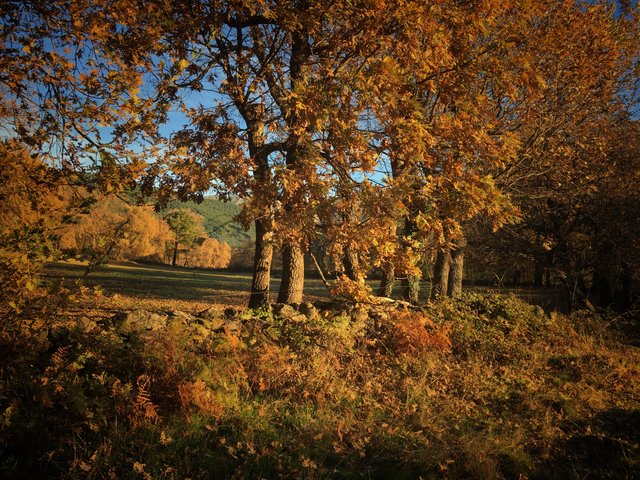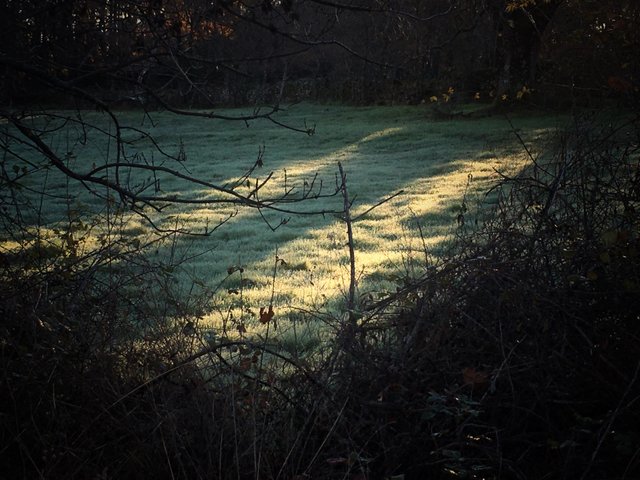 Cuando el sol está mas alto, las sombras se acortan y los colores pierden ese matiz dorado del amanecer. Mañana será otro día... pero yo hoy, contento y relajado, me tomo un café recordando la orquesta de dorados al amanecer.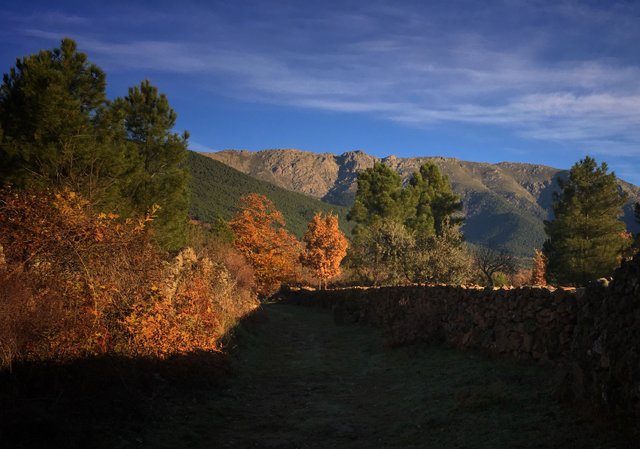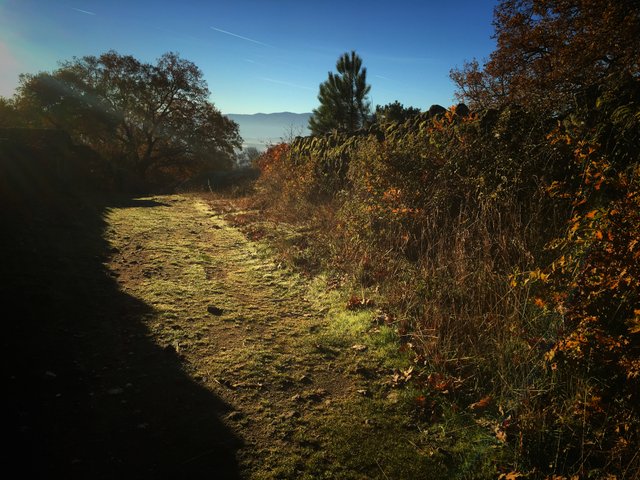 Walk at sunrise.
In the peninsula dawns very late with respect to the Canary Islands, at least an hour later.
Accustomed to the time of Tenerife, my eyes have opened before the first lights, so I did not have much trouble walking with the first solar rays.
I like to get up early, especially to go for a walk in the countryside when it is still fresh and radiant.
Photography has the ability to stop the moment. These small droplets on the fallen oak leaf will last a few minutes since the sun will quickly warm up.
I go out when the sun is almost out. It's been a while since I saw sunrise over the field. He observed that the color of the trees, that of the meadows, that of the mountains is golden. The shadows are very long and only the tops of the trees are illuminated, bright gold.
The sky is very clean with high clouds, very tall and white like brush strokes.
It's cold, winter will start soon. According to the mobile we are at 5 ° but walking is good this temperature, except in the feet and hands.
This cold reminds me of when I passed by Leon when I made the Camino de Santiago. In the first moments of the stage I made a good "scratch".
In this area of ​​the Tietar Valley, at the foot of the Sierra de Gredos, there is livestock and cowbells are heard from the cows in the distance. As I approach the town, I also hear some roosters crowing.
In some parts, the ground is covered with leaves. They are oak or chestnut. In this area there are also oaks and pine trees.
When the sun is higher, the shadows become shorter and the colors lose that golden shade of dawn. Tomorrow will be another day...but today I have a coffee remembering the golden orchestra at sunrise.

Espero sinceramente que os haya gustado esta publicación. La escribí para enseñaros las fotografías que hice. Mi intención ha sido que me acompañaras, proporcionándote información pero sin ser aburrido. Espero contar contigo en otras experiencias.
I sincerely hope that you liked this publication. I wrote it to show the pictures I made. My intention has been to accompany me, providing information but without being boring. I hope to count on you in other experiences.


Diseño original para @talentclub de @carlos-cabeza
Todas las fotos son mías y originales. Las hice con mi iPhone 6. Además, soy el autor de los dibujos de separadores.
All the photos are mine and original. I made them with my iPhone 6. In addition, I am the author of the drawings of separators.
¡Espero tus comentarios!
Nos Vemos!
I await your comments!
See you!
¡Buen Camino! / Good way!