Las islas de los dioses: la guinda del pastel / The islands of the gods: the icing on the cake.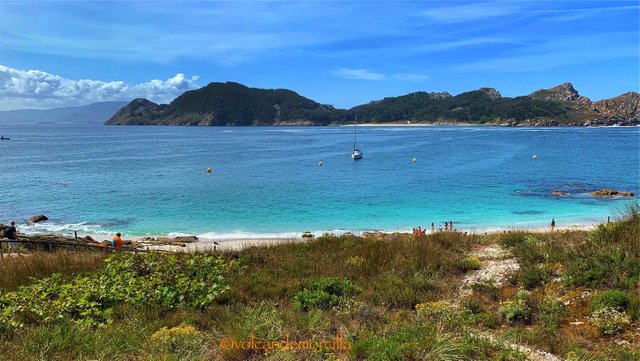 La excursión a las Islas Cies resultó maravillosa. Fue la "guinda del pastel" al hermoso peregrinar que realizamos entre Oporto y Vigo.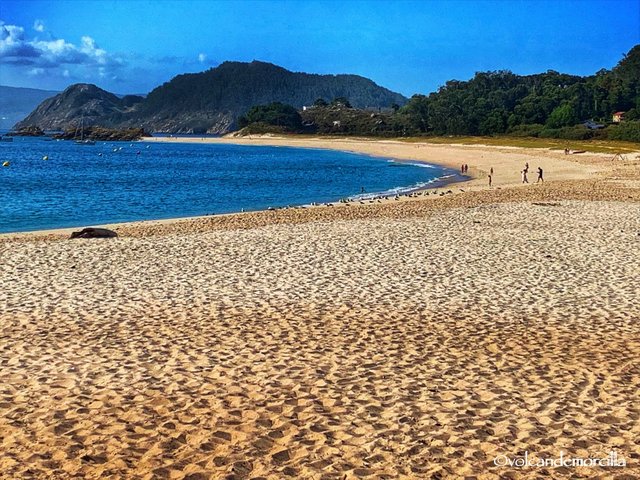 No es casualidad que la playa de Rodas sea considerada, por el diario británico The Guardian, la más bonita del mundo. Es una playa soberbia, de eso no hay duda, pero las Islas Cíes tienen otros muchos puntos de interés que, para mi gusto, quizás sean mas bellos aún.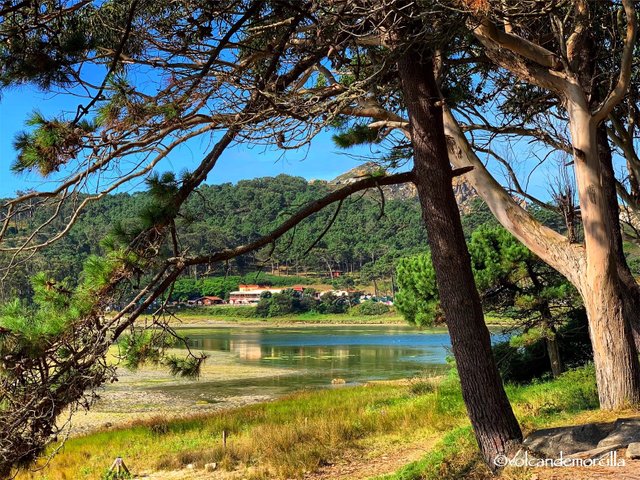 Estas islas ya eran famosas entre los romanos. Tanto las adoraban que las denominaron "Insulae Deorum" (isla de los dioses).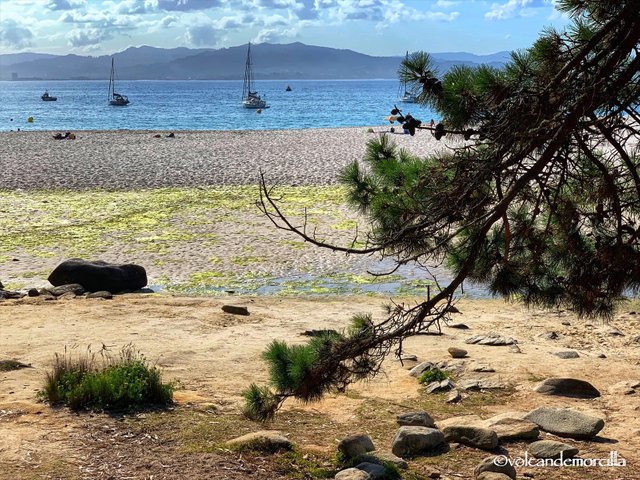 Son muy conocidas por ser un paraje natural salvaje muy bello que se ha conservado, hasta cierto punto, inalterado. Su preservación se debe a que las Islas Cíes están incluidas, desde el año 2002, en el Parque Nacional Marítimo-Terrestre de las Islas Atlánticas de Galicia.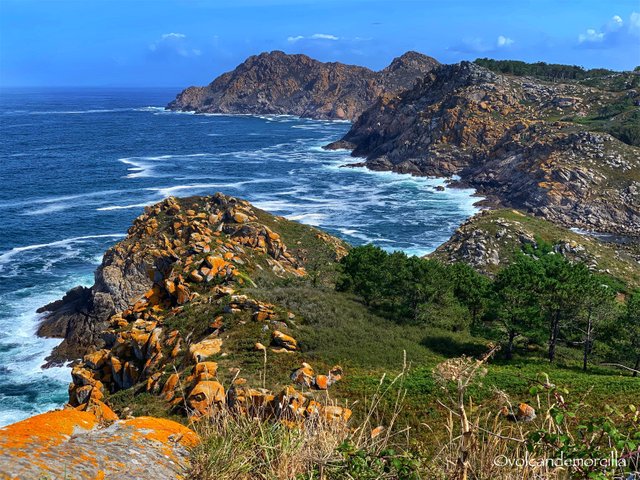 Tras subir al observatorio de aves y disfrutar de unas bellísimas vistas desde lo alto, regresamos hacia la costa.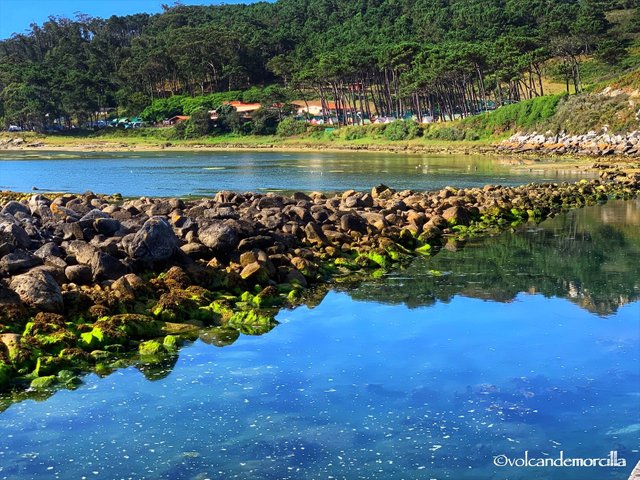 Encontramos una senda y por ella llegamos a una pequeña playa de arena blanca y mar azul. En este pequeño arenal solitario pudimos bañarnos plácidamente en un medio limpio y suave.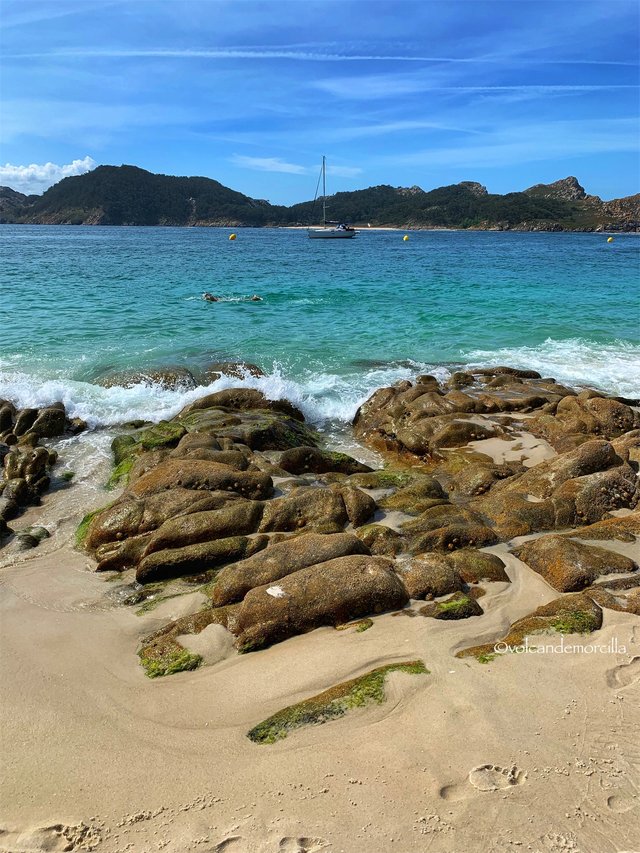 Vi muchos peces que estaban cercanos, en la misma orilla. El agua estaba un poco fría para mi gusto, pero ideal para un buen baño.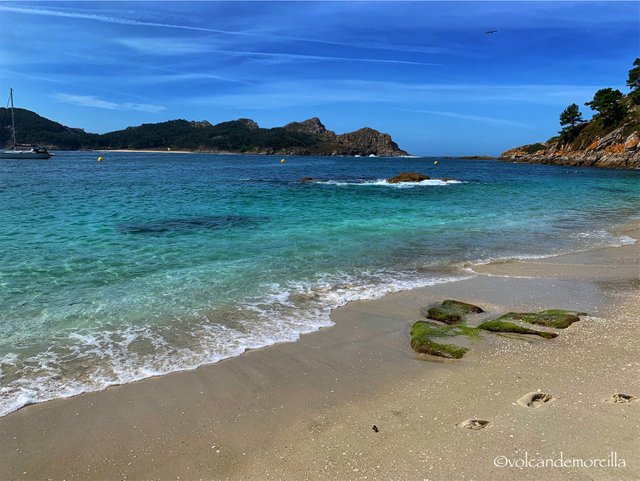 El refresco nos abrió el apetito.
Antes de salir, nos hicimos unos bocadillos que ahora nos comimos con la compañía insistente de las gaviotas. Son un poco osadas. Algunas, incluso, intentaron quitarnos la comida de las manos.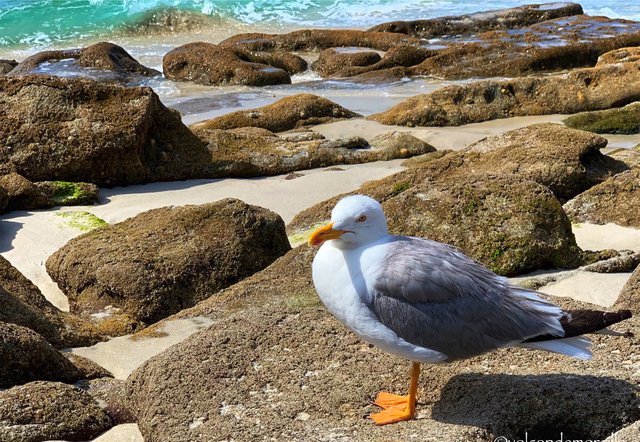 Las gaviotas apostadas sobre las piedra circundantes vigilaban todo lo que acontecía en la playa. No se podía dejar nada de comer a la vista. Era preciso ocultarlo a su aguda visión.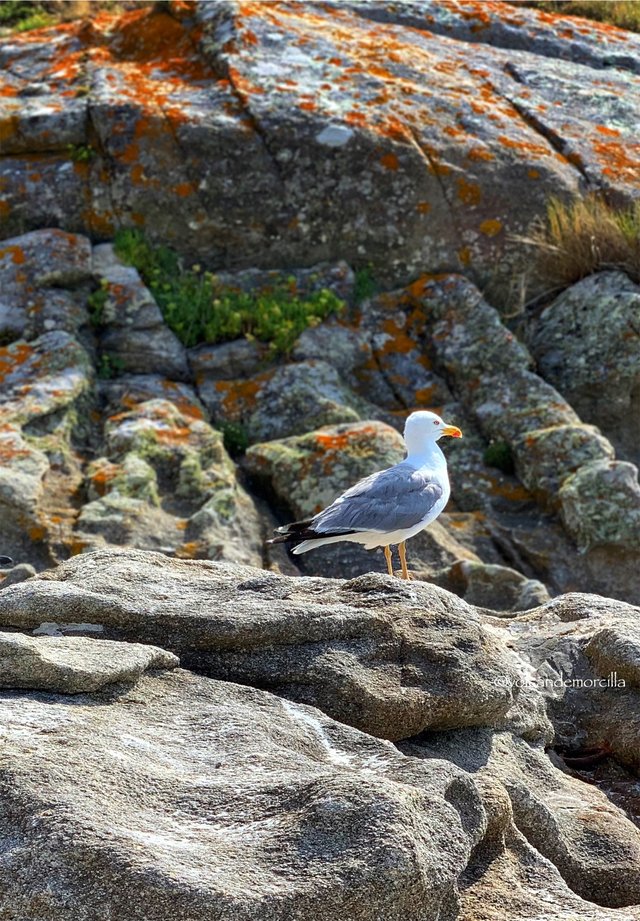 Vimos incluso como un grupito de gaviotas intentaba abrir una bolsa de unos bañistas descuidados. A una pareja cercana, una gaviota le intentó de hurtar el bocadillo de las manos.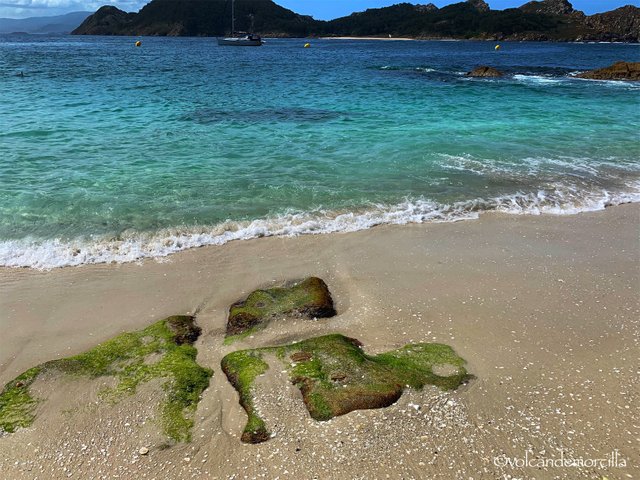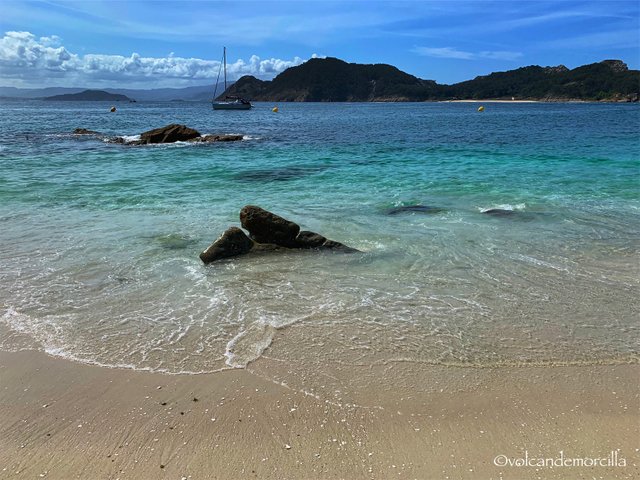 Estuvimos muy entretenidos viendo estas artes hurtatorias que las gaviotas mal acostumbradas, empleaban para su alimentación. Son muy listas y con una visión muy aguda. Curiosamente tenían una estrategia de ataque en parejas. Habían aprendido que obtenían más éxito robando bocadillos si cada una se acercaba por un lado del desprevenido comensal.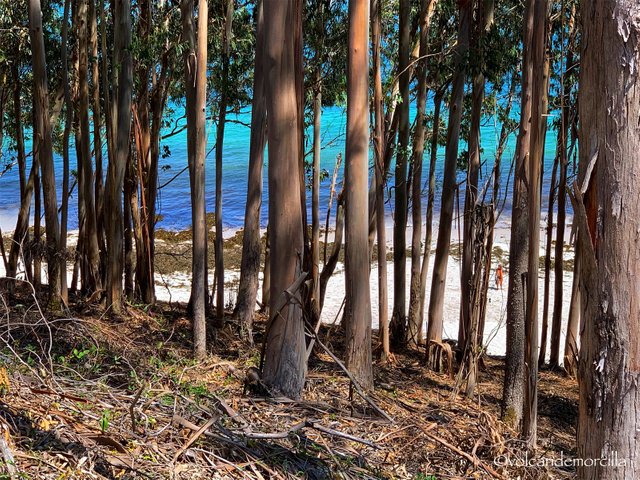 La playa es pequeña. El mar en la orilla tiene un maravilloso color azul turquesa. La arena es pálida y no cubre unas losetas de piedra que han sido pulidas por las olas. Contrastan por estar cubiertas de algas verdes.
Varias parejas se abrazan o bañan felices. Me parece un lugar muy romántico donde perderse eternamente con un ser amado.
Comimos relajados. Sin hablar. Solo un el arrullo suave de las olas acariciaba nuestros oídos.
Tras este periodo trascendente quisimos conocer algún otro sitio interesante.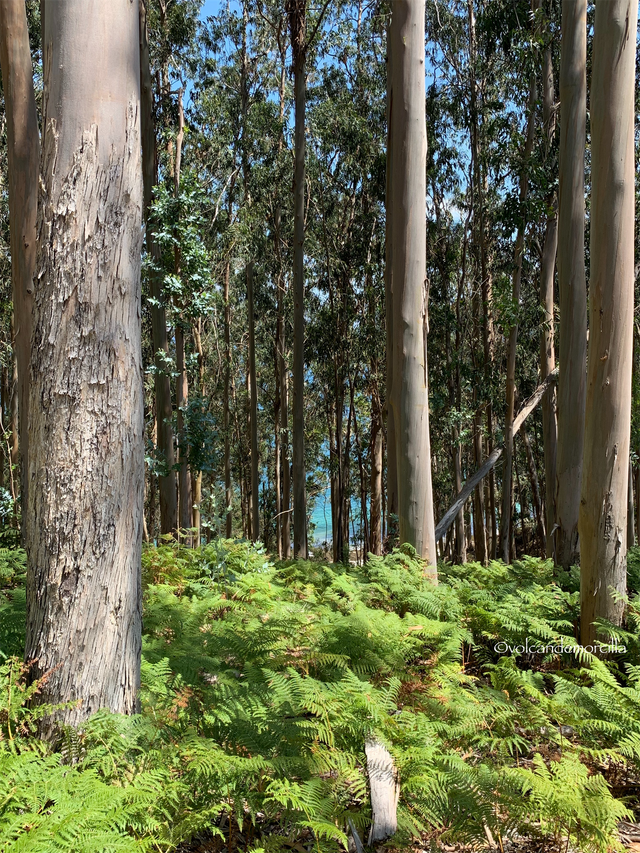 En las Islas Cíes, los bosques de helechos, pinos y eucaliptos se extienden hasta el mismo mar. Entre ellos, ascendimos al Alto del Príncipe.

A esta hora, el Alto del Príncipe era un lugar poco visitado. No encontramos casi ninguna persona que caminaba por la pista forestal. Seguramente estarían comiendo o bañándose.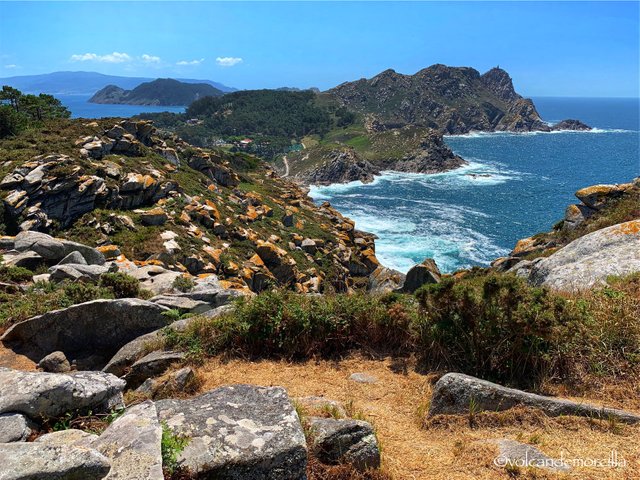 El Alto del Príncipe es un lugar especial. Parece como si la naturaleza lo hubiera diseñado a propósito. Es un auténtico trono de piedra que está en lo más alto. El granito que forma el respaldo se continúa en vertical con el acantilado de decenas de metros de altura. Desde este asiento se obtienen unas vistas increíbles.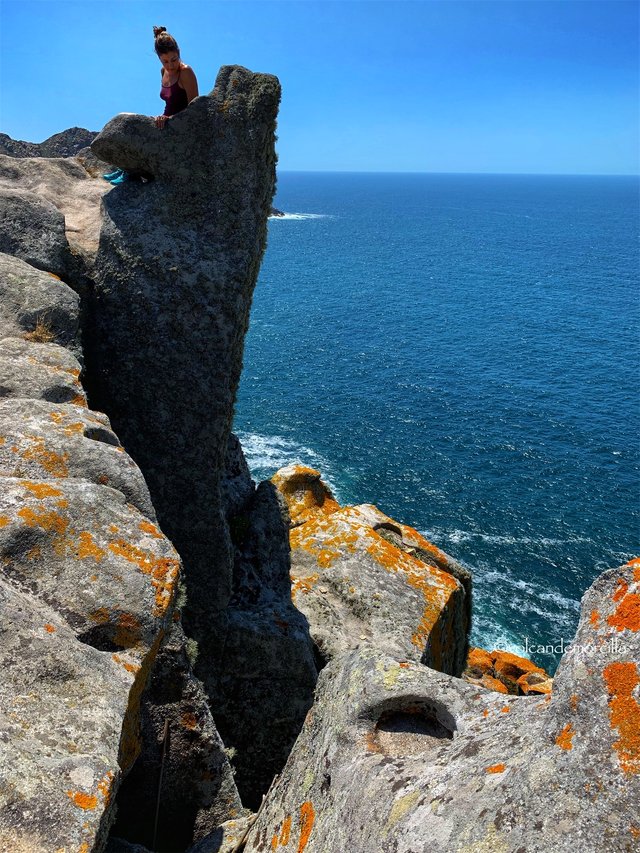 El Alto del Principe es un sillón de roca, parece un trono regio. Sentado aquí te sientes rey. Es una magnífica atalaya. Todo se discurre a tus pies. La playa de Rodas, el lago, la isla de San Martiño...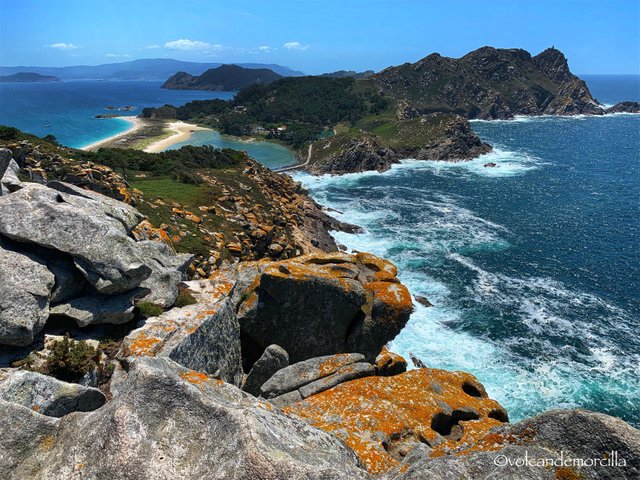 Incluso la orientación es perfecta. La erosión ha creado un cómodo asiento cuyo respaldo es el acantilado mismo.
No es un lugar apto si se padece de fobia a las alturas pues realmente estas sentado en el mismo borde del acantilado. Desde el trono, si miras hacia abajo, solo ves en el fondo las piedras donde rompe el mar a muchos metros en caída vertical.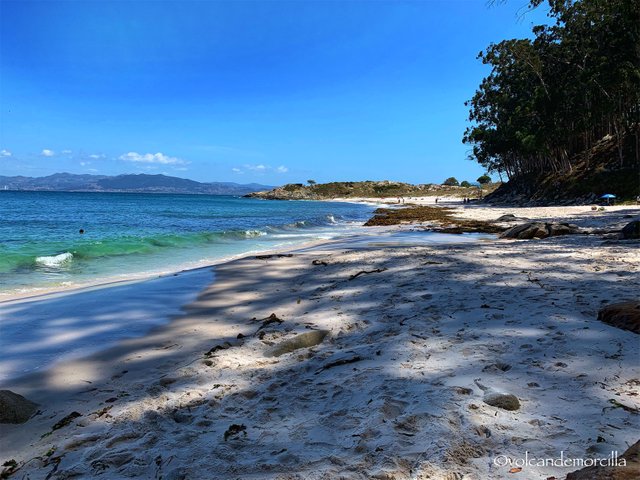 Bajamos y seguimos explorando. la isla. Al descender, encontramos una playa recóndita y aislada que descubrimos entre los eucaliptos. Fue estupendo porque aquí disfrutamos de otro maravilloso baño salvaje.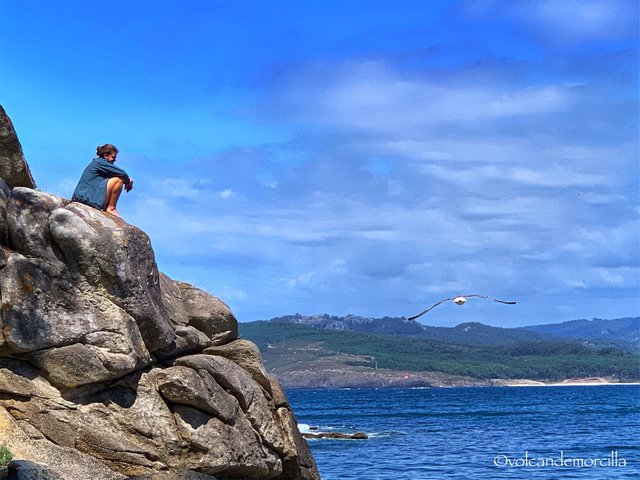 Mi hijo trepó a unas piedras. De nuevo las gaviotas quisieron echarle de allí. Comenzaron los vuelos rasantes entorno a él.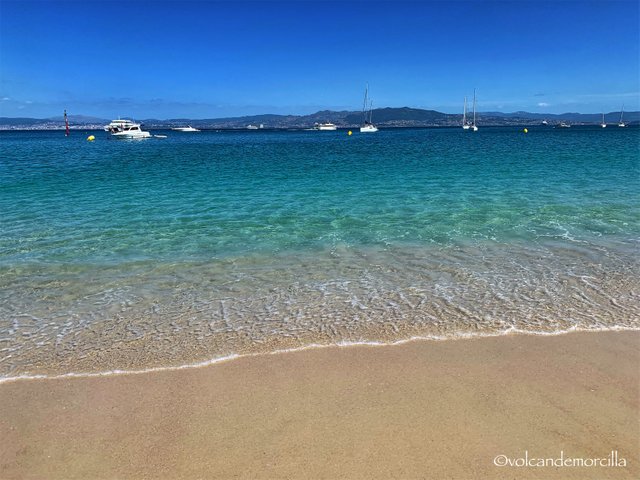 Volvimos para pasar el resto de la tarde en la playa de Rodas. Esta playa es maravillosa. Tal vez sea exagerada la calificación del diario británico The Guardian pero, lo que es indudable, es que es una de las playa mas bonitas del mundo.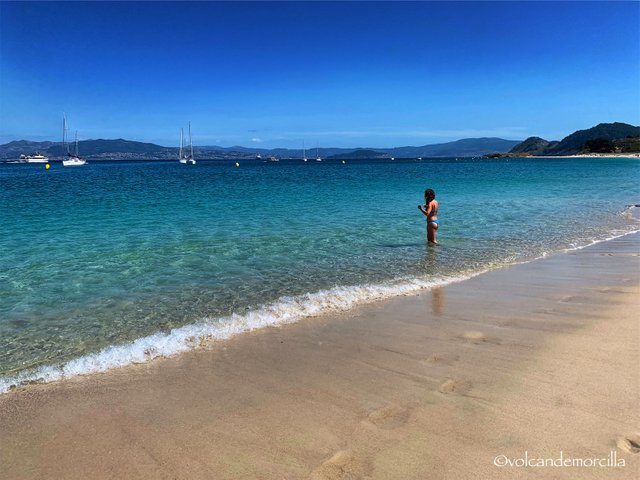 Descansando aquí, tirados en la blanca arena, por fin obtuvimos nuestro merecido descanso. Tuvimos un magnífico momento de paz muy placentero.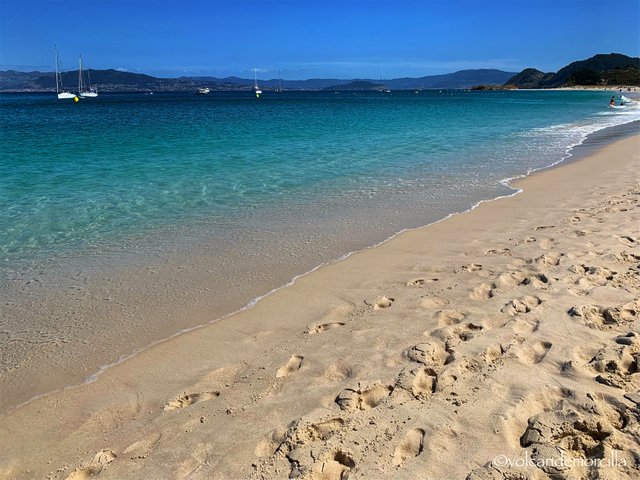 Estamos orgullosos y satisfechos. Hemos cumplido con creces todos nuestros objetivos. Si incluimos las Islas Cíes, han sido nueve días caminando, a través de paisajes naturales maravillosos siempre acompañados por gaviotas.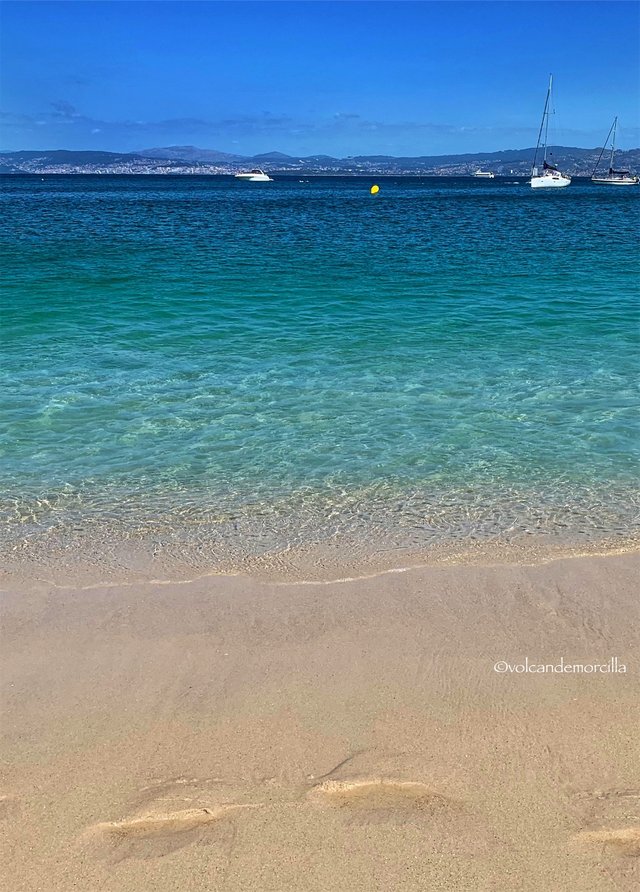 Sobre la cálida arena recordamos la brumosa Ribera del Duero saliendo de Oporto, el paisaje dunar protegido del litoral Atlántico, los bosques de pinos, helechos y eucaliptos de Galicia y Portugal, los atardeceres mágicos de Póvoa de Varzim y de A Guarda, el silencioso rio Miño llegando al mar, el Monte de Santa Tegra entre lluvia y su castro celta, la curiosa cetárea A Redonda, las interminables playas de Vigo y tantas y tantos paisajes soberbios que hemos recorrido en este inolvidable Camino de Santiago.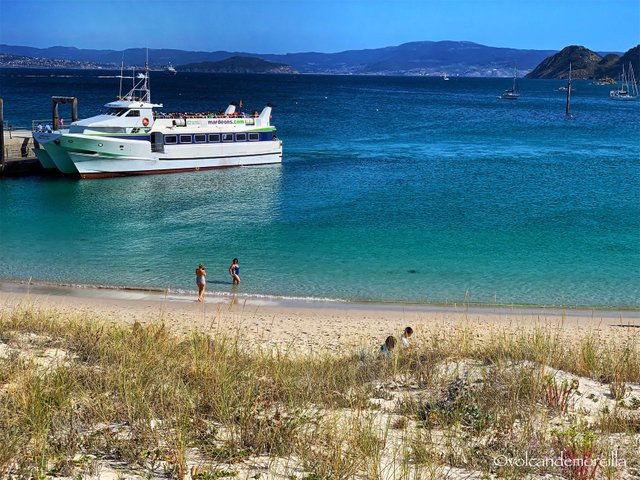 A partir de ahora, cada vez que escuchemos el graznido de las gaviotas o admiremos sus vuelos rasantes, nuestras mentes volarán libres con ellas y regresaremos a estos días de julio que juntos tuvimos la fortuna de disfrutar.
Buen Camino! Bom Caminho! Bo Camiño!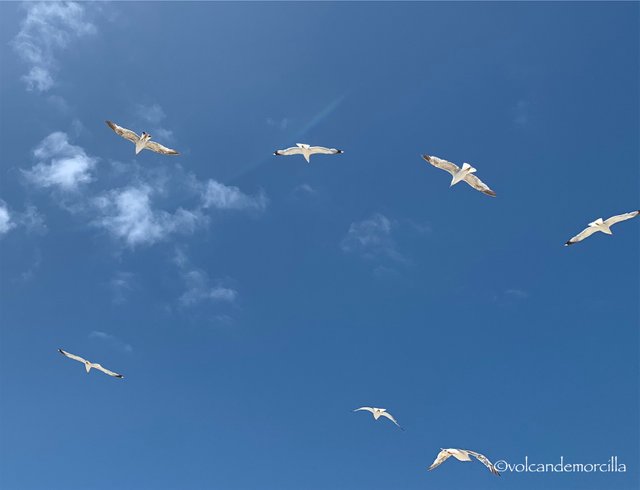 The islands of the gods, the icing on the cake.
The excursion to the Cies Islands was wonderful. It was the "icing on the cake" to the beautiful pilgrimage that we made between Porto and Vigo.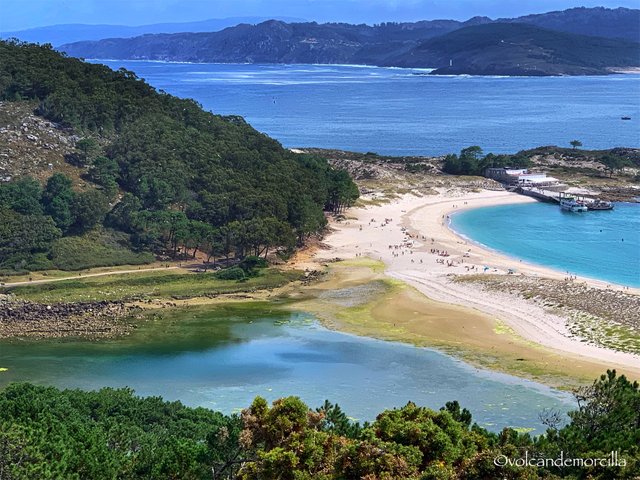 It is no accident that Rhodes Beach was considered by the British newspaper The Guardian as the most beautiful in the world. But the Cies Islands have other points of interest, to my liking, perhaps even more beautiful.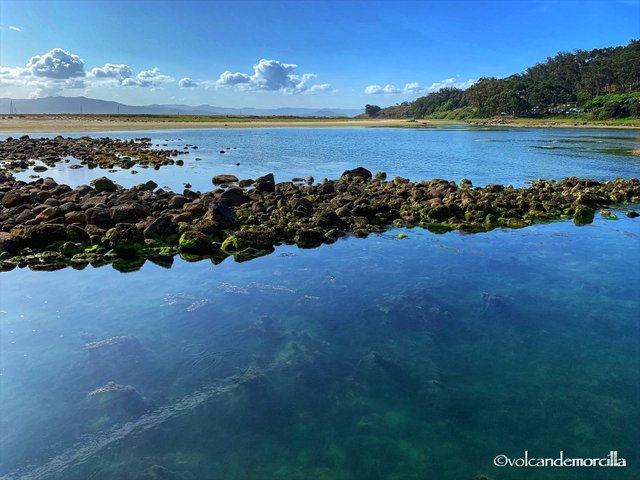 These islands were already well known to the Romans. They loved them so much that they called them "Insulae Deorum" (island of the gods).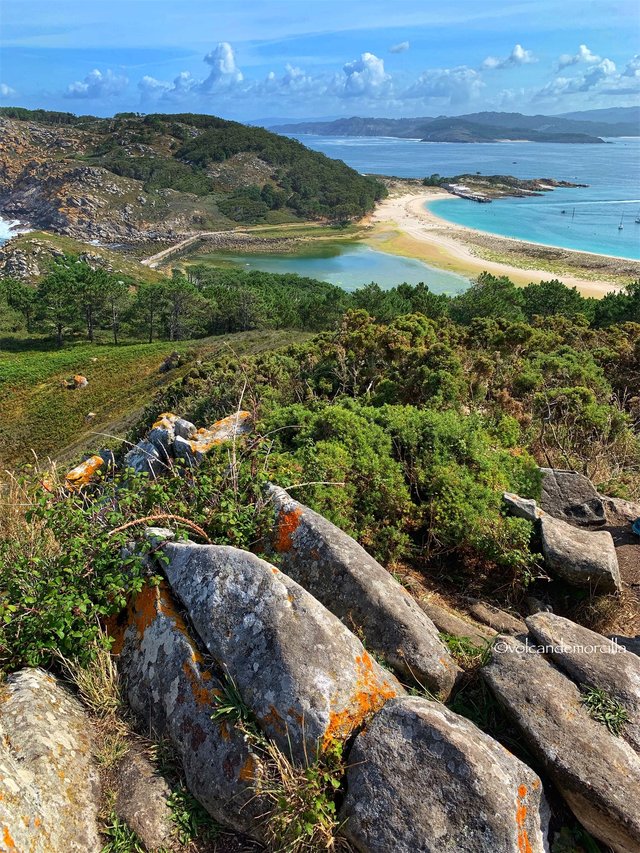 They are famous for being a very beautiful wild natural site that has been preserved, to some extent, unaltered. Its preservation is due to the fact that the Cíes Islands have been included, since 2002, in the Maritime-Terrestrial National Park of the Atlantic Islands of Galicia.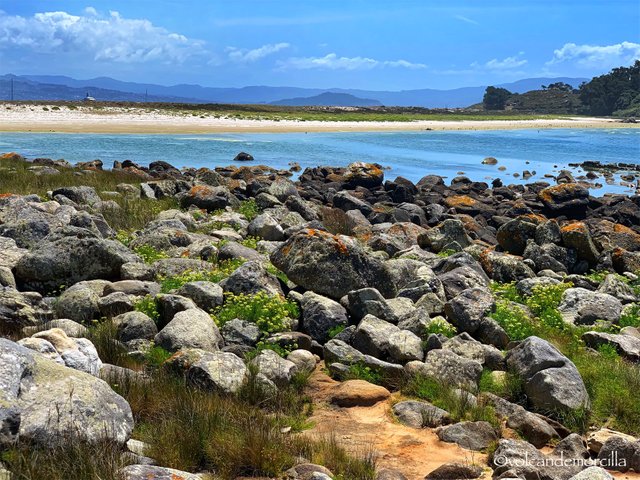 After climbing to the bird observatory and enjoying beautiful views from the top, we return to the coast.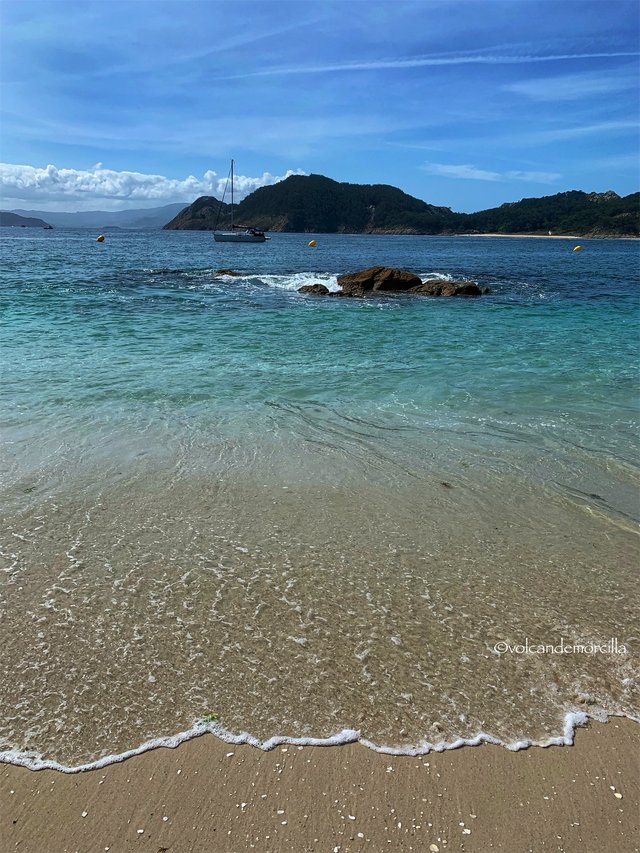 We found a path and through it we reached a small beach of white sand and blue sea. In this small solitary sand we were able to bathe peacefully in a clean and soft environment.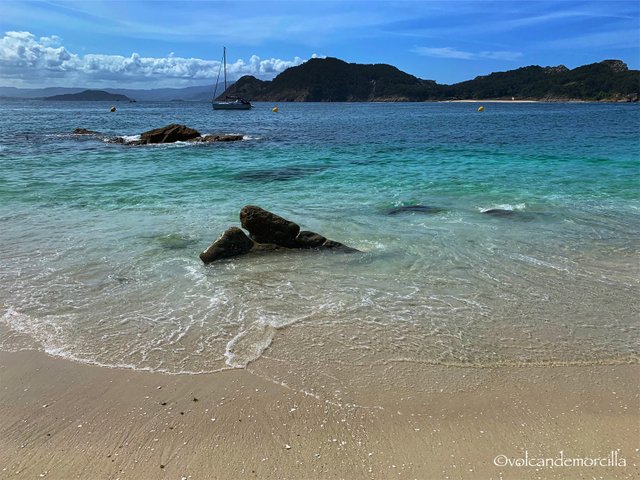 I saw many fish that were nearby, on the same shore. The water was a bit cold for my taste, but ideal for a good bath.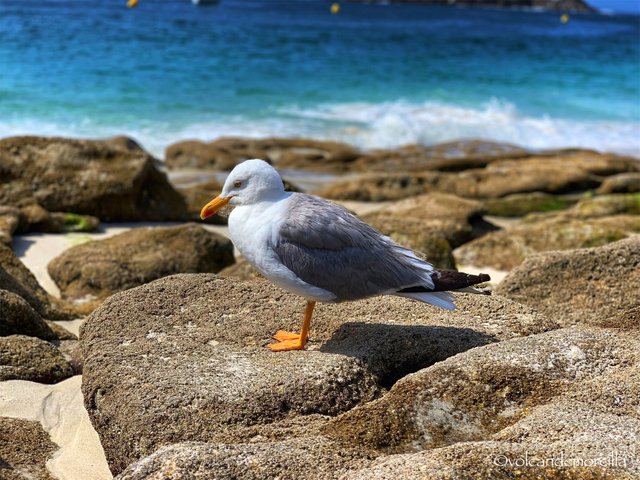 The bath open our appetites.
Before leaving, we made some snacks that we now ate with the insistent company of seagulls. They are a little daring. Some even tried to take food from our hands.
Seagulls stationed on the surrounding stone watched everything that happened on the beach. You could not leave anything to eat in sight. It was necessary to hide it from his sharp vision.
We even saw a small group of seagulls trying to open a bag of careless swimmers. To a close couple, a seagull tried to steal the sandwich from his hands.
We were very entertaining watching these hurtful arts that the seagulls used badly for their food. They are very clever and with a very sharp vision. Curiously they had a strategy of attacking in pairs. They had learned that they obtained more success by stealing snacks if each one approached on the side of the unsuspecting diner.

The beach is small. The sea on the shore has a wonderful turquoise blue color. The sand is pale and does not cover stone tiles that have been polished by the waves. They contrast because they are covered with green algae.
Several couples hug or bathe happily. It seems to me a very romantic place to get lost forever with a loved one.
We ate relaxed. Without speaking. Only a soft lullaby of the waves caressed our ears.
After this transcendent period we wanted to know some other interesting site.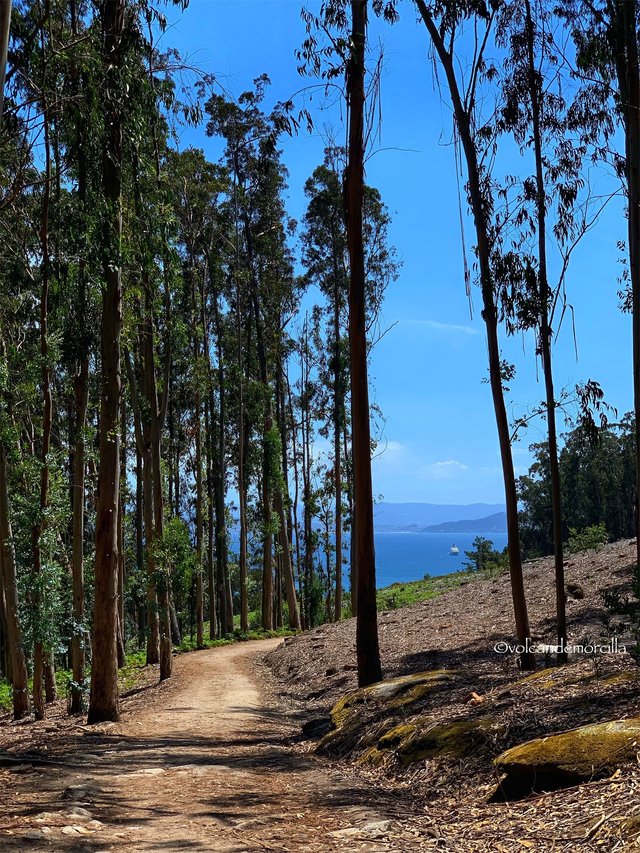 In the Cíes Islands, fern, pine and eucalyptus forests extend to the same sea. Among them, we ascend to the High Prince.
At this time, the High Prince was a little visited place. We found almost no person walking on the forest path. Surely they would be eating or bathing.
The High Prince is a special place. It seems as if nature had designed it on purpose. It is a real stone throne that is on top. The granite that forms the backrest continues vertically with the cliff tens of meters high. From this seat you get incredible views.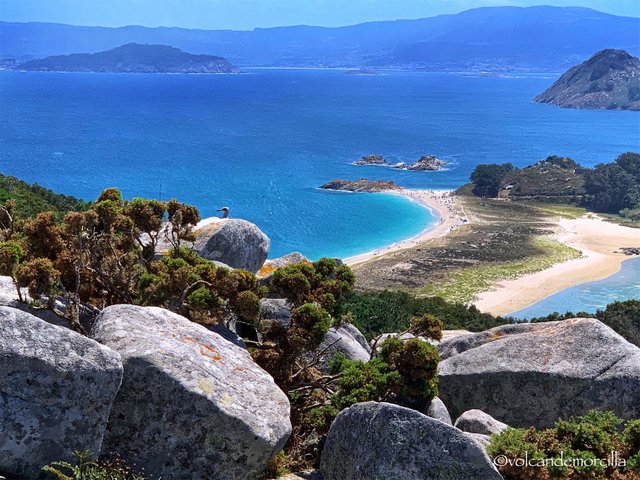 The Alto del Principe is a rock armchair, it looks like a royal throne. Sitting here you feel king. It is a magnificent watchtower. Everything runs at your feet. The beach of Rhodes, the lake, the island of San Martiño ...
Even the orientation is perfect. Erosion has created a comfortable seat whose back is the cliff itself.
It is not a suitable place if you suffer from phobia at heights because you are really sitting on the same edge of the cliff. From the throne, if you look down, you only see at the bottom the stones where the sea breaks many meters in a vertical fall.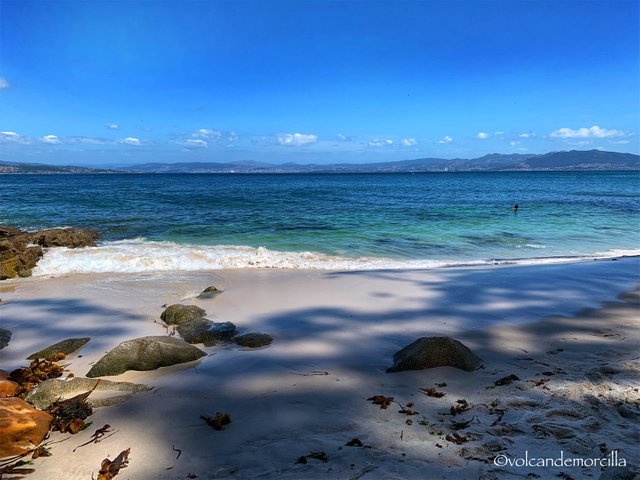 We go down and continue exploring. the island. When we descend, we find a secluded and isolated beach that we discover among the eucalyptus. It was great because here we enjoyed another wonderful wild bath.
My son climbed some stones. Again the seagulls wanted to kick him out. The flush flights around him began.
We returned to spend the rest of the afternoon at the beach of Rhodes. This beach is wonderful. The rating of the British newspaper The Guardian may be exaggerated, but what is certain is that it is one of the most beautiful beaches in the world.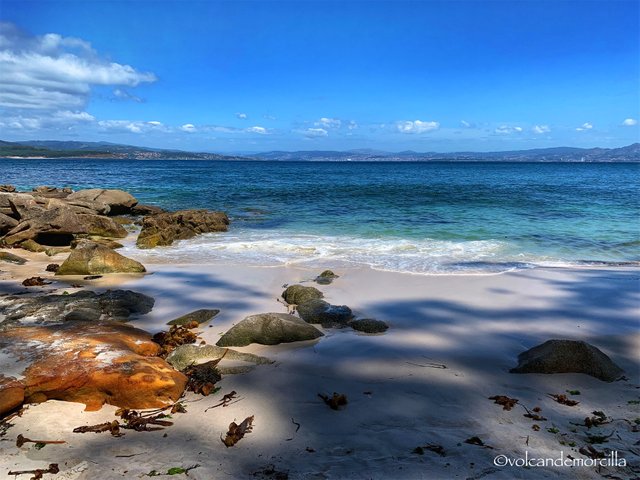 Resting here, lying on the white sand, we finally got our deserved rest. We had a magnificent moment of peace very pleasant.
We are proud and satisfied. We have more than fulfilled all our goals. If we include the Cíes Islands, it has been nine days walking, through wonderful natural landscapes always accompanied by seagulls.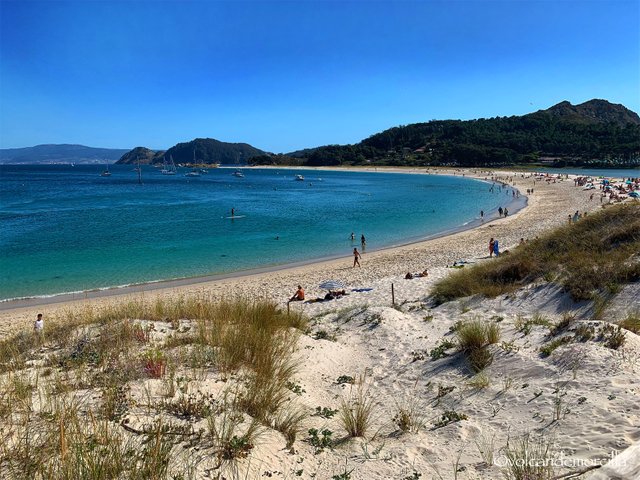 On the warm sand we remember the misty Ribera del Duero leaving Oporto, the protected dune landscape of the Atlantic coast, the pine, fern and eucalyptus forests of Galicia and Portugal, the Miño river reaching the sea, the Mount of Santa Tegra between rain and its Celtic castro, the curious round cetarea, the endless beaches of Vigo and so many magnificent landscapes that we have traveled in this unforgettable Camino de Santiago.
From now on, every time we hear the seagulls squawking or admire their flush flights, our minds will fly free with them and we will return to these July days that together we were fortunate to enjoy.
Buen Camino! Bom Caminho! Bo Camiño!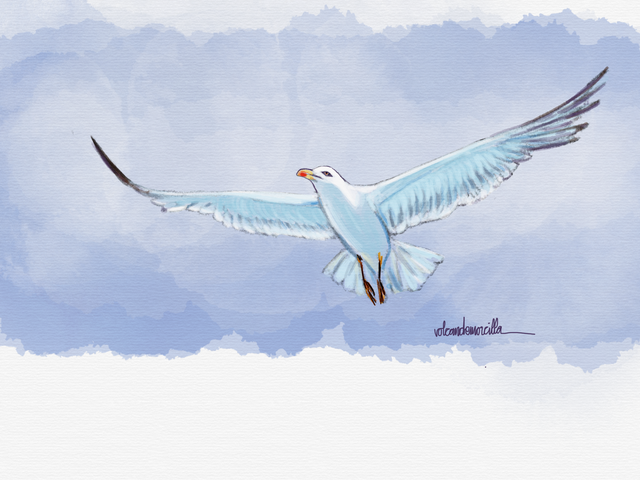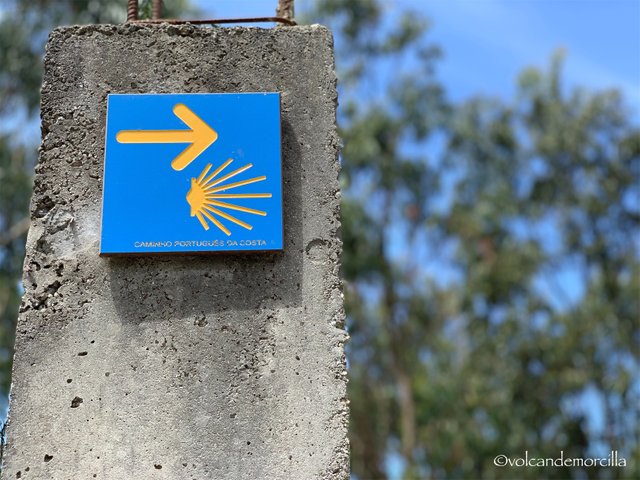 Cómo lo hago
Hice las fotografías con mi iPhone X. Para la edición utilicé la aplicación Snapseed y para la firma digital usé la App Watermark.
Los dibujos los hice en el iPad con el programa Sketches.
For the photography I use my iPhone X. For edition I use the Snapseed application and for the digital signature the Watermark app.
Everything I did on my mobile phone, I did not use the computer at all.
For the drawings, I use the Sketches program and paint them on the tablet.
Si quieres ver como lo hago, visualiza estos tres enlaces de publicaciones previas.
If you want to see how I do it, visualize these three links from previous publications.

Las fotos son mías y originales. También, soy el autor del dibujo separador.
¡Espero tus comentarios!
The photos are originals and mine. Also, I am the author of the separator drawing.
I await your comments.
Buen Camino!