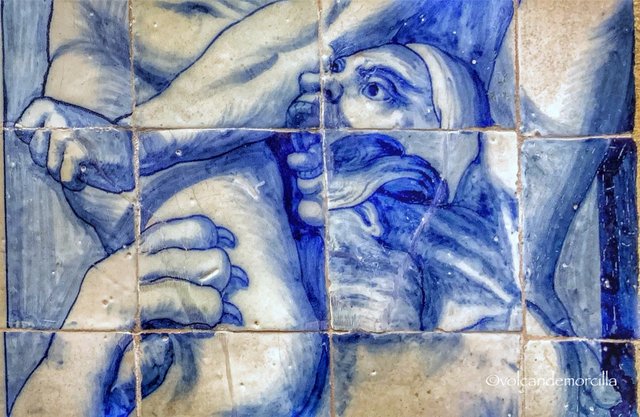 En el corazón de Viana do Castelo se encuentra la Iglesia de la Misericordia. Esta iglesia está unida a la Casa de Beneficencia donde se atendía a los más desfavorecidos.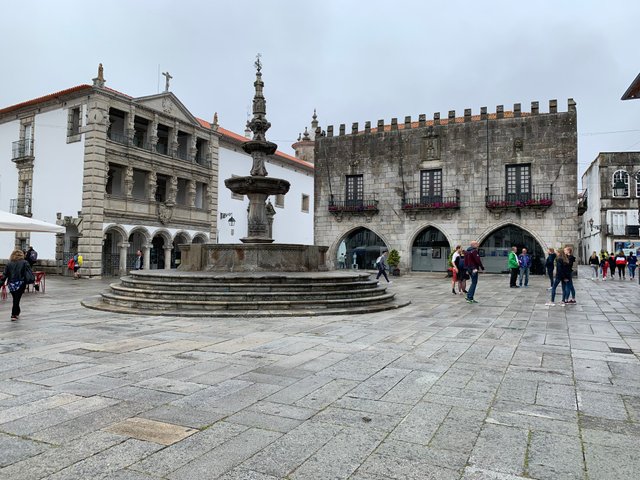 En todas las ciudades de Portugal hay una Iglesia de la Misericordia. La que está en Viana do Castelo, está en la Plaza del Renacimiento donde también está el Ayuntamiento y una fuente central imponente.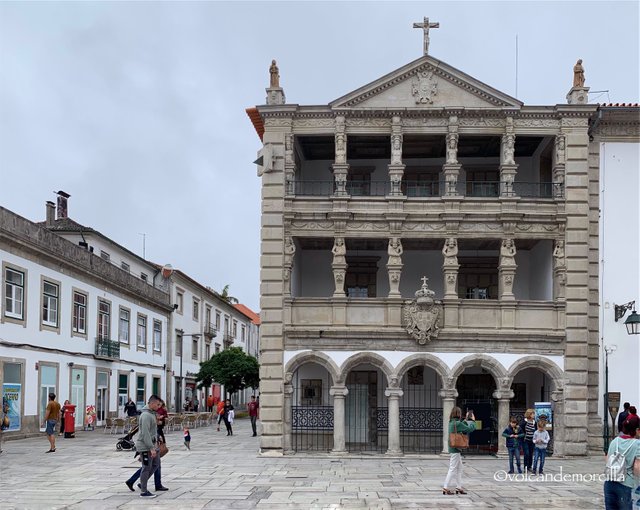 Cuando este julio hicimos el Camino de Santiago, llegamos a esta plaza y nos topamos con una fachada particular, pues tiene grandes balcones, inspirada en la arquitectura del norte de Europa.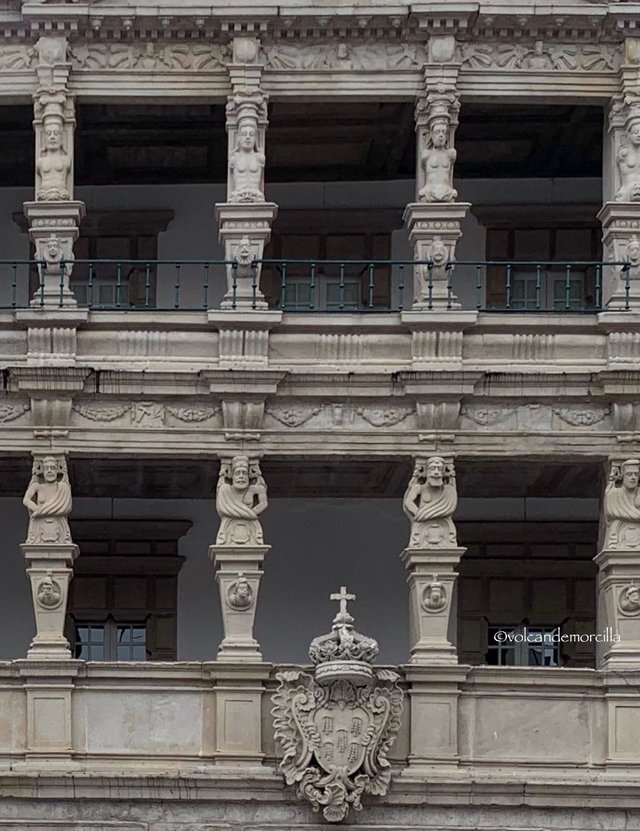 Esta casa de balcones, por su aspecto, es conocida también como la "Casa das Varandas" y fue proyectada por João Lopes, hijo, en 1589.
La Casa de la Beneficencia es este edificio de estilo manierista que destaca por las columnas de los balcones, que son unos gigantes que parecen sostener el peso de la estructura.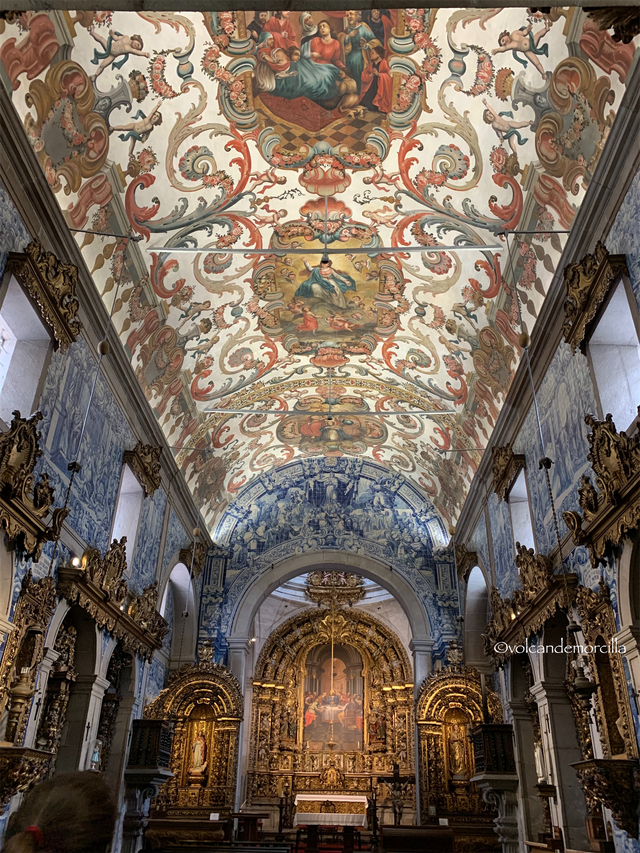 Entramos en esta casa y desde ella accedimos a la iglesia de la Misericordia que es del siglo XVIII.
Lo que nos impactó al entrar es que este monumento se ha conservado muy bien y está el interior totalmente decorado.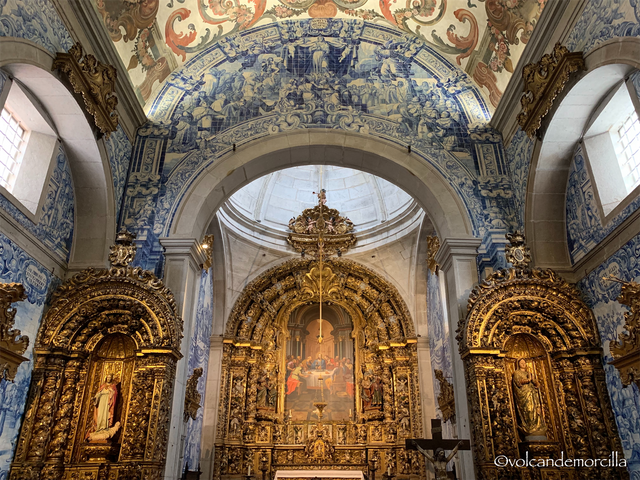 Las paredes están cubiertas de azulejos blanquiazules, como es tradicional en Portugal. Los techos están totalmente pintados con un estilo barroco. Son unos frescos que fueron realizados por Manuel Gomes y son uno de los mejores ejemplos de la pintura barroca de Portugal.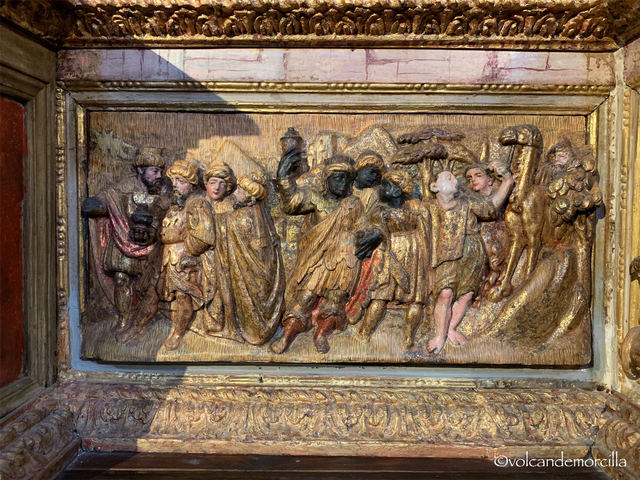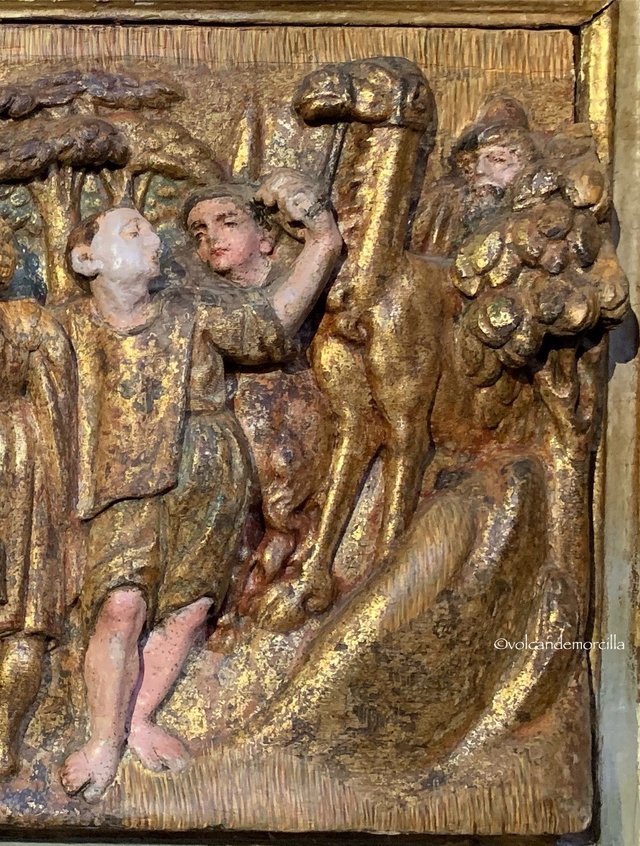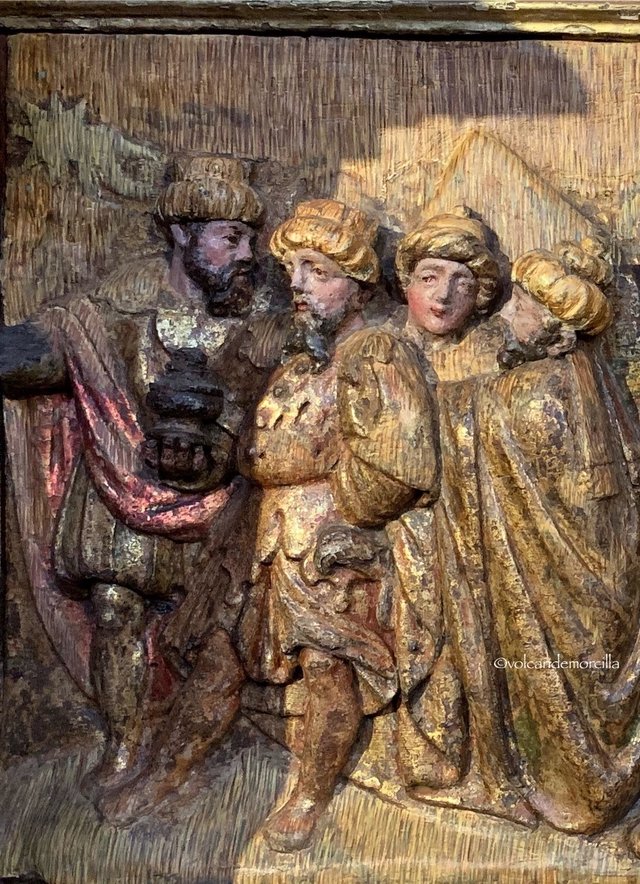 Me gustaron muchísimo lo retablos dorados de
estilo portugués que hizo Ambrósio Coelho. En concreto, hay una escena de la "Adoración de los Reyes Magos" que es un primor.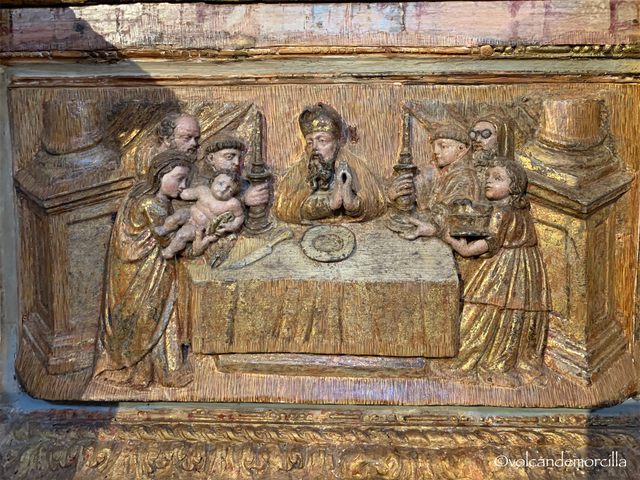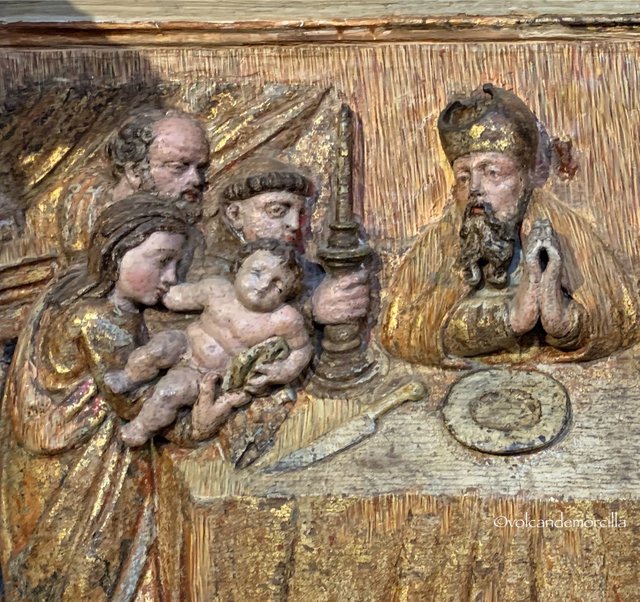 También es muy fina y delicada la representación de la "Circuncisión del Niño Jesús" aunque me pareció exageradísimo el espadón utilizado para cortar el pequeño prepucio del bebé. Quedé totalmente horripilado!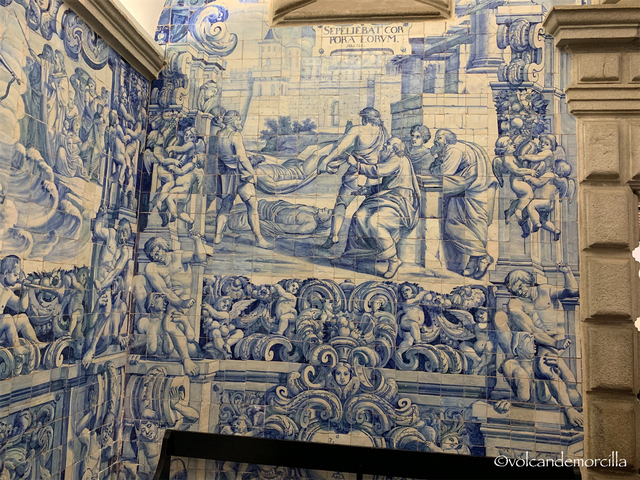 Curioseando el interior, observé lo que, para mi, fue lo más destacable. Son una obra de arte los mosaicos de azulejos que decoran y cubren todas las paredes de la iglesia.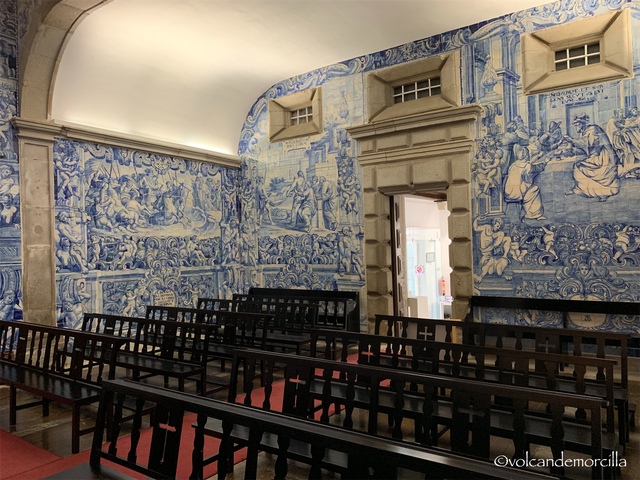 Toda la zona de la entrada, junto a la puerta, está recubierta de azulejos. Son grandes representaciones relacionadas con la piedad, la misericordia y la caridad.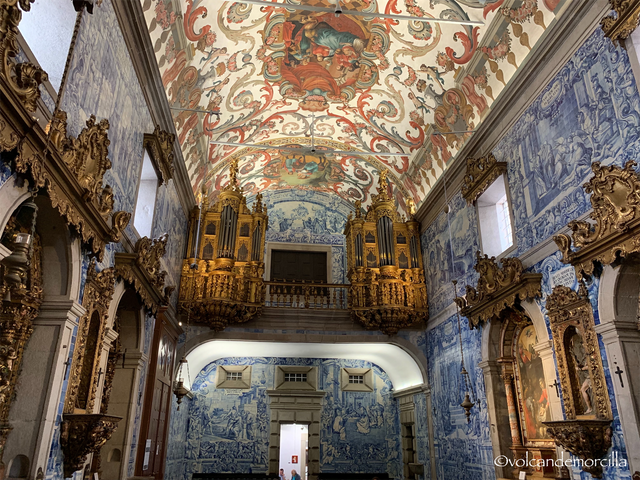 Pero, descubrí una extraña equivocación, una anomalía.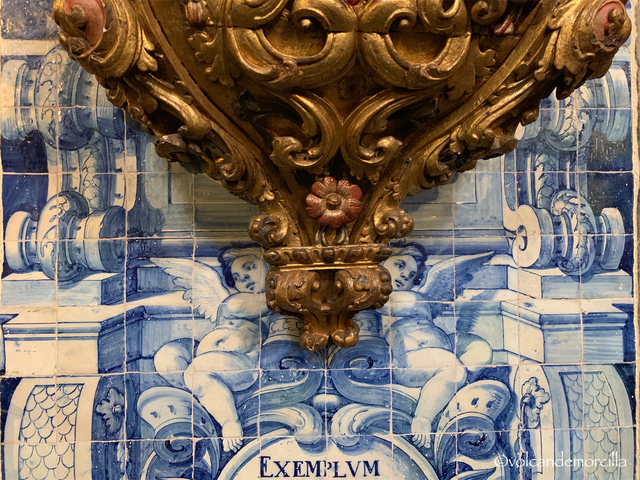 Los azulejos, son obra de Policarpo de Oliveira Bernardes. Es impresionante el grado de detalle que consiguió en estas pinturas, pero cometió un error.
Hay un azulejo que está mal colocado. El albañil o el artista lo colocó mal. Lo que me sorprende es que no hubieran subsanado o corregido este error.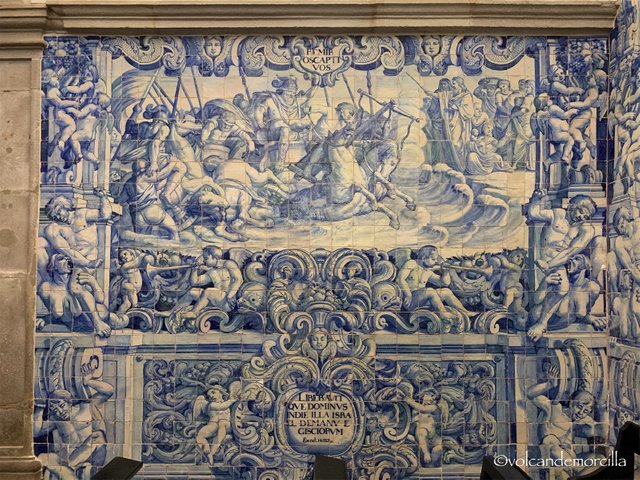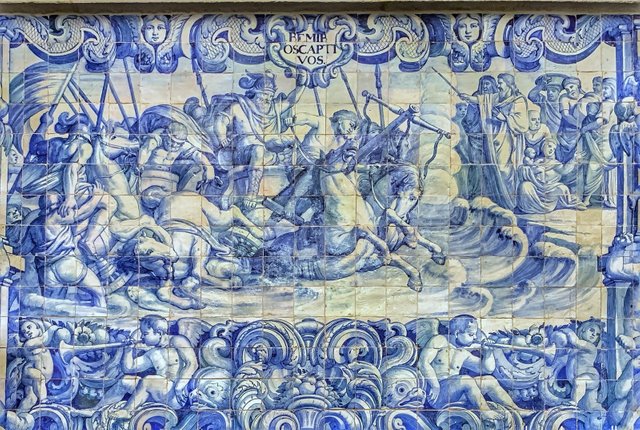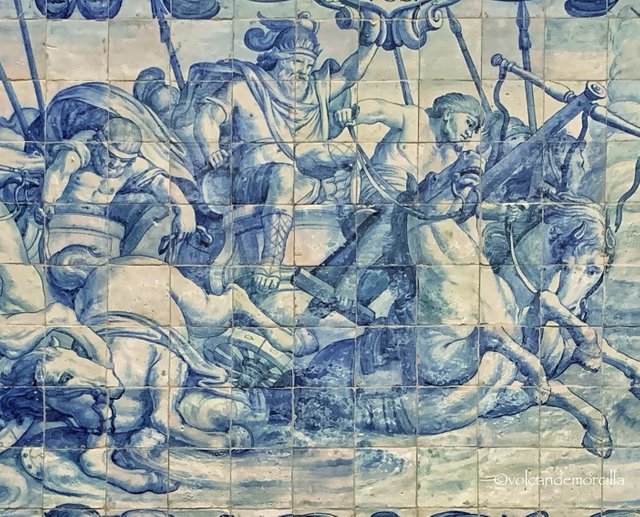 Al entrar, justamente a la derecha hay un mosaico imponente. Representa un carro de guerra agresivo tirado por enloquecidos caballos que descarrila ante la presencia de Cristo.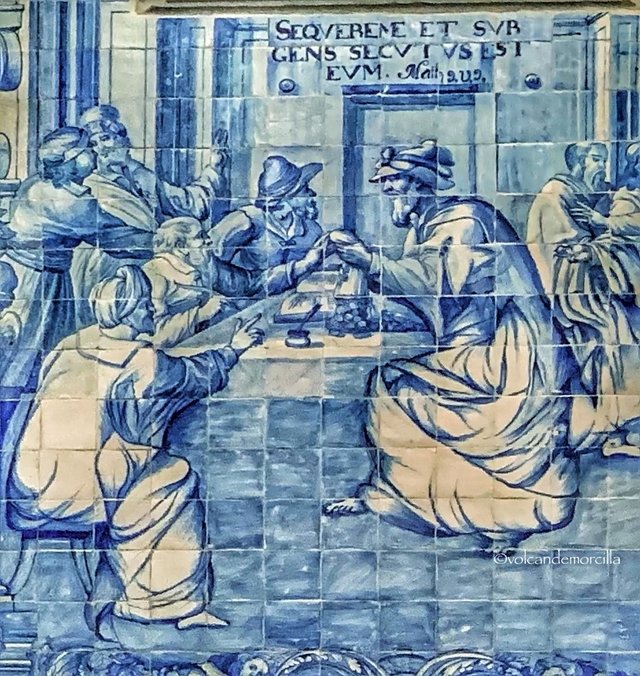 En la parte de atrás, a la izquierda hay una representación de un rico mercader, ataviado con túnica y turbante, que invita a comer a unos desarrapados a su mesa.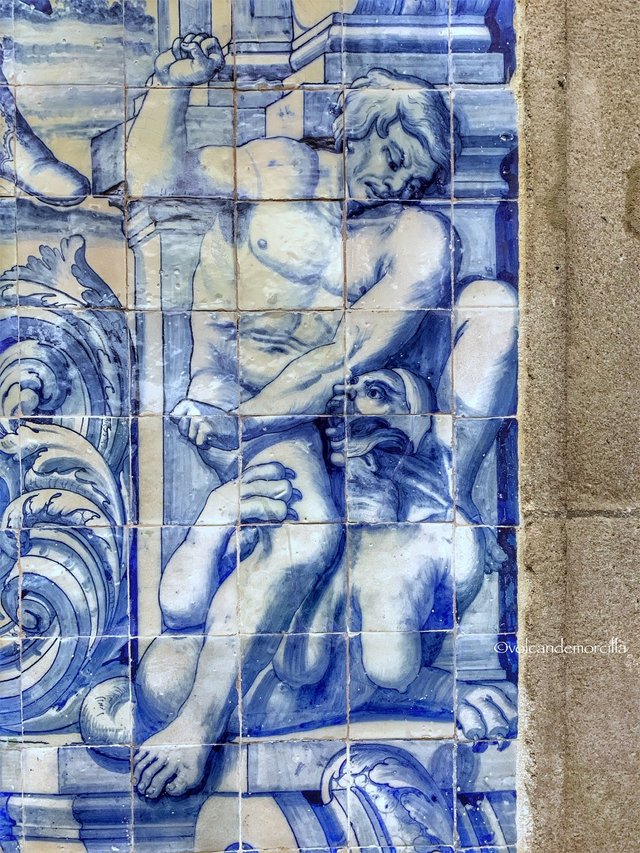 Todas estas escenas de los mosaicos están enmarcadas por los mismos motivos. En todas las esquinas siempre hay la misma lucha de titanes. Supongo que representan la lucha entre el bien y el mal. El hombre bueno está con el puño en alto apunto de descargar un fuerte golpe sobre la figura maligna que está representada por un ser con la boca abierta y asquerosa que tiene garras de león y unas grandes ubres, fofas y colgantes.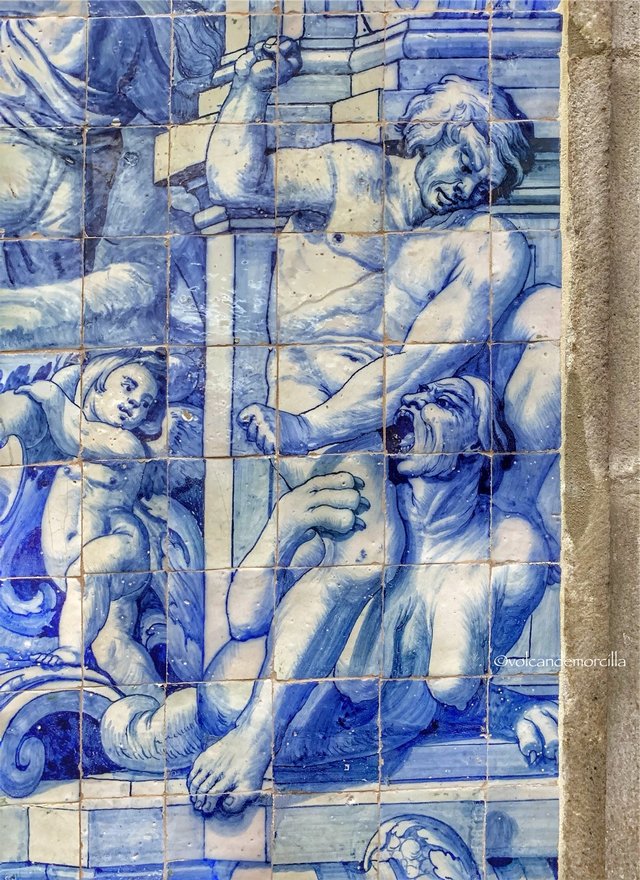 Este motivo se repite en todas las esquinas. Curiosamente, en el panel de la izquierda, quizás en el lugar más visible, se ha producido una equivocación. Hay un azulejo que no corresponde.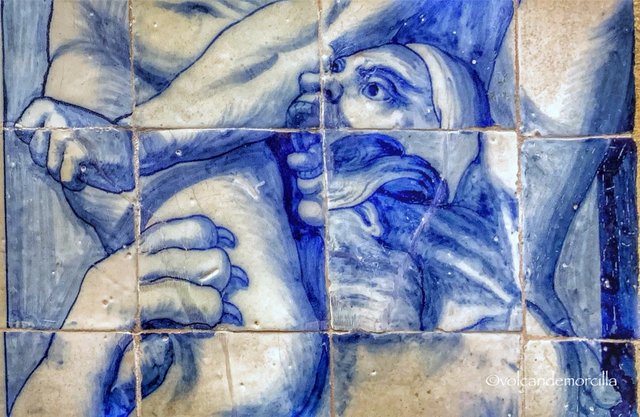 Me cuesta creer que este baldosín hubiera quedado mal colocado por impericia o negligencia. En tal caso, se podría haber corregido. Pienso que lo pusieron mal intencionadamente. Esa es mi hipótesis, pero por qué?
Aunque he buscado alguna explicación no la he encontrado en la bibliografía que circula en la red.
A veces, precisamente el error le da mas valor a la obra. Los visitantes y los turistas nos sentimos atraídos por lo curioso y por lo extraño. Cuantos guías turísticos habrán traído aquí a sus clientes para enseñarles exactamente este azulejo?
Como a ellos, esta curiosidad me ha servido de excusa y motivo para enseñaros este magnífico monumento de Viana do Castelo. Espero que os haya gustado. Hasta pronto!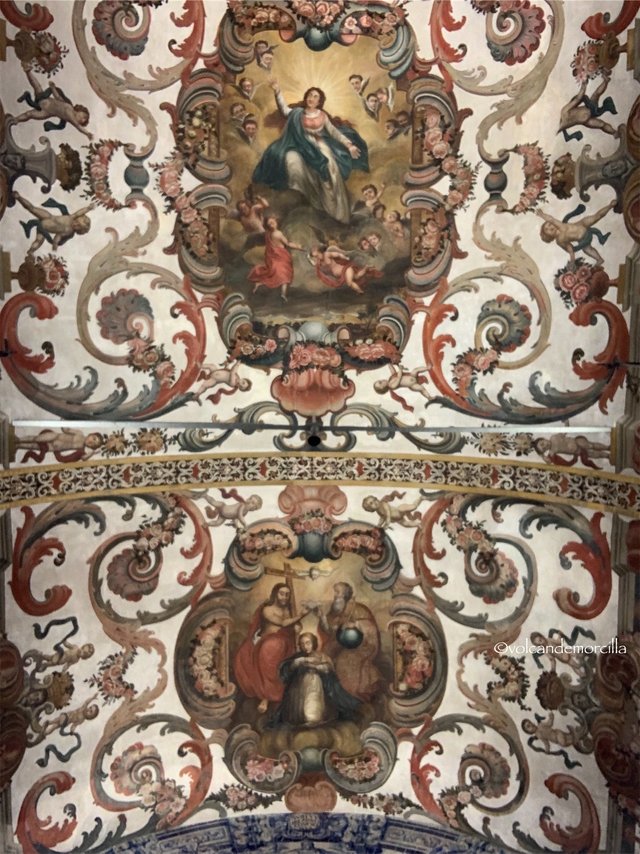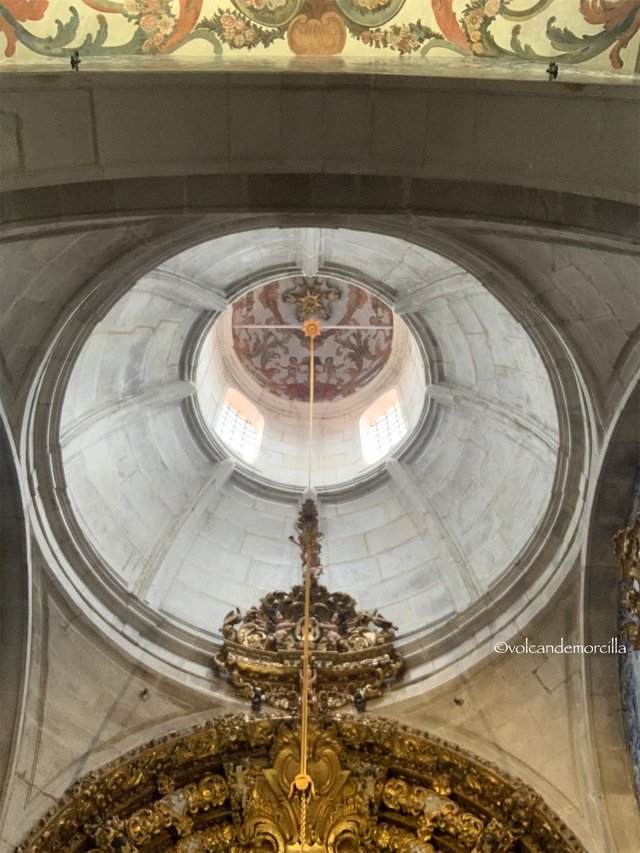 The mystery of the wrong tile
In the heart of Viana do Castelo is the Church of Mercy.
This church is linked to the House of Charity where the most disadvantaged were cared for.
In all the cities of Portugal there is a Church of Mercy. The one in Viana do Castelo, is in the Plaza del Renacimiento where there is also the Town Hall and an imposing central fountain.
When we made the Camino de Santiago this July, we arrived at this square and came across a particular facade, as it has large balconies, inspired by the architecture of northern Europe.
This balcony house, by its appearance, is also known as the "Casa das Varandas" and was designed by João Lopes, Jr., in 1589.
The Casa de la Beneficencia is this Mannerist-style building that stands out for the columns of the balconies, which are giants that seem to support the weight of the structure.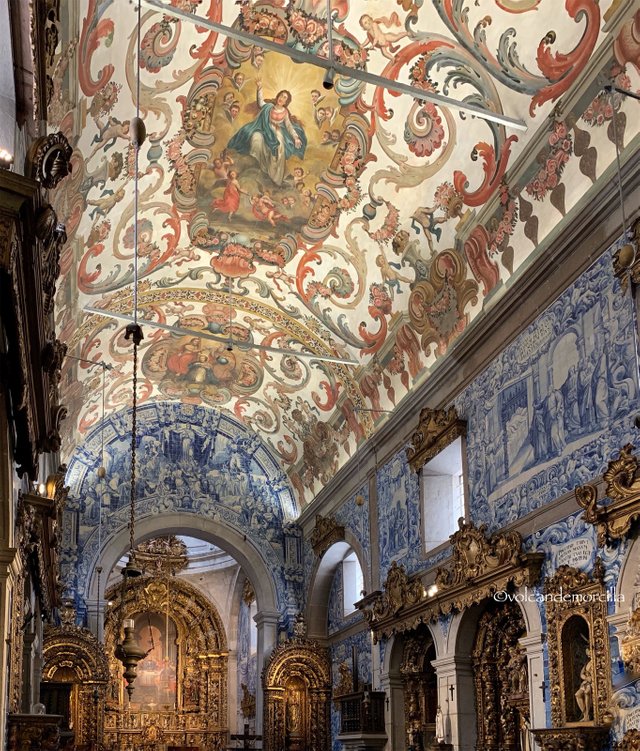 We enter this house and from it we access the church of Mercy that is from the 18th century.
What struck us upon entering is that this monument has been preserved very well and the interior is fully decorated.
The walls are covered with blue and white tiles, as is traditional in Portugal. The ceilings are fully painted with a baroque style. They are some frescoes that were made by Manuel Gomes and are one of the best examples of baroque painting in Portugal.
I really liked the golden altarpieces of
Portuguese style that Ambrósio Coelho did. Specifically, there is a scene from the "Adoration of the Magi" that is a cousin.
The representation of the "Circumcision of the Infant Jesus" is also very fine and delicate, although I think the sword used to cut the baby's small foreskin was exaggerated. I was totally horrified!
Looking inside, I observed what, for me, was the most remarkable. The mosaic tiles that decorate and cover all the walls of the church are a work of art.
The entire entrance area, next to the door, is covered with tiles. They are great representations related to piety, mercy and charity.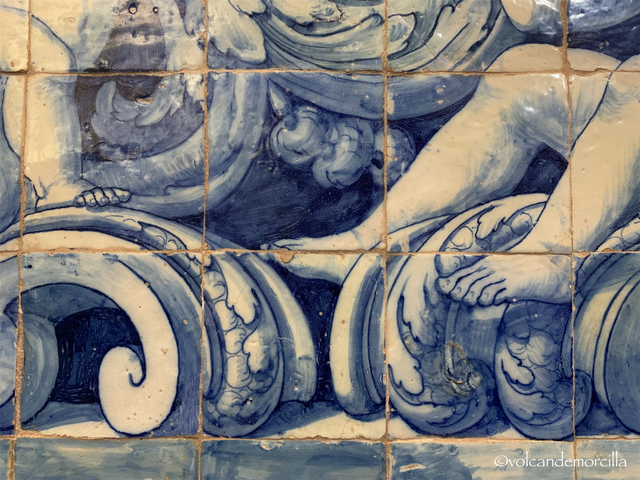 But, I discovered a strange mistake, an anomaly.
The tiles are the work of Policarpo de Oliveira Bernardes. The degree of detail he got in these paintings is impressive, but he made a mistake.
There is a tile that is badly placed. The mason or the artist placed it badly. What surprises me is that they had not corrected or corrected this error.
Upon entering, just to the right is an imposing mosaic. It represents an aggressive war chariot pulled by crazy horses that derails in the presence of Christ.
On the back, on the left, there is a representation of a rich merchant, dressed in a robe and turban, who invites a few uprooted people to his table.
All these mosaic scenes are framed for the same reasons. In every corner there is always the same fight of titans. I guess they represent the fight between good and evil. The good man is with his fist in high aim of unloading a strong blow on the evil figure that is represented by a being with an open and disgusting mouth that has lion claws and large udders, mocks and pendants.
This motif is repeated in all corners. Interestingly, in the left panel, perhaps in the most visible place, a mistake has occurred. There is a badly oriented tile: it is turned.
It is hard for me to believe that this tile would have been misplaced due to inaccuracy or negligence. In that case, it could have been corrected. I think they put it wrong intentionally. That is my hypothesis, but why?
Although I have looked for some explanation I have not found it in the bibliography that circulates in the network.
Sometimes, precisely the error gives more value to the work. Visitors and tourists are attracted to the curious and the strange. How many tour guides will have brought their customers here to show them exactly this tile?
Like them, this curiosity has served as an excuse and reason to show you this magnificent monument of Viana do Castelo. I hope you liked it. See you soon!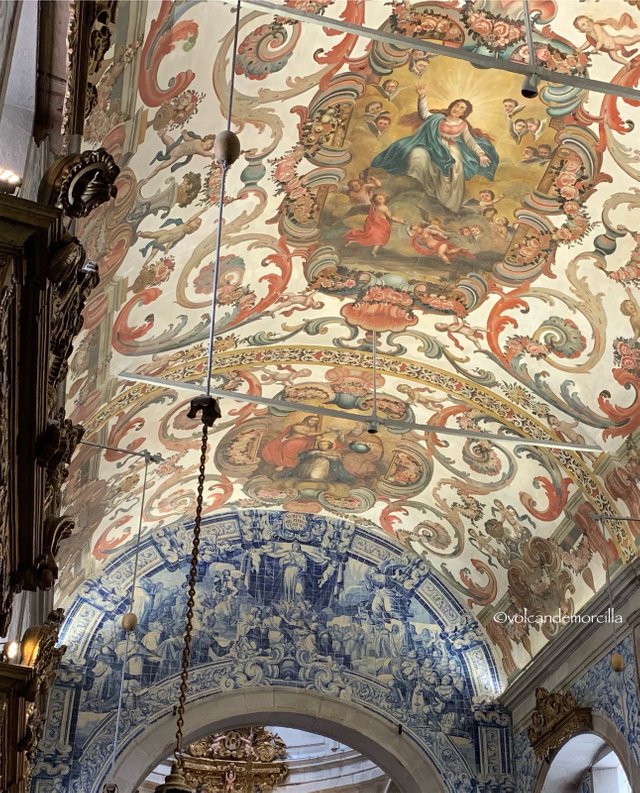 Cómo lo hago
Hice las fotografías con mi iPhone X. Para la edición utilicé la aplicación Snapseed y para la firma digital usé la App Watermark.
Los dibujos los hice en el iPad con el programa Sketches.
For the photography I use my iPhone X. For edition I use the Snapseed application and for the digital signature the Watermark app.
Everything I did on my mobile phone, I did not use the computer at all.
For the drawings, I use the Sketches program and paint them on the tablet.
Si quieres ver como lo hago, visualiza estos tres enlaces de publicaciones previas.
If you want to see how I do it, visualize these three links from previous publications.

Las fotos son mías y originales. También, soy el autor del dibujo separador.
¡Espero tus comentarios!
The photos are originals and mine. Also, I am the author of the separator drawing.
I await your comments.
Buen Camino!