Hello dear Steemians,
Today I present exclusively for Steemit the video of my piece for piano "Guernica".
Picasso's Guernica is probably the most important painting of the 20th century.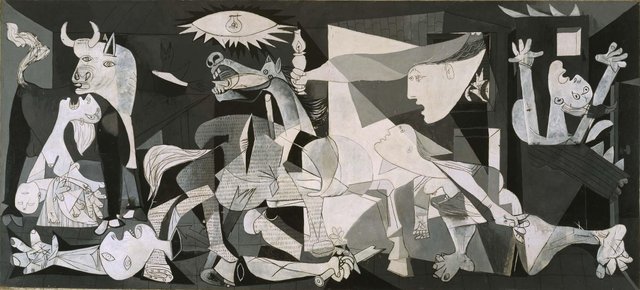 And this year 2017 has been celebrated the eightieth anniversary of the bombing of the town Guernica by Nazi German Luftwaffe's Condor Legion and Fascist Italian "Aviazione Legionaria" during the Spanish Civil War, and also the eightieth anniversary of the painting by Picasso.
With my music I try to transmit what the painting describes.
It took me about six months to compose it, and after that also six months to play several concerts in Spain and Germany.
The world premiere was in May, at the Berlin Philharmonie.
Last November I felt ready to record it in this fantastic video that helps me to transmit all the emotion from the picture.
And you, dear steemians, are the first to watch it.
I hope you like it, and please enjoy the music
@titin
---
Hola queridos Steemians,
Hoy presento exclusivamente para Steemit el video de mi pieza para piano "Guernica".
Guernica de Picasso sea probablemente el cuadro más importante del siglo XX.
Y este año 2017 se ha celebrado el ochenta aniversario del bombardeo de la ciudad española Guernica por la aviación nazi durante la guerra civil española y la posterior realización del cuadro.
Con mi música intento transmitir lo que describe el cuadro. He tardado unos 6 meses en componerla y otros seis meses en hacer varios conciertos en España y Alemania.
El pasado mes de noviembre me sentí preparado para grabarlo en este fantástico video que me ayuda a transmitir toda la emoción del cuadro.
Y vosotros, queridos steemians, sois los primeros en verlo.
Espero que os guste, y por favor, disfrutad de la música
@titin