Hey! Friends of Steemit, how are you doing? Happy start of the week. Today I bring a new post. I hope you like my interpretation and the sequence of colors. If it is the first time you see a publication on my part I invite you to follow me and share with me this adventure of color. I hope you like and on behalf of this server (@teammoney) I wish you have an excellent day. //❥Hey! Amigos de steemit, como les va? Feliz inicio de semana. El día de hoy les traigo un nuevo post. Espero les guste mi interpretación y la secuencia de colores. Si es la primera vez que ven una publicación de mi parte los invito a seguirme y compartir conmigo esta aventura de color. Espero les guste y de parte de esta servidora (@teammoney) les deseo que tengan una excelente dia.
❥FINAL DRAWING//DIBUJO FINAL❥

❥PHRASE OF THE DAY//FRASE DEL DÍA❥
Success is not measured in money, but in the difference it makes in people. Michelle Obama// El éxito no se mide en el dinero, sino en la diferencia que marca en las personas. Michelle Obama

❥@TEAMMONEY ❥
  @teammoney is an account for all those who admire the color, although the drawings presented are not my authority, but I try to recreate them as similar as possible and on certain occasions I like to give them a personal touch. The artist who inspired me or who I Guio is called  JULIA RAZUMOVA and can get their works in Instagran as @bluesssatan. You will always see the source of the drawing and the version of how I Am made. 
  @teammoney es una cuenta para todos aquellos que admiren el color, aunque los dibujos presentados no son de mi autoridad, sino que trato de recrearlos lo más parecido posibles y en ciertas ocaciones me gusta darles un toque personal. La artista en la que me inspiro o de quien me guio se llama  JULIA RAZUMOVA y pueden conseguir sus obras en instagran como @bluesssatan. Siempre verán la fuente del dibujo y la versión de como quedo hecho por mí.  
❥I HOPE YOU LIKE/ ESPERO LES GUSTE❥

❥SOURCE/ FUENTE ❥

❥DEVELOPMENT // DESARROLLO❥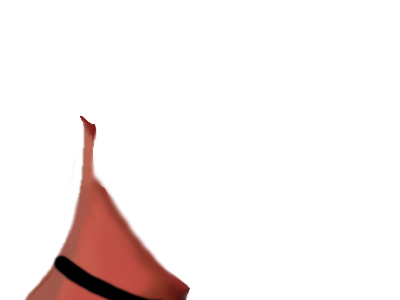 ❶ The first step I started with the neck, using the skin tone mixture. Although the truth tries to make digital realism is much more complicated and needs more time. Only this part took me 45 minutes, because I could not achieve the appropriate mixtures of colors. Then in a separate layer make the collar and then I joined the layers // En el primer paso comencé con el cuello, utilizando la mezcla de tonos piel. Aunque la verdad trate de hacer realismo digital es mucho más complicado y necesita más tiempo. Solo esta parte me llevo 45 minutos, porque no conseguía lograr las mezclas de colores apropiados. Después en una capa aparte realice el collar y posteriormente uní las capas.
❆❆❆❆❆❆❆❆❆❆❆❆❆❆❆❆❆❆❆❆❆❆❆❆❆❆❆❆❆❆❆❆❆❆❆❆❆❆❆❆❆❆❆❆❆❆❆
❷ The second step was quite complicated, do it in 4 attempts. In this part achieve the color mix that had the skin in the original drawing was complicated, but I think it achieves as similar as possible, realization of this part, which covers the face was carried out in 5 layers that later joined to form only the face. This second part took me 120, uninterrupted minutes. // El segundo paso fue bastante complicado, lo realice en 4 intentos. En esta parte lograr la mezcla de colores que tenía la piel en el dibujo original fue complicado, pero creo que logre lo más parecido posible, realización de esta parte, que abarca el rostro se llevó a cabo en 5 capas que posteriormente se unieron para formar solo el rostro. Esta segunda parte me llevo 120 minutos ininterrumpidos.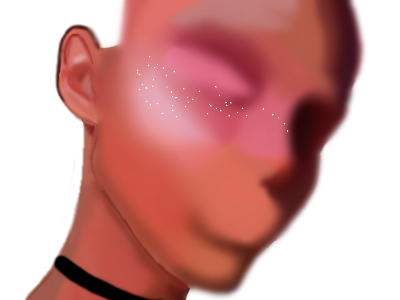 ❆❆❆❆❆❆❆❆❆❆❆❆❆❆❆❆❆❆❆❆❆❆❆❆❆❆❆❆❆❆❆❆❆❆❆❆❆❆❆❆❆❆❆❆❆❆❆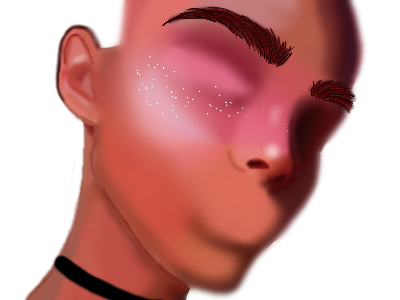 ❸ In the third step he went back to work with the nose, to highlight it more and try to give it more realism. Also worked with eyebrows between 3 different layers, designing hair by hair. In this part late 39 minutes. // En el tercer paso se volvió a trabajar con la nariz, para resaltarla más y tratar de darle más realismo. También se trabajó con las cejas entre 3 capas diferentes, diseñando pelo por pelo. En esta parte tarde 39 minutos.
❆❆❆❆❆❆❆❆❆❆❆❆❆❆❆❆❆❆❆❆❆❆❆❆❆❆❆❆❆❆❆❆❆❆❆❆❆❆❆❆❆❆❆❆❆❆❆
❹ Then I worked with the hair, in the original drawing of
@bluesssatan
. You can see that the girl has a clineja. This part for me was quite simple, in fact the easiest because previously I have already worked with the realization of hair. Here late 15 minutes // Posteriormente yo trabaje con el cabello, en el dibujo original de
@bluesssatan
.Se puede ver que la chica tiene una clineja. Esta parte para mí fue bastante sencilla, de hecho la más fácil porque anteriormente ya he trabajado con la realización de cabello. Aquí tarde 15 minutos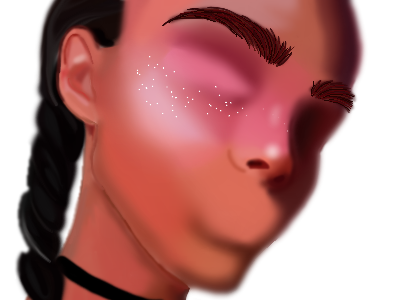 ❆❆❆❆❆❆❆❆❆❆❆❆❆❆❆❆❆❆❆❆❆❆❆❆❆❆❆❆❆❆❆❆❆❆❆❆❆❆❆❆❆❆❆❆❆❆❆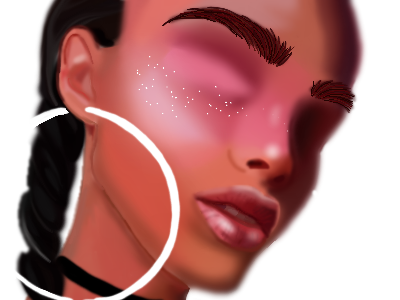 ❺ In this step you may notice that you work with your mouth and earrings. The part of the mouth took me 70 minutes because I could not get the result I wanted, until at some point I felt frustrated, but with perseverance achieve the closest thing to the original. The earrings were simple, made in 1 minute. The fifth and funniest step was the hair where three shades were chosen: blue, pink and purple, giving it a more striking touch. // En este paso se puede notar que trabaje con la boca y los aretes. La parte de la boca me llevo 70 minutos porque no lograba obtener el resultado que yo quería, hasta que en cierto punto me sentí frustrada, pero con perseverancia logre lo más parecido al original. Los aretes fueron sencillos, realizados en 1 minuto. El quinto y más divertido paso abarco el cabello donde se eligieron tres tonos: azul, rosa y morado, dándole así un toque más llamativo.
❆❆❆❆❆❆❆❆❆❆❆❆❆❆❆❆❆❆❆❆❆❆❆❆❆❆❆❆❆❆❆❆❆❆❆❆❆❆❆❆❆❆❆❆❆❆❆
❻ In this Part I work my eyes, in a total of 5 layers, although the truth was the part that I liked least. As much effort as you devote do not achieve the same realism and finesse. But to be the first drawing with the technique of realism, I feel it was pretty good. Wooooo // en esta parte trabaje los ojos, en un total de 5 capas, aunque la verdad fue la parte que menos me gusto. Por más esfuerzo que le dedique no logre el mismo realismo y finesa. Pero para ser el primer dibujo con la técnica del realismo, siento que quedó bastante bien. wooooo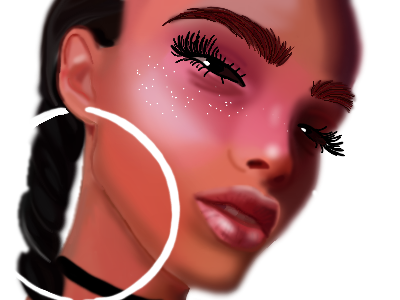 ❆❆❆❆❆❆❆❆❆❆❆❆❆❆❆❆❆❆❆❆❆❆❆❆❆❆❆❆❆❆❆❆❆❆❆❆❆❆❆❆❆❆❆❆❆❆❆
❼ I only have to carry out the background by adding letters and mixing blue tones.// Solo abarco la realización fondo agregando letras.

❀INFORMATION OF IMPORTANCE // INFORMACION DE IMPORTANCIA<❀/strong>


PROGRAM: Adobe Illustrator




DURATION: 3 DAYS




DIFFICULTY: DIFFICULT




DIMENSION: 400X 300




WIDTH: 400pixels

THANKS FOR VISITING THIS BLOG, I HOPE YOU LIKED IT AND I INVITE YOU TO DISCOVER A PICTURE EVERY DAY. IF YOU WANT TO HAVE A CLOSER CONTACT WITH ME YOU CAN FIND ME IN: //GRACIAS POR VISITAR ESTE BLOG, ESPERO LES HAYA GUSTADO Y LOS INVITO A DESCUBRIR UN DIBUJO CADA DÍA. SI DESEAN TENER UN CONTACTO MÁS CERCA CONMIGO ME PUEDEN ENCONTRAR EN:
❶DISCORD: teammoney
❷E-MAIL: [email protected]