Disfrutando el carnaval - Día 2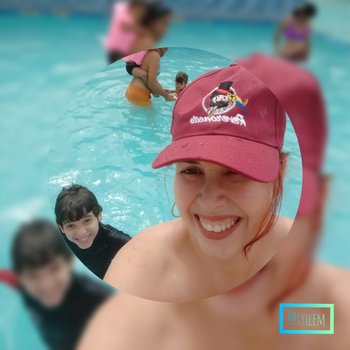 🤽🤽🤽🤽🤽🤽🤽🤽🤽🤽🤽🤽🤽🤽

Estos días de asueto son una buena excusa para disfrutar al aire libre. Esta vez salimos a un club recreacional del lugar donde trabajo para que los niños disfrutaran de la piscina y otras actividades planificadas por la empresa.
These days of rest are a good excuse to enjoy the outdoors. This time we went out to a recreational club at the place where I work so that the children could enjoy the pool and other activities planned by the company.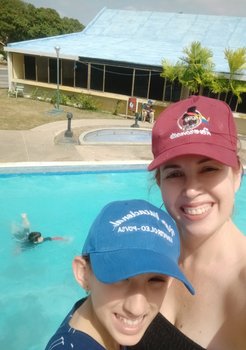 Para mi sorpresa mi hija no quiso meterse a la piscina, así que se quedó conmigo a la sombra de un árbol.
To my surprise, my daughter didn't want to go in the pool, so she stayed with me in the shade of a tree.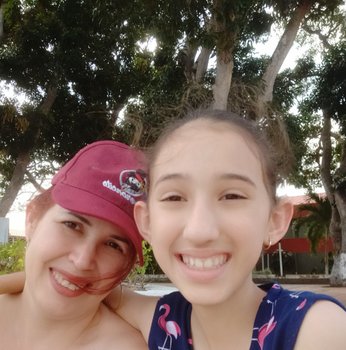 Al lado opuesto estaba mi esposo, se quedó muy cerca de la piscina, para poder estar pendiente de nuestro hijo, que no salió de allí hasta que le dió hambre y quiso irse. Entonces fuimos a almorzar en casa de mi suegra, quien nos esperaba con un rico arroz con pollo.
On the opposite side was my husband, he stayed very close to the pool, so that he could keep an eye on our son, who did not come out until he got hungry and wanted to leave. Then we went to have lunch at my mother-in-law's house, who was waiting for us with a delicious rice and chicken.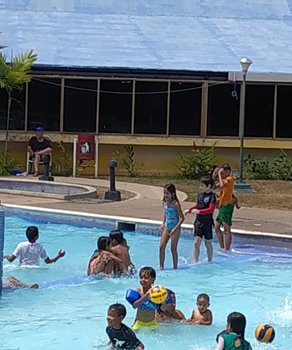 Al llegar a nuestro hogar, mi esposo y yo comenzamos un maratón de episodios de Naruto, un ánime que mi hijo nos invitó a ver. Él se quedó con nosotros por un o dos episodios, mientras comía cotufas y luego salió a jugar con agua con los vecinos de la urbanización.
Upon arriving home, my husband and I began a marathon of Naruto episodes, an anime my son invited us to watch. He stayed with us for one or two episodes, while he ate cotufas and then went out to play with water with the neighbors of the urbanization.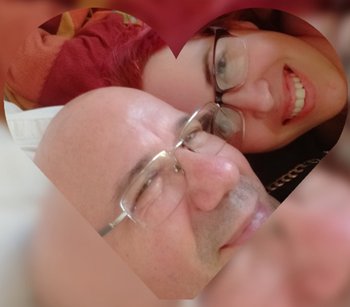 Por otro lado mi hija, quien no se quiso meter en la piscina del club; al llegar a casa, salió a jugar con sus amigas en nuestro patio, llenando poncheras con agua y jugando dentro de ellas 🤷🏼‍♀️
On the other hand, my daughter, who didn't want to get into the club's swimming pool; when she got home, she went out to play with her friends in our yard, filling punch bowls with water and playing inside them 🤷🏼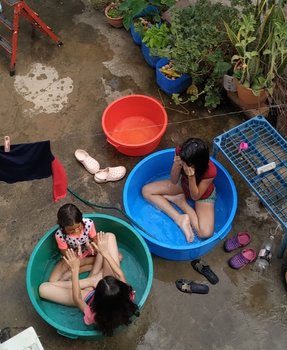 Cuando se cansaron de jugar con agua, mis hijos entraron, se dieron un baño y salieron a seguir jugando con sus amigos, hasta que los llamamos para cenar. Les preparé unos pastelitos de pollo, que por fortuna les encantó. Cuando cocino lo hago siempre con mucho amor, imaginando sus caritas comer con placer.
When they got tired of playing with water, my children came in, took a bath and went out to continue playing with their friends, until we called them for dinner. I made them some chicken cakes, which fortunately they loved. When I cook I always do it with a lot of love, imagining their little faces eating with pleasure.
Pronto llegó la hora de ir a la cama, que viene acompañada de nuestra rutina nocturna de leer la Biblia, muchas veces leemos también un cuento; en estos días estamos leyendo un pequeño libro que mi hija debe estudiar para su catecismo.
Soon it is time to go to bed, which is accompanied by our nightly routine of reading the Bible, many times we also read a story; these days we are reading a little book that my daughter must study for her catechism.
Y así terminó nuestro día. Con la alegría de poder ir a dormir con el corazón sereno, lleno de satisfacción y en paz. Repitiendo a cada instante: Gracias Dios por tantas bendiciones.
And so our day ended. With the joy of being able to go to sleep with a serene heart, full of satisfaction and in peace. Repeating at every moment: Thank you God for so many blessings.

🤽🤽🤽🤽🤽🤽🤽🤽🤽🤽🤽🤽🤽🤽

Las imágenes usadas son propias, dos de ellas decoradas con la aplicación Inshot, descargada de Play Store. En la traducción al inglés me apoyé con la página web deepl.
Images used are own, two of them was decorated with the image editing application InShot, downloaded from Play Store. I am not very good with English, however I supported myself with the help of the Google translator.