---
For the @emeeseese team it is a real pleasure to start our new project: How to grow together in Steemit?, with this talented user of this platform, to know more about him and his projects. Multifaceted both in the block chain and in real life, demonstrates skills of writer, actor, farmer, champion of MMA (mixed martial arts), ahem, ahem, Steem monster championships and excellent person.
With you…. (please imagine incidental music of triumphal entry)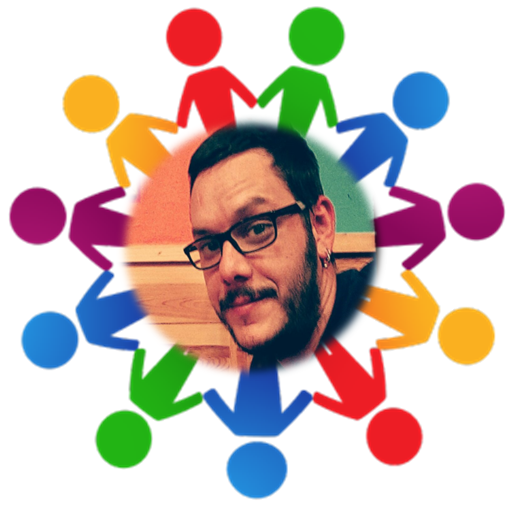 Source: Pixabay edited by @emeeseese

As we mentioned in the promotional publicationof this new project,
Behind a great project, there is always a great team or at least one great person.
In this case we speak of a generous Andalusian, excellent manners, skilled in the management of literary resources and Monster Steem cards; Creator of La Semana Lectora and over all a true gentleman. To know a little more about him, we send one of our special reporters to do an interview.//

Knowing the user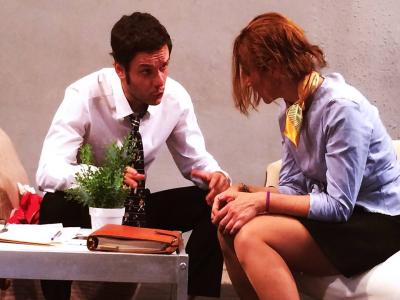 Source: unedited photo of @salvao in a play, provided by the intervieweer
---
Good afternoon, Salvador, it's a pleasure for me to interview you. It is said that you are still celebrating your success in a literary contest ... Let me ask you some questions to the more than 7,000 followers of our project.
Who is @salvao and how did he get to Steemit?
Good afternoon friend, first of all I want to thank you for this interview. I am very happy when I meet good people in Steemit and you are "one of those".
In short, I am a young (thirty something) Spanish with artistic and pedagogical studies and I came to Steemit because ... like almost everyone: in search of fortune, ha ha ha. Although good, yes that there is a history. It is simple. In the summer of 2017 I got to know the whole world of cryptocurrencies with my sister and my brother-in-law, who had been investing for a while. I must say that it was a shame not to have found all this before, but hey, "it's never too late if happiness is good". The fact is that in November of that year I was in Steemit and from the beginning I thought it was a fabulous platform.
What do you like to write about, what do you love?
 My passions are cultural. My preparation and my profession for quite some time has been that of theater actor. The stage is a different place where everything that happens has a very, very special energy. 
And well, writing. I have always liked it, although for many seasons the practice and activity that I practiced in that field was null or almost nil. Always focused on playing characters. But with Steemit "the thing" changed a bit. Increasingly and with greater skill, I dedicated myself to write and publish poetry and stories, above all. One year is not a long time, so what I like most is to try different writing techniques or styles. Continue learning through practice.


How have you felt in the @emeesese community? What do you think of her?
Buah! I think that you are good people and that you strive as much or more than I do to make things right. ;) 
 
Knowing the project

 Source: Autovoters project logo, provided by @salvao for this interview
---
How are the Autovoters born and what do you propose? 
This is a good question and I will try to be concrete. Let's say that Steemit users love the platform. But it is also true that it has its weaknesses. How many people will start and, shortly, give up when they see that they are little read or little voted? What existing growth tools on the platform are really useful or profitable? Whales that are related to whales, newies with newies; jobs that are not valued as they really deserve ...
 Many of us are aware that things could work better for everyone, so, one day and a few months after being here, I decided to contribute my grain of sand to the community.
On the one hand, the Week of Reading, a reading and support activity for those publications with which we are really satisfied and, on the other, Autovoters. 
Do you know the Bitbots of votes ?, Autovoters is something similar but, unlike the others, profitability (you always earn money) is assured.
It offers a vote and resteem service never seen. Today and after a lot of work, we have managed to offer a vote of 0.18 $ (+ trail of + of 60 votes) + reesteem for a single payment of 0.060 SBD or 0.130 Steem. We must bear in mind that the project was born with zero investment, and that these amounts have been achieved based on work. This is a service that, in my opinion, can come very well for those publications with low revenue and that are of quality, so that they get more visibility. The payment must be seen as an investment that you will recover (with extra benefits) at the time of collecting the publication in which you invest.
In addition, every day there is a completely independent cure of users of the autovoters feed, the feed of "salvao", of "New: all labels", or contests in which I participate, proposals of my collaborators ... 
For example, one way to enter the Autovoters curación system is to use the reesteem service a first time. This will continue your account and appear in the feed of Autovoters, being able to get cure occasionally in quality post. I have to say that plagiarism, spam, etc. are not voted And that it is best to check the price of the service (on the cover of the blog) before using it, because erroneous shipments (or spam and such) can be taken as donations to the project.
What are the goals of both the Autovoters project and @salvao in Steemit?
What I want to do with Autovoters is to help my friends in Steemit and everyone who tries and deserves it. I am an independent person who likes to take the reins of his work and have the ability to make decisions. And with autovoters I try to do my best. My aim is to provide the best possible healing service; and as long as possible.
 And well, @salvao in Steemit wants to earn money and share content and knowledge. The money is evident, because all those who spend so many hours on the platform know the effort involved. And well, in terms of literary publications, I want to write better and better and hopefully one day I will be able to publish "in the physical world". Steemit is a good place for texts to get in touch with readers, for example. 
Salvador, feel free to talk about anything else that you would like to communicate to our community, such as the strengths and weaknesses of the Autovoters project or how users can benefit and what they should do to receive such support.
This I have already been talking about, but I will add that one of our greatest strength is the desire to do things well and responsibly and, perhaps the most threatening weakness is (as in many other projects) the management for the balance of VP consumption. I also wanted to add that Autovoters does not have a Discord, it develops its activity directly in Steemit. Although we are always subceptives of evolution and is something that is not ruled out for the future. 
One last question @salvao, would you be interested that in addition to your interview we made an analysis about your project?
Of course you can analyze as much as you want, a greeting and again thanks for your support. I want to make a special mention to my collaborators and allied projects, who have supported me from or almost from the beginning, when we hardly had presence or strength: @josegilberto @mllg @miguelarl @pepiflowers @leveuf @amigoponc @johannfrare @talentclub @ fuerza-hispana @evagavilan Visit their blogs, sure you find cool things! 

 
Source: personal signature provided by @salvao for this interview  


It is one of the premises of the team @emeeseese helpping in the promotion of lucrative, beneficial projects, and / or that can serve as support in our progress in Steemit.  
As we already mentioned in the introductory publication of this new section, in addition to the interview, we make an analysis of the project developed by our guest.  We apply an objective valuation to all the analyzed projects, except for the express refusal of the owner of the project. Said assessment consists of a scoring system, transparency and its characteristics are taken into account, and the maximum score will be 10, applying the following scale:  
The answer is favorable:                                                       +1
 The answer is a handicap or disadvantage:                       0
 Ns / Nc, hidden information:                                                1
hr
Question                              ||                   Answer ||  Score 
Can any user join?                                            Yes               1 
Commitment to stay?                                     No                  1 
Do users have to pay for the service?             Yes               0 
Do you offer active income?                               Yes                      1
 Do you offer passive income?                         No                    0 
Guaranteed economic return?                           Yes                   1 
Developer and / or project have a high reputation? (> = 60)?         Yes                1 
Messaging / contact with developers?                         Yes                 1 
Personal attention to users?                                Yes                1 
Is maintaining the project economically viable?                 Yes                      1   
 Project                                                                      Our valuation 

Well, that was our great friend Salvador or @salvao and the analysis of his project Autovoters, we hope that this interview has been liked by everyone as it was for us. Soon we will continue reading when we meet another of the great people who join their effort to grow our platform at the point of work and effort.
Do you want to nominate yourself for an interview or do you consider that an acquaintance should be one? Put it in the comments of this interview, but not before reviewing the requirements placed in our promotion publication, clicking this -----> link.
Until a new opportunity!
---
Important clarification: the interviews are published as the interviewees answer our questions or add comments, for reasons of courtesy and respect we do not edit any of the information provided, if a guest considers it necessary to correct part of what is expressed here or to denounce any misrepresentation of your words, you can make use of your right to reply by this same means. 
---
Translation by @mllg. Edited by me :)


---
Posted from my blog with SteemPress : http://salvao.vornix.blog/how-to-grow-together-in-steemit-salvao-emeeseese-interview-traslation/
---