Agradecida con la naturaleza/Grateful with nature. #7daypositivitychallenge
¡Hola mis queridos Steemians!
Para continuar con el reto al que fui nominada por @tashidelek que trata sobre el positivismo y el ser agradecido y en esta oportunidad quiero agradecer a la naturaleza, esa que nos rodea, con la que somos capaces de conectarnos.
Estoy inmensamente agradecida con el cielo, sencillamente es sublime observar su grandeza en cada uno de los atardeceres y amaneceres que nos regala.
¡Hello my dear Steemians!

To continue with the challenge to which I was nominated by @tashidelek, which deals with positivism and being grateful and in this opportunity I want to thank nature, that which surrounds us, with which we are able to connect.

I am immensely grateful to heaven, it is simply sublime to observe its greatness in each of the sunsets and sunrises that it gives us.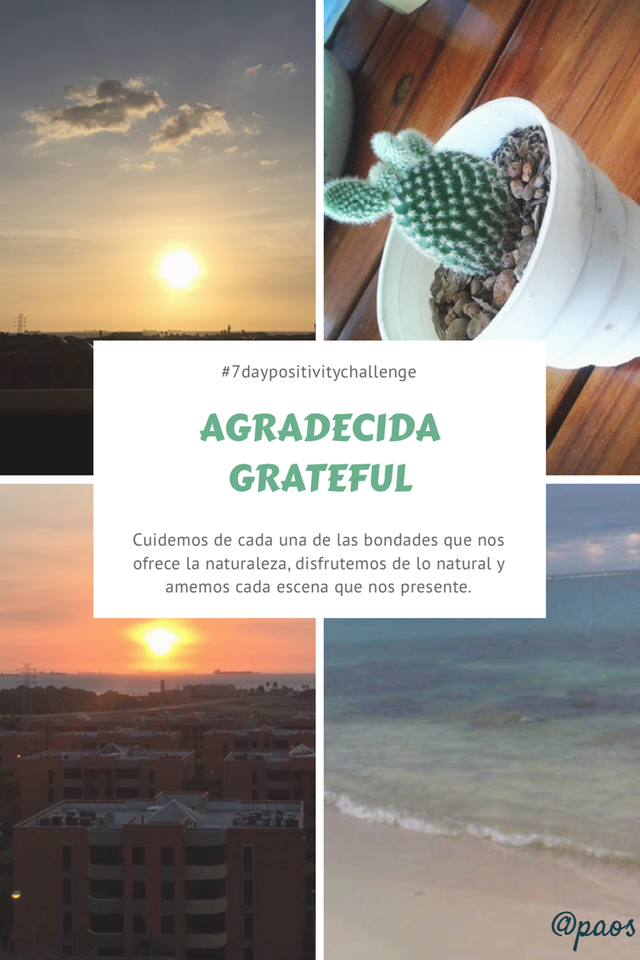 Caminar al aire libre y tener la oportunidad de poder disfrutar de estos espectáculos es una verdadera bendición. Cuidemos y fomentemos el amor por las plantas, por el mar, disfrutemos de los regalos del universo.
Para mi es una necesidad salir a disfrutar una puesta de sol. Quedarme allí sentada frente al mar, que la brisa acaricie mi rostro y mis ojos contemplen lo hermoso del panorama.
Gracias naturaleza por acobijarme con ese hermoso cielo de nubes blancas como el algodón. Gracias por cada sitio verde que me llena de paz y armonía la vida. Gracias por brindarme aire puro y darme serenidad, por ayudarme a pensar y meditar. Gracias infinitas.
Walking outdoors and having the opportunity to enjoy these shows is a true blessing. Let's take care and encourage love for plants, for the sea, enjoy the gifts of the universe.

For me it is a necessity to go out and enjoy a sunset. Stay there sitting in front of the sea, the breeze caresses my face and my eyes contemplate the beauty of the panorama.

Thank you nature for coping with that beautiful sky of white clouds like cotton. Thank you for every green place that fills me with peace and harmony. Thank you for giving me fresh air and giving me serenity, for helping me to think and meditate. Infinite thanks.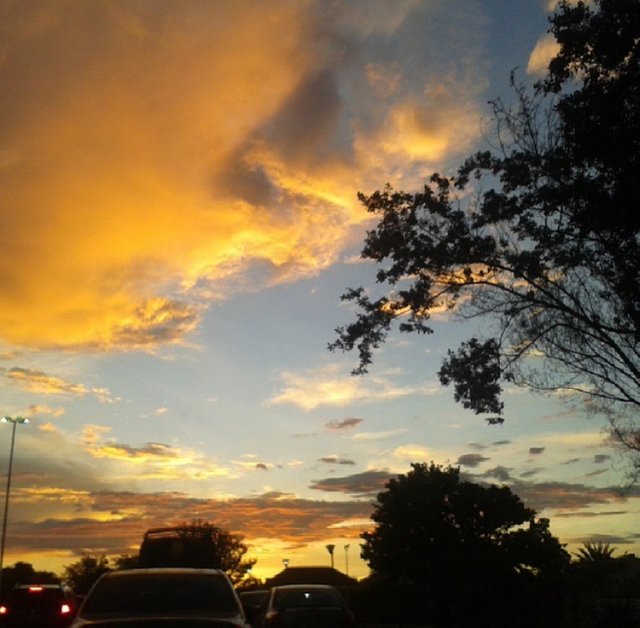 Asi el tráfico de la ciudad si se puede disfrutar.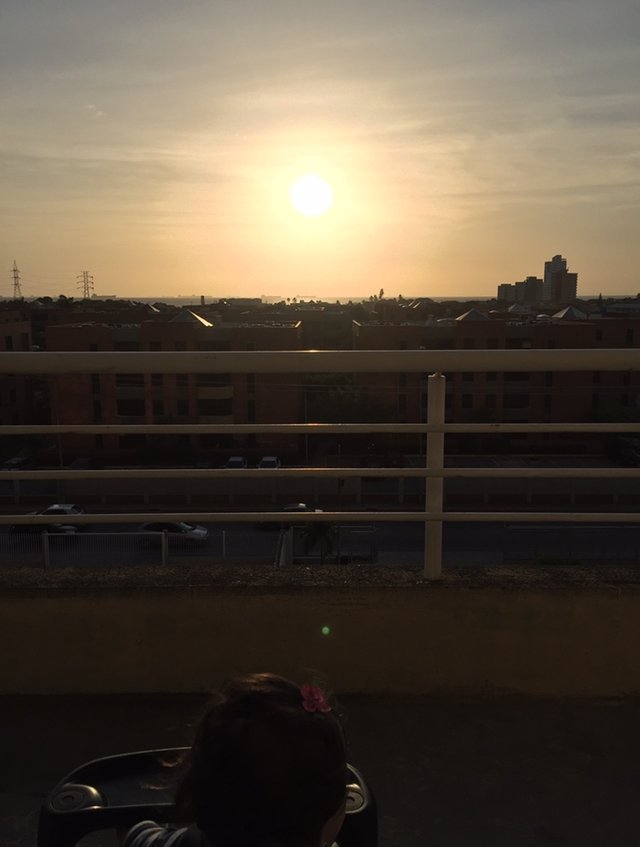 Ella también ama los atardeceres. "Lo que se hereda no se hurta" (frase de un viejo refrán).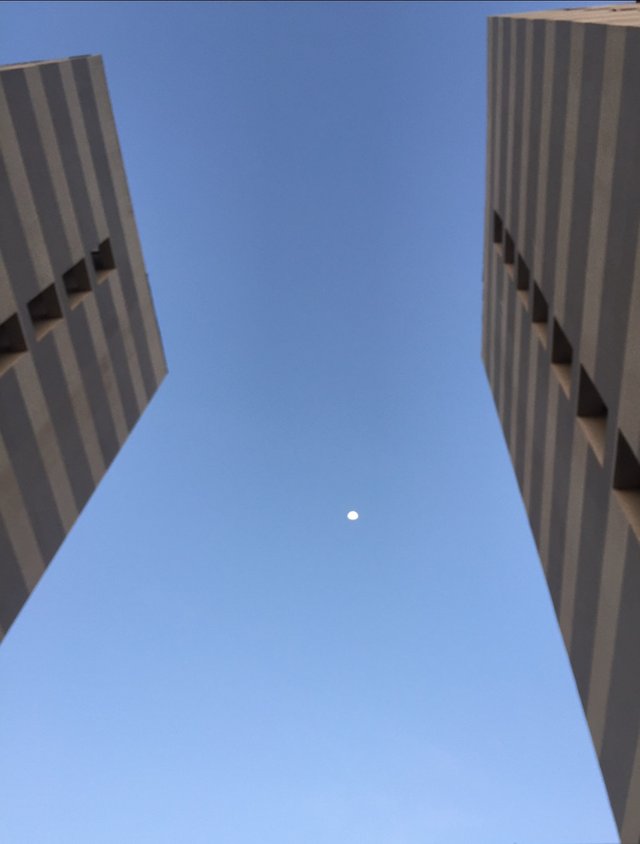 6:00pm y ya la luna nos acompañaba.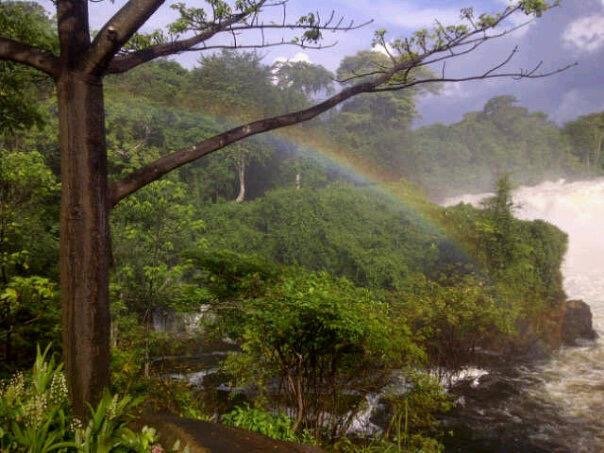 Una visita al "Parque Nacional La Llovizna", majestuoso lugar, acompañado de un hermoso arcoíris.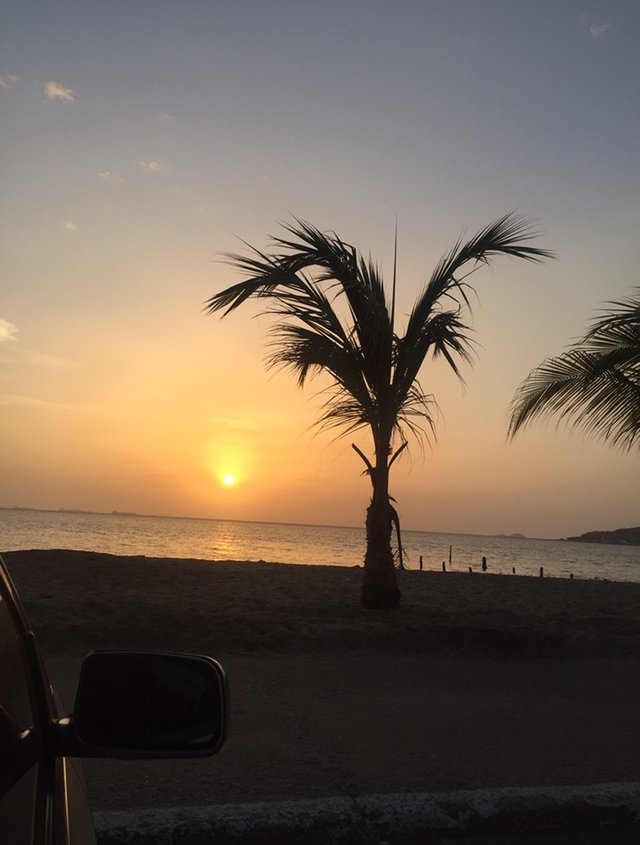 Cuando necesito el mejor escenario para pensar.
¡Mil Gracias naturaleza!
---
Para unirte, sigue esta guía:
Escribe una publicación sobre algo sobre lo que tengas que ser positivo hoy en día. Podría ser una cosa real, estar agradecido por sus amigos y familiares, o incluso estar agradecido por la oportunidad que se puede brindar aquí en Steemit, solo mantenlo positivo.
•   Haz esto durante 7 días seguidos si te nominan.
•   Mencione a tres personas que pueden hacer esto cada día.
•   Etiquétalo con #7daypositivitychallenge e incluye estas reglas en la parte inferior de tu publicación. No olvides poner el símbolo # para que la etiqueta sea aceptada.
•   Incluye una imagen de algo positivo (relacionado con tu historia si es posible).

To join in, please follow this guide:

Write a post about something you have to be positive about today - this could be anything from being thankful for your current situation, someone being nice to you, being thankful for your friends and family, or even being thankful for the opportunity you have been given here on Steemit - just keep it positive :)

• Do this for 7 days in a row if you get nominated.
• Mention three people who should do this on each day.
• Tag it with #7daypositivitychallenge and include these rules at the bottom of your post. Don't forget to put the symbol # so that the tag is accepted.
• Include a picture of something positive (related to your story if possible).
Nomino a: @apatrinchera, @echavez82 y @abcvivir.
Nomino to: @apatrinchera, @ echavez82 and @abcvivir.
---
Fotos de mi autoría.
---
Gracias por leerme, un abrazo.