¡Hola, Steemit!
Un saludo a todos. Revisando en mis redes que hoy en día están llenas de memes, encontré esta imagen que en un principio me pareció muy graciosa. Claro, cómo no iba a hacerme reír si es un meme. Pero mirándola con seriedad desde mi pensamiento como músico entendí que me decía algo que en algún momento cualquier músico ha pensado. ¿Por qué no quisiera estar en una banda donde todos sus integrantes a la hora de ir a ensayar o a dar un concierto ya hayan practicado en su casa? Pues, claro. Porque esto se resume en que todos harían buena música, o sea, su trabajo.
Añadiendo otra cosa muy seriamente a la que también hace referencia este meme, ¿quién no ha querido o soñado o sabe que tener un buen instrumento también aporta calidad en sonido y hasta puede que facilite la ejecución.
Así que después de reír mucho entendí que muchos de estos memes nos hacen reír, pero en algunos casos su contenido está basado en mucha realidad y en sueños que las personas solemos pasar, pensar o tener. Cuando encuentres uno que creas que tiene que ver con alguna realidad en tu vida, ríe mucho pero también reflexiona sobre las cosas buenas que puedas extraer de ella. No te niegues el placer de reír y pensar positivo.
Saludos. Espero te guste mi reflexión.
Hello, Steemit!
Greetings to all. Checking in my networks that today are full of memes, I found this image that at first I found very funny. Sure, how could he not make me laugh if it's a meme? But looking at it with seriousness from my thinking as a musician I understood that he was telling me something that at some point any musician has thought about. Why would not I want to be in a band where all of its members when it comes to rehearsing or giving a concert have already practiced at home? Well of course. Because this is summarized in that everyone would make good music, that is, their work.
Adding another thing very seriously to which this meme also refers, who has not wanted or dreamed or knows that having a good instrument also brings quality in sound and may even facilitate the execution.
So after laughing a lot I understood that many of these memes make us laugh, but in some cases their content is based on a lot of reality and dreams that people usually spend, think or have. When you find one that you think has to do with some reality in your life, laugh a lot but also reflect on the good things you can extract from it. Do not deny yourself the pleasure of laughing and thinking positively.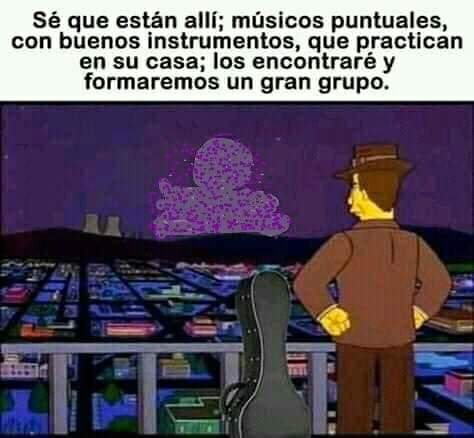 Posted using Partiko Android