Que hermosa palabra, hasta se deletrea bonito: to-le-ran-cia.
Y la conjugación del verbo en presente es un poema.
Yo tolero
Tú toleras
El tolera
Nosotros toleramos
Vosotros toleráis
Ellos toleran
Es la actitud perfecta. Si todos practicáramos la tolerancia la sociedad, y el mundo sería totalmente diferente.
Nada me cuesta soñar.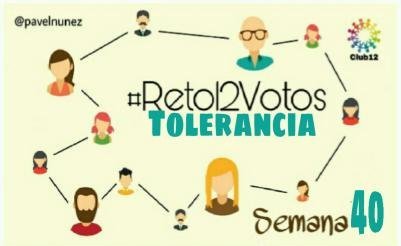 Fuente
Imagen tomada desde el reto en el blog del Club12
Amigos del Club 12 esta semana la iniciamos llenos de optimismos, de mucha fe y esperanza.
Si mucha fe, para creer que nuestra sociedad algún día puede llegar a ser tolerante.
Esta es una de las palabras que más adoro.
"Tolerancia se refiere al respeto hacia las ideas, preferencias, formas de pensamiento o comportamientos de las demás personas". Para mayor información visite aquí
Cuando tiendo a desesperarme porque nada sale como, yo quiero. Principalmente en mi ámbito laboral, me produce estados de ansiedad.
"Ahí está el detalle" como decía Cantinflas. No es lo que yo quiera, sino lo que mejor convenga para los seres humanos que conviven conmigo. También para la sociedad.
Tengo defectos como todas las personas y trato en lo posible de minimizarlos.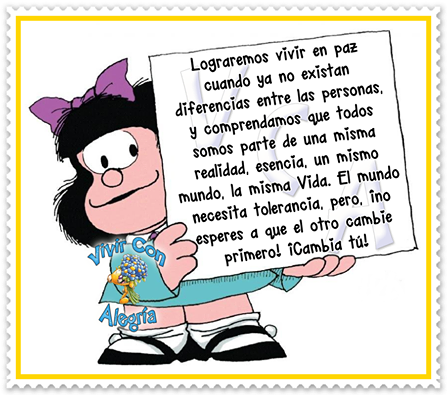 Mis queridos amigos sueño con un mundo donde haya igualdad, cada uno de nosotros tengamos las mismas oportunidades. En el cual el amor y la paz, estén por encima de todas las cosas.
Y Sobre todo mucho respeto.
Para lograrlo tenemos que ser respetuosos, amables, ponerse en los zapatos de los otros como decimos los venezolanos. También, darle valor a la vida y a los proyectos de todos.
Por esta razón, tengo el compromiso de cambiar, de enmendar mi camino si lo estoy haciendo mal. Y de ser tolerante.
Ya que considero que la tolerancia uno de los valores fundamentales de la sociedad. Sin ello, será imposible lograr paz.
Les voy a dejar un video de una canción de Juanes,"El odio por amor".
Espero que les haya gustado, antes de de finalizar les dejo esta frase de Juanes: "it´s time to change (es tiempo de cambiar)".
Se les quiere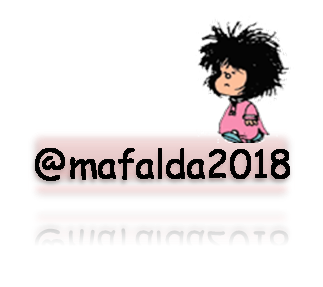 El #Reto12Votos está diseñado para que todas las personas ganen. Se trata de leer, comentar y votar por otros participantes del reto que harán lo mismo a cambio. Conoce las reglas del#Reto12Votos en este enlace observa el ejemplo y participa

Patrocinador en reto12votos…

---
Posted from my blog with SteemPress : https://mafalda2018.000webhostapp.com/2019/05/reto12votos-semana-40-tolerancia
---
---
Sponsored ( Powered by dclick )
Hello, Steemians. Let us introduce you a new Steem B...