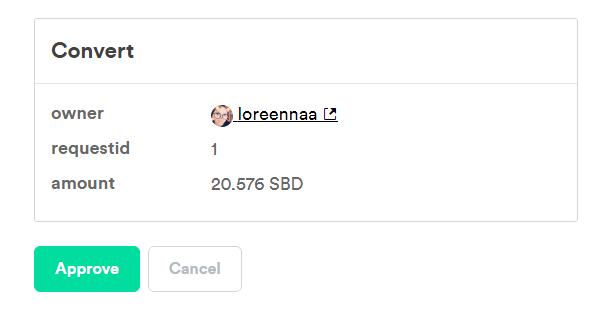 Quemar SBD cuando el valor es inferior a 1 USD es beneficioso para ti y para el resto de usuarios, ya que se disminuye la cantidad de SBD en el mercado y si baja suficientemente el porcentaje de deuda las publicaciones volverán a pagar sbd, además tu obtienes un beneficio en un periodo de 3.5 días ya que te pagan cada SBD en Steem en valor de 1 dólar..
Actualmente el SBD está a 0.84$ me he gastado Steems con un valor aproximado de 17.28$ comprando SBD en el mercado interno y en 3.5 días obtendré Steems con un valor de 20.576$.
Con esta acción consigo varias cosas al mismo tiempo:
Bajar la deuda del SBD ya que se queman.
Obtener beneficio comprando SBD con Steem a un valor inferior de 1 dólar por SBD.
Asegurarme que de aquí 3,5 dias tenga 20.576 dólares, sin importar que el steem o sbd bajen más.
Para generar tu enlace de conversión de Steemconnect puedes ir al siguiente enlace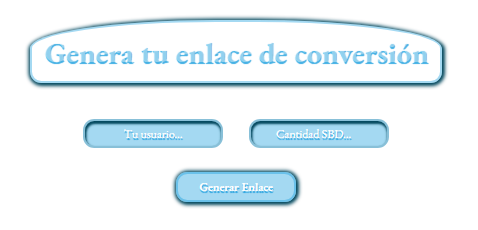 ---
---
---
---
Burn SBD when the value is less than 1 USD is beneficial for you and the rest of users, since the amount of SBD in the market is reduced and if the percentage of debt falls sufficiently the publications will pay sbd again, in addition you get a benefit in a period of 3.5 days since you get paid every SBD in Steem in value of 1 dollar.
Currently the SBD is at $ 0.84 I have spent Steems with an approximate value of $ 17.28 buying SBD in the internal market and in 3.5 days I will get Steems with a value of $ 20,576.
With this action I get several things at the same time:
Lower the debt of the SBD as they burn.
Make a profit buying SBD with Steem at a value lower than 1 dollar per SBD.
Make sure that from here 3.5 days I have $ 20,576, no matter if the steem or sbd goes down more.
To generate your Steemconnect conversion link you can go to next link