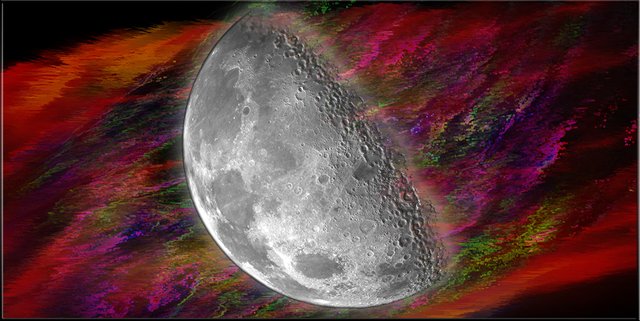 Existencia y conciencia siempre serán términos distantes y aún cuando queramos apresarlos en definiciones vinculantes, todo lo que existe en este Universo forma parte del omnipresente Caos, además de la Luz, la única constante. Yo nunca dejaré de sorprenderme de mi trayectoria y sus perspectivas futuras aunque ahora se ha señalado un punto perentorio para celebrar su finalización y, en rigor, eliminar la órbita del satélite al que se le suele llamar Luna y en el mismo acto, también al mismo cuerpo celeste que soy yo.
Existence and awareness will always be distant terms even when we want to capture them in binding definitions, everything that exists in this Universe is part of the omnipresent Chaos, the only constant besides Light. I will never cease to be surprised by my trajectory and future perspectives although now a peremptory date has been pointed out to celebrate its completion and, strictly speaking, to eliminate the orbit of the satellite that is usually called Moon and in the same act, also the celestial body itself, in other words, Me.
Varios ha sido mis trabajos desde que estoy junto a la Tierra para moldearla regulando sus ciclos, sus geografías, sus mareas. También permitiendo el florecimiento de la vida he dado forma a la experiencia de cada organismo, incluido el ser humano. Aunque algunos de mis hijos —me ha gustado llamarlos de esta forma desde hace millones de años— no lo miren así. Ellos lo llaman exploración y explotación de los recursos y estos impulsos están en su primera naturaleza.
My tasks have been several since I'm next to Earth to mold her regulating its cycles, its geographies, its tides. Also allowing the flowering of life I have shaped the experience of each organism, including the human being. Although some of my children - I like to call them so since millions of years ago - do not look at it that way. They call it exploration and exploitation of resources, being these impulses present in their first nature.
Mientras los cosmonautas terminan de sembrar las bombas de varios megatones que han de volar mi corteza, registro en mi núcleo de manera precisa la historia de este naufragio que hace millones de años me puso junto a la Tierra y produjo esa especie de milagro del que entre otras cosas surgió un planeta azul de hermosos paisajes y criaturas cercanas a las divinidades. El humano halló en su tecnología la forma de llegar hasta mí sin saber todavía de dónde viene ni a dónde quiere ir. Pretenden que en mi interior debe haber agua, minerales preciosos y otras valiosas rarezas. Yo he intentado junto con él afinar nuestra comunicación pero me ha malinterpretado, han sido las interminables guerras lo que siempre le han llenado la cabeza con sus mortales resultados.
While the cosmonauts finish sowing the several megatons in bombs which will fly my crust, I accurately record in my core the history of this shipwreck that millions of years ago put me next to the Earth and produced that kind of miracle from which arose a blue planet with beautiful landscapes and creatures close to clearness. The human found in his technology the way to reach me without even knowing where he comes from or where he wants to go. They claim that inside me there must be water, precious minerals and other valuable oddities. I have tried along with him to refine our communication but he has misunderstood me, it has been the endless wars that have always filled his head with the results of the death of many.

Un solo gen —que gracias a su cúmulo de información fue capaz de dividirse, reorganizarse y adaptarse— y Yo, su protectora, arquitecta cósmica con la cualidad de estructurar planetas con la energía emanada de mis ciclos constantes; somos sólo dos elementos perdidos en el vacío tras el constante choque tumultuoso de los sistemas estelares, cada uno tomó su lugar tras llegar a este tercer planeta. Yo ordené la atmósfera y las mareas, él pobló aire, mar y tierra basado en el sistema de competir por la supervivencia.
A single gene - which thanks to its cumulus of information was able to divide, reorganize and adapt - and Me, its protector, cosmic architect with the quality of structuring planets with the energy emanated from my constant cycles; we are only two elements lost in the void after the constant tumultuous clash of star systems, each one took its place after reaching this third planet. I ordered the atmosphere and the tides, he populated air, sea and land based on the system of survival competition.
Si yo y mis hijos llegamos traídos por una inteligencia cuyo plan es incomprensible para las más agudas conciencias, no es de extrañar que las más burdas se sientan con la capacidad de tomar el destino en sus manos. Hoy los más egocéntricos de mis hijos planifican su naufragio, cortando nuestro vínculo a través de bombas nucleares, sin haber entendido nada de mis misterios ni todos mis cuidados. En una carrera de dominio entre naciones llegaron las más opresoras con sus modernas naves espaciales, no es que antes no hubieran enviado misiles contra la Luna pero ahora han sembrado sus semillas destructivas en mi subsuelo y han partido de regreso a sus estaciones para evaluar las explosiones y registrar los resultados. En el nombre de la exploración —dicen— quieren sacar provecho a la Luna y todos sus materiales.
If my children and myself arrived brought by an intelligence whose plan is incomprehensible to the most acute consciences, it is not surprising that the grossest feel the ability to take destiny into their hands. Today the most self-centered of my children plan their wreck, cutting our bond through nuclear bombs, without having understood anything about my mysteries or all my care. In a race of dominance between nations, the most oppressive arrived with their modern spacecraft, not that they had not sent missiles against the Moon before but now they have sown their destructive seeds in my subsoil and have gone back to their stations to evaluate the explosions and record the results. In the name of exploration - they say - they want to take advantage of all the materials from the Moon.
Ahora estallan las bombas en el Mar de la tranquilidad. Yo moriré, que esto quede por seguro y en una Tierra que viajará a la deriva ninguna vida podrá ser como antes.
Now the bombs explode in the Sea of tranquility. I will die, this is for sure. On an Earth that will drift no life will be as it was before.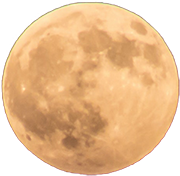 ---
Imágenes generadas digitalmente a partir de las siguientes fuentes: [1] [2] [3]
---
Algunos artículos que sirven de inspiración a este relato se comparten a continuación:

Here I share some articles which have inspired this story:
---
Why the Air Force Almost Blasted the Moon with an H-Bomb
by Vince Houghton
---
Project A119
---

@LeVeuf
---
Este trabajo por Miguel Ángel Canto está bajo una licencia Creative Commons Attribution-NonCommercial 4.0 International License
.