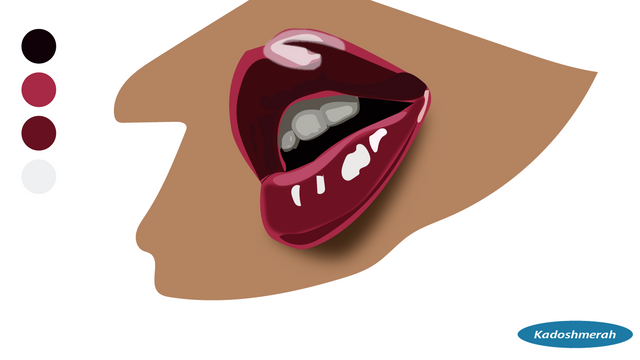 Naciste inocente con unas puertas al llanto.
En tu inocencia aprendiste a comunicarte.
Aprendiste a jugar

***

Habiéndote vestido de naturalidad
Cambiaste tus vestidos de la inocencia a la seducción
Sedujiste mi alma y quebrantaste los cerrojos de mi corazón

***

Tu mirada fue la hermana que usaste como tapadera
Para enredarme en el purpura de la pasión.
Y como un esclavo quedar asido a tu corazon.

***

Dejar vivir, dejar latir
Es vino en el cáliz de tus labios que me embriagan
Hasta perder la cordura con razón.

***

Espero que les haya gustado…Hoy decidí escribir

Información del diseño:

Programa utilizado: Adobe Ilustrator 2019
Dimensiones: 1500 px Por 1500px
Efecto de rasterizado: 300 ppp
Color: RGB
Colores empleados: colores caramelo.

PASO A PASO DEL DIBUJO

Se estableció una paleta de colores, y luego se pasó a dibujar un line art de los labios.

Así quedo nuestro line art definitivo.

Se añadió color de base y luego se pasó a sombrear y dar luces.

Y una pincelada de color carne como fondo.

Soy kadoshmenorah y hasta una próxima oportunidad y no olvides dejar tus comentarios acá abajo.

English version

PROVOCATION/ PROVOCATION

You were born innocent with some crying doors.
In your innocence you learned to communicate.
You learned to play

***

Having dressed in naturalness
You changed your dresses from innocence to seduction.
You seduced my soul and broke the locks of my heart

***

Your look was the sister you used as a cover.
To entangle me in the purple of passion.
And as a slave to be held to your heart.

***

Let live, let beat
It's wine in the chalice of your lips that intoxicate me
Until I lose my mind for good reason.

***

I hope you liked it... Today I decided to write.

Design Information:

Program used: Adobe Illustrator 2019
Dimensions: 1500 px By 1500px
Raster effect: 300 dpi
Color: RGB
Colors used: caramel colors.

DRAWING STEP BY STEP

A color palette was established, and then a line art of the lips was drawn.

This is our definitive line art.

Base color was added and then shaded and lighted.

And a brushstroke of flesh color as a background.

I am kadoshmenorah and until the next opportunity and don't forget to leave your comments here below.