Keanu Reeves protagonista de Cyberpunk 2077 / Keanu Reeves protagonista de Cyberpunk 2077
Cyberpunk 2077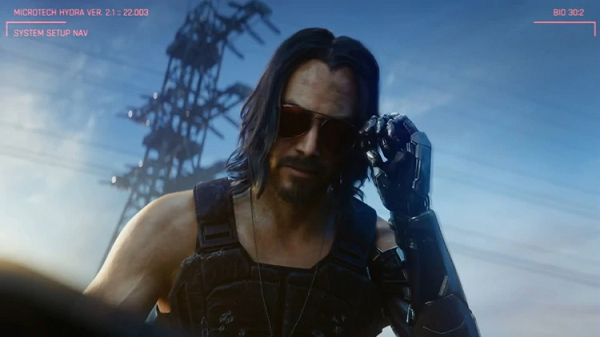 Source/Fuente
Cyberpunk 2077 is the futuristic video game produced by the company CD Projekt Red and presented by Keanu Reeves himself in the Microsoft Xbox in E3 2019, and will be released on April 16, 2020, here below I leave the presentation.
Cyberpunk 2077 es el videojuego futurista realizador por la empresa CD Projekt Red y presentado por el propio Keanu Reeves en la Microsoft Xbox en E3 2019, saldrá el 16 de Abril de 2020, aquí debajo te dejo la presentación.












Presentation of the game of the protagonist of films like John Wick and The Matrix / Presentacion del juego del protagonista de películas como John Wick y The Matrix
According to the gameplay presented by the company (I show you below), the game has several features that I will highlight:
Según el gameplay presentado por la empresa (que te muestro abajo), el juego tiene varias características que voy a destacar:
Cyberpunk 2077 is a first person videogame that focuses on a futuristic metropolis and therefore you start creating a character, either male or female, the visual customization is quite complex, the story will take you through the game depending on the decisions that Tomes, these will influence your adventure through the game, you can choose your background story that will open certain storylines throughout the game.
Besides that you can find weapons and improve them, you can buy equipment to use or install updates as part of your Cyber ​​Wear, the cybernetic modifications will be the hook of this game, very similar to the Ghost Shell movie, the personalization of the character is the basis of this game.
Cyberpunk 2077 takes place in a fictitious city called Night City located in the northern state of California, it is a city governed by corporations and full of crimes.
Cyberpunk 2077 is shown as a great open world, although we still have no idea how big it is, but it will be enough entertainment for many hours in this open world, so it provides different means of transport around the city, such as automated vehicles, trains, buses and a subway system, public transport.
Cyberpunk 2077 is full of products, a drink can cure, while other products or drugs can give you temporary powers, these benefits are temporary and are a central part of the game.
Cyberpunk 2077 is full of robotics and Cyber ​​Wear, that is why viruses, firewalls and piracy are important concepts of the game, you can insert a chip in your own head to obtain new information but this chip can contain a virus, you can also link with characters, friends, enemies or robots.
Well friends that's it, I hope to play it on any of your platforms
Cyberpunk 2077 es un videojuego en primera persona que se centra en una metrópolis futurista y por lo tanto comienzas creando un personaje, ya sea de hombre o mujer, la personalización visual es bastante compleja, la historia te llevara por el juego dependiendo de las decisiones que tomes, estas influirán en tu aventura por el juego, puedes elegir tu historia de fondo que abrirá ciertas líneas argumentales a lo largo del juego.
Además de eso puedes encontrar armas y mejorarlas, puedes adquirir equipo para usar o instalar actualizaciones como parte de tus Cyber Wear, las modificaciones cibernéticas será el gancho de este juego, muy similar a la pelicular Ghost Shell, la personalización del personaje es la base de este juego.
Ciberpunk 2077 tiene lugar en una ciudad ficticia llamada Night City ubicada en el estado de california del norte, es una ciudad gobernada por corporaciones y llena de crímenes.
Ciberpunk 2077 se muestra como un gran mundo abierto, aunque todavía no tenemos idea de cómo es de grande, pero será suficiente entretenimiento durante muchas horas en este mundo abierto, por ello te proporciona diferentes medios de transporte por la ciudad, como los vehículos automatizados, los trenes, autobuses y un sistema de metro, transporte público.
Ciberpunk 2077 está lleno de productos, una bebida puede curar, mientras que otros productos o drogas pueden darte poderes temporales, estos beneficios son temporales y son una parte central del juego.
Ciberpunk 2077 está lleno de robótica y Ciber Wear, es por eso que los virus, los firewalls y la piratería son conceptos importantes del juego, puedes insertar un chip en tu propia cabeza para obtener nueva información pero este chip puede contener un virus, también puedes enlazar con personajes, amigos, enemigos o robots.
Bueno amigos eso es todo, espero jugarlo en cualquier de sus plataformas
---
I leave you also the official trailer / Te dejo también el trailer oficial