Hola amigos de Steemit espero que estén muy bien. Hoy quiero compartir con todos ustedes un boceto que hice. ¡Sí! Solamente es un boceto el cual me gustó bastante.
Hello friends from Steemit, I hope you're fine. Today I want to share with all of you a sketch I made. Yes! It's only a sketch but I liked it a lot haha.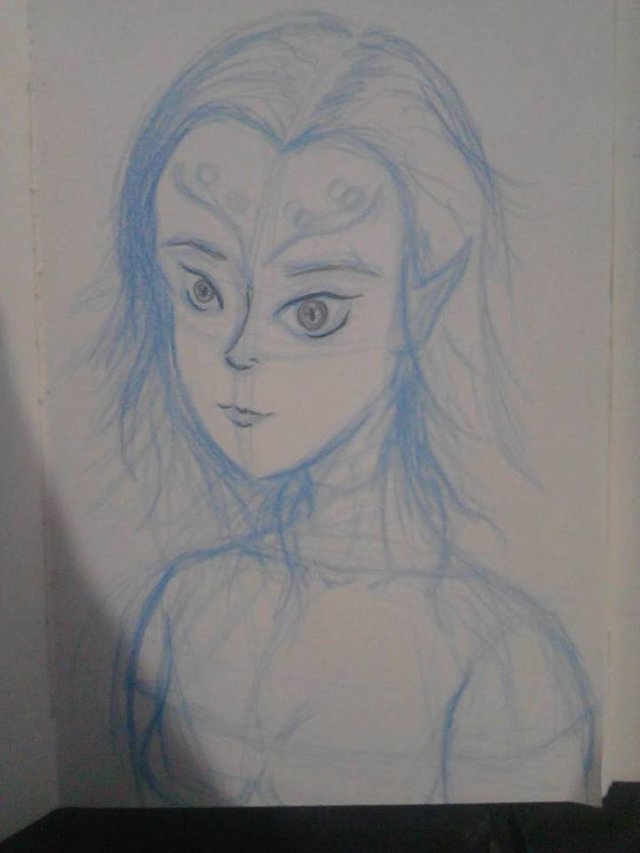 La verdad me sentía demasiado inspirado y empecé a pasar rayas como loco y me dejé llevar por el lápiz (en este caso por el color azul) y la hoja. Me encanta hacer este tipo de cosas ya que cada raya que haces puede llegar a ser algo muy interesante e incluso pueden llegar a salir demasiadas ideas y la verdad es algo bastante genial.
To be honest, I felt really inspired and started to draw lines like crazy, I let the pencil (in this case the blue crayon) and the paper guide me. I like to do this kind of thing because every line you make can become something really interesting or even it can help you develope many ideas and that's something great.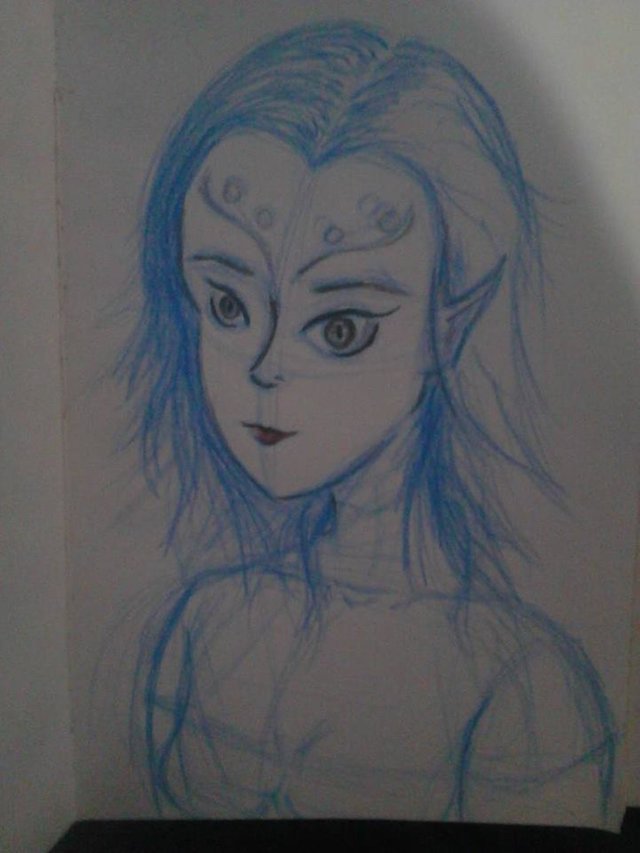 Como podrás ver, el personaje que estuve boceteando fue una elfa, más o menos esa fue mi intención. 
As you can see, the character I've been sketching was an elf, that was my intention more or less.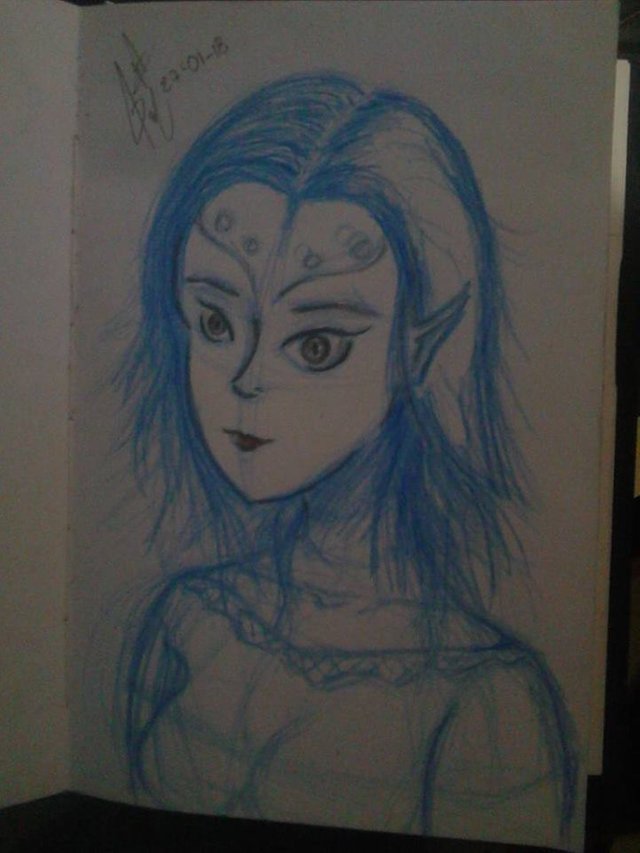 Los elfos me llaman mucho la atencion ya suelen ser vistos como criaturas demasiado perfectas, altas, bellas y sus puntiagudas orejas me encantan.
Elfs really catch my attention because they are often seen as perfect creatures, tall and beautiful and I love their pointy ears.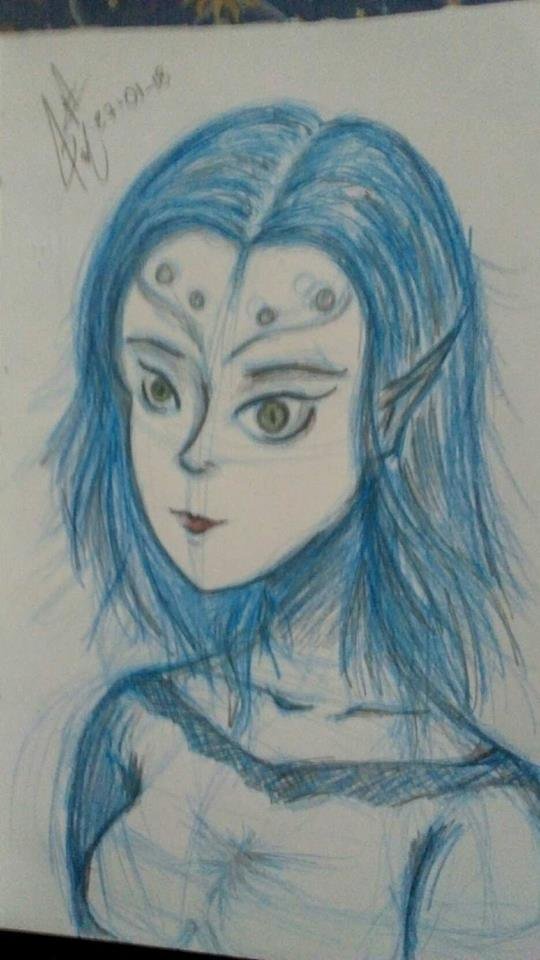 En este caso intenté dibujar una hermosa elfa.
In this case I tried drawing a beautiful elf.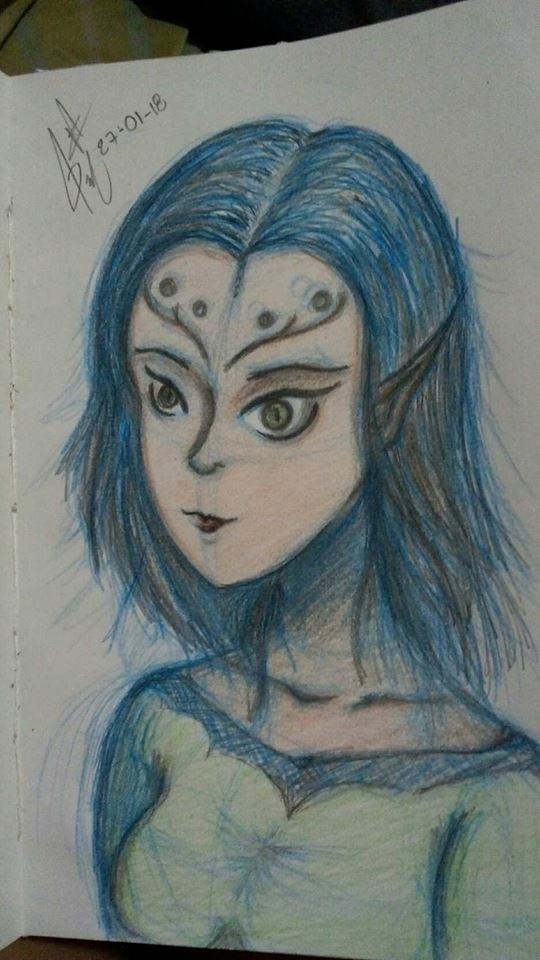 Algo que me gusta de dibujar, a pesar de ser un poco dificil son los ojos. Me encanta hacerlos grandes y detallados, que sea lo primero que llame la atención a la hora de que alguien lo vea. También como se daran cuenta soy un desastre con el cabello pero me gustó como quedó la combinación entre el color azul y el lápiz.
Y esto ha sido todo por el día de hoy, espero que les haya gustado tanto a ustedes como me encantó hacer este post a mí. 
Un usuario de Steemit me recomendó traducir mis posts a inglés para que personas que no hablen español los puedan entender y así la gente no tenga que usar google traductor. Aunque yo no sé inglés pero cuento con la ayuda de @nubellorona.
¡Gracias por leer!
-------
Something I really like about drawing despite being a little difficult are the eyes. I love making them big and detailed, so that it's the first thing that captures the attention when someone sees it. And as you may see I'm a disaster drawing the hair but I like how the mix between the blue crayon and the pencil turned out.
And that was it for today, I hope you liked it as much as I enjoyed making this post.
An user from Steemit recommended me translating my posts to english so people that don't speak spanish can understand and don't need to use google traductor. I don't speak english but @nubellorona helps me with that.
Thanks for reading!