Remotasks | Generate money online doing tasks | Genera dinero por Internet haciendo tareas
Hello my friends! ♥ Happy start of the week, I hope you can meet all the goals that are set and that all your time is super productive.
¡Hola amigos míos! ♥ Feliz inicio de Semana, deseo que puedan cumplir todas las metas que se planteen y que todo su tiempo sea súper productivo.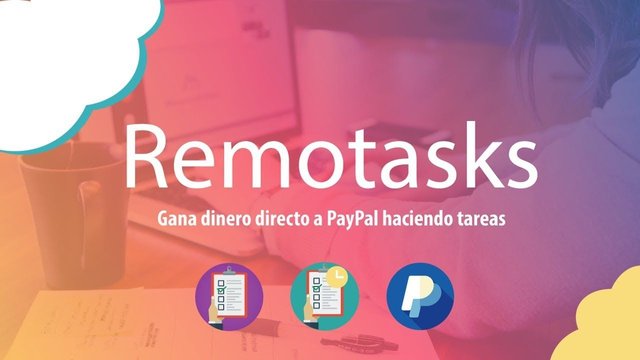 Fuente

We started this beautiful week with good spirits and information that is quite useful for everyone. I recommend that you take paper and sheet because what you are about to learn can turn your life around.
Comenzamos esta hermosa semana con buenos ánimos y una información de bastante provecho para todos. Te recomiendo que tomes papel y hoja porque lo que estas a punto de aprender puede darle un giro a tu vida.
Those of us who live from our work online are always looking for new methods of generating money and investing our time better, which is why today I come to talk about this great page
Quienes vivimos de nuestro trabajo por Internet siempre estamos buscando nuevos métodos de generar dinero e invertir mejor nuestro tiempo, es por ello que hoy te vengo a hablar de esta gran página
Remotasks
  As the cover image says, in it you can earn money doing homework and its payment is through Paypal. To be able to work within the platform you must pass courses depending on the type of task you want to perform and if you approve them, you will be assigned to start earning. # The information is very well explained, you just have to study everything thoroughly. It is important that you maintain a percentage of successes greater than 90% in each task you do so that you can be better paid. If you get low percentages you can be banned from homework, so you should do your best.  
Tal como lo dice la imagen de portada, en ella podrás ganar dinero haciendo tareas y su pago es a través de Paypal. Para poder trabajar dentro de la plataforma deberás aprobar cursos dependiendo del tipo de tarea en la que te quieras desempeñar y de aprobarlos te serán asignadas para que comiences a ganar. La información se encuentra muy bien explicada, solo hay que estudiar todo bien a fondo. Es importante que mantengas un porcentaje de aciertos superior al 90% en cada tarea que realices para que puedas ser mejor remunerado.  Si obtienes bajos porcentajes puedes ser baneado de la tarea, por eso debes dar tu mejor esfuerzo.

What types of tasks are performed in Remotasks? // ¿Qué tipos de tareas se realizan en Remotasks?
There are two types of tasks: Classic (2D) and Lidar (3D). It is advisable to start with the classic ones so that you can understand all the operation of it. These Classic tasks are divided into several types. You can work by segmenting all the elements of an image, categorizing elements, scoring points to indicate characteristics, making polygons, or transcribing information. Everything varies depending on the course you take. A task can take you from 5 minutes or up to 2 or 3 hours, depending on your skills and the complexity of it.
Existen dos tipos de tareas: Clásicas (2D) y Lidar (3D). Lo recomendable es comenzar con las clásicas para que vayas entendiendo bien todo el funcionamiento de la misma. Estas tareas Clásicas se dividen a su vez en varios tipos. Puedes trabajar segmentando todos los elementos de una imagen, categorizando elementos, anotando puntos para señalar características, haciendo polígonos, o transcribiendo información. Todo varia dependiendo del curso que tomes. Una tarea puede tomarte desde 5 minutos o hasta 2 o 3 horas, dependiendo de tus habilidades y la complejidad de la misma.
What courses to take? // ¿Qué cursos tomar?
It is important that you join the official Remotasks Discord server so you know what tasks are available and what courses to take, because there will not always be all kinds of tasks. The moderators are always updating this information. I recommend that you be attentive to all the messages and when you know that there is some task available run to do all that you can. They are not eternal and there are moments that are scarce.
Es importante que te unas al servidor oficial de Discord de Remotasks para que sepas que tareas están disponibles y que cursos tomar, porque no siempre habrá todo tipo de tareas. Los moderadores siempre están actualizando esta información. Te recomiendo que estés atento a todos los mensajes y cuando sepas que hay alguna tarea disponible corre a hacer todas las que puedas. No son eternas y llegan momentos que escasean.
https://discord.gg/yJJb3m

What requirements should your computer have? // ¿Con cuáles requerimientos debe contar tu computador?
To be able to do your tasks with total normality you must have a good computer and a fluid Internet. Some tasks have the option of autosave, but not all of them have it, so losing your connection may not save your progress. For Classic tasks you must have at least 2GB of RAM and for Lidar at least 4GB, since they are complex and very heavy tasks and you will not even be able to pass the course if you do not have these resources on your PC. Para poder hacer tus tareas con total normalidad debes contar con una buena computadora y un Internet fluido. Algunas tareas tienen la opción de autoguardado, pero no todas cuentan con ello por lo que de perder la conexión es posible que no se guarde tu progreso. Para las tareas Clásicas debes tener al menos 2GB de RAM y para las Lidar 4GB como mínimo, ya que son tareas complejas y muy pesadas y no podrás siquiera pasar el curso si no cuentas con estos recursos en tu PC.



How are the payments? // ¿Cómo son los pagos?
We will clarify all important points regarding payments. In Remotasks there is a cut of tasks carried out on Monday at 8:00 am Venezuela time. The balance that you manage to accumulate up to that moment is what will be credited to your Paypal account for that week. Payment is made between Wednesday and Thursday automatically, and there is no minimum withdrawal amount. In other words, if you only have $ 1 in your account, it is the amount that will arrive at the PayPal address that you have affiliated with your Remotasks account. It is not necessary to be verified so that you can receive payment for your work. A small amount will be deducted from all the tasks that you carry out, this for the commissions that Paypal charges when making the transfers, so the balance you have in your Dashboard will be the same that finally arrives in your account.
Vamos a aclarar todos los puntos importantes respecto a los pagos. En Remotasks se hace un corte de tareas realizadas los días lunes a las 8:00 am hora de Venezuela. El saldo que logres acumular hasta ese momento es lo que te será acreditado a tu cuenta de Paypal por esa semana.  El pago es realizado entre los días Miércoles y Jueves de manera automática, y no existe un monto mínimo de retiro. Es decir que si en tu cuenta solo tienes 1$, es el monto que llegará a la dirección de Paypal que tengas afiliada a tu cuenta de Remotasks. No es necesario que esté verificada para que puedas recibir el pago por tu trabajo. A todas las tareas que realices se le será descontado un pequeño monto, esto por las comisiones que cobra Paypal al hacer las transferencias, así el saldo que tengas en tu Dashboard será el mismo que llegue finalmente a tu cuenta.

How can I create my account in Remotasks? // ¿Cómo puedo crear mi cuenta en Remotasks?
Creating it is extremely simple, you just have to have a Facebook account, approve the login of the page and have a phone number to receive a code requesting the page. By completing these steps you can start working.
Crearla es sumamente sencillo, solo debes contar con una cuenta en Facebook, aprobar el inicio de sesión de la página y tener un número telefónico para recibir un código que solicita la página. Al cumplir estos pasos ya podrás comenzar a trabajar.

Referral System // Sistema de referidos de la página
Almost every online job page has a referral system, and Remotasks is no exception. For each referral you have you can get $ 5 to what you accumulate your first $ 10. The great thing is that your referral will also be credited with $ 5. Everyone wins! Here I leave you my referral link, with which we can both get a good reward and support each other.
Casi todas las páginas de trabajos por Internet cuenta con un sistema de referido, y Remotasks no es la excepción. Por cada referido que tengas podrás obtener 5$ a lo que acumule sus primeros 10$. Lo genial es que a tu referido también se le acreditarán 5$. ¡Todos ganan! Acá te dejo mi enlace de referido, con el que ambos podremos obtener una buen recompensa y nos apoyamos mutuamente.
https://www.remotasks.com/r/F2FNIFUQ

Recommendations // Recomendaciones
I recommend that you work your tasks with the Opera browser, since by opinion the majority of users run the tasks faster and with a minimum margin of error.
The language of the page is English, and you should not work with the activated translator because you will get an error and you will not be able to do anything.
Work in a quiet environment without distractions so you can do the greatest number of tasks and with much more concentration. Remember that the more accurate, the better the rewards.
Whenever you are going to send a task at the end, capture it. This way they will have a basis for claims in the event that an error occurs or is not credited to your board.
Be very patient, remember that the tasks will not be credited immediately, but once you receive the payment you will see that it was worth the effort.
Te recomiendo que trabajes tus tareas con el navegador Opera, ya que por opinión la mayoría de los usuarios, corren más rápido las tareas y con un margen de error mínimo.

El idioma de la página es Ingles, y no debes trabajar con el traductor activado porque te saldrá error y no podrás hacer nada.

Trabaja en un ambiente tranquilo y sin distracciones para que puedas hacer el mayor número de tareas y con mucha más concentración. Recuerda que a mayor precisión, mejores serán las recompensas.

Siempre que vayas a enviar una tarea al finalizar, haz capture a la misma. Así tendrán una base para reclamos en caso de que ocurra algún error o no te sea acreditada a tu tablero.

Ten mucha paciencia, recuerda que las tareas no serán acreditadas de manera inmediata, pero una vez que recibas el pago verás que valió la pena el esfuerzo.
For any additional questions you have, do not hesitate to leave me your comment. I will gladly help you!
Para cualquier duda adicional que tengas, no dudes en dejarme tu comentario. ¡Con gusto te ayudaré!

¡Gracias por tomarte el tiempo de leer, comentar y votar! Espero hayan disfrutado la publicación Att: Estefania Garcia ♥
Separador de mi autoría.
---
Posted from my blog with SteemPress : https://lakrearte.000webhostapp.com/2020/01/remotasks-generate-money-online-doing-tasks-genera-dinero-por-internet-haciendo-tareas
---