EN MOVIMIENTO RETO 05/53 SEMANAS 2020 - Crowdfunding Venezuela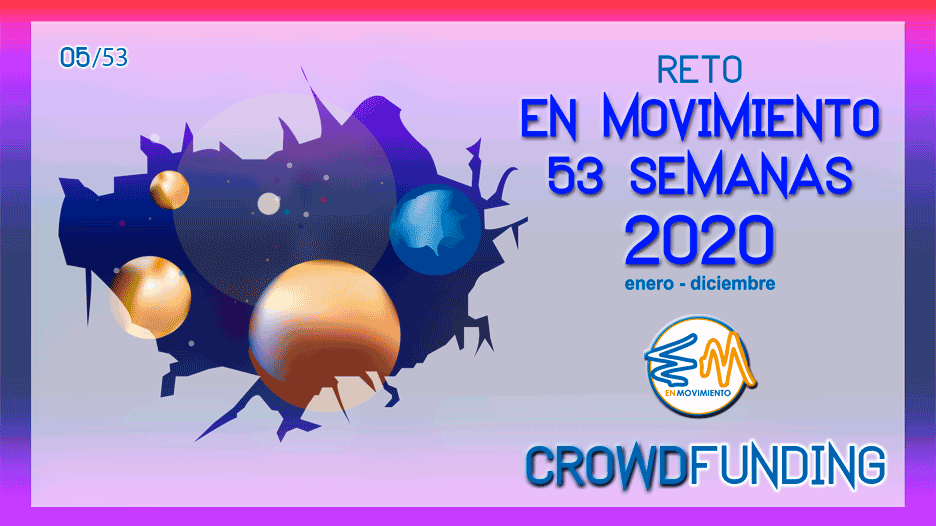 Seguimos con el reto de las 53 semanas del año 2020, el cual tiene como objetivo recaudar fondos para financiar proyectos de emprendimiento entre los usuarios de Steemit. Vamos a darle un nuevo enfoque al uso de nuestra blockchain aportando valor al Steem con proyectos de producción y servicios fuera del mundo virtual.
We continue with the challenge of the 53 weeks of the year 2020, which aims to raise funds to finance entrepreneurship projects among Steemit users. We are going to give a new approach to the use of our blockchain by adding value to Steem with production projects and services outside the virtual world..
PAUTAS A SEGUIR
PERIODO: Lunes 27 de Enero hasta el Domingo 02 de Febrero (5ta Semana 2020)
TÍTULO: EN MOVIMIENTO CROWDFUNDING VENEZUELA - RETO SEMANA 5/53
ETIQUETAS: En el mismo orden, spanish palnet point nobel crowdfunding reto challenge venezuela
IMÁGENES: Con el anuncio de cada reto semanal publicaré un diseño artístico (vectorial o fotográfico), el cual vas a tener libertad de usar para portada de tu post agregándole el link hacia cada convocatoria.
PÁRRAFOS: El desarrollo del post por medio de tres párrafos de unas tres o más líneas cada uno es libre, con la creatividad y toque personal de cada participante, pero siempre relacionando el texto con la imagen de la semana, pueden usar cualquier recurso literario, ya sea descriptivo, novelesco, curación artística, etc., pero siempre original sin tomar ninguna cita o fuente de internet.
BONIFICACION: Tratándose de una recaudación colectiva (Crowdfunding), cada participante debe de configurar el post en Advanced settings / Add account para trasladar el 70% como mínimo de recaudación a @enmovimiento.

DUDAS Y OPINIONES: Querer es poder, más ayuda el que quiere ayudar que el que puede y no lo hace. Si deseas colaborar de alguna manera y no sabes como, simplemente deja un mensaje en este post o búscanos en el servidor discord Network Online Support
PLATAFORMA: Publicar desde www.steemit.com
VARIOS: Estoy curando contenidos 100% Originales, por lo cual se les sugiere que igual cumplan con las pautas del reto, no anexen ninguna imagen ni texto que no les sea propio. Para los dos espacios restantes de etiquetas pueden usar a su libre albedrío tendientes a aumentar las posibilidades de recaudación. Para el mantenimiento de este reto durante todo el año es necesario la comunicación, estoy en la más completa disposición de ayudarles y asesorarles. Es necesario la divulgación de este reto entre sus contactos, peo hay que recalcar que lean las pautas, que avisen por medio de comentarios que desean participar y sobre todo mantengan el contacto ya sea por discord o por comentarios en los sucesivos post.

Cuando tengamos determinada cantidad de Steem recaudado, lo cual podría ser dentro de tres meses, pasaremos a la etapa de los proyectos de emprendimiento.

---

IMÁGENES DE LA SEMANA 5/53

---

---

Con los colores y movimientos les dejo el mensaje codificado sobre el posible pasado del planeta Marte, les sugiero leer el post sobre el proceso del diseño
CRÉDITOS DE LA IMAGEN

---

@acostaeladio

---