[ENG-ESP]💥Guns and muskets #64💥: Boring BTC |💥Pistolas y mosquetes #64💥: BTC algo fastidioso
We said yesterday that we were likely to see a price increase in a few hours. There was, good. But it didn't last long. The development of this consolidation within another consolidation tends to be somewhat tedious because it does not define what is going to happen.
Decíamos ayer que era probable que viéramos un aumento del precio en algunas horas. Lo hubo, bien. Pero poco duró. El desarrollo de esta consolidación dentro de otra consolidación tiende a ser algo fastidiosa porque no se define qué es lo que va a suceder.
Musketeer waiting to see some price action
Mosquetero esperando a ver acción del precio
That said, more and more lateral movement. Pfff... His Majesty advised me patience when he gave me this task and it is in these moments where we need it the most. The rupture of the lines is our confirmation but these, the green ones, are enduring what makes our wait longer. It's been two months of consolidation, and counting. From the maximum of $13800 we've only seen ups and downs.
Lo dicho, más y más movimiento lateral. Pfff... Su Majestad me aconsejó paciencia al darme esta tarea y es en estos momentos donde más la necesitamos. La ruptura de las líneas es nuestra confirmación pero estas, las verdes, están aguantando lo que hace que nuestra espera sea más larga. Van dos meses de consolidación, y contando. Desde el máximo de $13800 solo hemos visto vaivenes.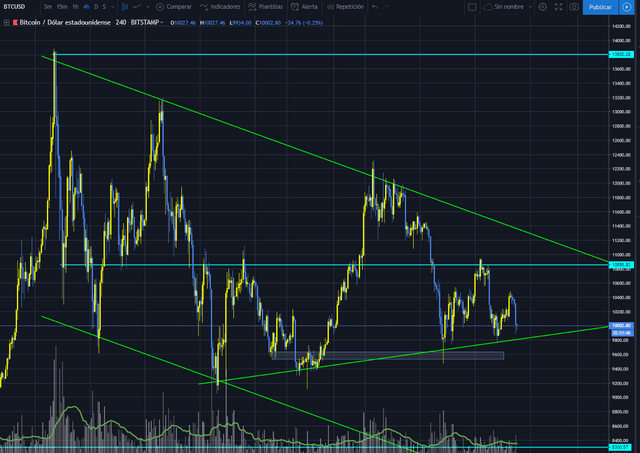 BTC/USD 4-hourly chart
Gráfica a 4H del Bitcoin contra dólar
TradingView
Several patterns are seen in the chart but I decided not to draw them because it is not my style to place so many lines except those that I consider have taken relevance but I see triangles, head and shoulders, flags, tower tops and who knows how many I am not seeing. What a confusion.
Varios patrones se ven en la gráfica pero decidí no dibujarlos porque no es mi estilo colocar tantas líneas excepto aquellas que considero han tomado relevancia pero veo triángulos, cabeza y hombros, banderas, tower tops y quién sabe cuántos no estoy viendo. Vaya confusión.
All for one, one for all!
D.
Mosketeer in the service of His Majesty.
¡Todos para uno, uno para todos!

D.
Mosquetero al servicio de Su Majestad
Todo se transforma
---
---