Torta de Harina de Maíz [ESP/ING]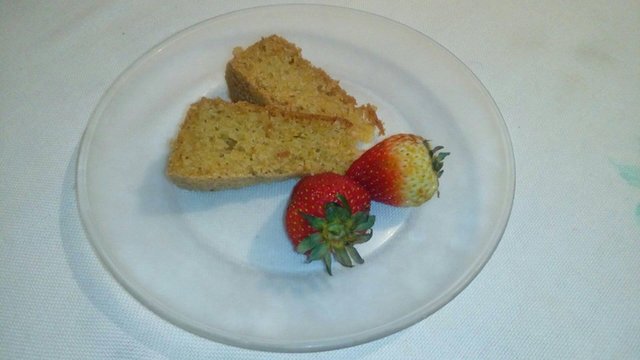 Si no tienes harina de trigo y te provoca degustar una rica torta, te recomiendo con toda confianza que hagas esta receta que a continuación te escribo.
Torta de harina de Maíz
Ingredientes:
1 taza de harina de maíz
1 taza de azúcar
½ taza de aceite
 2 huevos
1/2 taza de jugo de naranja (puedes sustituirlo por el jugo de tu preferencia, por leche, gaseosas que no sean de color)
1 cucharada de ralladura de naranja o limón
2 cucharadas de polvo para hornear
1 pizca de sal
Preparación:
Precalentar el horno a 180°C. Enmatequillar y enharinar el molde a utilizar. En un recipiente colocar la harina de maíz, sal, polvo para hornear y ralladura de naranja o limón. Mezclar uniformemente.  En otro recipiente colocar los huevos, el azúcar, el aceite y el jugo, mezclar hasta que todos los ingredientes se integren. Verter poco a poco a esta mezcla los ingredientes secos del primer recipiente. Una vez obtenida una mezcla uniforme, verter en el molde anteriormente preparado y colocar al horno por 50 minutos aproximadamente. Recuerde hacer siempre la prueba del palillo, antes de sacar para verificar que esté lista. Decorar  a tu gusto.
Espero que les guste, no se arrepentirán. 
If you do not have wheat flour and it causes you to taste a delicious cake, I recommend you with confidence to make this recipe that I write to you next.
Corn meal cake
Ingredients:
1 cup of corn flour
1 cup of sugar
½ cup of oil
 2 eggs
1/2 cup of orange juice (you can substitute it for the juice of your preference, for milk, soft drinks that are not colored)
1 tablespoon orange or lemon zest
2 tablespoons of baking powder
1 pinch of salt
Preparation:
Preheat the oven to 180 ° C. Enmatequillar and flour the mold to use. In a bowl place the cornmeal, salt, baking powder and orange or lemon zest. Mix evenly. In another container place the eggs, sugar, oil and juice, mix until all the ingredients are integrated. Pour the dry ingredients from the first container little by little into this mixture. Once obtained a uniform mixture, pour into the previously prepared mold and place in the oven for approximately 50 minutes. Remember to always do the stick test, before taking out to verify that it is ready. Decorate to your liking.
I hope you like it, you will not regret it.