♦ 'Maschera Impassibile' Pintura al óleo, especial edición de Carnavales - 'Maschera Impassibile' original oilpainting, carnival edition♦
'Give a man a mask and he will show his true face.'
— Oscar Wilde.
---
♦⟡♦⟡
With the present Carnival events I wanted to create a little tribute to my favorite carnival celebrations: The 'Venice carnivals' or 'Carnevale di Venezia' around theworld, mostly in our occidental side the carnivals hold a series of fests that variate from country to country but one thing remains; the use of a mask to hide our identity.
So, here I show you my most recent painting.
Con los presentes eventos de Carnaval quise hacer un pequeño homenaje a mis celebraciones de carnaval favoritas: los 'Carnavales de Venecia' o 'Carnevale di Venezia'. En todo el mundo, principalmente en nuestro lado occidental los carnavales tienen una serie de festivales que varían de un país a otro, pero una cosa queda; el uso de una máscara para ocultar nuestra identidad.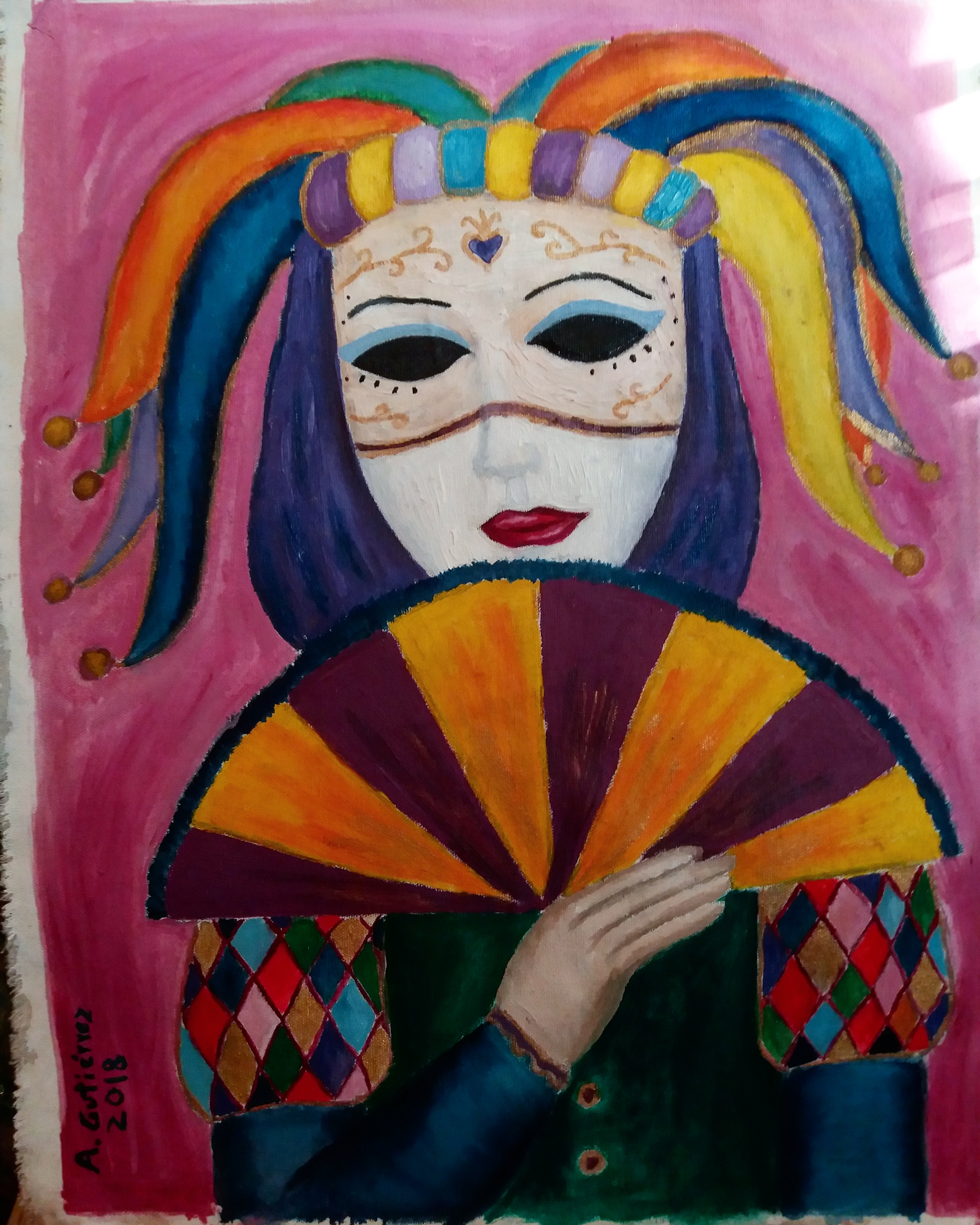 Title - Titulo: Maschera Impassibile.
Technique - técnica: Oil on canvas
Measurements - Medidas : 45cm x 38cm
Year - Año: 2018
---
♦⟡♦⟡
Like almost all my paintings, everything began with a sketch.
Como en casi todas mis pinturas, todo comenzó con un boceto.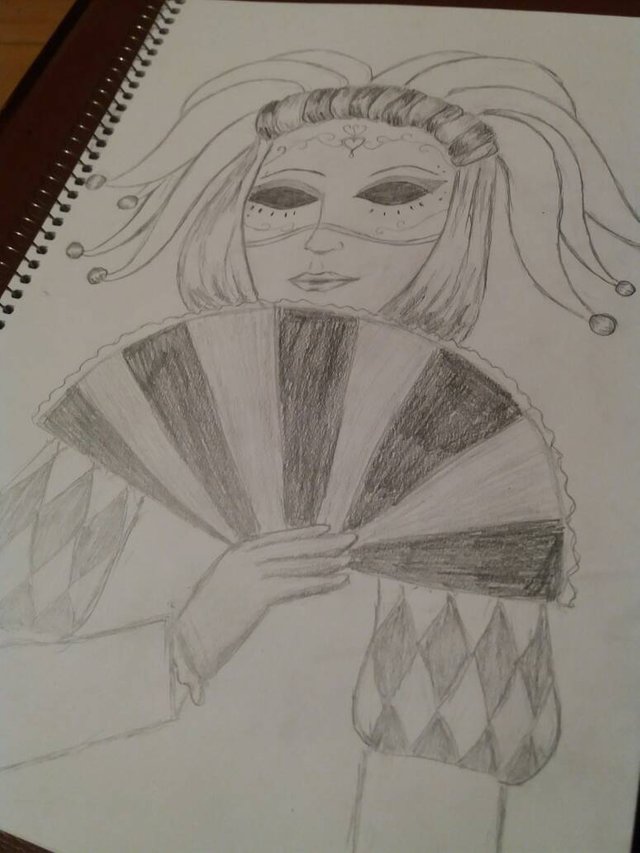 That then, I draw again onto the canvas . Y luego lo dibujé de nuevo en la tela.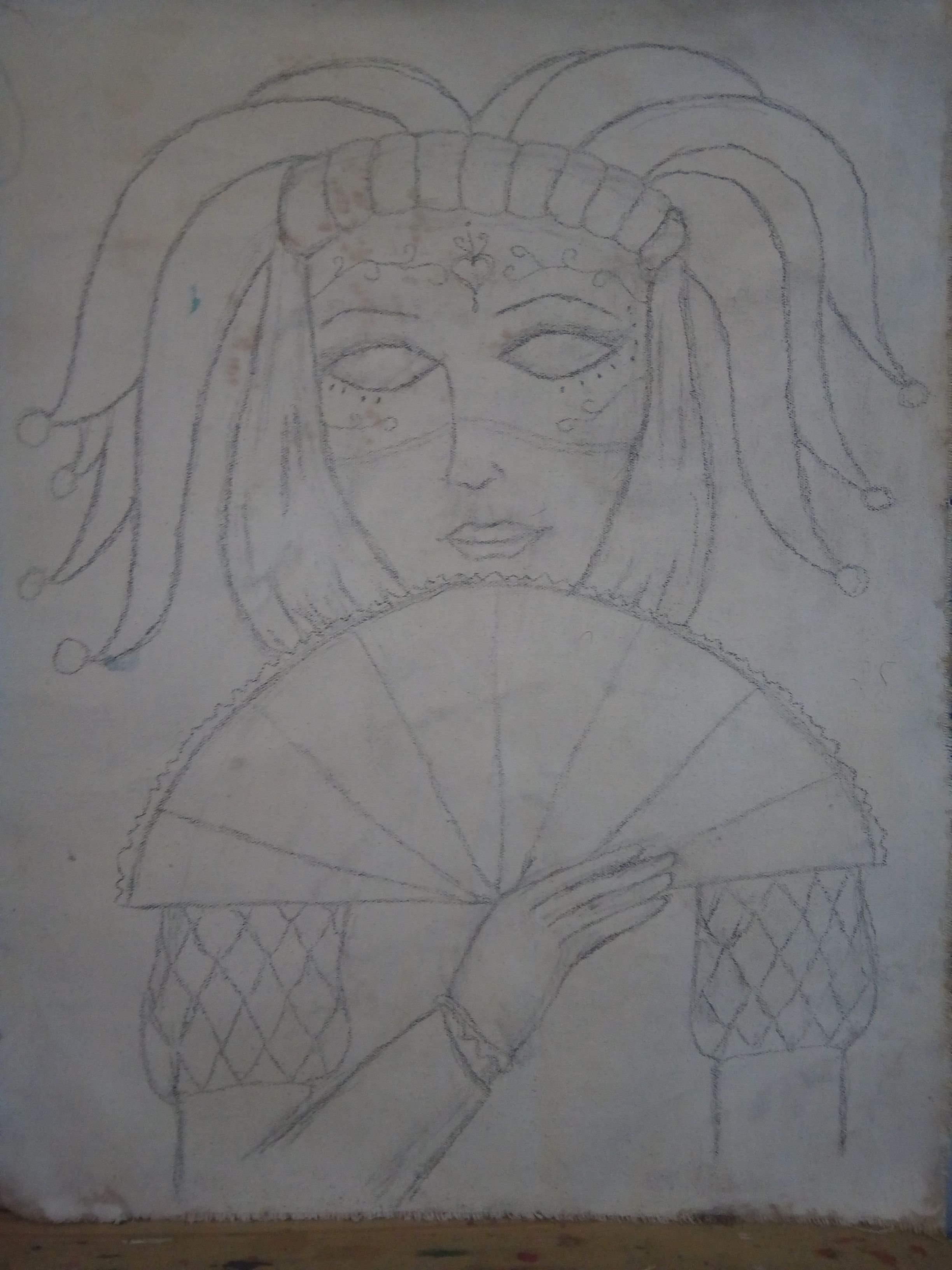 ---
♦⟡♦⟡
The next step, I added the initial color to the mask with white, very light gray for the shadows and a light ochre with gold for the upper part.
Para el siguiente paso, agregué el color inicial a la máscara con blanco, gris claro para las sombras y un ocre claro con oro para la parte superior.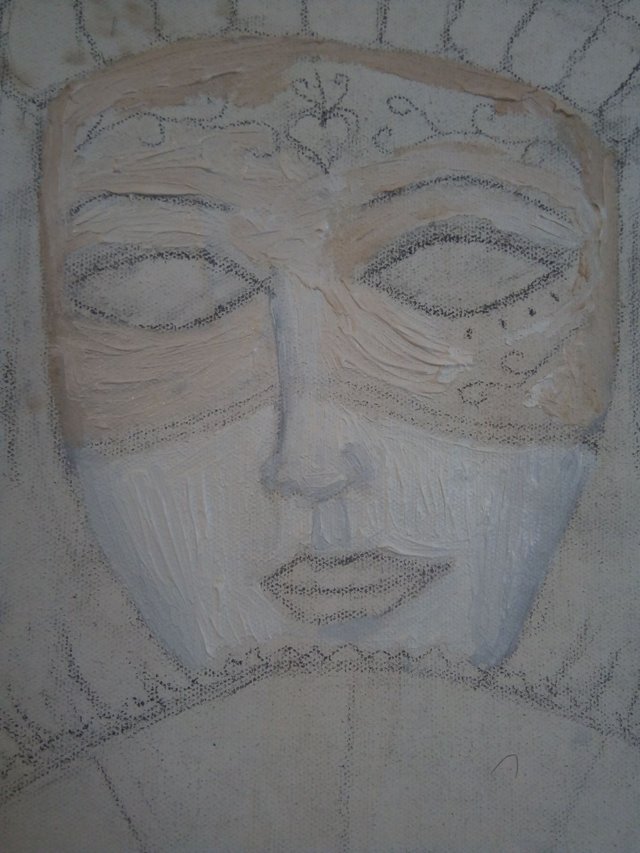 ---
♦⟡♦⟡
Now it comes the best part, let the color begin! I had so many ideas for this painting that I also had lots of color palettes I wanted to apply, I didn't know where to start but then I chose to follow a steady pace adding the colors with no particular order.
Ahora viene la mejor parte, ¡que comience el color! Tenía tantas ideas para esta pintura que también tenía muchas paletas de colores que quería aplicar, no sabía por dónde empezar, pero luego elegí seguir un ritmo constante agregando los colores sin ningún orden en particular.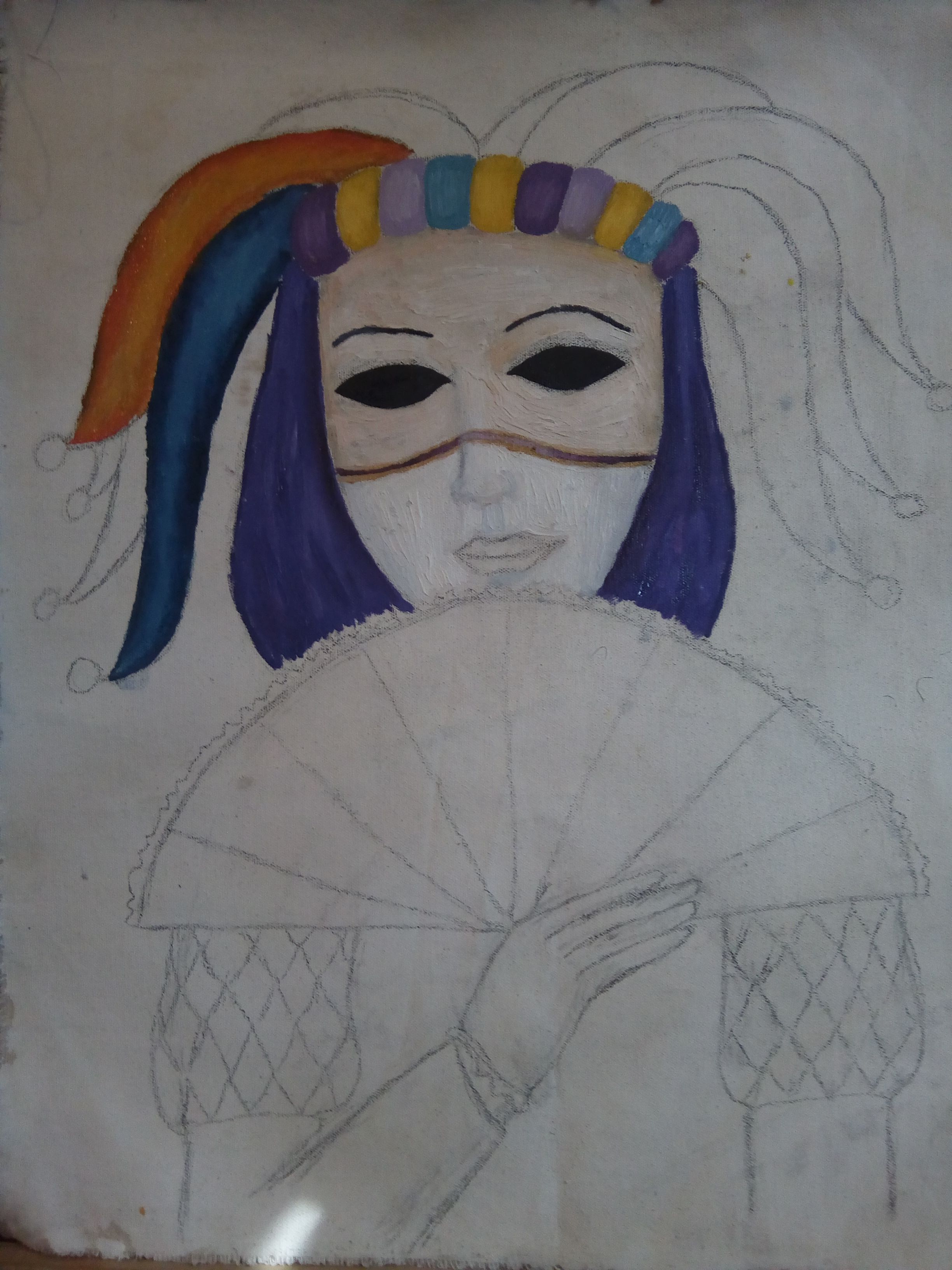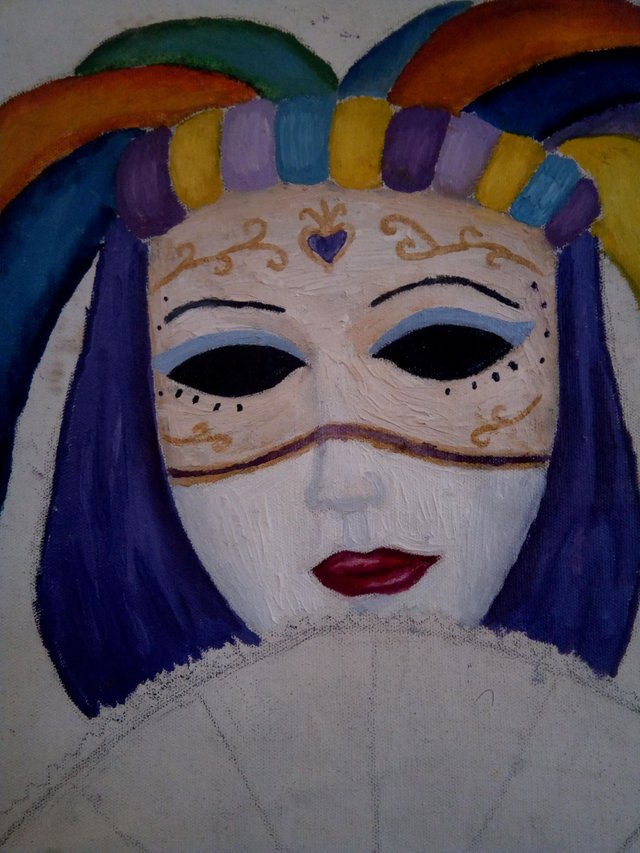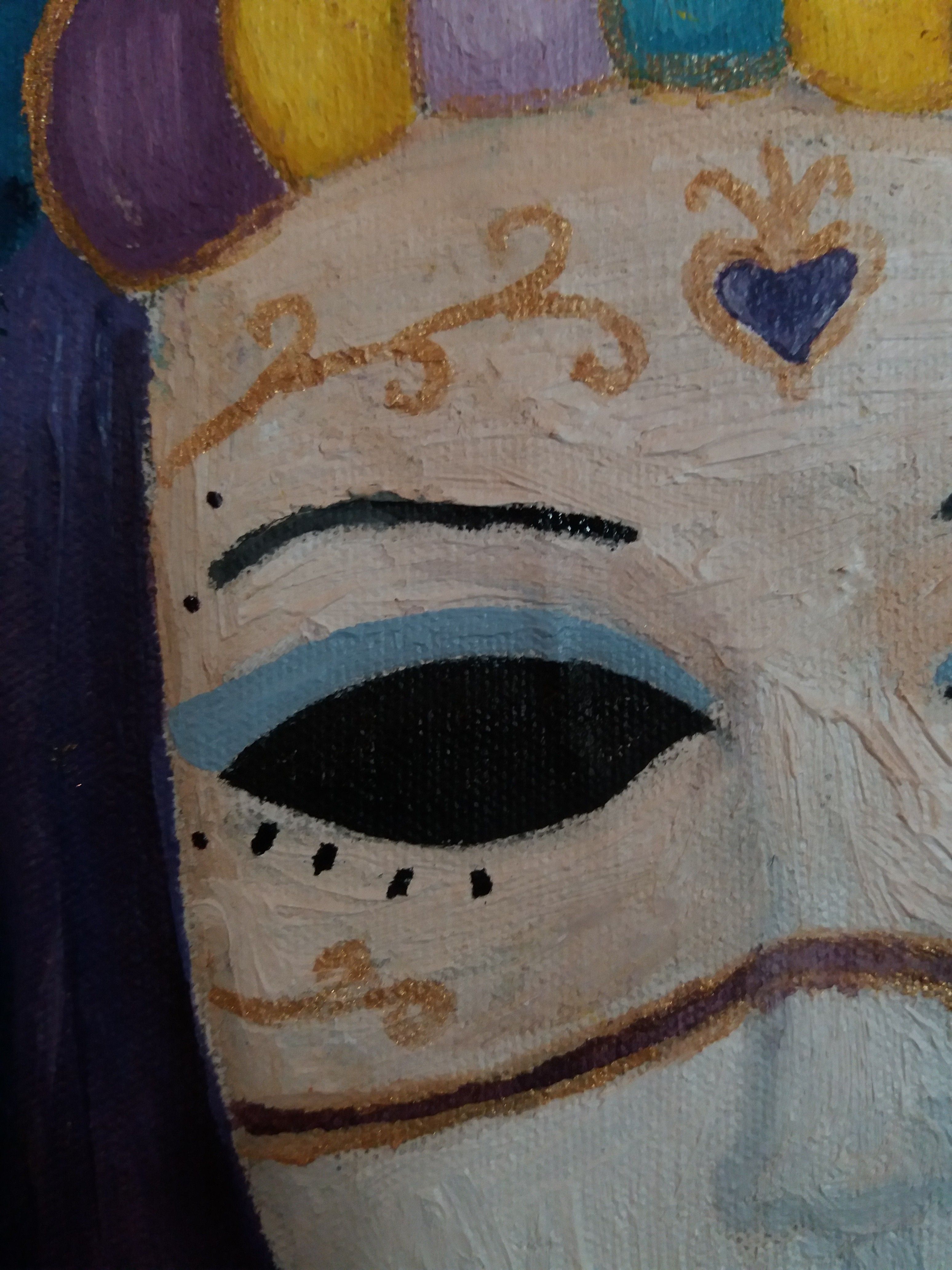 I know we can always improve, but right now I'm quite pleased of how it came the texture and volume for my harlequin's mask.
Sé que siempre podemos mejorar, pero por ahora estoy bastante satisfecha del acabado en la textura y el volumen de la máscara de mi arlequín.
---
♦⟡♦⟡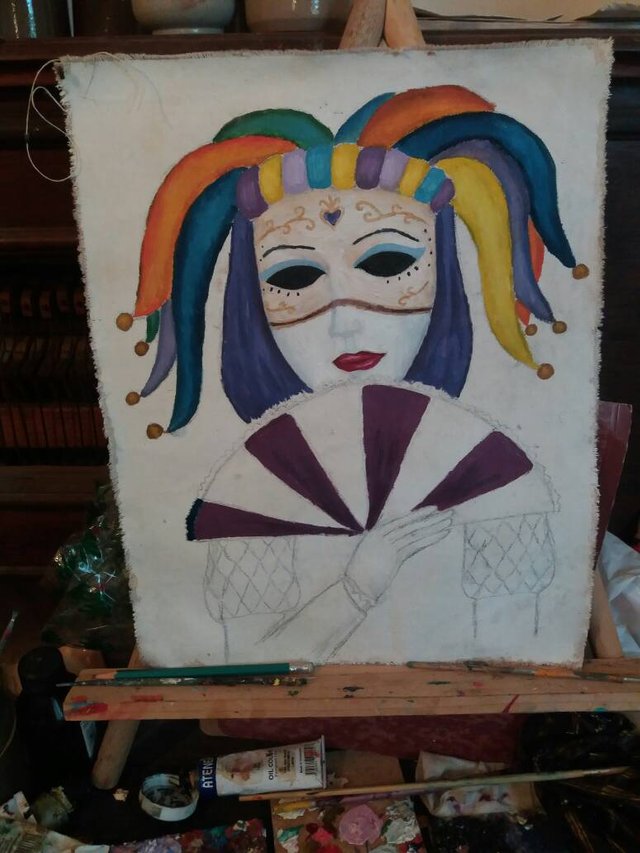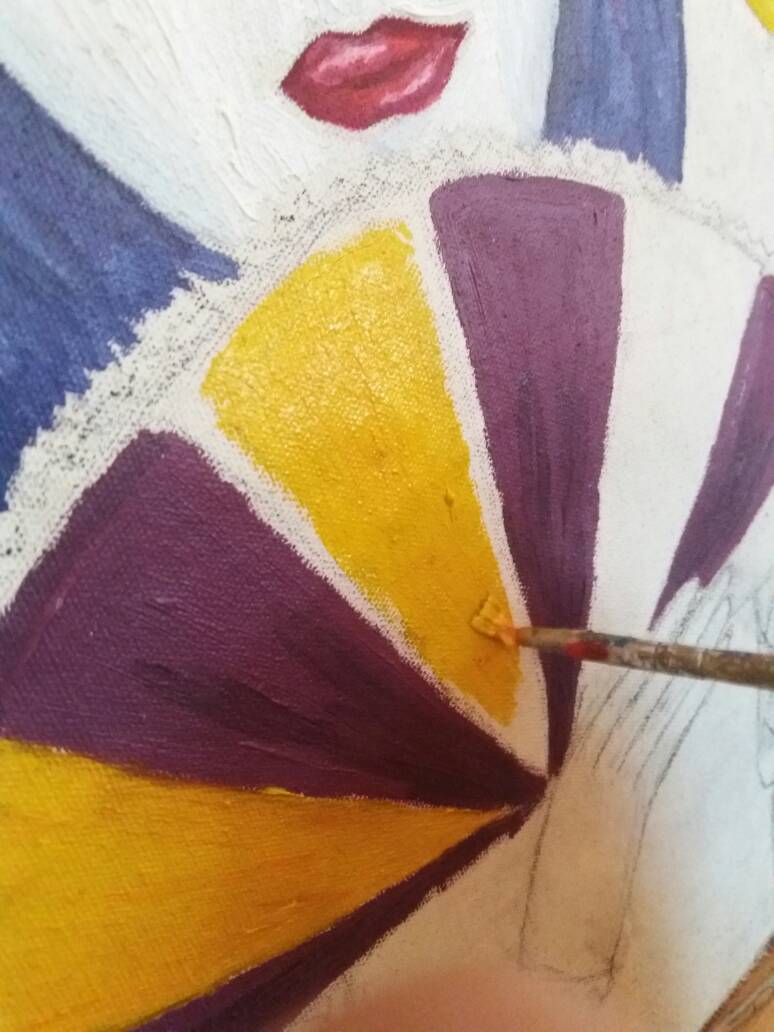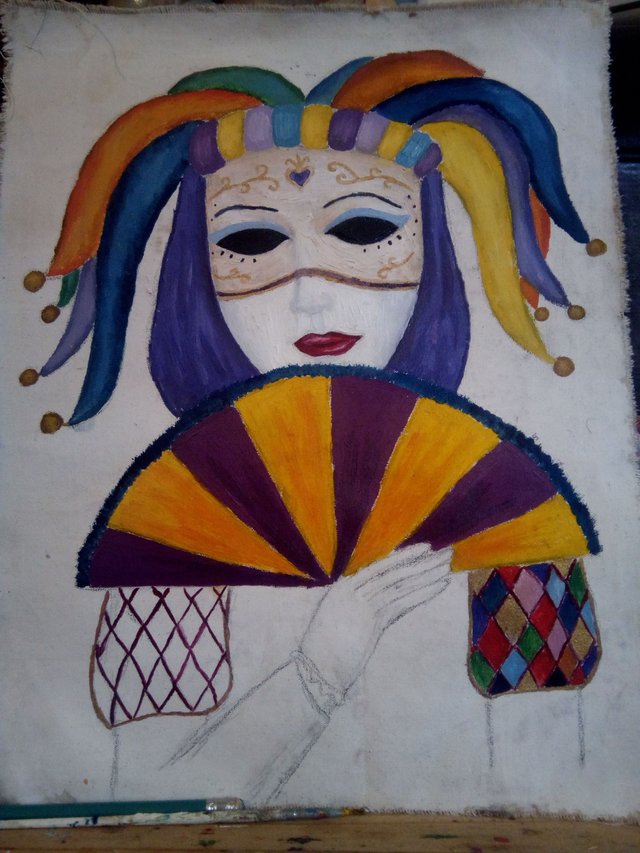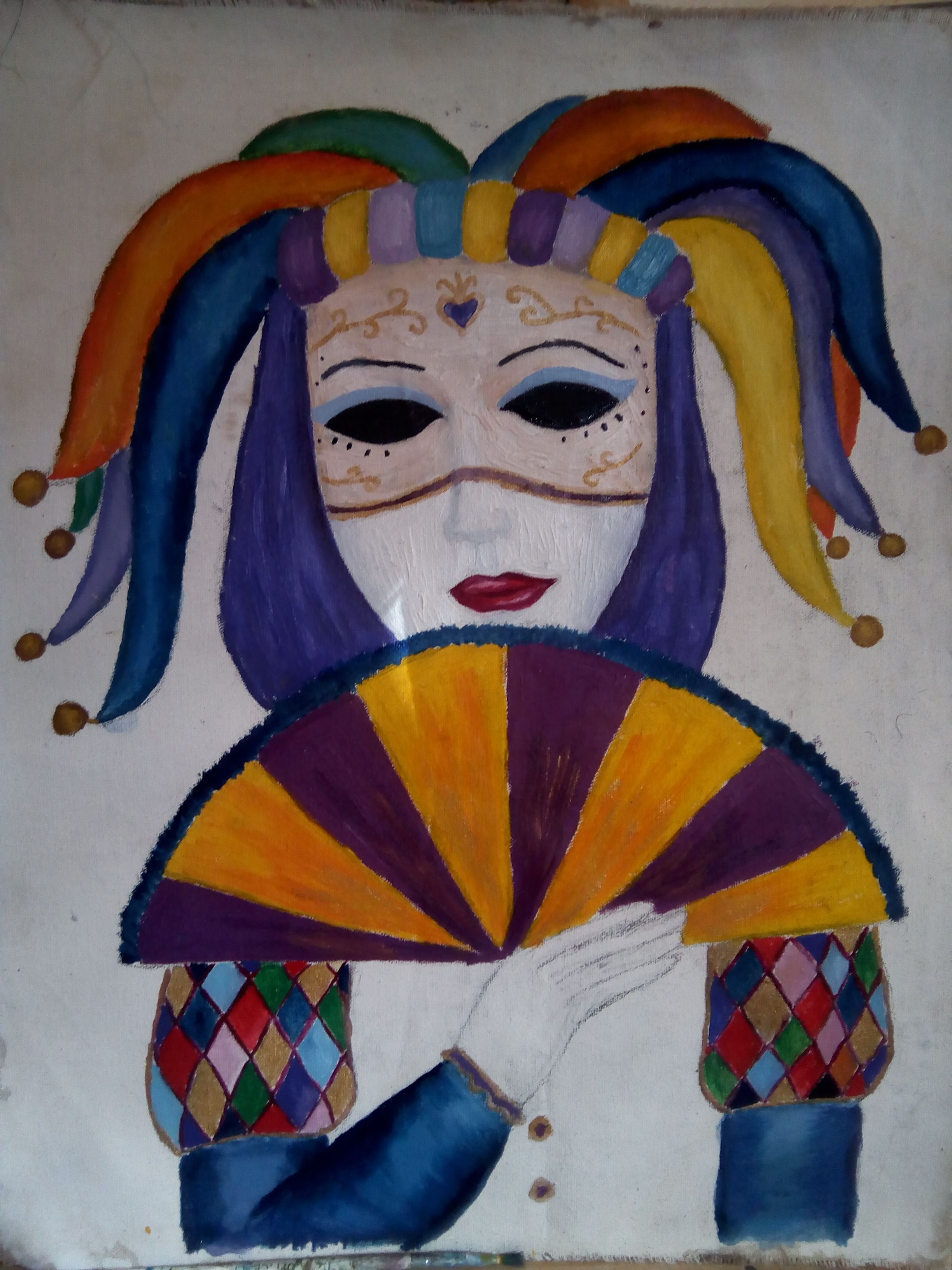 I liked a lot how it came the design for the sleeves, it was very spontaneous and now it seems like from a stained glass design.
Me gustó mucho cómo salió el diseño de las mangas, fue muy espontáneo y ahora que lo detallo parece de un diseño de vitral.
---
♦⟡♦⟡
We're reaching the end :(: Nos acercamos al final.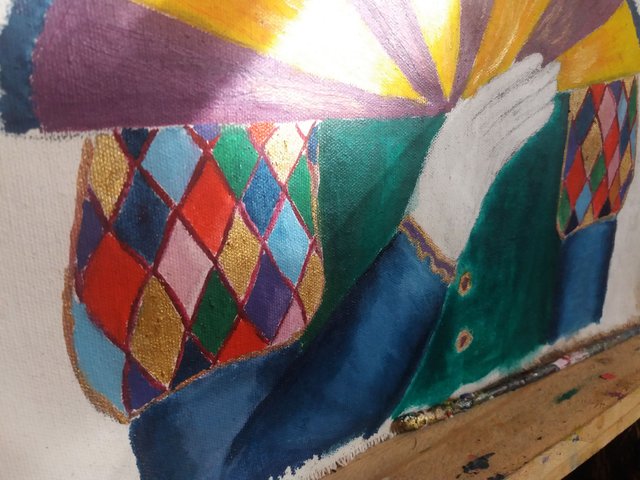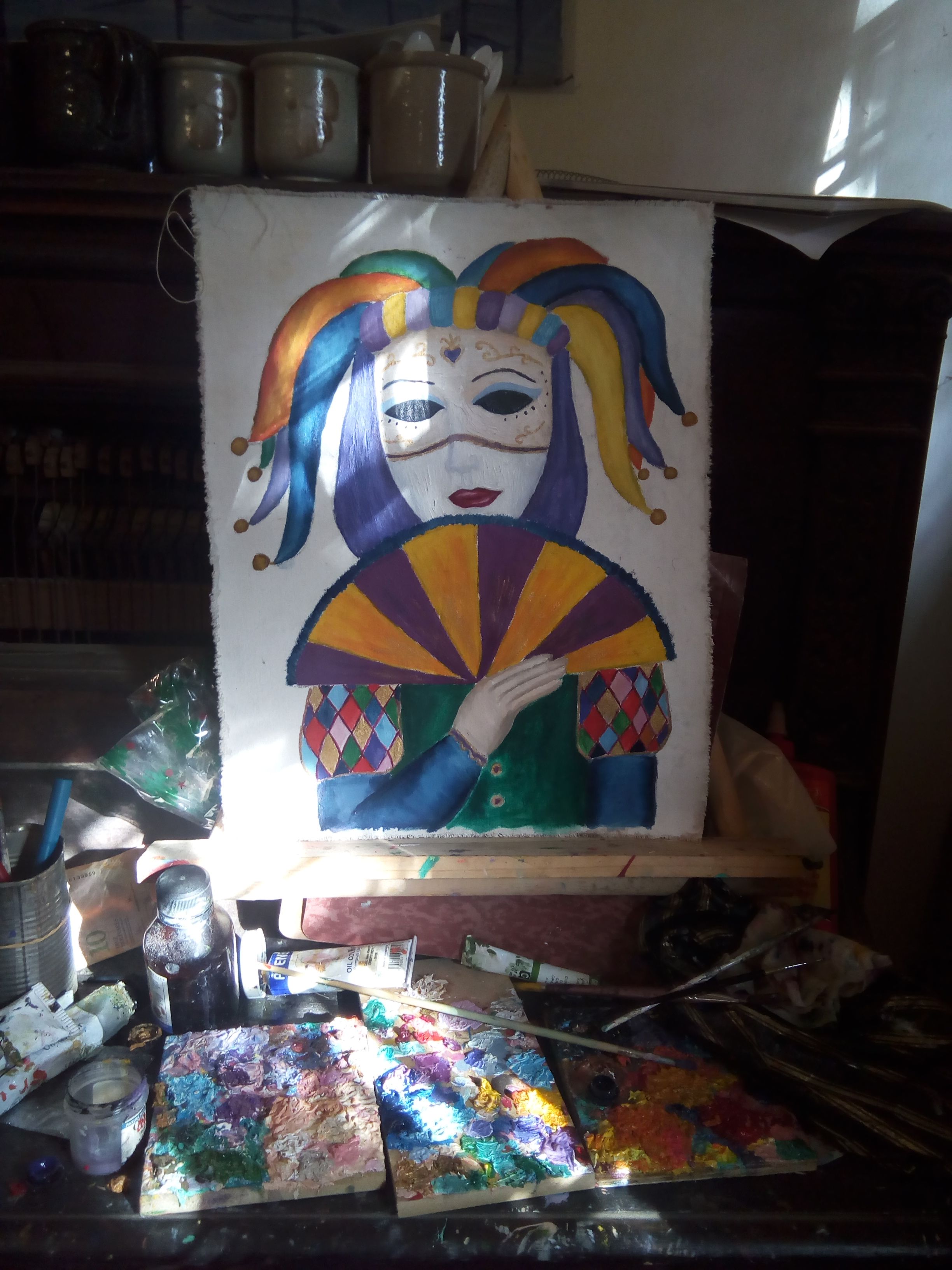 What a shame, what a m e s s I made here. Qué vergüenza, pero ¡qué desastre arme hoy aquí!.
---
♦⟡♦⟡
Now is time for the background and the final details. Ahor, añadir fondo y pulir detalles.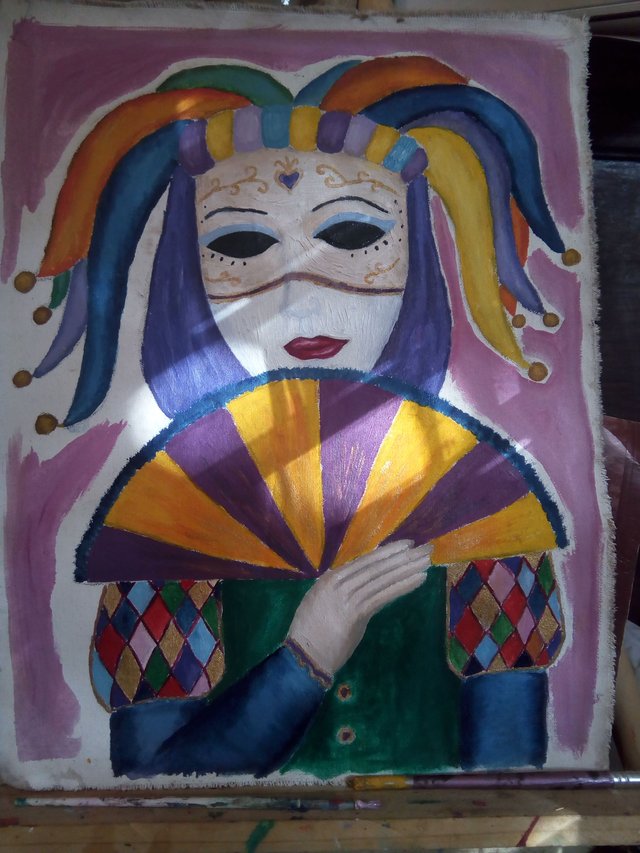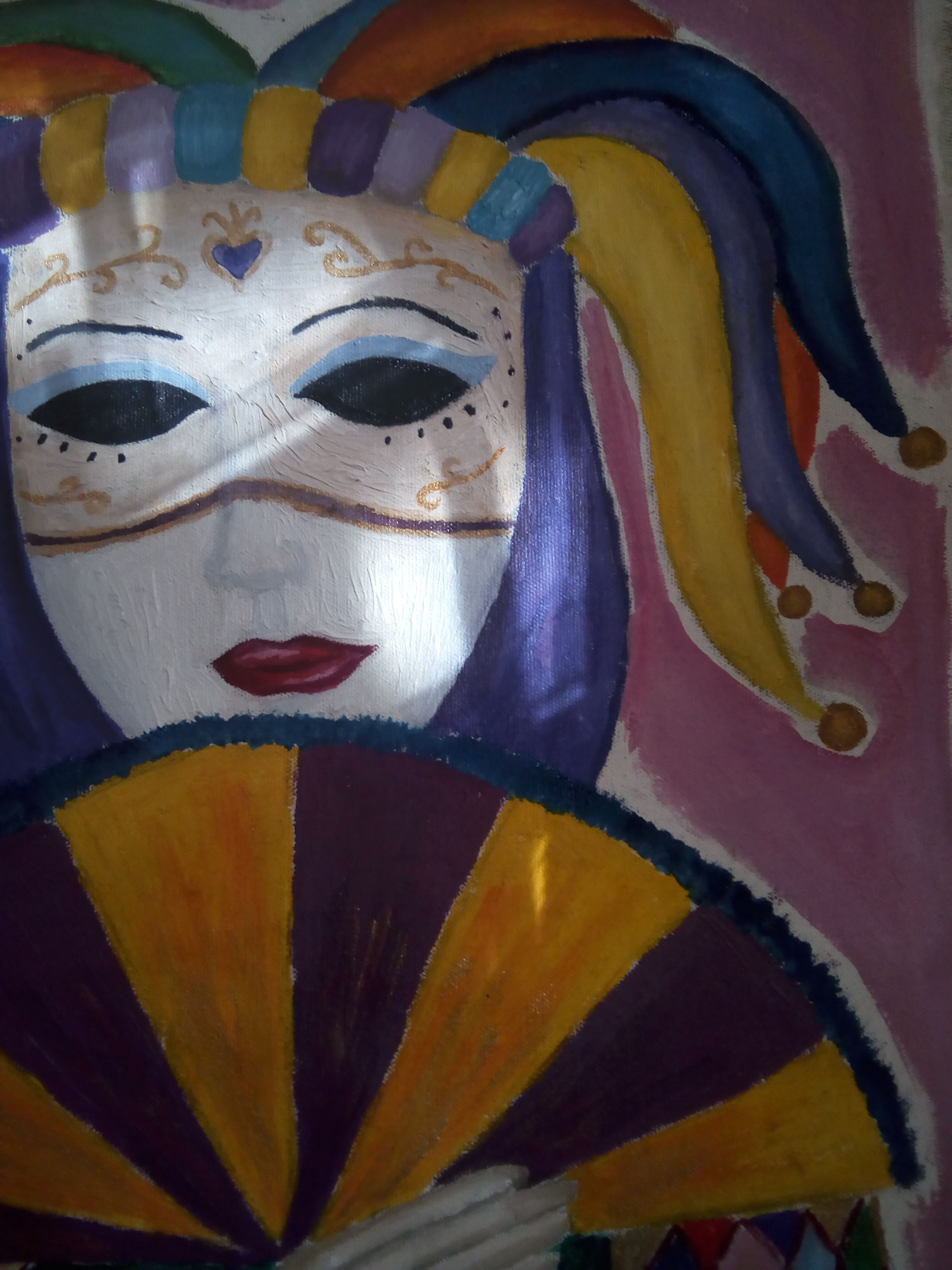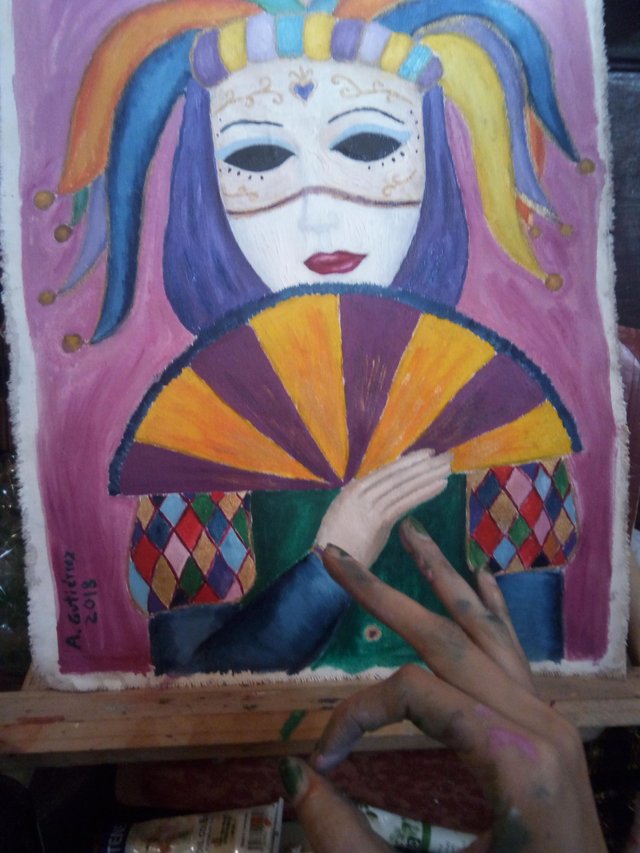 ---
♦⟡♦⟡
Some details. Detalles.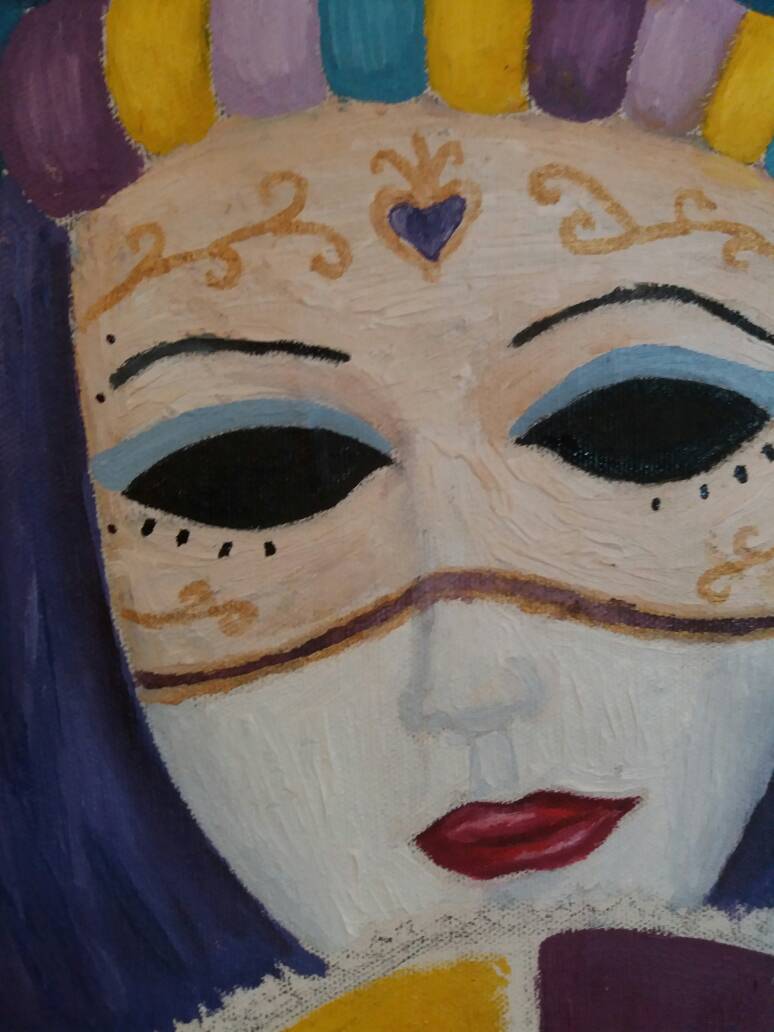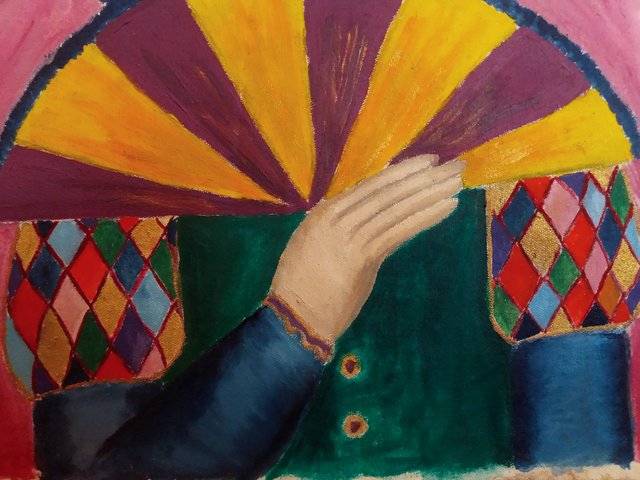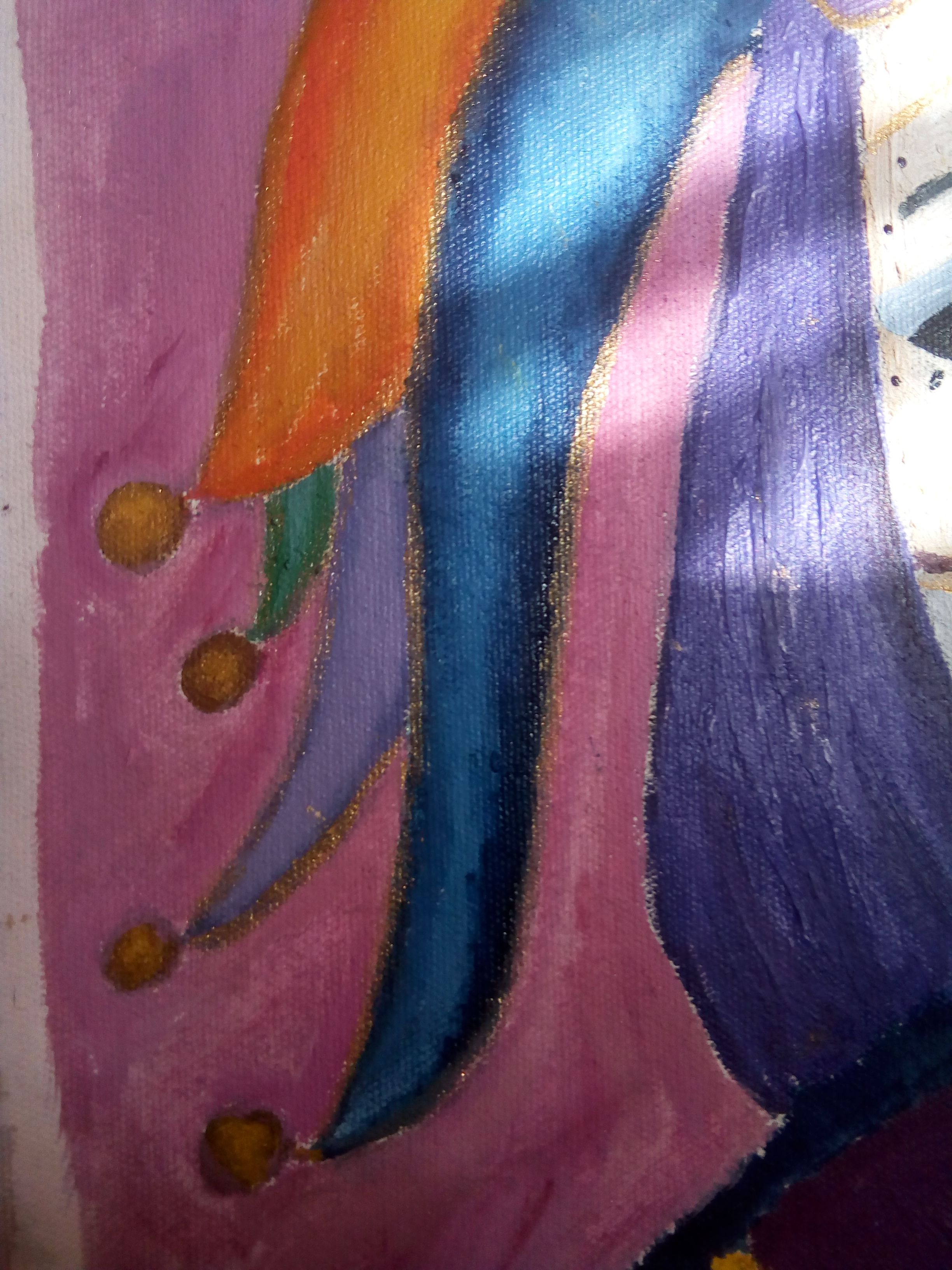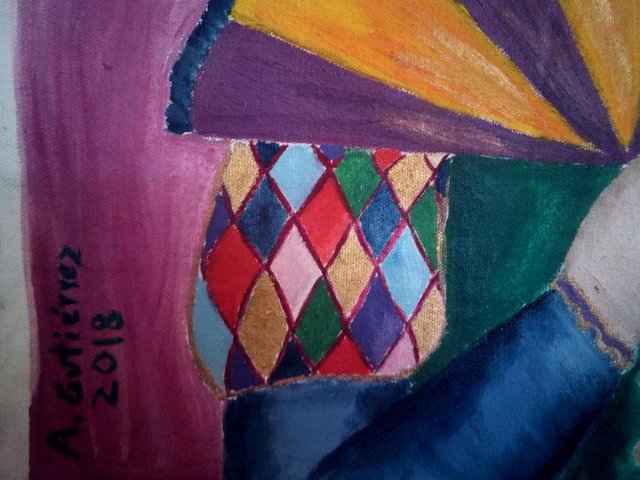 Reaching the end, I hope you liked this ride of pics and the creation of this little pretty venetian character.
As I said in an old post, I love the celebration of carnivals in Venice because it is an expression both cultural and artistic. The Italians as always leading exponents in aesthetics, I was captivated from very small with these festivities that make me imagine many scenarios that could occur in the past.
Imagine going to a party in the eighteenth century, where behind a striking mask could be a peasant, a person of royalty, a fugitive, a famous musician or artist...
Final question, What are your favorite carnival celebrations around the world?
---
Llegando al final, espero que les haya gustado este montón de fotos y la creación de mi pequeño personaje veneciano.
Como dije en un antiguo post, me encanta la celebración de carnavales en venecia porque es una expresión tanto cultural como artistica. Los italianos como siempre principales exponentes en la estética, me cautivaron desde muy pequeña con estas festividades que me hacen imaginar muchos escenarios que pudieron ocurrir en el pasado.
Imagina ir a una fiesta en pleno siglo XVIII, donde detrás de una llamativa máscara podría haber un campesino, una persona de la realeza, un fugitivo, un famoso músico o artista...
Pregunta final ¿cuáles son sus celebraciones de carnaval favoritas de todas las que se realizan por el mundo?
♦