NATIONAL NEAR-EARTH OBJECT
PREPAREDNESS STRATEGY AND
ACTION PLAN
A Report by the
INTERAGENCY WORKING GROUP FOR DETECTING AND MITIGATING
THE IMPACT OF EARTH-BOUND NEAR-EARTH OBJECTS
of the
NATIONAL SCIENCE & TECHNOLOGY COUNCIL
JUNE 2018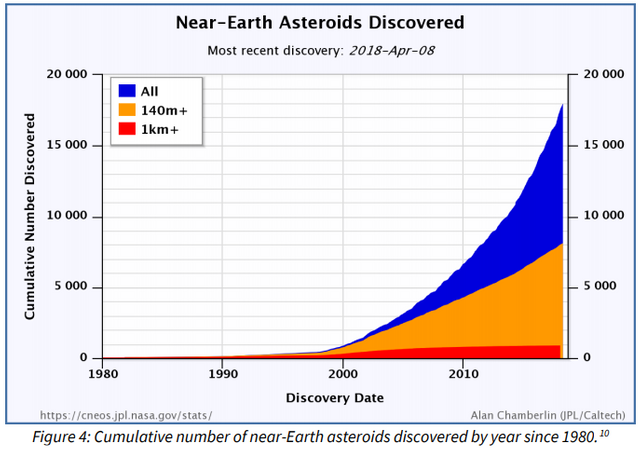 Goal 1: Enhance NEO Detection, Tracking, and Characterization Capabilities: NASA will lead the
development of a roadmap for improving national capabilities for NEO detection, tracking, and
characterization. Supporting actions will reduce current levels of uncertainty and aid in more accurate
modeling and more effective decision-making.
Goal 2: Improve NEO Modeling, Prediction, and Information Integration: Agencies will coordinate
the development of validated modeling tools and simulation capabilities that aid in characterizing and
mitigating NEO impact risks while streamlining data flows to support effective decision-making.
Goal 3: Develop Technologies for NEO Deflection and Disruption Missions: NASA will lead
development of technologies for fast-response NEO reconnaissance missions and timely missions to
deflect or disrupt hazardous NEOs. Developing these technologies before an imminent threat arises will
strengthen our ability to prevent NEO impact disasters.
Goal 4: Increase International Cooperation on NEO Preparation: Agencies will work to inform and
develop international support for addressing global NEO impact risks. International engagement and
cooperation will help the Nation to prepare more effectively for a potential NEO impact.
Goal 5: Strengthen and Routinely Exercise NEO Impact Emergency Procedures and Action
Protocols: The United States will strengthen and exercise procedures and protocols for assessing NEO
threats, communication regarding threats, and response and recovery activities. Coordinated
communications and notifications within the U.S. Government and with foreign governments will
improve impact emergency preparedness and reduce the physical and economic harm to the Nation.
https://www.whitehouse.gov/wp-content/uploads/2018/06/National-Near-Earth-Object-Preparedness-Strategy-and-Action-Plan-23-pages-1MB.pdf