Dow Jones, after the triangle, a bullish run followed by a crash ?
This post is about Elliot Wave TA of Dow Jones. We assume price lead to event, not the inverse.
If one try to label the Dow Jones like this (right click/open in new tab to see better) :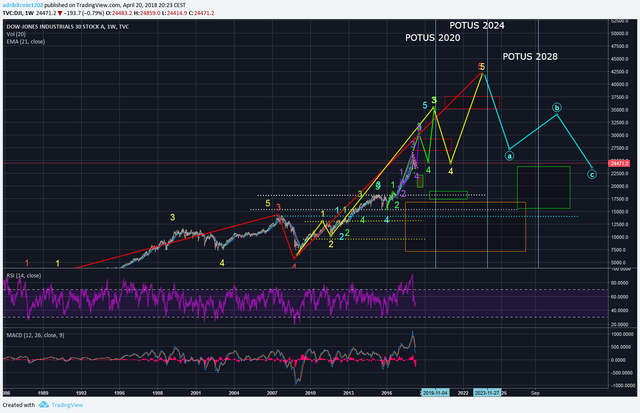 Zoomed in a bit :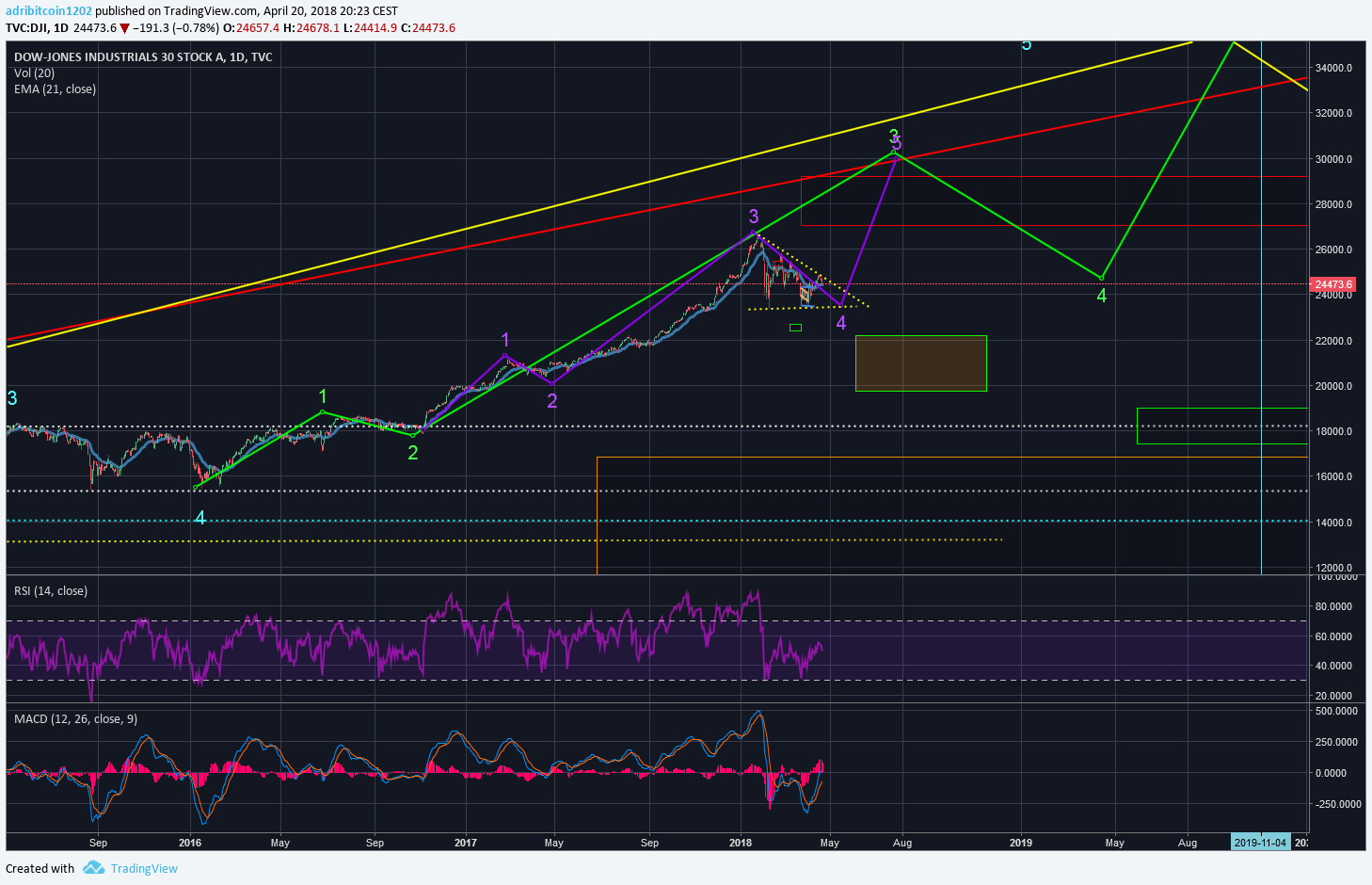 Zoomed out :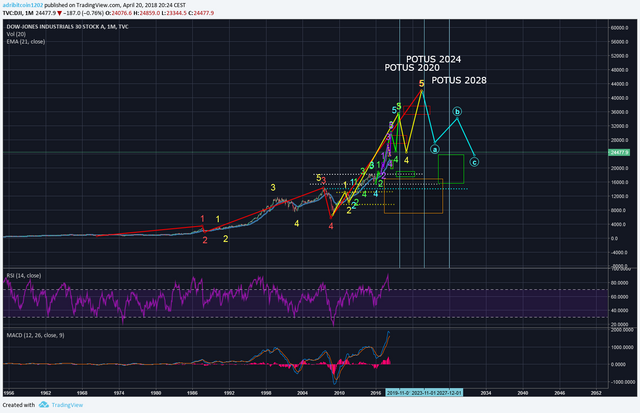 One can see that after this triangle we could have a blue 5 then a correction followed by a yellow 5 of major degree that will end the red 5. This has to be followed by a correction that could last some years (blue abc).
The USA have still the same problems as in 2008, but now it's about students loans so a 2008 like crisis is really probable and could be the yellow 4 OR the blue abc
But yes, it has to be bullish until POTUS 2020 time, between the end of 2019 and the summer of 2020 something could happen, then we will have the last 5 of 5 (yellow 5 of red 5) that could last until POTUS 2024. Best case scenario will be the abc correction beginning at about the 2024 POTUS, but it really could happen before that, also because we do not know what kind of correction will the yellow 4 be and what events will lead to the blue abc correction.
Going long on Dow Jones now could be a great idea, but after mid 2019 it will be better to be bullish about silver and gold than S&P500 or any other stocks.
Do not take any boxes, timeframes or waves on these chart for targets, it's just there to get the idea of where we are for the Dow Jones.
Alternate counts (less likely), same waves but different timeframe :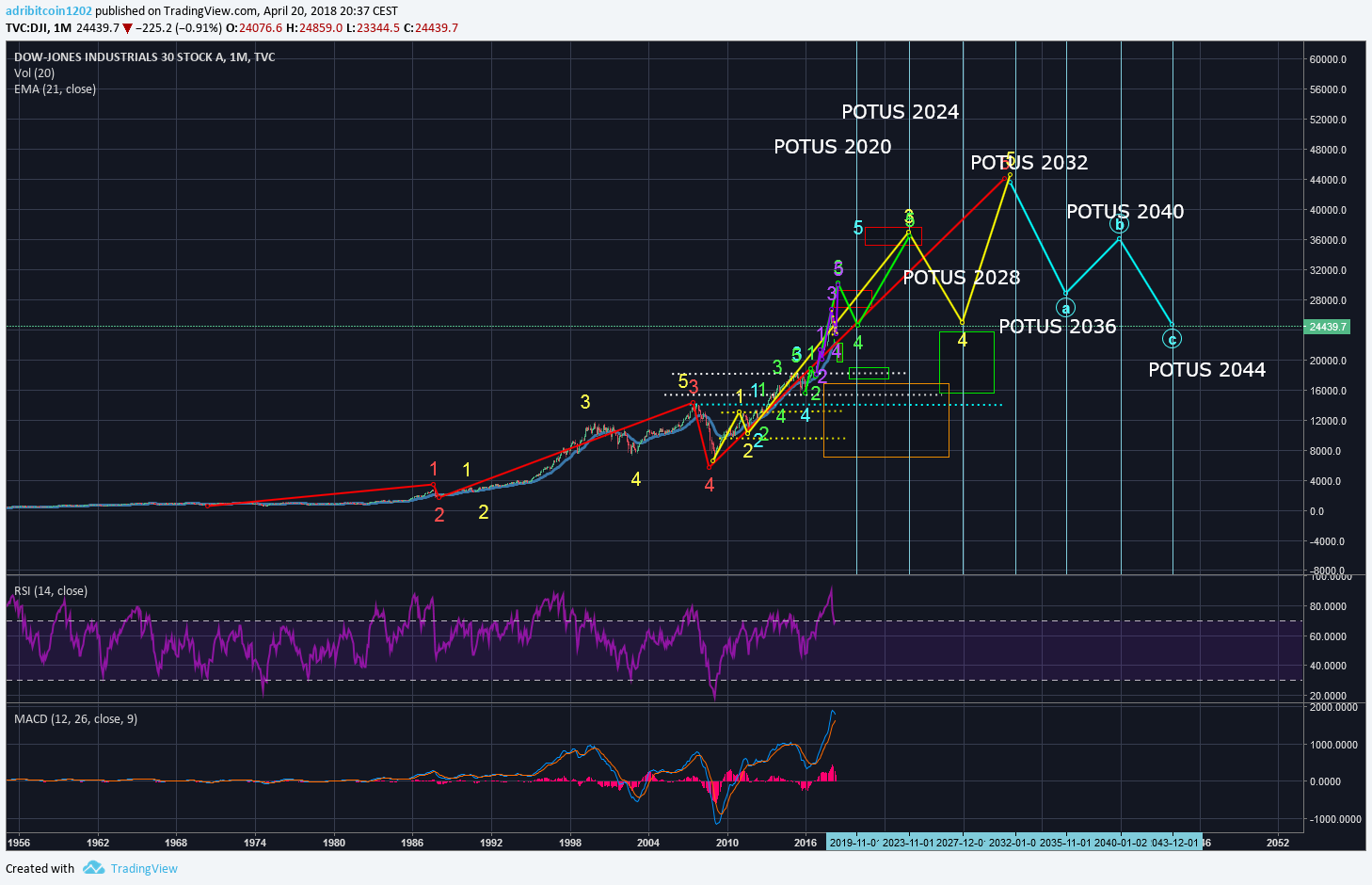 Note that this count/timeframe is scarying because given the psychological effect of what happened one century ago. It could mean that some kind of World War is coming. I's a fact that the USA/Europe and Russia/China have consistent problems to find consensus, so it makes a lot of sense to imagine that the economy will suffer at this period. But it's too early to worry about that and no one other that our governement can avoid a distaster to happen ... (if you think they are not competent to lead us it's another story, but things are what they are, we have no power to decide if yes or no a World War has to happen ... only them have)
This is not a financial advice, just my opinion. I'm not a professional and you should only blame yourself for any stupid move you could do on the market (you can also blame market manipulators but not me :-) )
Being aware of what could happen can avoid big losses and bad surprises.