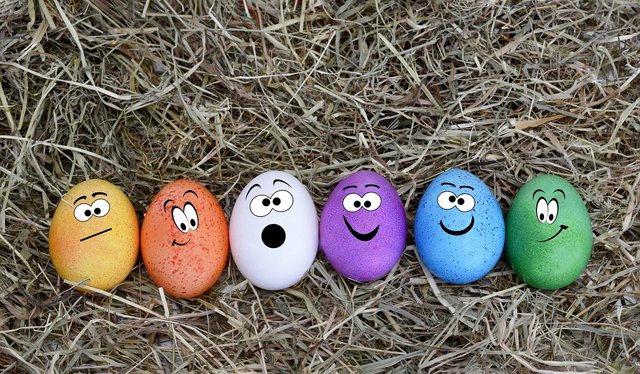 I nie udawajcie teraz, że nie wiecie o co chodzi! Jak nie wiadomo o co chodzi, to chodzi o kasę, a jak nie chodzi o kasę to o co?
O JAJCO!!
Tym zabawnym akcentem chcielibyśmy zaprosić Was wszystkich do wspólnej Wielkanocnej zabawy, której pomysłodawcą był @wzp. Wywołał on prawdziwą burze mózgów w teamie rzucając hasłem:
"Pisanki Steemianki"
Zabawa polega na tym, by do przyszłej środy przygotować post, w którym pochwalicie nam się swoim dziełem (lub nawet kilkoma dziełami) - pisankami inspirowanymi kolegami i koleżankami ze Steemitu.
Przyznajcie się, ile już lat nie malowaliście jajek na Wielkanoc? No to teraz macie okazję! Pisanki Steemianki same się nie zmalują!
Od teraz - do przyszłej środy, macie czas na przygotowanie jajecznych postów i podlinkowanie ich pod tym tekstem. W środę zostanie opublikowany na naszym koncie post, z listą wszystkich zgłoszeń. Od środy, aż przez tydzień będzie trwało głosowanie wszystkich Steemian na najlepsze jaja. A następnej środy, za kolejny tydzień, poznamy naszych zwycięzców. Nagrodzone zostaną trzy pierwsze miejsca według podziału:
1 miejsce 50%, 2 miejsce 30%, 3 miejsce 20%.
Głosować może każdy. Prawidłowo oddany głos:
1 miejsce: @autor 3 pkt,
2 miejsce: @autor 2 pkt,
3 miejsce: @autor 1pkt.
Chętnych sponsorów prosimy o komentarz lub kontakt na naszym grupowym kanale discord: https://discord.gg/rcvWrAD
(lista sponsorów będzie na bieżąco aktualizowana)
SPONSORZY:
Do roboty Steemianie! Pokażcie, że MACIE JAJA!