Lately I take time to go through my list of music recommended by people I trust their taste for quality music. Owwww, I'm getting so HAPPY by doing so!!!! Most of these recommendations are cool to SUPER COOL, at least that is my personal opinion. And I hope it is/will also be yours :)
BABY VULTURE is the one I like to present you today. Quite experimental approach to electronic music, but that is a style I really dig! And what I find interesting as well, is that she does not have a good presence on the Internet. Yes she has a Facebook page and a Soundcloud page, but she is not listed at eg the goto service for electronic music "Resident Advisor". This gives me the indication she is one of the few real artists, who does not want to make any compromise, who wants to be as close as possible to what she feels to create.
During last month(s), I listened to many of her Soundcloud recordings and every new recording I heard, just confirmed the facts; She is GOOD! and She CONSTANTLY PLEASES my Ears and Brains!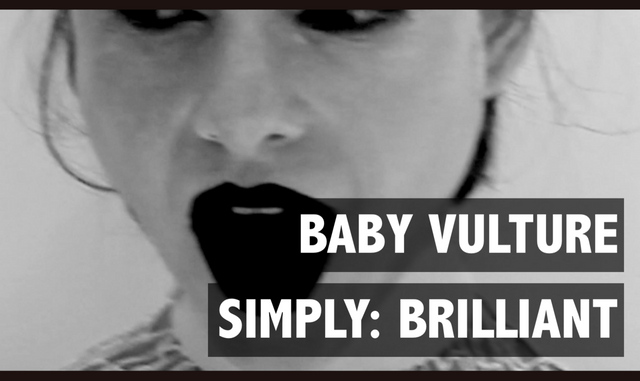 A description of her work I read somewhere on Resident Advisor, explains in much better words then I can, what her music is about:
When BABY VULTURE raises her many voices it's like a call, pure, long and throbbing. She digs, she excavates. In an almost archeological manner, she keeps searching for distinct tones and noises that she turns into transportive collages where fragments of sound, space, and time come together. Like stories sung by sirens.
The recording I share with you today, is maybe the least experimental of all I listened to - since many people don't like too experimental music - but still, this recording is a beautiful one and gives a good impression of what she creates.
Artist: BABY VULTURE
Set: Boiler Room / Comunite DJ Set
Year: 2016
Country: Mexico (based in Berlin)
(source)
Music
Artist
brought to you by @qsounds an @edje account