SOOM Foundation Press Release!
🌹🌹🌹SOOM FOUNDATION – DONGJAK KYUNGHEE HOSPITAL🌹🌹🌹
AGREEMENT FOR DEVELOPMENT OF BLOCKCHAIN-BASED HOSPITAL INFORMATION MANAGEMENT SYSTEM
🐶🐶🐶 Hello, it's SOOM. How r u today?
This week's good news!
SOOM signed the MOU agreement with Dongjak Kyunghee hospital!
SOOM Foundation tries its best to broaden its business field and develop its technology.
As mentioned, last month SOOM Foundation made academic industrial cooperation with Chosun university. SOOM Foundation tries its best to adopt 4th blockchain into medical industry and this time, it was agreed with Dongjak Kyunghee Hospital to develop a hospital information management system which is based on 4th blockchain.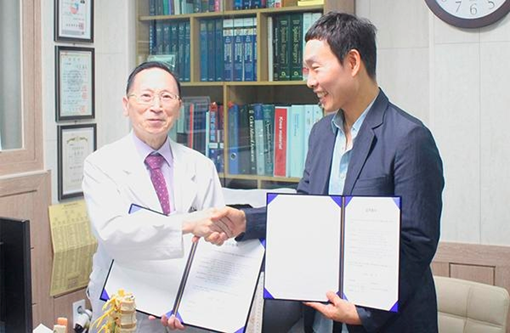 [Image expl.] Dongjak Kyunghee Hospital director Mr. Ahn Seung Jun (on the left) and SOOM Foundation Founder Mr. Park Kieob (on the right) signing agreement to develop blockchain-based medical information management system on September 3rd.
SOOM Foundation and Dongjak Kyunghee hospital promised to co-develop hospital information management system which will strengthen privacy and security of patient's information. Accordingly program will be developed based on 4th blockchain technology which is unique and state of art technology of SOOM Foundation.
Also, this news was released in "IT Chosun" which is one of the most famous and fastest press to release IT news of Korea.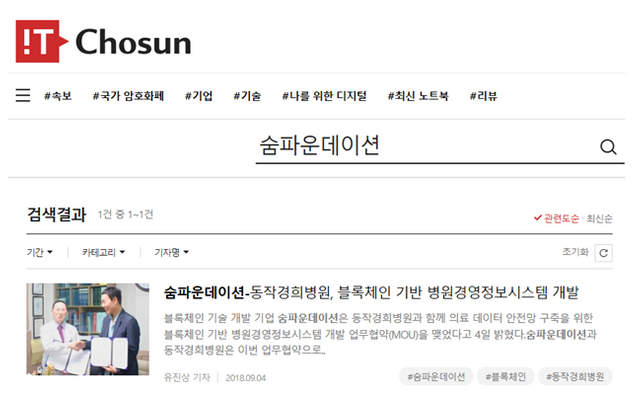 This will be the first step to adopt blockchain technology into medical industry. By this chance, Medical industry can strengthen privacy of patient's medical information and track supply chain of drug & medical tools. Also patients can facilitate his own health information by adopting blockchain technology. It is also expected that in the future, more secure electronic systems will be developed based on inter-laboratory interoperability programs, external delivery programs and programs linked to related professional associations.
For more information, please refer to link down below!
🐶🐶🐶Related articles
SOOM Foundation – Dongjak Kyunghee Hospital, decided to develop blockchain based hospital management information system
http://it.chosun.com/site/data/html_dir/2018/09/04/2018090401051.html
http://www.thebchain.co.kr/news/articleView.html?idxno=1605
https://www.blockchainhub.kr/bbs/board.php?bo_table=news&wr_id=11940
https://coinpang.com/news/32626
Unfortunately, all the articles are only available in Korean but feel free to check them out!