A Vision for SolarCoin
A wild 6 months, eh? With the price of SolarCoin now at roughly one sixth of its all-time high, we're back where we were half a year ago.
Now that the dust has settled it's clear that - like many crytos - Solarcoin's price is based almost entirely on hopes that a market will appear, rather than specific use cases. 
So here I address what is perhaps Solarcoin's fundamental question: how to get SolarCoin used? Because without solid usage, rebounds to today's price will leave SLR of not much practical use.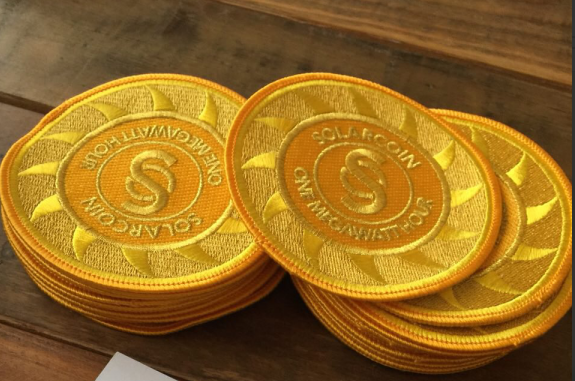 New SolarCoin patches - available here (for SLR)
The Token Economies of the Energy Market
Surely Solarcoin's principal target is the business of energy. There are millions of solar installations around the globe (900,000 in the UK alone), and billions of electricity consumers. With meter readings taken every 30 minutes, the potential to represent all these transactions via a digital currency is almost beyond comprehension.
There's a key concept here - token economy. Think of it like a token's GDP. Until recently, the token economies of most digital currencies have remained largely theoretical. However, in the energy sector some cryptos are starting to prove significant usage cases of their token's economies.
It's noteable that SolarCoin is not one of them.
Other Energy Cryptos are Developing in the Energy Market
In my role as Chairman of Brighton Energy Coop we've had discussions with  various energy blockchain operators - Power Ledger, Electron, and Python - about what has long been the holy grail of solar production - selling our electricity direct to market (wholesale or peer to peer).
I have found that in the UK at least there are many trials running (some already in the regulator's sandbox) which involve blockchain operators with both grid companies and supply companies. With all these middlemen all involved, sales of tokenised electricity seems less theoretical by the day.
There are others also active in non-UK markets (or not to my knowledge at least): notably WePower in Estonia and Spain and Restart Energy in Romania who are making big strides forward.
Many of these blockchain operators have an advantage over SLR in that they have recently done ICOs. That means they have a significant budget to go out and get trials up and running with both generators, distributors, and consumers.
SolarCoin does not currently appear to have this capacity.
And yet this is what is required to get usage going: a route to market is not going to magically appear - it need to be built. 
The difficult bit - getting tokenised energy to the consumer
It's shouldn't be that difficult to tokenise solar energy, whether that's through mining (like SolarCoin) or just uploading production data to Ethereum and creating a token via a smart contract, rather like a PPA (like WePower).
What is difficult is getting that tokenised production through the grid operator, via the electricity supplier, to the point where it can be bought - in a token form - by a consumer.
And yet that is fundamental because it's the consumer who will consitute the demand of the token's economy - buying it to pay for his or her electricity. 
The key thing is therefore to get access all the way between producers (the solar systems) to consumers (the people paying the electricity bills).
A Vision for SolarCoin
This can't happen without grid intermediaries. So the route to market lies with these kind of partnerships: grid companies, and electiricity supply companies, and then regulators.
This will require advocacy, networking, and a well-resourced development team that can put these partnerships together - just like the energy cryptos who have recently gained funds through ICOs.
This is not meant as a criticism of those involved in developing SolarCoin. I appreciate that extermely heavy lifting has been done to get us to where we are now. It is meant as a route map based on how I - working in the solar industry - see energy cryptos evolving around me. 
My suggestion is to take WePower's route - connecting solar farms to the wholesale market. This will provide transaction volume, and significantly less manpower per kwh to both implement and oversee. Peer to peer is fine (basically what Power Ledger, Electron and Python are doing) but has much smaller of transactions, and hence a smaller token economy.
Perhaps Solarcoin's ambition really is to be the airmiles for solar. And - since I'm no blockchain expert - I don't know if the SolarCoin blockchain is up to the billions of transactions required to represent the electricity ecosphere. What I do know is thaat airmiles do not have a large token economy.
But without a portfolio of demonstrable and expanding use cases SolarCoin will be sidelined by other emerging 'utility coins' in what is potentially its biggest market.