Local Volunteer Promotion of #SolarCoin; Tips and Stories of Building a Global Solar Community #1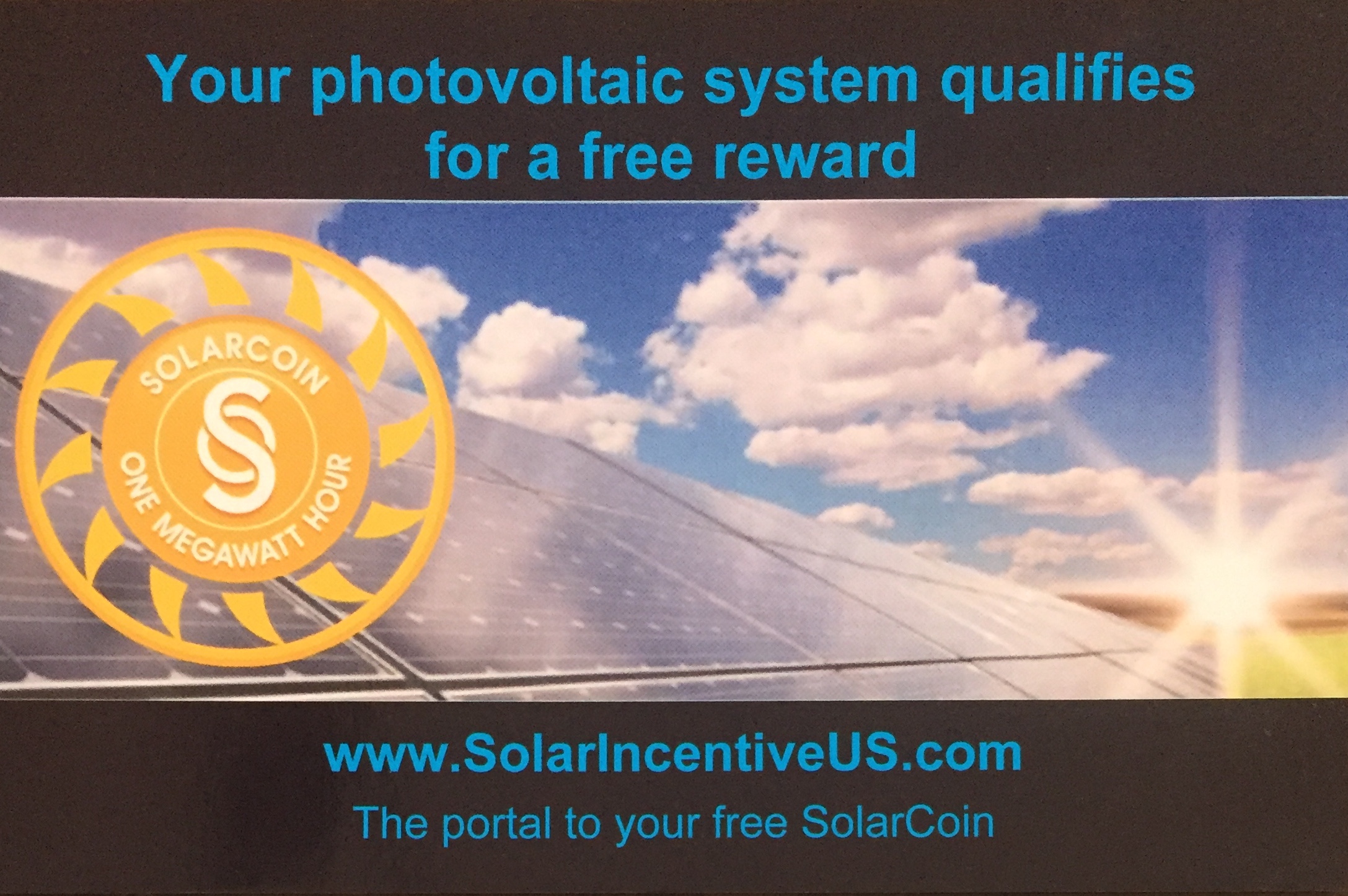 Dozens of new solar energy producers are signing up every month to receive their free #SolarCoin reward (I counted 85 welcomed in January!) If you are one of these new members, you might be wondering how you can participate in this global initiative. You may have signed up for the sole purpose of collecting your reward, as most of us probably did, but the more active you are in learning about, talking about, and promoting SolarCoin, the more valuable it will become, and the more likely The SolarCoin Foundation will have a tangible impact on the #GlobalEnergyTransition.
In my last post, Five Things You Can Do This Week To Promote SolarCoin, Quit Your Job, and Do Whatever You Want with the Rest of Your Life, I ran down a few things you can start doing more or less immediately, such as joining/following/participating in the SolarCoin facebook, twitter and Slack entities, working on your 1-sentence and 30-second sell, developing a local community with a facebook page (here is mine), and creating a super local marketing strategy (see the article!). An obvious idea that should have been included in that article was writing posts about SolarCoin and #Solar in general here on Steemit.
For this first followup to the Five Things article I am going to focus more on my own new local marketing strategy. I am partly doing this to send out the message that I am just a regular guy who is doing this as a volunteer. I am certainly no marketing professional, although I have done plenty of marketing throughout my life. Hopefully most people are less concerned with looking like a fool in their 40s or 50s than they were in their 20s, but there is something about participating in an organization like this that makes me feel quite comfortable sharing my naivete, because ultimately, if all us naive SolarCoin members just start doing a little promoting in our own neighborhoods, this thing will really get a boost. So on that note, here is my first crack at a simple postcard that I now keep in my car and backpack: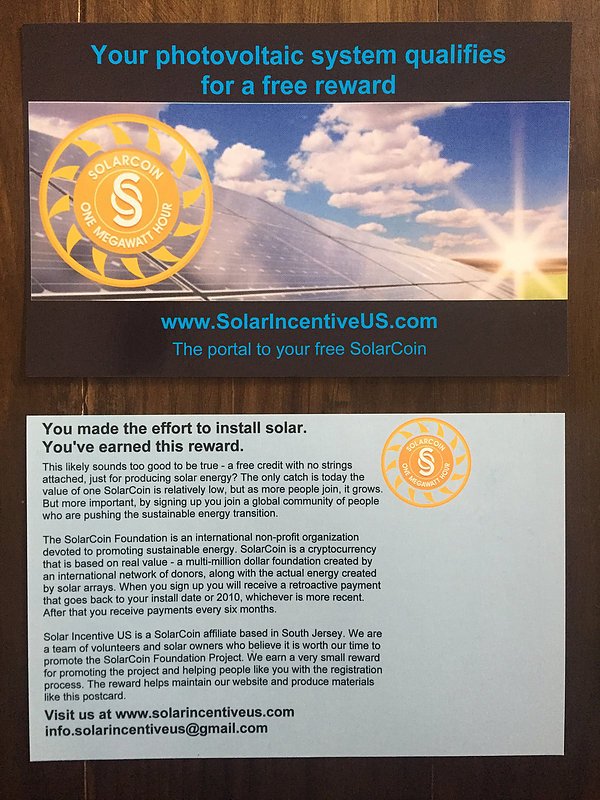 I have these cards on hand so I can pop one into the mailbox of any house I see with a solar array. The other day I had an hour to kill before taking my son to basketball practice, so we drove around with my daughter handing out cards. I previously used Google maps to make a list of houses near us with arrays, but as we drove to those houses the kids found at least four more that I had missed. One was a massive array on a church, so I will be sure to follow that one up in person.
The other component of my local strategy at this point is running a local South Jersey Homeowners facebook page. It was slow going for a while, as it is very hard to recruit people to a facebook page without some type of event or organization linked to it. But then I remembered my town's neighborhood page -- I stopped following that page months ago due to the steady flow of stuff that I really just don't want to see on any sort of regular basis, but it turned out to be a great way to advertise the solar page. By the end of the day I had eleven new members. I haven't emphasized SolarCoin on that page yet, as I think it will have much more appeal once the group knows me a little better, and once the group has a sense of its own community. I hope to keep the page going by posting news about solar, answering questions, etc.
These are very small steps, but I figure if I can harness a chunk of the solar owners in my own cluster of small towns, we can then leverage our numbers to build the community outward. Ultimately, my fantasy, is to be able to start getting a certain percentage of those people signed up for SolarCoin, which would in turn help us get some local media attention (that's for a future post), and be able to say, "X-number of South Jersey homeowners collected x-number of free SolarCoins this year . . . " You get the idea. We have a great little local newspaper in my town that is published weekly. I am fairly certain I can get the editor to run a story on SolarCoin, but I will wait until I have a few neighbors signed up before I send him the press release.
That's it for now. Please share your success stories (or failures) of promoting SolarCoin to others in the comments.