MERCH!
A couple of weeks ago in the comments section one of Will Cottrrell's marvellous posts, @willcottrell, @gregan and @lpninja and myself were riffing on how to get businesses and organisations to accept SLR as payment for goods and services. Expanding the SolarCoin ecosystem from being 'just' a reward for solar power generation into a widely accepted unit of exchange will be required to help bring about the network value effect for the digital currency.
At the moment it is a bit of a 'catch 22' situation in that there are few things to buy online in SLR because vendors don't accept payment in SLR because no-one is using it to buy stuff online. So instead of waffling on and not doing anything about it someone has to take a leap of faith.
As a bit of an experiment in crypto-currency online e-commerce, then, I have ordered some rather spiffing SolarCoin merchandise, namely shiny 20mm (0.8") pin-badges and 100mm (4") sew-on patches which can only be purchased in SLR!
The pictures don't really do them justice, unfortunately. The golden metallic thread on the patches is particularly nice and the shiny metal badges look like a physical manifestation of actual SolarCoins (can you see why a career in marketing was never on the cards?).
20mm (0.8") SolarCoin pin-badges: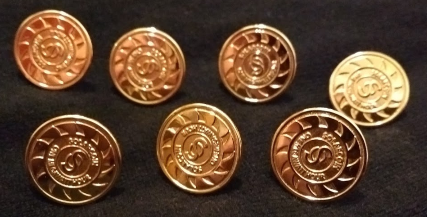 100mm (4") SolarCoin sew-on patches: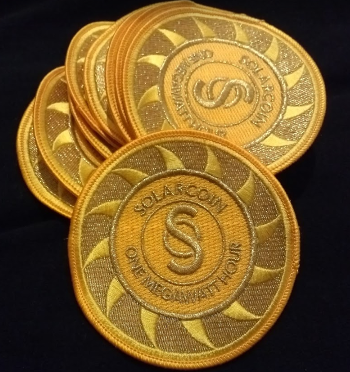 Anyway, use cases:
Obviously everyone in the SolarCoin community will want them ;)
Utility scale companies adopting SolarCoin can distribute them as promotional items to customers, suppliers and staff.
Solar installers, affiliates or energy logging companies registering their customers for SolarCoin can include them as part of a "Woo! SolarCoin!" welcome pack.
They could be given out by conference organisers to attendees wanting to promote the SolarCoin message.
A gift for your long suffering partner who still wants to know "what on Earth are you doing in there???!"
Target practice for your Boring Company flamethrower.
Er... any other ideas?
Profits from this venture (if any) will be used to 1) fund the web hosting for my nascent SolarityTracker project and 2) help out our lovely friends at SolarAid.
Just to be clear these items can only be purchased using SolarCoin. As this is a trial batch the pricing is as follows:
Pin-badge: 4 SLR each.
Sew-on patch: 4 SLR each.
Postage and packing for 1 - 4 patches and/or pin badges, i.e up to a maximum of 4 of each (4 x badge + 4 x patch) will be:
UK: 1SLR
EU: 2SLR
USA: 3SLR
ASIA/USTRALIA : 3SLR
Postage and packing for 5 -9 patches and/or pin badges, i.e up to a maximum of 9 of each (9 x badge + 9 x patch) will be:
UK: 2SLR
EU: 3SLR
USA: 4SLR
ASIA/AUSTRALIA: 4SLR
Contact me for postage rates for 10 or more items to your location so I can get you a decent rate.
For orders of 100 or more items please also email me directly as I could probably negotiate a discount from the supplier :)
Examples:
If you want 1 badge and 1 patch (2 items) in the UK the SLR total will be 4 + 4 + 1 p&p = 9 SLR
If you want 3 badges and 2 patches (5 items) sent to the EU region the SLR total will be 12 + 8 + 3 p&p = 23 SLR
And so on...
In the first instance orders will be email only. Please send them to [email protected], with the the subject field stating [YOUR NAME]: SolarCoin Merch
In your email please state clearly:
The quantity of each item you would like.
The postal address where you'd like them sent.
Your SolarCoin public wallet address from which you sent your SLR (see below) so I can confirm you payment has been received.
Finally please send your SLR payments for the desired quantity to this public wallet address: 8PGAKq5u4RXiLhLF4DngRLQ63Tv1w947KC or use the QR code: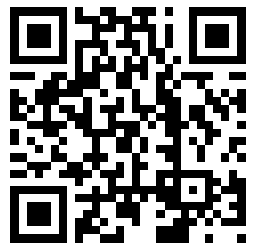 When I get a bit of time, I'll set up a web-page and form to do the above automatically.
If the venture is a success we could branch out into other items (yes, mugs Will!)... So if you have any suggestions please let me know.
OK, so that's the supply covered - let's see if there's any demand :)