Solanium IDO sales. Synchrony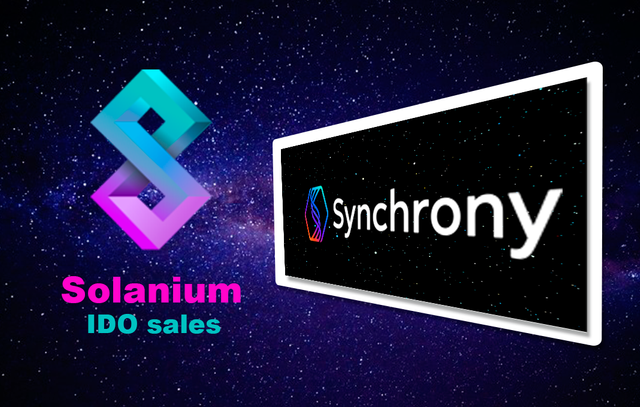 Hi there, today we will talk again about the Solanium IDO platform and the project, which will be held in a few days.
The Solanium platform is a decentralized platform on the Solana blockchain. The platform will introduce decentralized fundraising, time-weighted token staking and governance voting to the Solana ecosystem.
The next project to be held on the Solanium platform is Synchrony.
Synchrony is a contemporary decentralized asset management platform that uses a sophisticated set of analytic and machine learning algorithms to evaluate and optimize sets of networked tools that create one-click solutions for a variety of impacts on ecosystem primitives. The main features of the platform are copying and composite indexes, facilitated by the market-friendly Defi Farmer - a place to interact with the entire Solana blockchain from one place.
Functions
The main features of the platform are online copy trading, composite indices, in-depth analytics and the DeFi pharming market.
Copy trading has a high throughput of Solana transactions and the trading on Synchrony itself is performed with very little risk of price divergence or outperformance.
Indices allow you to evaluate any set of networked instruments, from tokens to liquidity pools, farms, and even NFTs.
Synchrony has powerful on-chain analytics and provides users with both macro-level information about the ecosystem sentiment and detailed details about the behavior of any user on the blockchain.
The DeFi farming marketplace gives access to all Solana's decentralized apps from one place.
Team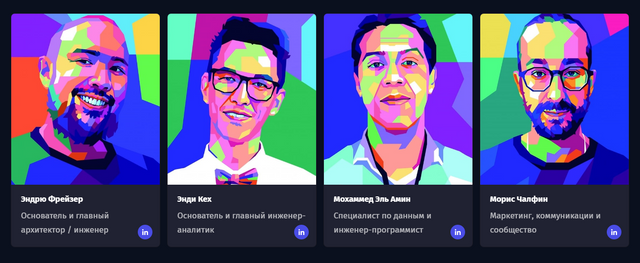 Synchrony Labs is an international team of architects and software engineers based in Hong Kong with years of experience in traditional finance, software development, blockchain, and entrepreneurial ventures. Synchrony Labs has one goal - to create useful, durable, high-quality products using blockchain technology, which is underpinned by the philosophy of accessibility, equity and inclusiveness.
Investors
The project has very well-known and large funds in its assets, such as AU21 Capital, Solana Capital, GBV, Dutch Crypto Investors, X21, Titans Ventures, Panony, Ellipti, Sanctor Capital and many others.
Registration
Registration for the whitelist is alredy open, you can apply for participation by connecting your wallet and choose to register in the whitelist.
Pool size: 15 000 000 SCY
Hadtcap: 600 000 USDC
Token price: 0,04 USDC
Follow Synchrony:
Website: https://synchrony.fi/
Telegram: https://t.me/SynchronyFi
Twitter: https://twitter.com/synchronyfi
LinkedIn: https://www.linkedin.com/company/synchrony-labs/
Discord: https://discord.gg/kag7DY2743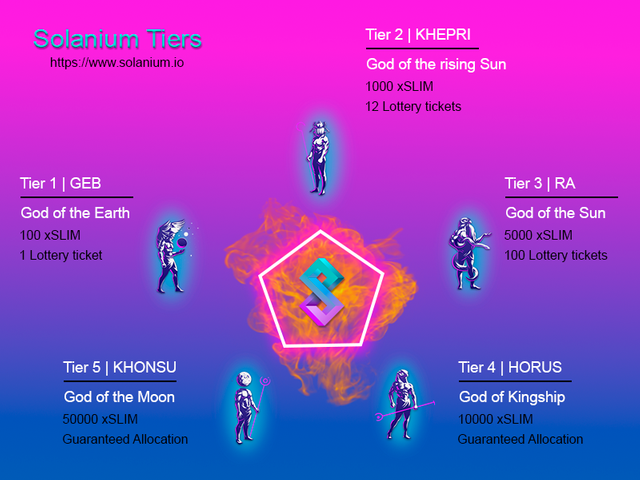 To participate in token sales, you need to stake at least 100 xSLIM on the platform in order to receive 1 lottery ticket.
Tier 1 - 100 xSLIM - 1 ticket
Tier 2 - 1000 xSLIM - 12 tickets
Tier 3 - 5000 xSLIM - 100 tickets
Tier 4 - 10000 xSLIM - Guaranteed allocation
Tier 5 - 50000 XSLIM - Guaranteed allocation
Also, the Solanium platform makes it possible to obtain 5 social tickets for the lottery by completing several tasks on social networks. Please use my refferal link: https://usnd.to/IGUK
Conclusion
The Synchrony project provides a decentralized platform for AI-based decentralized asset management and a powerful analytical algorithm that can simplify and speed up the process of user interaction with the market. The project looks quite interesting and technically attractive.
I hope my review was useful for you. Thank you all for your attention and see you soon!
Follow Solanium:
Website | Twitter | Telegram | Medium | Github