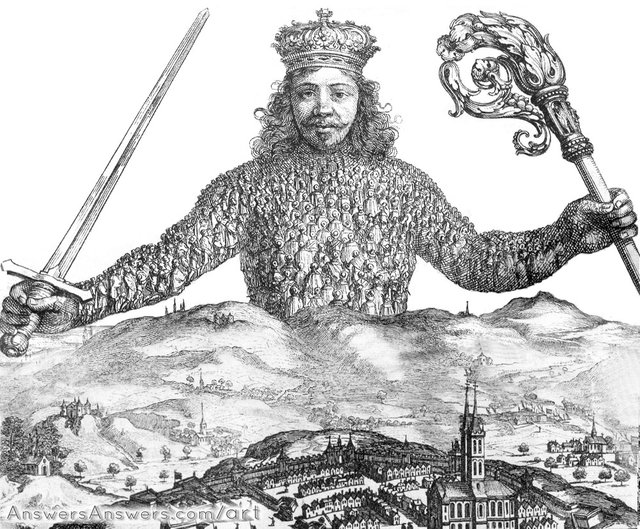 The art of governing a country is quite simple. Many will speak of splendid theories, of systems with meticulously designed counterweights, of such and such an ideology, of republics and empires, of federations and confederations, of tyrannies and democracies, in short, of countless things that have nothing to do with it.
Politics is confused with governance, form of government with government itself, and other very common mistakes in people who are alienated from power.
Governing a country is all about you. And no, I am not referring to a hypothetical scenario in which you are president, king or prime minister of a nation, none of that, I mean you right now. Governing a country is all about you.
Normally we tend to project power to the rulers, as if the government were composed solely of them. Let's look at this, for there to be a government there must be two things; governors/rulers and the governed/people, the government depends on these two, and therefore, none of these parts is replaceable or independent as long as there is a government.
The rulers are always a very small minority, a handful of men perhaps, and their power resides precisely in the projections that the governed give them. The rulers have de jure power, however, the consensus of the governed is necessary for this power to be put into practice.
When there is a stable government, the governed give their support to the rulers, so that the latter don't meet with any dissidence, in such a way that they can act freely and make full use of their faculties. As the social discontent increases, and therefore, dissidence increases, the rulers find themselves with more and more adverse wills on the part of the governed. And finally, if this is taken to the extremes, what will happen is that the governed will stop cooperating with the rulers at all, in such a way that even if they still have legal power, in fact there will be no presence of their power.
This is especially true in countries in crisis such as Venezuela or Iraq, where, despite the fact that governments continue to exist, which legally continue to exercise power, their orders are only enforced in the places closest to the government headquarters, and as that we are moving away from the capital, we will notice how the presence of the government gradually disappears until we finally reach some points where there is no government at all.
This is because there is no cooperation between the governors and the governed, and let us remember that the rulers are a very small group concentrated in some specific points, and without the cooperation of the governed, they don't have power. They don't have an all-seeing eye, they are not omnipresent, nor omnipotent.
I know that some like to think so, that thanks to technology or to this or that mechanism, the rulers are on us all the time. Not so, they are not even so capable. I also know that some like to think that the rulers are overly intelligent and that every action they perform is meticulously planned and they never make mistakes. We also have no reason to think about that. In fact, I would say that modern rulers are not very intelligent, they are certainly not smarter than you or me, in any case, they would be "experts", that is, they learn through experience to govern, based on the slow process of try and failure. If they were truly intelligent, people like you or me would not even worry about government matters, because they did their job very well.
There is also the case in which, not the governed, but the rulers believe themselves omnipotent, such is the case of totalitarians. The totalitarian governments are destined to fail because they seek that the smallest sector of the population (governors/rulers) be responsible for the tasks of the largest sector (governed/people).
Now, we are already aware that power resides in people, but what do we do with it? Many people already have this knowledge, that's nothing innovative. Many know that the power is in people but still they don't do anything. What is the point of knowing but not doing? And in any case, what should be done?
It is as simple as this; we should not worry about what we don't control, it is unnecessary, it is an expenditure of energy in something that we cannot change. Among those things that we control, what bothers us, we change it. Pretty simple. It is not always easy, but it is always simple.
That everyone controls himself? I know, it's innovative, it's called liberty, which is inevitably inseparable from its sister called responsibility.
We must be like the apple tree, which is responsible for growing and ripening its fruits without worrying that a mammal will take it, the latter will be responsible for doing their job. Or like the flowers, which are responsible for producing the nectar and pollen, and dressing the most striking colors for insects to carry out the pollination process. They do everything they can, everything that is in their control, everything that corresponds to them, and the insects will take care of doing their thing.
So with us. If something bothers us, we change it. If we cannot change it, it better not bother us. And without ever expecting someone outside of us to do something to solve our annoyances, because in that case, we project power in such people, and we are not responsible for ourselves, even worse, we will depend on them to be well.
I know well that there are problems that transcend us, which are problems that affect the whole society, a very precise example of this is that of pollution. Let us remember for these cases the errors of totalitarians, who seek, being very few, to do the work of many. Let's avoid making this same mistake. We can't be held responsible for such large problems. The only thing that falls under our responsibility is to do those little things that we can do to help solve the problem, but we should never assume on our back all the full weight, because our back will be broken and the problem, far from being reduced, will be bigger .
If we want to reduce pollution, avoid polluting. If we want a virtuous society, let us be virtuous. Anyway, let's be what we want to see. Many in past and modern times have wanted to implement fantastic utopias out of their imagination, all believe that such projects are pushed from top to bottom, from the rulers to the governed. I'm sorry for them, but that's not how the government works. Utopias begin when we, as individuals, decide to do what an archetypal individual, typical of such a utopia, would do.
If we are not willing to make such sacrifices, it is best that we stop aspiring to such ideals.
The art of governing a country is very simple then, it is only about governing ourselves, taking care of what belongs to us, and trusting that others will do the same.
If you want to change the world, start off by making your bed.
William H. McRaven
---
Image Source: 1