About SocialX Network
Do you know what is SocialX? SocialX is a blockchain database that supports community building and social interaction with cryptocurrency rewards. SocialX combines concepts from social media with lessons learned from building cryptocurrencies and their communities.All your photos & videos on a fast, secure and decentralised platform
SocialX is the first decentralised photo and video app that will securely store your LIFE MOMENTS in a single app.
---

---
With SocialX there will be no need to post your photos & videos on centralised platforms like Facebook or Instagram. Our platform uses the latest blockchain technology to ensure short loading times. More creativity
Popular social media networks fail to uphold the ideal of freedom of expression. We think that the centralized architecture of popular social networks puts them in a situation where complying with censorship laws and regulations is a necessity if they are to stay in business. That is why SocialX is different. Connect with your friends via a encrypted messenger and exchange currencies
SocialX is more than a messenger. You can send payments and smart contracts to friends from within chats while enjoying the default encrypted messaging service, using a peer-to-peer protocol that doesn't rely on centralized servers. SocialX will provide the safest and most reliable chat application available. Earn money with your photos through an AWESOME Community. You share great content and the community rewards you for that. We believe great content should be appreciated even with a small number of followers. Our Upvoting System recognises the value of your photos and videos, and rewards you with cryptocurrency. Livestreamers,we did not forget about you.
---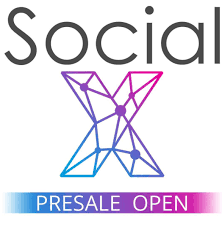 ---
A good livestream can create huge value for its audience. That's why SocialX will seamlessly integrate Livestreams into our Community. Earn money from your photos by licensing them to other people. Our built-in License Management will allow you to DECIDE if you want to keep your photos private or if you want to sell your photos to the others in exchange for tokens – for example, someone could buy your photo to use it on their website. Advanced Referral System to grow our Community.
A constantly growing user base is the key to a successful social network. We think our USP will attract photo & video-lovers easily, but we will include a paid referral system to incentivise your friends & family to join SocialX. How to contribute? Top up your Ether address via coinbase for example, and send it from your Ether address to our presale smart contract. Refer to the FAQ if you have more questions.
Be part of a revolutionary technology.
When you participate in the SocialX ICO, you will not only become part of a revolutionary platform that provides real value to content creators, but will also be an early adopter of a decentralized economy movement. Contributors will receive SocialX Tokens, which will be tradable on the major exchanges and may generate a return for their owners.
Creat by: bitcointalk